August 14, 2020 * John Adams at 12:46 pm
Stocktake Entry for Logistics, Distribution and Inventory Management Software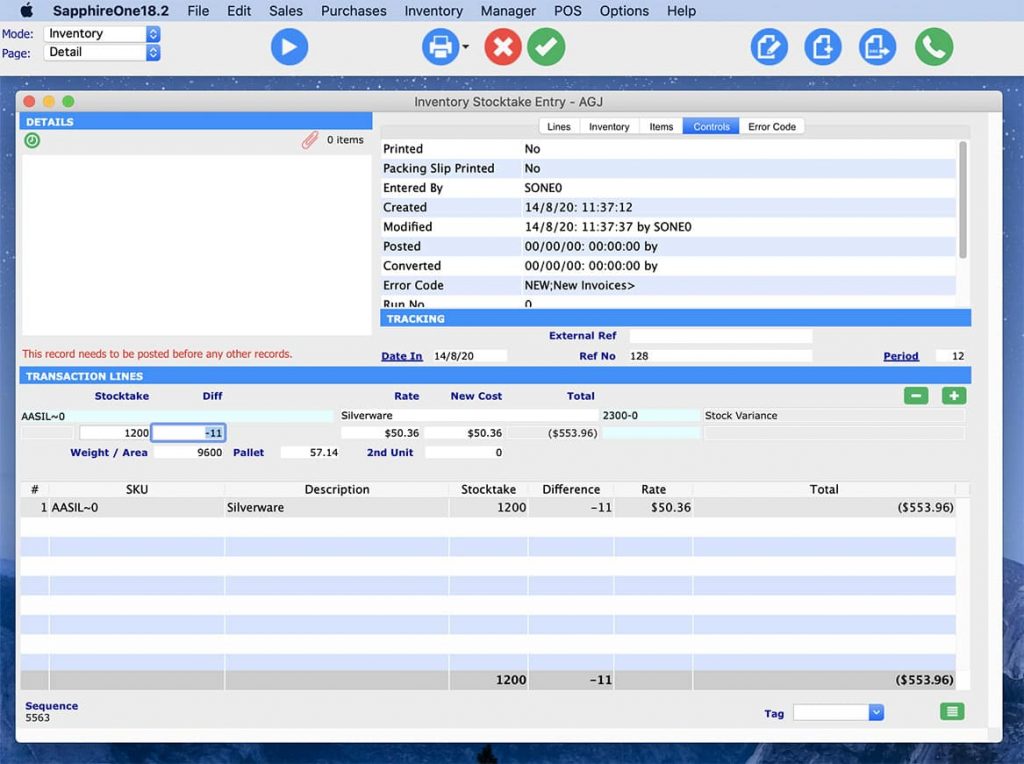 The Inventory menu is the main area of activity for entering transactions for the adjustment, transfer or building of an inventory item. These transactions are then processed through to Inventory Mode and Accounts Mode updating the Inventory and General Ledger files.
The Data Entry functions enable you to enter your data for this mode into SapphireOne, such as Stocktake Entry
The Inquiry Functions allow for the viewing of a many different Inquiries.
The Post Transactionsfunction allows the posting of Inventory adjustment transactions.
The Reportssection allows detailed analysis of the Inventory file and the production of transaction reports.

Transaction Types and their Codes:
AGJ) Adjustment General Ledger = This Stocktake Adjustment invoice is created when an adjustment is made to the current stock.
(TGJ) Transfer General Ledger = A Transfer Journal allows the transfer of stock from one department to another.
(OGJ) Order General Ledger = A pre-build Journal is created when an item is pre-built.
(BGJ) Build General Ledger = A Build Journal is the transaction that is produced when a built item is created from a number of line items.
Stocktake Entry
The Stocktake Entry function for entering data has been designed for the adjustment of stock levels and/or actual costs per unit. The Stocktake Entry screen allows control of the stock and automatic entry of the opposing adjustments within the General Ledger. The General Ledger account is the Debit or Credit side to be adjusted against the Inventory Asset Account.
Important Information on Stocktake Entry
If the Stocktake Entry involves negative stock, there is no cost change.
Any Inventory stock that has its Type set as Hire is treated differently to all other stock during Stocktake Entry. These items will also not be displayed in any Sales or Purchase lists. Once the stock has been purchased as a normal Inventory item this Stock Entry function is used to transfer normal stock into the Hire Stock.
Tags : -