February 27, 2020 3:45 pm | by Linda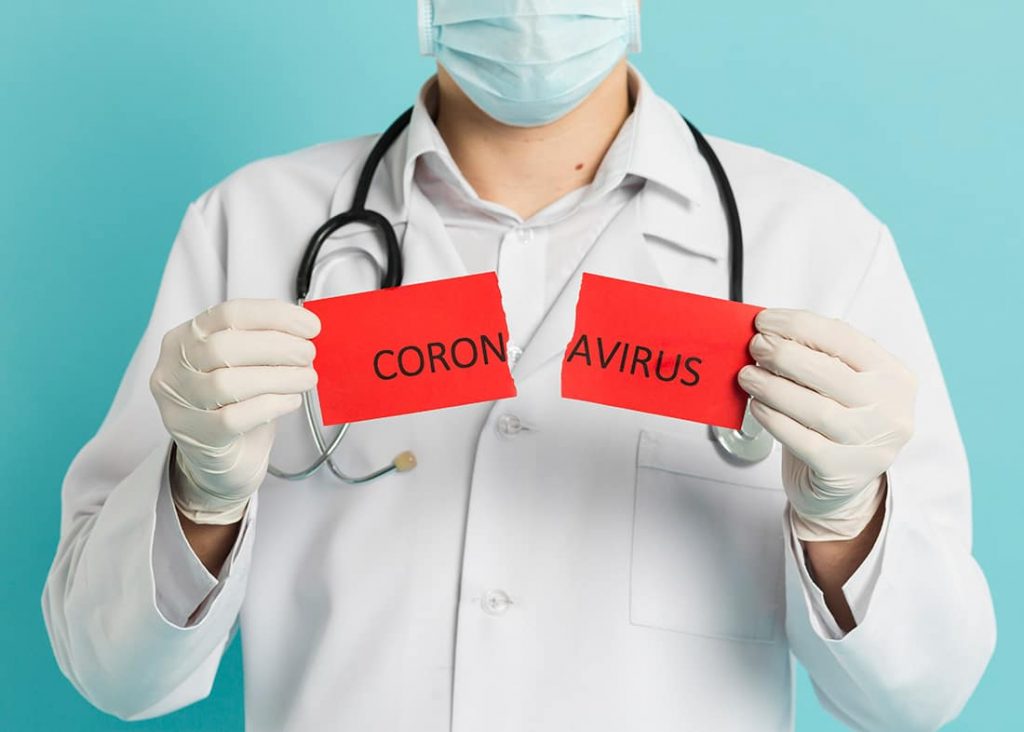 We hope you are doing well. This is just an update about CoronaVirus, and how we are currently approaching it at SapphireOne.

It is concerning looking at the CoronaVirus on a global scale and that surely soon it will be announced as a Pandemic.

There are confirmed cases in Australia. In Italy there has been a surge of cases recently north of Milan. All sporting competitions in Italy have been cancelled until 1/3/20 when they will revise this. There are cases in North America and of course many in Asia.

Our main priority is to be educated and being prepared for the virus and following the W.H.O prevention advice.
These measures include:
Avoiding contact with people (apologies if we avoid a hug or hand shake)


Frequent hand washing, so making it a habit to sanitise every time we go in and out of home and the gym etc.


Avoid touching your face


Start a buddy system to help point out when someone does not do the above, as it is really hard to make it a habit, especially not touching their face it is incredibly difficult.


If one of us does show any signs or symptoms we will look to quarantine, and seek medical help. While the information out there has quite a range of opinion for the future, it is time to be prepared and flexible with how it all works out.

If things escalate and it looks like there are any travel bans domestically, then we would look to organise for everyone to work from home, but for now we just have to take it day by day and week by week, and we will keep you updated from our end.
February 5, 2020 9:03 am | by Linda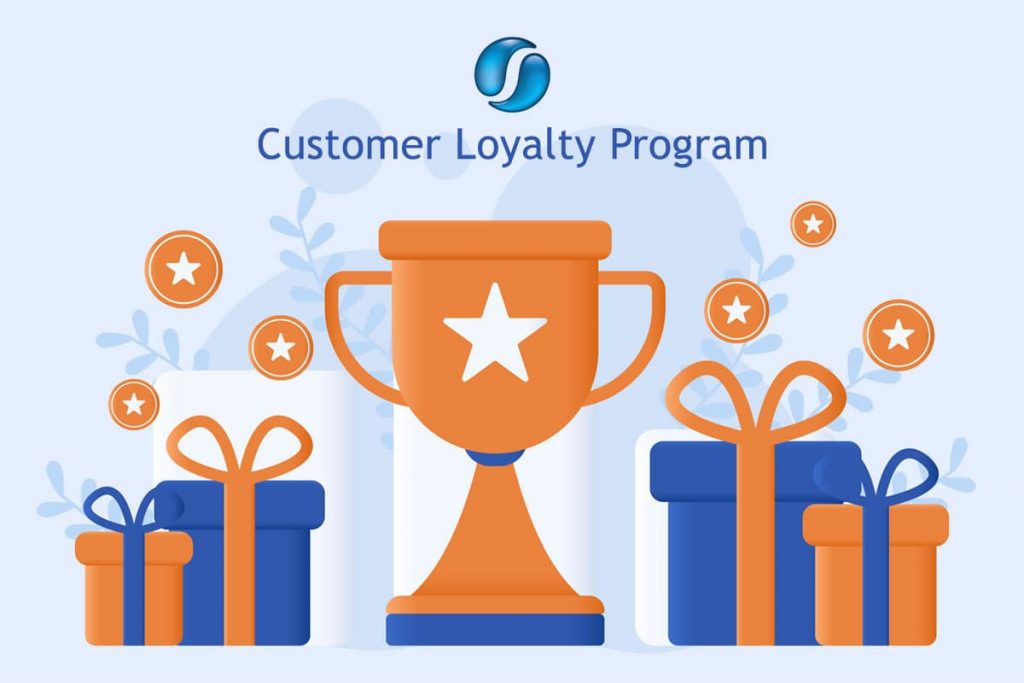 A customer loyalty program is a rewards program offered by a company to customers who frequently make purchases to encourage them to stay with you. A loyalty program may give a customer free merchandise, rewards, vouchers and gift certificates.
Loyalty programs are targeted at customers who are already doing business with you and are rewarded for each transaction. The program allows the business to reward their customers for their loyalty, but it also helps protect customers from being poached by competitors.
Customer loyalty is a customer's willingness to buy from or work with a brand again and again, and it's the result of a positive customer experience, customer satisfaction, and the value of the products or services the customer gets from the transaction. Brands want to provide great customer service so customers will continue buying from them. Customer loyalty is vital to your brands' success because loyal customers can grow your business quicker than sales and marketing alone.
Customer Loyalty Program
Loyalty programs provide two key functions: They reward customers for brand loyalty, and they provide the issuing company with valuable consumer information. While companies can evaluate general purchases, the use of a loyalty program offers additional details on the type of products that may be bought together, and whether certain voucher programs are more effective than others.
So Loyalty programs can provide important spending data from a brand's customers. When rewards programs are integrated into the customer's everyday routine, they can cultivate true brand loyalty. Once a customer becomes comfortable they begin to trust the company will deliver a consistent experience at each time. At this point, customers will stick to a retailer, restaurant, online store, etc., because their reward points are more important than a few cents savings.
SapphireOne allows you to easily setup your own Loyalty Program, whether you want to use a Voucher or a Discount reward, You can set up the program to suit your needs, for example spend $1.00 to earn 1 point, when the client has spent $20 they have earned 20 points, when the customer has reached 100 points they earn a $20 voucher to spend in the business. The discount can be set to be earned on total spend to date, for example a customer has spent $10,000, earned 10,000 points so now receives a 5% discount on future purchases.
SapphireOne helps make it easy for you to keep your customers happy and rewarded so they stay loyal.
January 17, 2020 2:55 pm | by Linda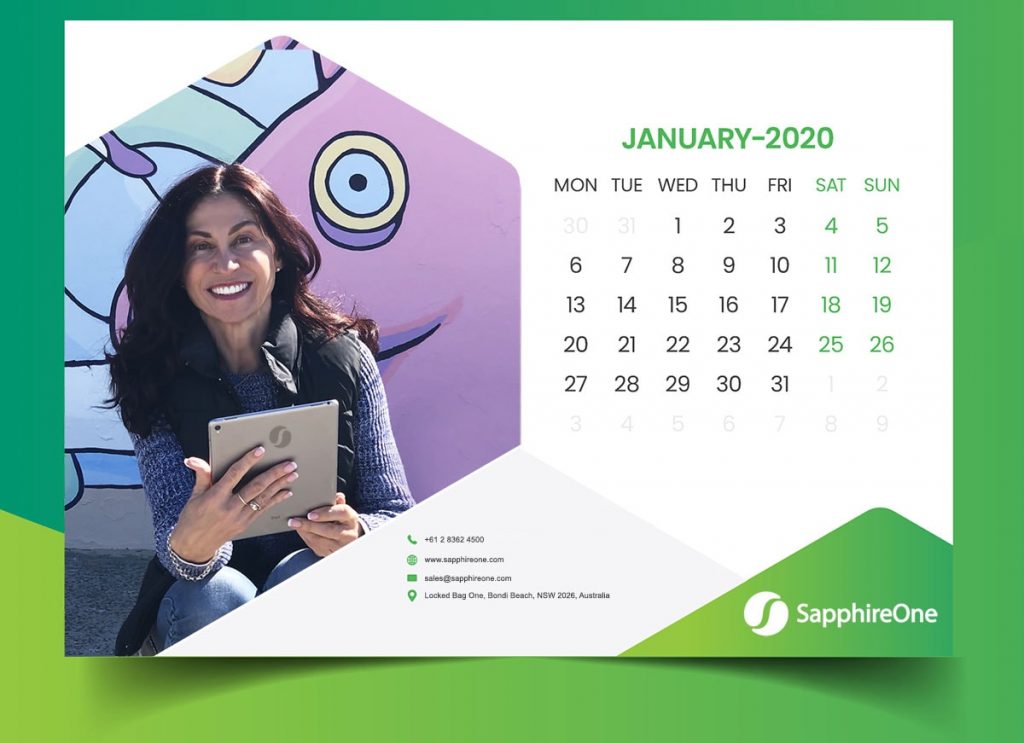 Q: Why do you like the Calendar so much Linda?
A: There are many reasons. One reason I like calendar is because I approve all the bills in the office and when my staff enter these bills as invoices in SapphireOne, you can link them to the SapphireOne Calendar. That way we never miss a payment deadline.
Q: How do you find your actions that you have entered?
A: On the right hand side of the calendar there is a drop down called Tag. You can select the tag that you create all your action under and this will show just your actions.
Q: If you have recurring payments or need to do things on a regular basis, do you have to type it all in again?
A: No, you don't have to type all the information in again, you can create an action in the calendar and instead of typing all the details in each time again, you can clone an action and all the details will be the same, all you need to do is change the date or time. To clone an action in calendar you click on the action and it brings up a selection of things you can do including clone. This is extremely useful and time saving.
Q: What other features do you like?
A: You can link an action in calendar to a vendor or a client. So it makes it easy to find all the information you need and any documents that are related to your action.
You can put all the staff holidays in the calendar and tick the box on the right hand side of calendar that says "Show Employee Leaves" so I know who is away at a click of this box. I don't want this showing all the time in my calendar so I can turn this off and on as I need it. If you want to see the whole month in Calendar you just click on the tab at the top right hand side of the calendar. Otherwise you can see a day view or a week view.
December 13, 2019 11:18 am | by Linda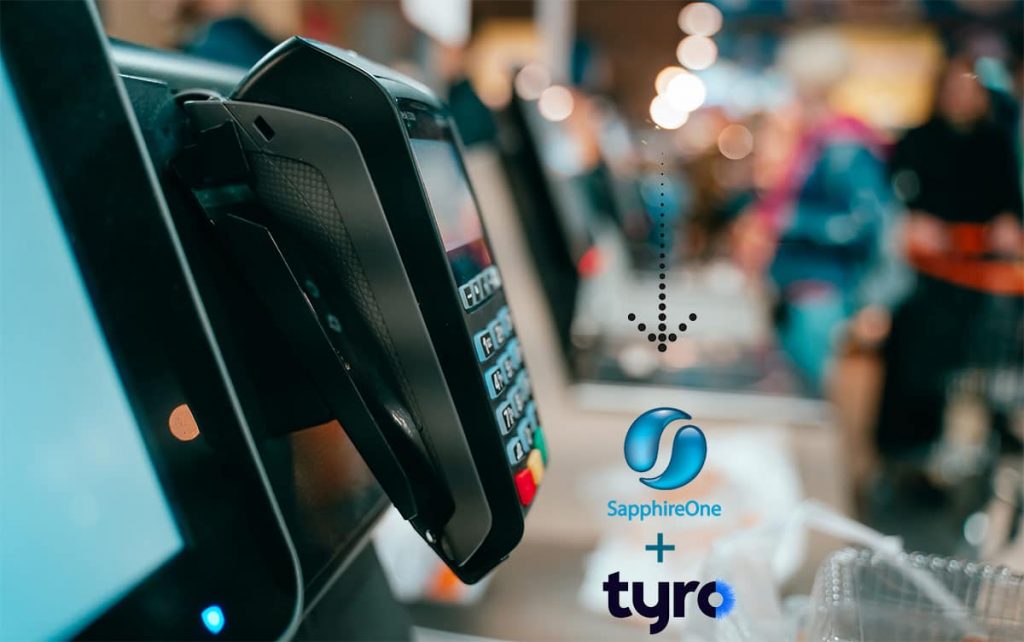 Hague Haswell from Timbecon has explained how implementing Tyro API with SapphireOne has made the biggest difference in their business.

Q : What was the main reason for you to implement Tyro into SapphireOne?
A : The main reason for us was to ensure that there wasn't any errors made when transferring data from the sale to the POS machines. We used to have a problem in the past when we were integrated with Tyro API, where people would type in the value of the sale incorrectly. And then that would obviously throw our sales figures out at the end of the day. In some cases we lost money.

Q : So one of the business cases was to reduce potential human error.
A: Yes. So anything we can do to automate, anything that reduces data entry needing to be done manually, it's going to make the system far more efficient.

Q : What was the implementation like for you, so you implemented the Tyro with SapphireOne as an API? What was that integration like for you? What was the experience?
A : Overall the implementation of Tyro was very good.

Q : Once you could actually go live how much time and effort did it actually take to turn it on and get it operational if you had to quantify that?
A : Virtually none, the first one took me maybe 15 minutes to get it set up, then the other 3 I had to set up took less that 5 minutes to set up each Till, because when I did the implementation I got the instructions, but I did something wrong and that's why the first one took a little bit of time but it basically worked straight away. So basically 5 minutes and the configuration is done and then you are live and working. What actually took the time was not setting it up, but we basically had everyone set up under the same Till, we had three separate machine, and we were balancing 3 separate machines back to one total at end of the day, what took me most of the time to match up with the different machines. Each till has its own Till ID and then you can identify those transactions and which Till it went through and who processed it.

Q : Once you've implemented at the actual processing of a transaction, how much quicker is that compared to the way you used to do it manually?
A : Compared to doing it manually you probably only save maybe 5 to 10 seconds on each transaction, so over the year it saves time, but we were more interested in reducing errors. We used to end up spending so much time to look for what went wrong with the reconciliation. That's where the real time saving has been, with not having to do the reconciliations anymore.

Q : Do you find that the capability to store the client's credit card details in SapphireOne convenient, so then it's all stored for next time?
A : What we generally do if it's a POS transaction, we will just do the sale then and there , but with the credit card transactions for customers who are calling in orders, we just put that directly into SapphireOne.

Q: So you know you can put the credit card details inside SapphireOne and then you just hit process and it will process the transaction for you. So it will pick up the credit card number expiry date, csv everything. That is in the terms page. If you go to terms on the client enquiry you can actually enter the credit card details. It speeds up the process.
A : Yes I do know that and it is so simple.

Q: So what was the overall experience for you with the implementation of Tyro?
A: The overall experience as a user is pretty seamless using Tyro. You can do your POS easily through Tyro. The staff like it and anything that reduces errors is good for everyone and it makes it less stressful for the staff when it is done this way.
December 10, 2019 9:22 am | by Linda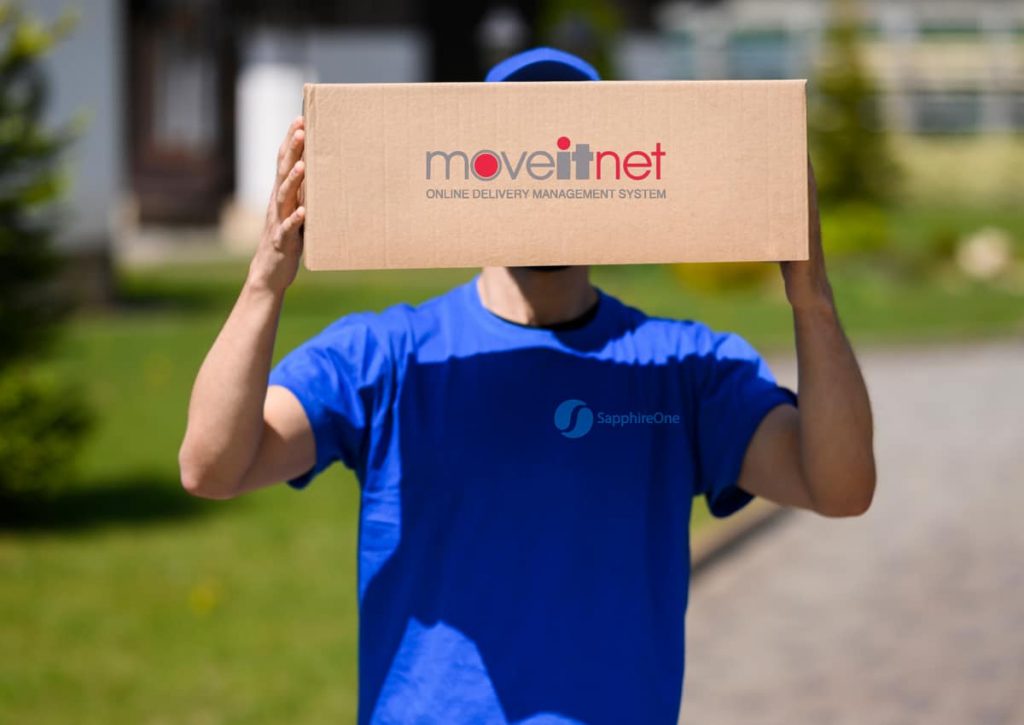 Bordo International describe the efficiencies of implementing the MoveIt API as their Freight Management System in March 2019.
Q: What was the main reason you implemented the MoveIt API?

A: We wanted to have one place where we could get all our freight information. We use a lot of different carriers – Toll Priority, StarTrack Express, Border Express, Bohaul Express, Civic Transport Solutions, Jayde Transport and Couriers Please. It was also vital that the freight system seamlessly integrate with SapphireOne.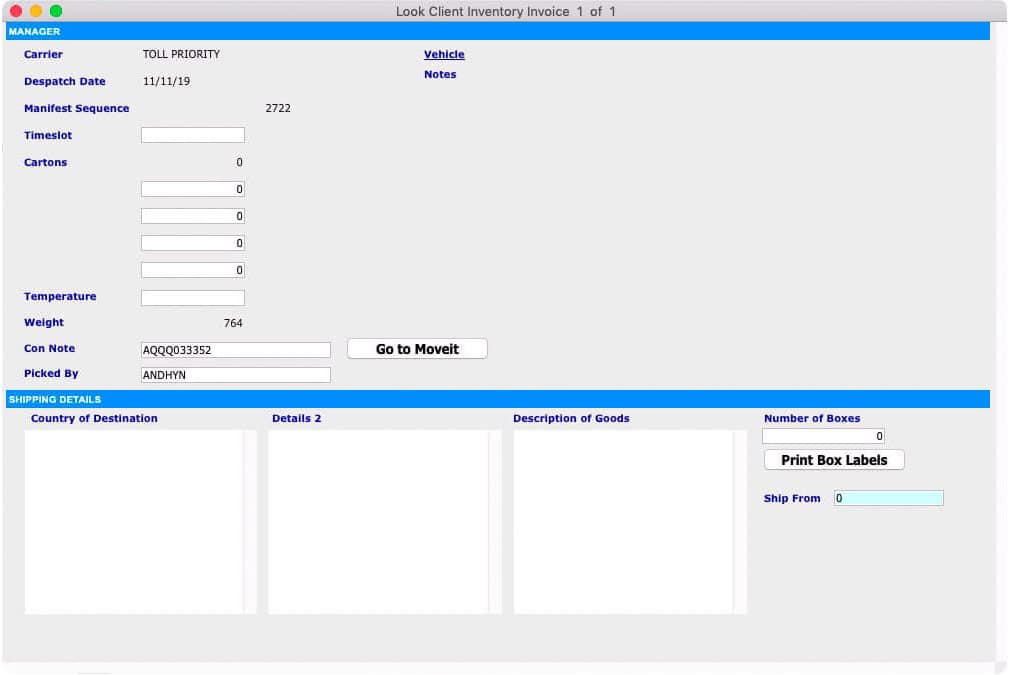 Q: What does the Moveit application actually allow for you, as a user, to do in the business? What does it give you?

A: It gives us a few things. We use it on our website (Sales Web API blog), where our clients can find out what has happened to their order – whether it has been picked up or not, is in transit or on-board for delivery.

Once the shipment has been created, SapphireOne records the consignment number on the Shipping page of each order. Next to this is a button which opens that consignment in Moveit's website where all the tracking information is displayed. This is very useful for our customer service team.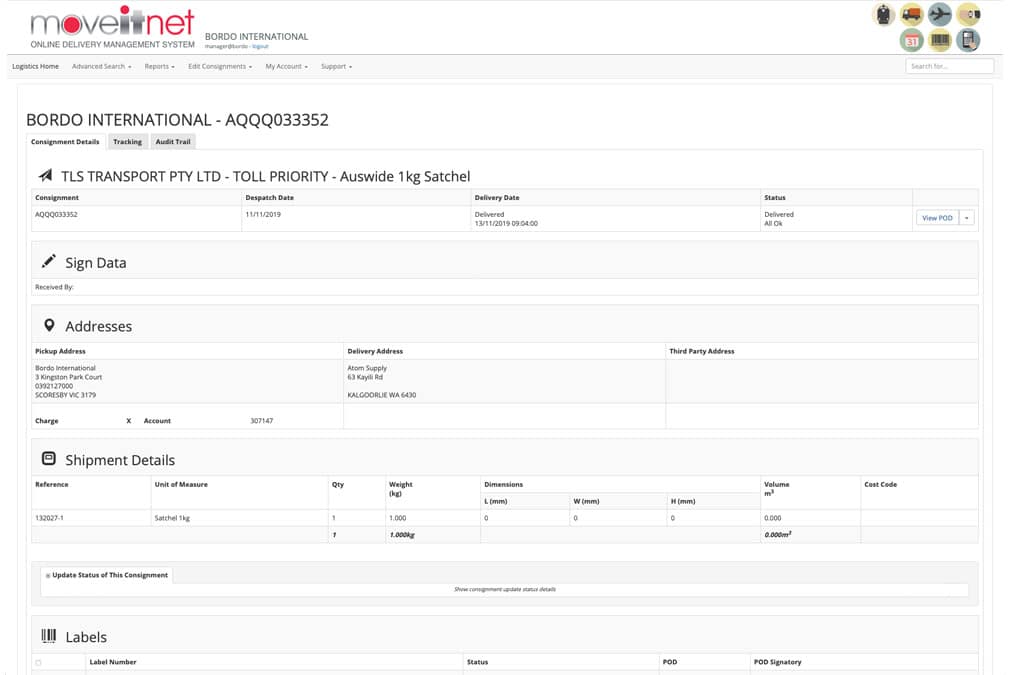 Q: If your clients can log in and track it, does it also give you the pricing capability as well?

A: Yes, when the warehouse staff are creating the consignment, there is an API in Moveit to calculate the prices and the lead times. SapphireOne will send the shipment information to Moveit via the API. Moveit will then work out the cheapest freight option. It will show the best option out of those seven freight companies. It chooses the cheapest way to go. It also shows the other, more expensive options, because sometimes the customer might say, "we need it as quickly as possible, and are prepared to pay extra to have it delivered ASAP". We can then send the order via the fastest method.
Within Moveit it is also possible to set up preferred couriers for clients. For example, a client may say, "Don't send it by this carrier because the guy doesn't get here on time". Or the client may have had a bad experience with a particular freight company and they may say, "We don't want our orders to go with X we want to go with Y or Z." With Moveit we can set up those rules for a customer for a particular freight company. So it makes it nice and easy, as it is all automatic. We used to have notes printed out on every invoice with all these special rules. We used to set this up in SapphireOne, so you'd actually store that information in each client as a comment. So, in the delivery address there would be a couple of asterix to say, "Don't send via Toll" for example. On a busy day when the warehouse staff are rushing to get orders out, they might not notice the comment on the invoice and send the order the wrong way.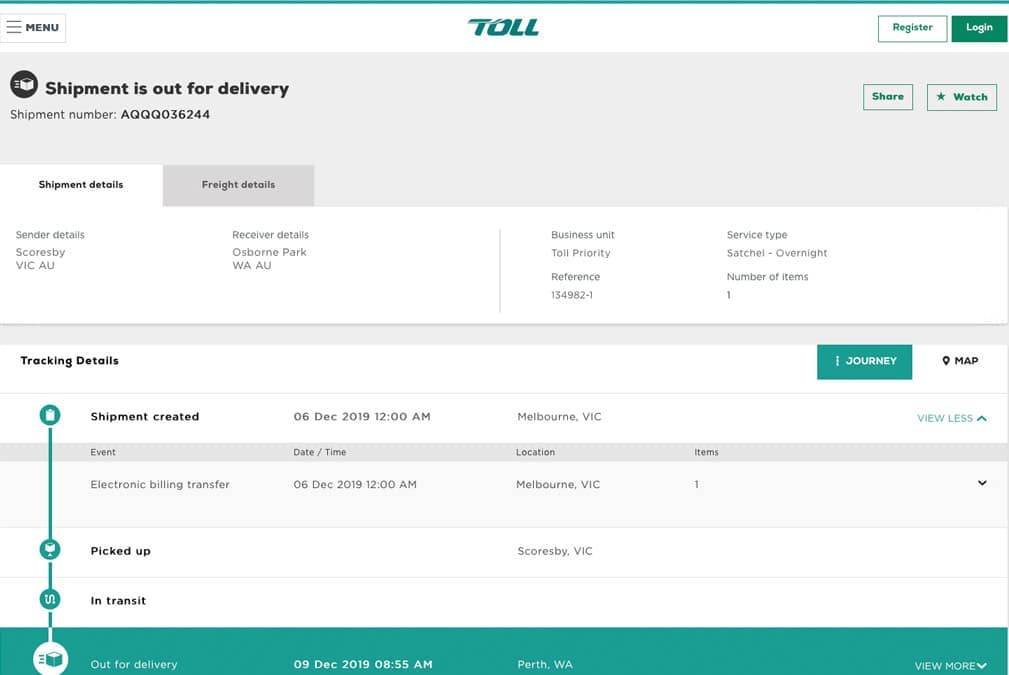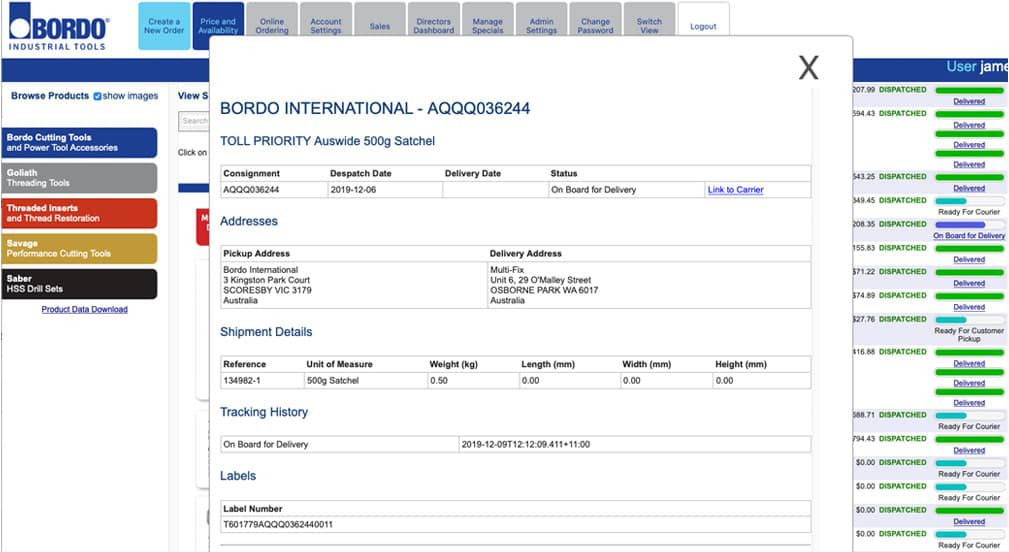 Q: So it does that automatically now?

A: Yes it does.

Q: What has been the impact just on the efficiencies within the business?

A: We used to have to create consignments in different systems, one for each freight company. If a client changed their address, we would have to remember to change it in the freight company's system as well as in SapphireOne. Each system would have a different method we'd have to use to transfer the consignment note information into SapphireOne. Couriers Please used pre-paid dockets which we stuck on each box. We then had to write that up on a piece of paper. Each night office staff would have to update these orders in Sapphire from the piece of paper. We therefore had a whole lot of different systems we had to use, staff had to be trained on them all and all the systems had to be kept up-to-date manually with addresses etc. Now that's automated in SapphireOne with its link to Moveit.


Q: So, if you were to summarise the whole process, what would you say?

A: It has made the whole process a more simple, convenient and less error-prone one.
November 13, 2019 8:42 am | by Linda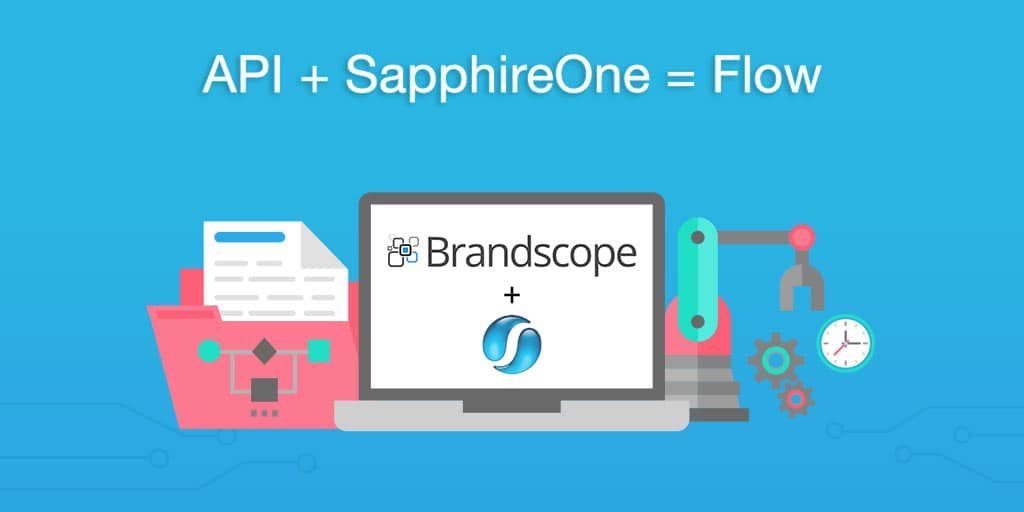 Empower Suppliers, Agents and Retailers to source and supply multiple brands on one intuitive, specialised wholesale trading platform. The Brandscope market place is driven by unique cloud-based software tools that facilitate pre-order and refill sales, while exposing marketing and educational information.
Suppliers – Launch your brand to leading retailers with flair and speed using exciting SapphireOne technology that streamlines the expensive sales process.
Retailers – Scope out and buy brands on-line using SapphireOne's state of the art purchasing tools.
Agents – Manage your Brands, Suppliers and Retailers with greater efficiency using technology that does the work for you.
SapphireOne Integration with Brandscope API
SapphireOne seamlessly integrates with numerous Application Programming Interface (API) and have partnered with Brandscope, Shopify, Stripe, ATO, OANDA, PayPal, SPS Commerce to name just a few.
Implementation of Brandscope has brought tremendous success to our clients. With the integration of Brandscope, now our client can automatically upload Inventory data and status from their SapphireOne ERP system into Brandscope. RESTful service accepts Orders from Brandscope to our system and synchronize the data seamlessly with SapphireOne and Brandscope.
A RESTful API is an application program interface (API) that uses HTTP requests to GET, PUT, POST and DELETE data. REST technology is generally preferred to the more robust Simple Object Access Protocol (SOAP) technology because REST leverages less bandwidth, making it more suitable for internet usage
Robert Grant, founder of Reflex Sports:
"Brandscope has made a wonderful difference, previously we were manually entering incoming orders and answering phone calls, and giving stock count to our customers verbally. As soon as we put on Brandscope in SapphireOne Application we find that those customers who are using Brandscope, have up-to-date stock availability, and saving one and half people's work load for manual order entry. Brandscope integration has also reduced the data entry mistakes for our customers."
The ability to accurately track inventory across all channels is essential to maintaining a fluid system. With the integration of Brandscope API into SapphireOne now you can synchronize your orders with your inventory, stay up-to-date with your sales as they happen and get real-time sales data and advanced reporting.
For a sneak peek at the full capabilities of an ERP, CRM, Accounting Software and API check out Sapphireone and request for a live demo, its everything you'd ever need to make management a breeze.