June 2, 2020 9:16 am | by Rubai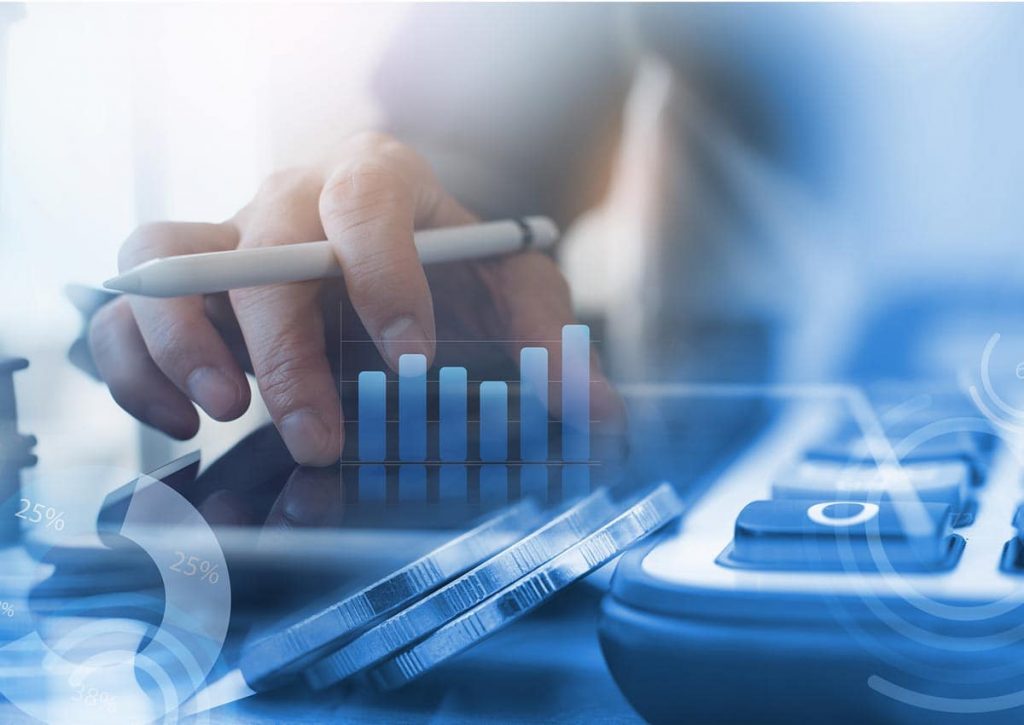 Processing vendor invoices, tracking them and eventually settling any outstanding liabilities constitutes an essential part of accounting activities. At first glance, Accounts Payable (AP) can appear well organised and managed correctly. However, hidden deficiencies often exist, setting the foundation for countless unfavourable outcomes, including:
A significant increase in processing costs
Higher HR expenses due to more accounting employees needed
Straining business relations with suppliers
A risk of losing potential volume rebates
There are various scenarios in which such hidden inadequacies in the management of AP can arise. This blog is aimed at explaining the most common, as well as most relevant ones and offering you with solutions on how to prevent such deficits.
Automating Accounts Payable Practices
Human Error during Data Entry
Mistakes being made during the entering of vendor invoices are undoubtedly one of the most prominent challenges AP departments are faced with. Manual data entry is not only time-consuming, but also cost-intensive and most importantly, highly prone to human error. Even the smallest inattentiveness has the ability to lead to grave consequences for the business. Over 88% of all data entry performed via Excel spreadsheets as the most commonly-used program for such tasks, is laced with significant errors.
Isolating these errors and undertaking corrective measures is not only a tedious process, but also does not offer any assurance of total accuracy of the resulting data. SapphireOne's PDF capture functionality provides for a solution by streamlining daily accounting tasks, eliminating the need for any initial sorting through vendor invoices and supporting documents, improving data accuracy and opening up capacities of employees. Furthermore, it includes automatic rules and validations that ensure data integrity.
Poor Transaction Processing
The risk of mismanagement of invoices is significantly higher if processing is based on a purely manual approach. Although the implementation of a processing guideline can have a positive impact, the approach is generally only applicable to small-scale AP departments. Larger and/or rapidly expanding companies, however, will struggle with maintaining consistency during invoice processing. Not only the previously mentioned automated PDF capture function, but also all other functionalities are based on sound logic and algorithm controls, thus conjunctively lead to consistent results to be achieved.
Bulky, Unmanageable Records
Any AP department emanates large volumes of inflow and outflow transactions. Regularly updating, organising and maintaining related records using purely manual procedures is an approach that is far from being considered accurate or efficient. An electronic system, such as that offered by SapphireOne to its clients, opens up the possibility of substantial efficiency gains to be achieved and also positively affects accuracy. Accessing the collated data and retrieving informative reports on any recorded transactions in the program is also highly user-friendly.
Exposure to Vulnerabilities
As the AP department is in charge of any funds flowing out of a company, it is highly susceptible to fraudulent actions. Many smaller businesses and start-ups have a tendency to treat protection against fraud with limited relevancy, at least up until they are being targeted themselves. Nonetheless, you have the ability protect your business from the first day onwards by implementing comprehensive security mechanisms. As these are, however, for the most part only compatible with automated AP systems, any manual processes are far outdated and also prone to criminal activities. Once you have switched to an electronic and automated approach, fraud protection measures based on an electronic delivery of required variables can be incorporated. As a result, all business activities can be tracked, meaning any suspicious activities will be flagged and traced back to its source.
SapphireOne can Automate your Accounts Payable
It is vital for any business to implement an effective, automated AP practice in order to protect themselves from various hidden risks and inadequacies and SapphireOne offers a comprehensive solution. The benefits you will instantly experience and be able to enjoy are numerous, for example:
Reduction in data entry errors
Streamlined invoice approvals
Use of early payment discounts
High level of data security
Monitoring of cash flow
Activate/Deactivate Vendors
An automated AP still requires manual entries to some extent, especially during the initial process of setting up new vendors. SapphireOne offers a feature for any vendor (or debtor) which enables its clients to activate or deactivate specific vendors (or debtors) simply by ticking a box. This ensures that once any data for a vendor has been entered, it will not have to be deleted during deactivation. Instead, the vendor will simply cease to appear in your vendor list or on any related reports; the only prerequisite is that there are no more outstanding balances. If, in the future, your company enters into business relations with such a vendor (or debtor) again, all pre-populated data will still exist and re-appear once re-activation is initiated.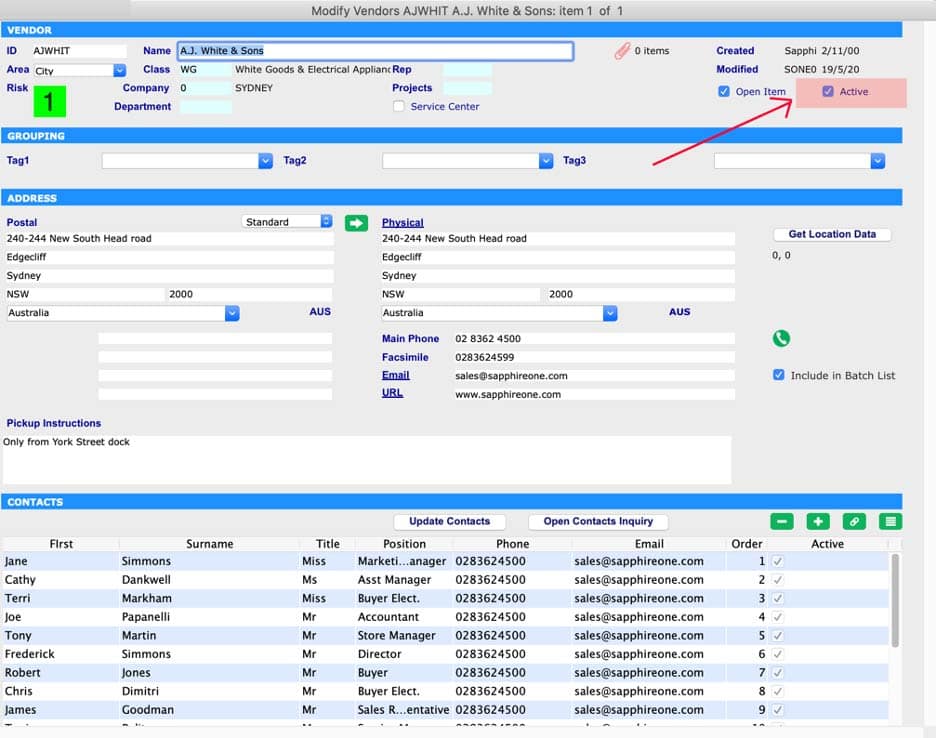 Manage your bills more efficiently, pay suppliers on time, reduce administration expenses and get an overview of where your business expenses are being allocated to with SapphireOne's Accounting Software. For further information about all the benefits and capabilities of a highly functional AP system, visit Sapphireone and/or request for a live demo.
Stuart Leung, "Sorry, Your Spreadsheet Has Errors (Almost 90% Do)", Forbes (Online), 13 September 2014.
May 26, 2020 8:32 am | by Rubai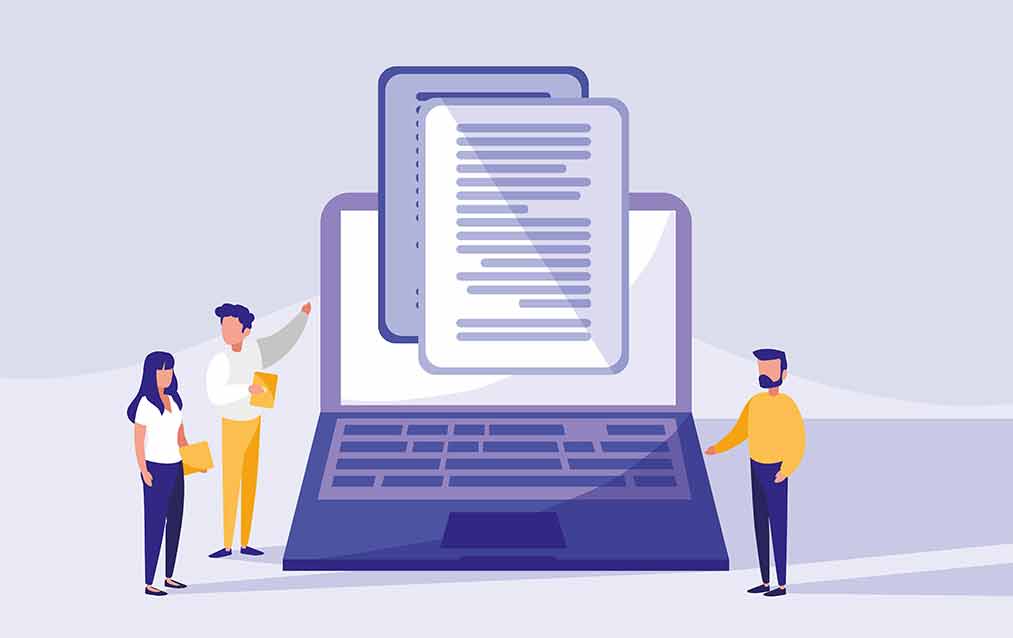 Some more so than others, but nearly all types of transactions involve paperwork needing to manually be sorted through and filed appropriately. This process is time-consuming and quite frankly, not very exciting for any accounting team member. However, SapphireOne has developed a solution readily available to your company as it offers an ERP software application with an integrated document management.
An ERP framework is a versatile accounting tool that supports the incorporation of different segments of any day-to-day business, ranging from processing of orders to managing inventories and shipments etc. Metaphorically speaking, an ERP software is the 'Swiss army knife' of data management. If it is coupled with an integrated document management system, the process of filing any paperwork stemming from various business activities becomes a walk in the park, as the two components work hand in hand to facilitate efficient and effective document management for any organisation or company.
The Benefits of Integrated Document Management
There are five distinct advantages for you and your company related to adopting SapphireOne's ERP solution in respect of document management tasks such as sorting, searching and filing:
1. Time- and Labour-Efficient
An ERP system with the capacity for integrated document management allows you to conveniently sort and file large amounts of paperwork created by various transactions electronically with ease. The process also becomes much less labour-intensive, meaning your accounting team can shift their focus on more productive tasks.
2. Fluidity and Departmental Integration
The ERP solution offers the possibility of making your company function like one single beehive, interconnecting it on all fundamental levels and consequently, enabling instantaneous sharing of information between all departments, which leads to a high degree of fluidity that is desirable for any type of business. For instance, the customer service team will not need to contact the accounts department anymore in order to retrieve details on inventory, locations, taxes, customers or any other relevant information. Instead, any department can access all data directly via an ERP dashboard.
3. Privacy and Security
Any integrated management of documents via an ERP software application enables the implementation of a risk-stratified security protocol for accessing sensitive information contained within them. As a result, you can effectively specify and monitor who is able to, as well as who actually accesses, any protected data.
4. Lower Management Expenses
Unlike manual processes of organising, filing, sorting and searching paperwork, electronically managing documents incurs no additional expenditures for printing and storage of such. Further, it also reduces the need of allocating valuable human resources to tasks such as searching and filing of documents, as these can be attended to electronically i.e. in a more efficient manner. A reduction of paper consumption also has the positive outcome of improving the eco-friendliness of your company.
5. Improve Decision-making Process
An ERP compatible with integrated document management enhances your as well as your employees' decision-making skills. By easing the access to all relevant data and information pertaining to branches such as sales, expenses and general transactions, all possible options and outcomes can be weighed up. Resultingly, the decision-maker can rest assured that the ultimate outcome is based on a foundation of thorough research. It is essentially the accumulation of such critical decisions that determine the fate of a company.
The integrated document management system offered by SapphireOne excels with its capacity of attaching documents to transactions and all major tables. If you would like for your business to be able to take advantage of all the aforementioned benefits, it is as easy as implementing SapphireOne's world-class ERP, CRM & Business Accounting Software. Please contact us to request a live demo and/or read the testimonials from our long-standing clients.
May 18, 2020 4:31 pm | by Rubai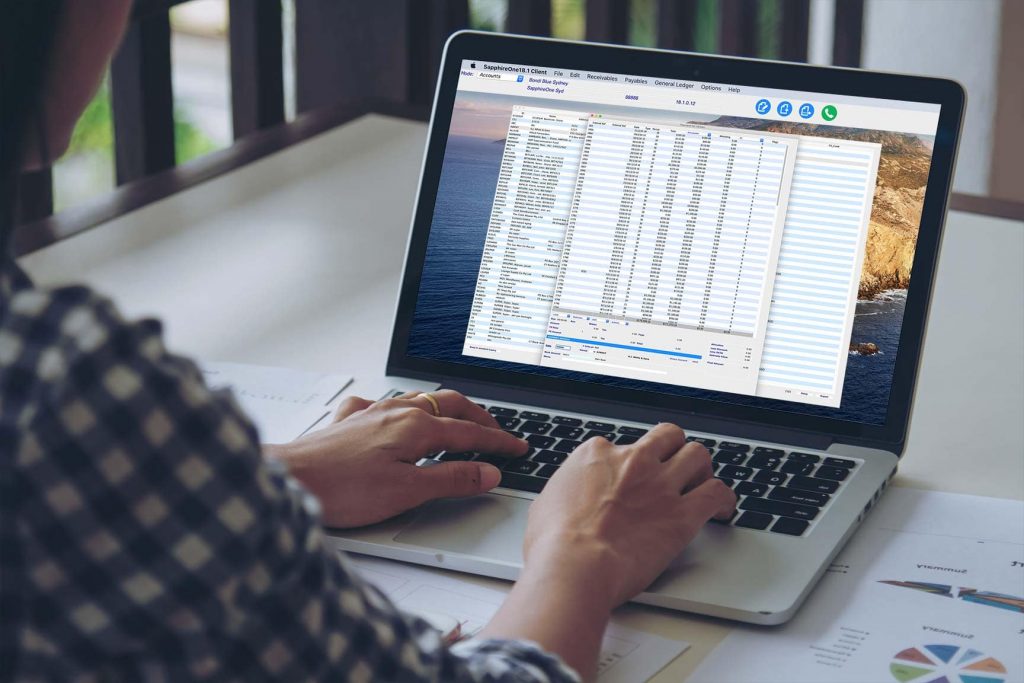 The manual payment method in Accounts Payable processing is a time-intensive process for your Accounts department. In addition, any manual operation creates the possibility of human error which can result in inconvenient effects on the production flow and costs. Although a manual Accounts Payable workflow is scalable to a certain extent, it will become inefficient and unviable in cases where a large volume of invoices needs to be processed on a daily basis.
Electronic payments are digital transfers of payments from your Enterprise Resource Planning (ERP) or Accounts Payable system to the supplier's designated bank account via a Bank's payment portal. Any electronic payment significantly reduces the burden of managing payments manually. Although the creation of an electronic Accounts Payable process is a challenging task, setting up an automated workflow for Accounts Payable leads to substantial efficiencies for your company.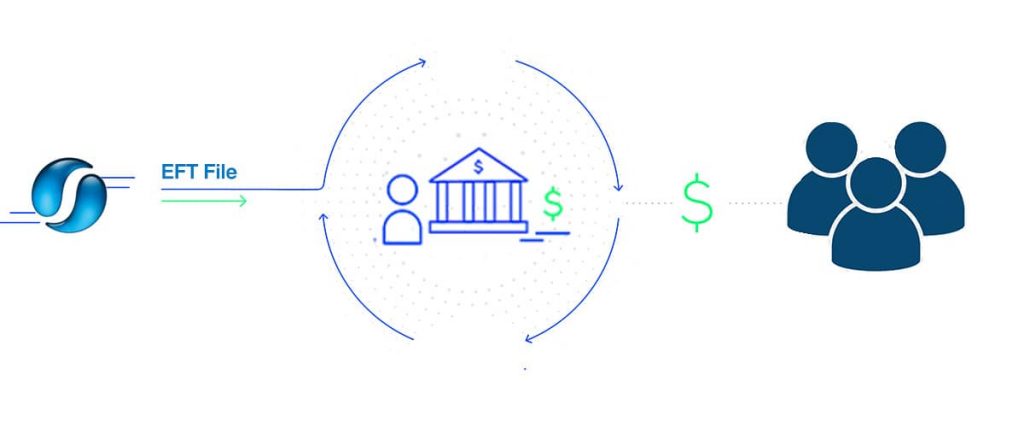 EFT Processing for Accounts Payable
Electronic Fund Transfers (EFT) are commonly used for deposits of Accounts Payable. They constitute a safe and convenient option of processing payments. As a result, EFTs have become the predominant method of transferring funds for both businesses as well as consumers.
Facilitating the Accounts Payable function by using EFTs offers numerous benefits, including the below:
Reducing Workload and Scope for Error and Fraud

Instead of manually handling all incoming invoices, all data is entered into the Accounts Payable system and payments are made via EFTs which are processed by the bank. Cheques, in comparison, may be lost, misplaced or obtained fraudulently and also require a significant amount of paperwork that consumes valuable storage space. Your Accounts Payable team will also be able to focus its time on more value-adding tasks.

Optimizing Cash Flows

An electronic exchange of purchase invoices not only allows for faster processing, but also enables improved tracking of all expenditures, as the software records any transaction being made. The traceability derived helps to improve the management of the cash flow, increases the precision of financial statements and it also allows for easier auditing.

Improving Buyer-Supplier Communications

Electronic invoices increase the transparency of their processing for both the supplier and the buyer, which aids in avoiding, as well as in resolving disputes between the parties.
Enhancing Accounts Payable Processing Time with SapphireOne
SapphireOne offers the ability for electronic payments by preparing an electronic payment file to be processed by the buyer's bank. These files are prepared in accordance with the format prescribed by the Australian Bankers' Association (ABA file) and all major Australian financial institutions use them to record payments to be made from one bank account to one or multiple others. The information contained within an ABA file includes the payer's and payee's bank details and the amount to be paid, with any file being able to hold information on multiple payments as well.
Before you can prepare an electronic payment file in SapphireOne, you will need to complete the electronic payment set-up tasks. Once you have recorded all payments to suppliers you want to pay electronically, you can prepare an ABA file. Once created, you can upload it to your bank for processing of the payment.
Setting Up Vendors for Electronic Payments
Go to: Accounts > Payables > Vendor Inquiry > Vendor Terms Page > Select: EFT checkbox and Provide: Account details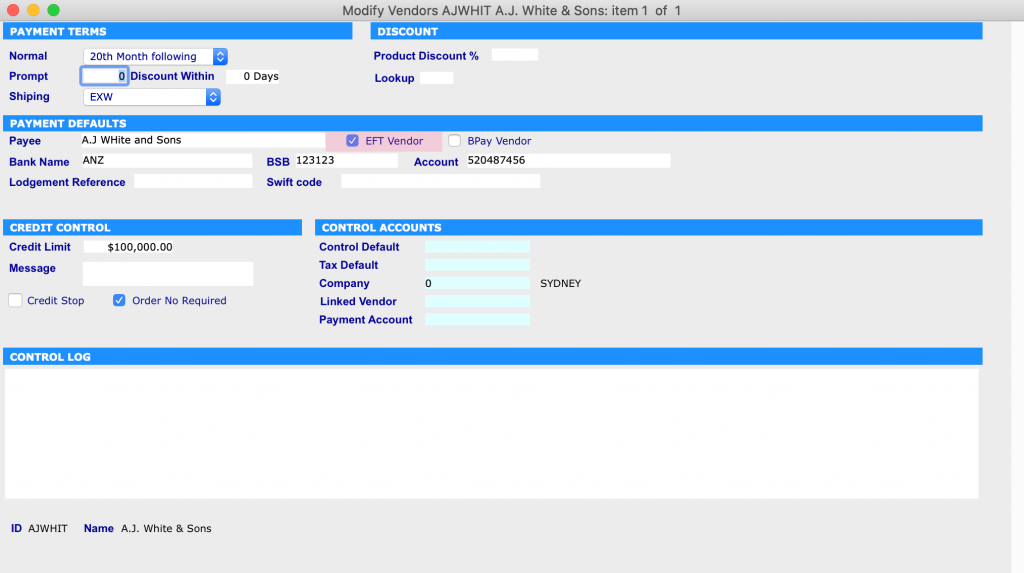 Creating Payment
Go to: Accounts > Payables > Payments > Create: Payments > Select: Vendor and Click: Tool > Create: Payments > Select: Invoice or invoices > Green tick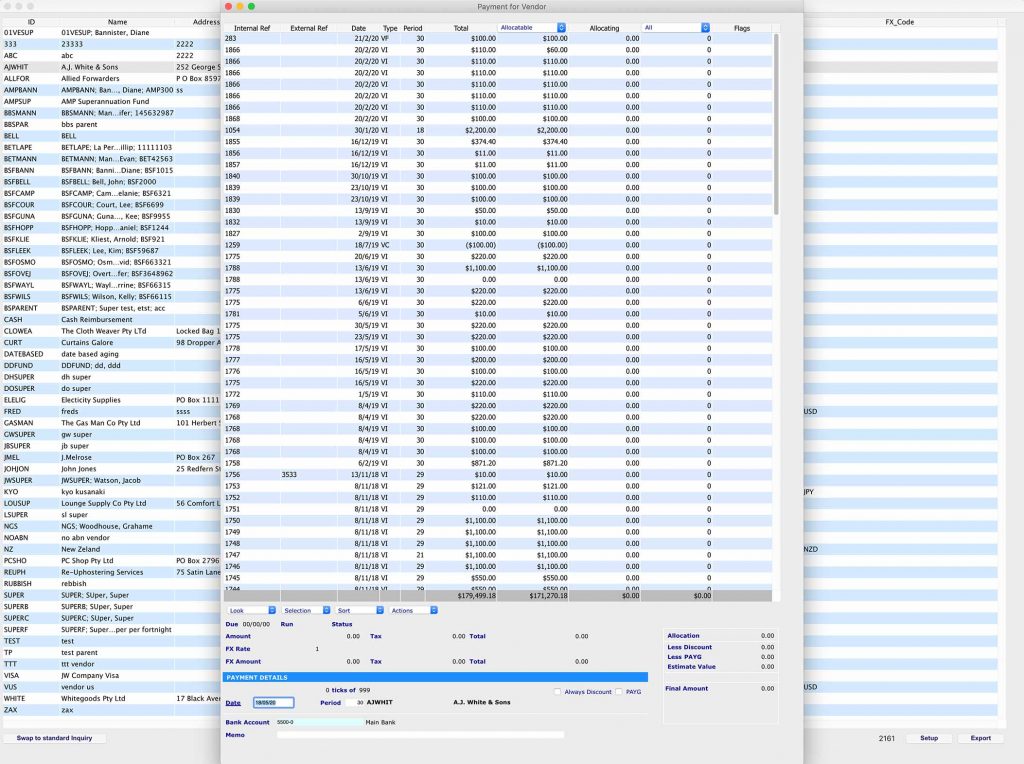 Generating ABA file
Go to: Accounts > Payables > Payments > Print: Payments > Select: Bank > Print: Dialogue is displayed > Select: Your Report Type and Method (In this case it is 'Remittance' and 'ABA File for EFT') > Print > Select: Vendor for generating ABA file > Save: ABA file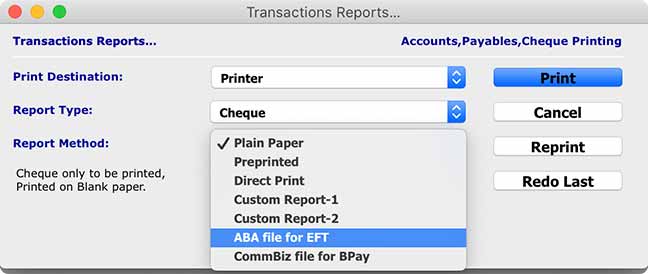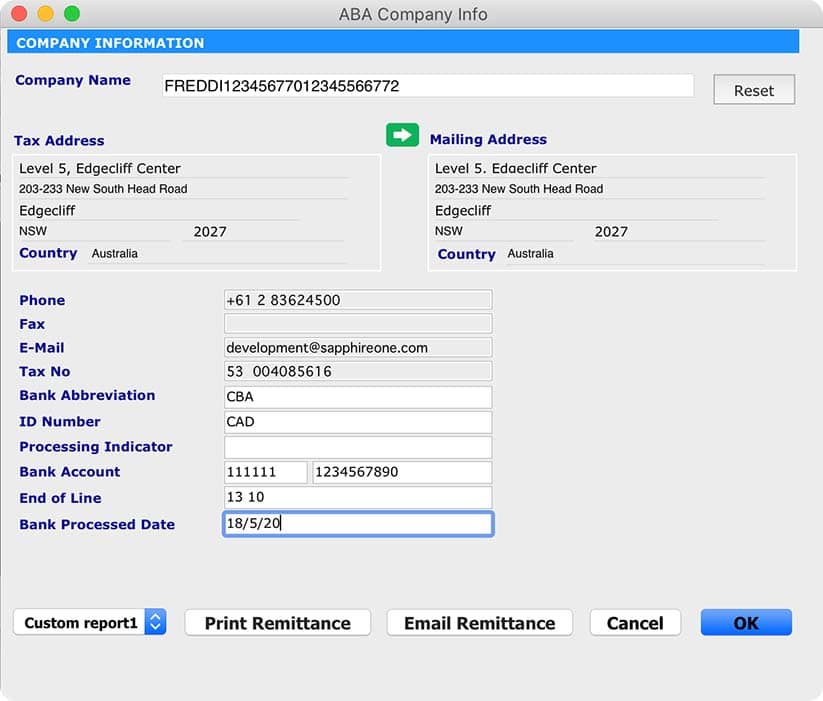 ABA files allow you to pay any invoices through your internet banking provider. However, each provider has a different set of instructions on how to process ABA payments, which you will need to follow in order to complete any transactions.
Please book a support call via our website, in case you have any questions or need any further assistance.
May 11, 2020 8:30 am | by Rubai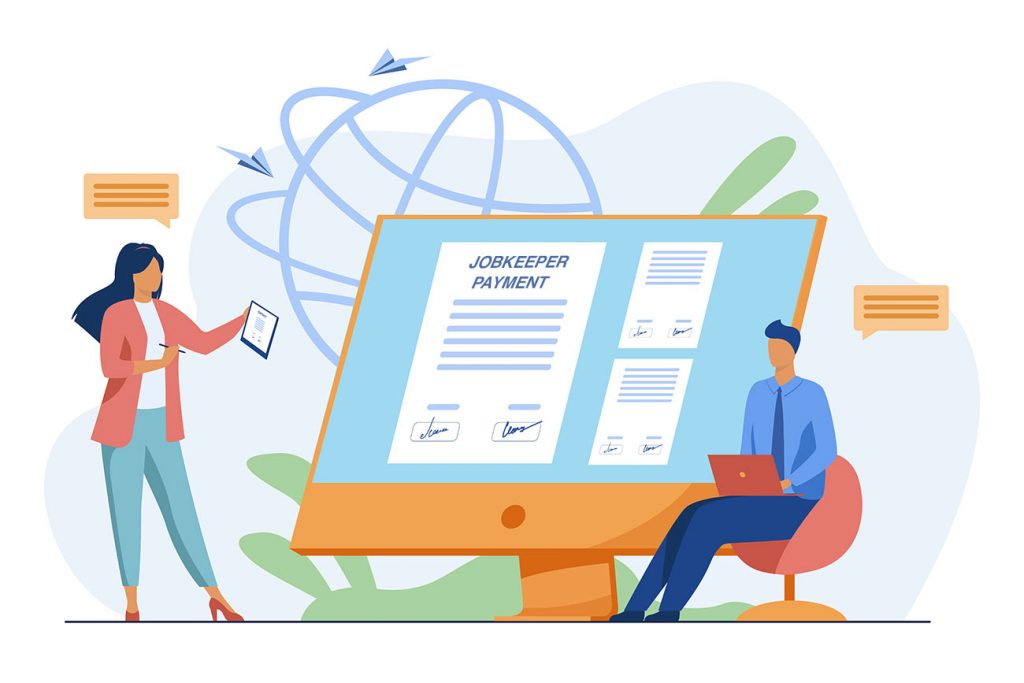 JobKeeper is a wage subsidy scheme recently introduced by the Federal Government to support businesses in navigating the severe economic impacts caused by COVID-19. It is aimed at maintaining jobs for Australian employees, as well as at helping companies to restart their business quickly once the crisis has passed. We know that there is a lot to take in when it comes to JobKeeper. For this reason, SapphireOne is providing you with continuous support to simplify the process of implementing this new program by adjusting your Payroll/HR.
New information and updates regarding JobKeeper are being released on a constant basis. Therefore, we advise all our clients to read the below instructions, even if they have already successfully set up JobKeeper payments according to our previous blog SapphireOne is now JobKeeper Ready. This will enable you to ensure that your settings are adjusted correctly to comply with the ATO's reporting guidelines.
JobKeeper Start and Finish Date
Employers are obliged to indicate any wage payments made to their eligible employees under the JobKeeper scheme via STP. Further, they need to notify the ATO of the start date of the first JobKeeper fortnight they are claiming reimbursement for. The failure to do so will result in forfeiture of the claim.
Correspondingly, employers are also held to update the ATO about any ceasing of JobKeeper payments that were previously made to eligible employees. As a result, we recommend to our clients not to enter a Finish date. (Please be aware that this recommendation may change in the future in the case that the Government releases any new information. We will keep you updated of any changes via our blog.)

If either the employee or employer becomes ineligible while the JobKeeper scheme is still in place, a Finish date will have to be added before the end of the last pay run. Reasons for ineligibility include, for example:
Receiving workers compensation payments
Receiving Parental Leave Pay
Receiving Dad and Partner Pay
Cessation of employment
Changes in the status of citizenship or visa
Update JobKeeper Payments in SapphireOne to comply with ATO guidelines
In case you have already set JobKeeper in SapphireOne, please follow the instructions below to adjust your settings to comply with the up-to-date reporting guidelines of the ATO.
1. Do not enter a JobKeeper 2020: Finish date.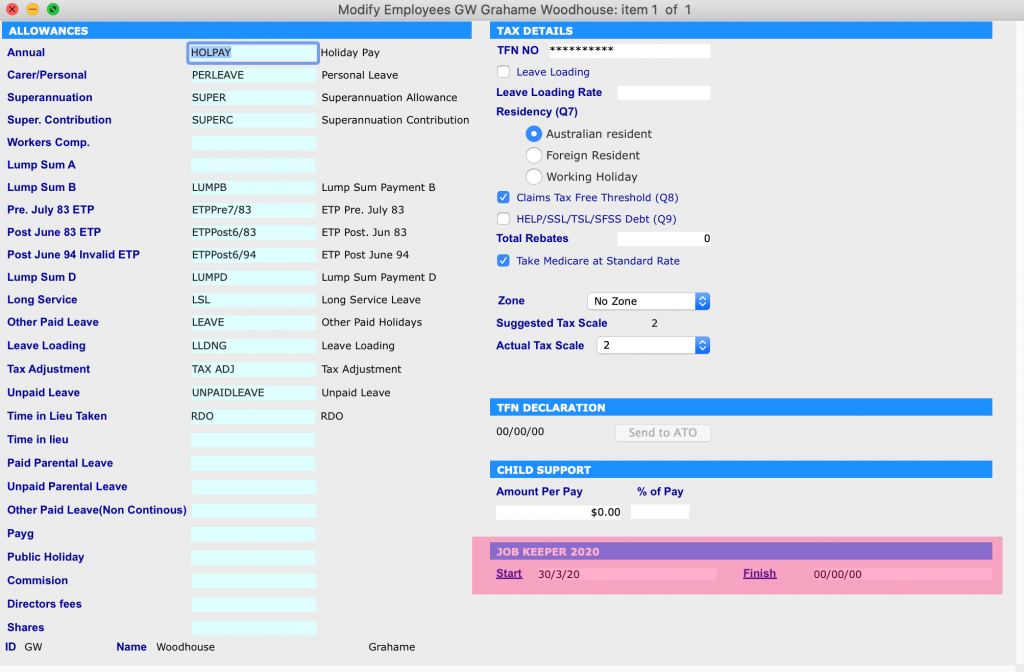 2. In the JobKeeper Allowance setting, set the Multiplier as '1.00'.

Additionally, you will need to adjust this value in Working Transactions for every employee who is eligible for JobKeeper payments.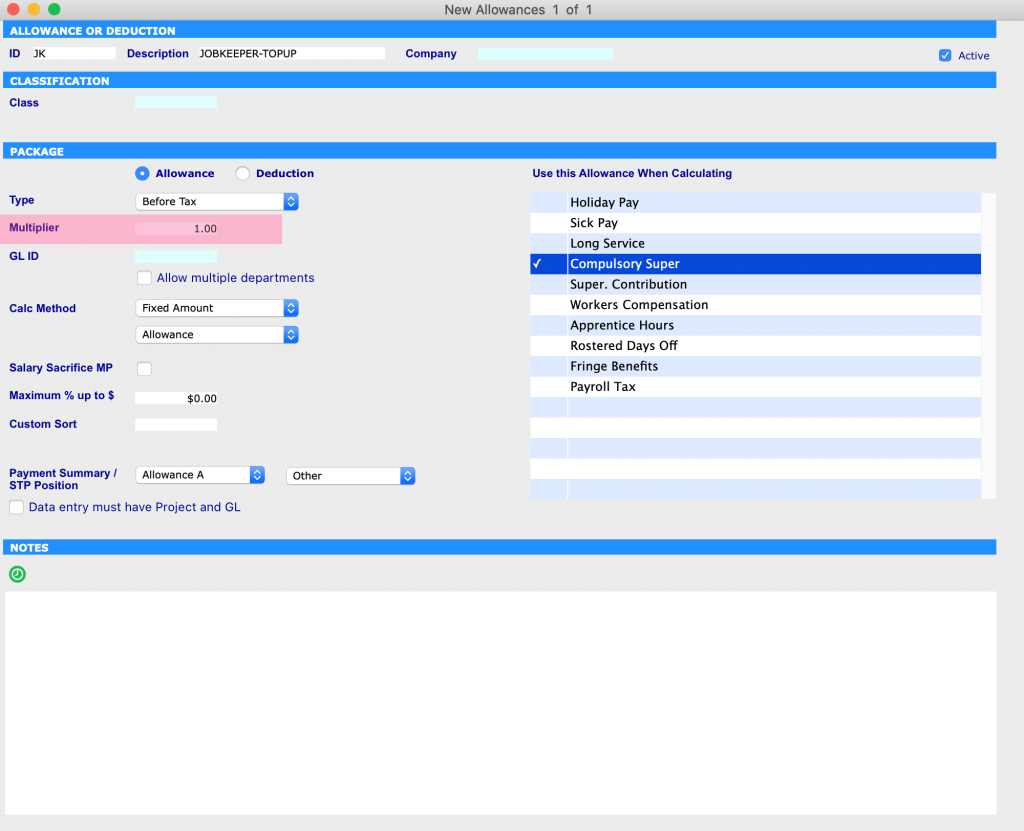 Four Example Scenarios of Processing JobKeeper Payments
The below is an instruction on how to use SapphireOne's JobKeeper Payment functionality in your pay run.
As the ATO has prescribed specific naming conventions for identifying various payments under the scheme, we advise our clients to use these in order to receive reimbursements without any unnecessary complications or delay. If you do not use the correct naming protocols, the STP will fail.
We have created 4 different scenarios to help guide you through the correct processing of JobKeeper payments.
Scenario 1: Employee Alex receives $2000 per fortnight
Alex gets paid gross $2000 per fortnight. This value exceeds the JOBKEEPER-TOPUP amount. As a result, you do not need to add any entry of JobKeeper Allowance in Working Transactions. As long as you have set a JobKeeper Start date, SapphireOne's system will automatically notify the ATO regarding JobKeeper payment via STP.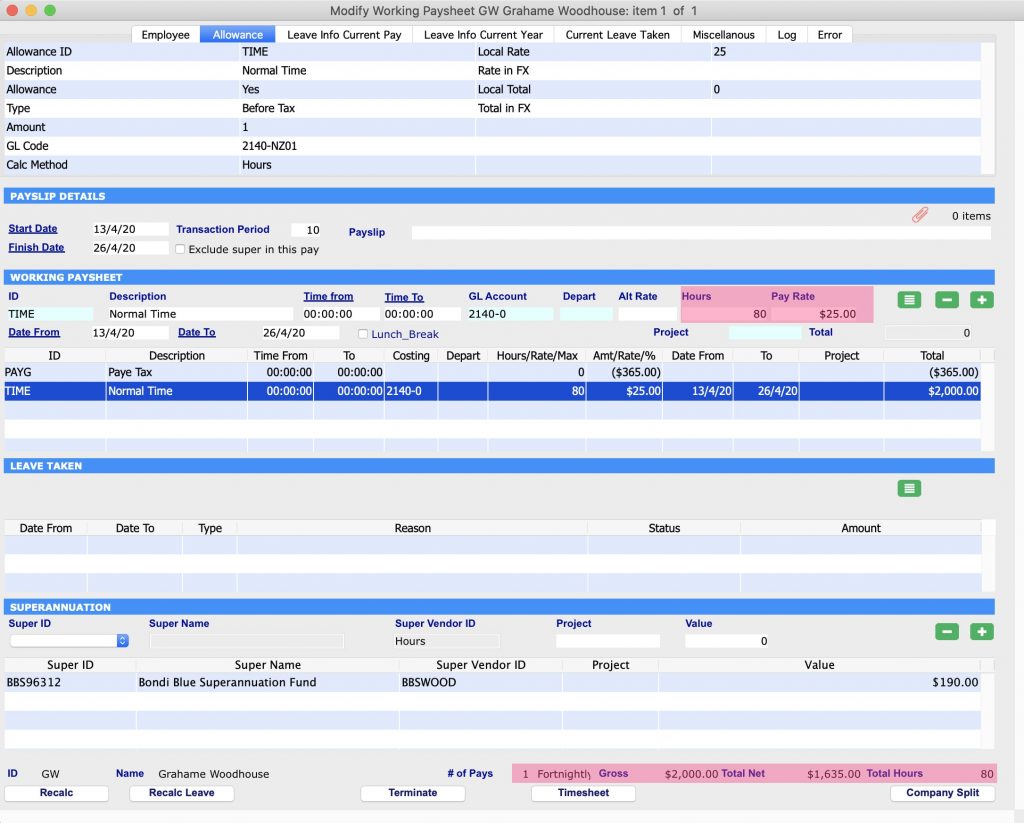 Scenario 2: Employee Bruce Gets receives $500 per fortnight
Bruce gets paid gross $500 per fortnight. This value is less than the JOBKEEPER-TOPUP amount. As a result, you will need to set JOBKEEPER-TOPUP Allowance to '$1000'. This will ensure that Bruce receives the correct amount of gross $1500 per fortnight under the JobKeeper scheme.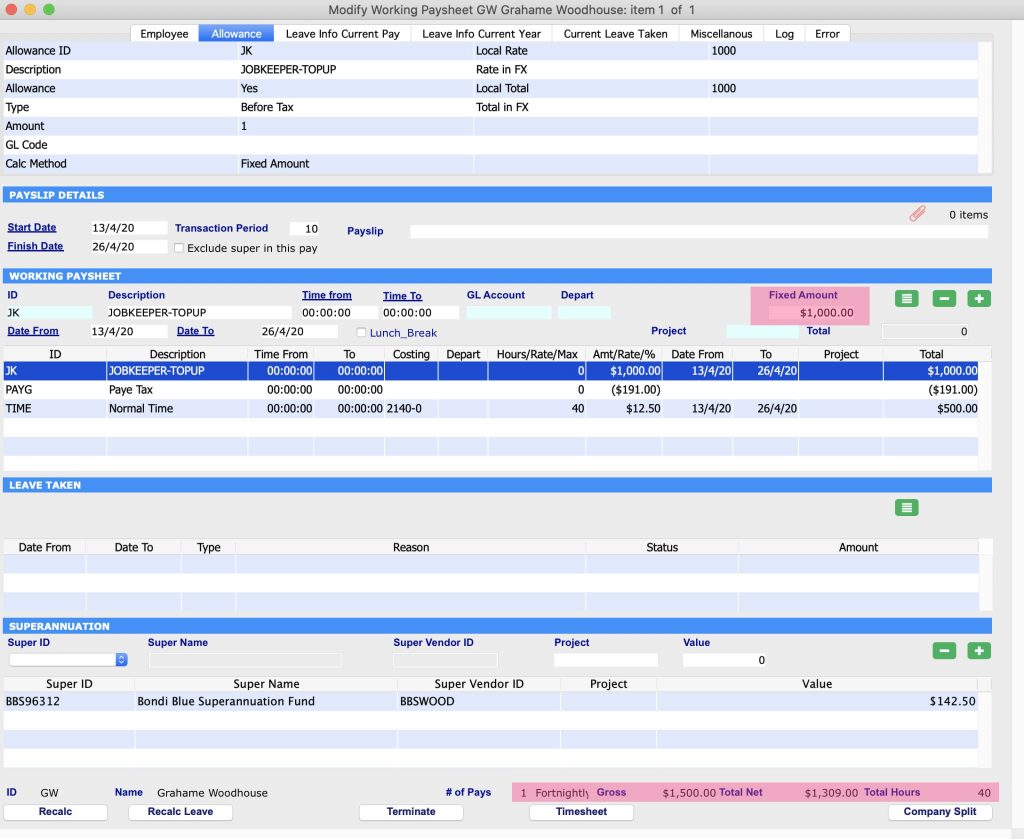 Scenario 3: Employee Chris is stood down and his normal working hours are 40 hours per fornight
Chris has been stood down, therefore his normal hours need to be entered at a Pay Rate of '0.00'. As a result, the system will accumulate leave for the 40 hours fortnightly he usually works. The value for JOBKEEPER-TOPUP Allowance needs to be set at $1500. This ensures Chris receives the JobKeeper payment.

If you encounter issues setting the Pay Rate at '0.00', then enter 'z' as the Alt Rate before entering the Pay Rate.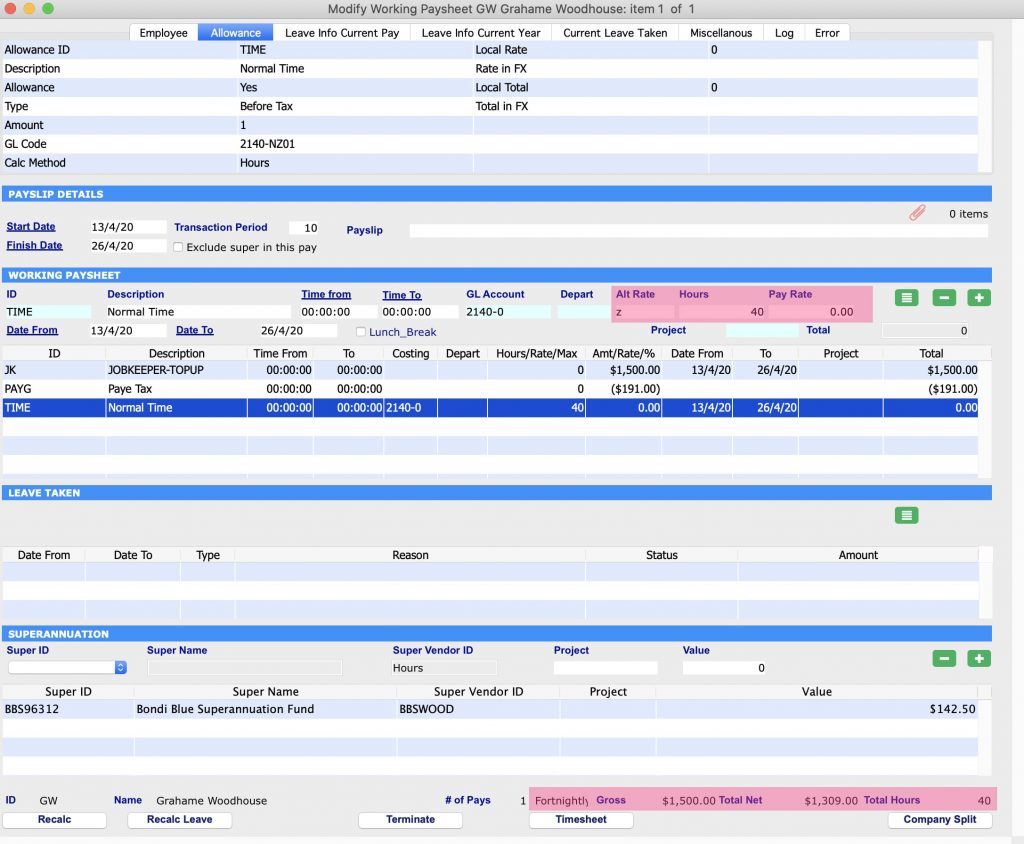 Scenario 4: Employee David works in Payroll and previously made a JobKeeper payment not according to the guidelines
David already paid an employee a wage of gross $500 per fortnight. Instead of using 'JobKeeper' in accordance with the ATO's prescribed naming conventions, he used 'Bonus/Other' in Working Transactions. To rectify this error and to be able to claim reimbursement, David has to create Working Transactions in the next pay run. There are two different methods available to him:
Scenario 4 – Method 1: David has to run two separate pay runs. The first one will adjust the prior wrong JobKeeper payment; the second one will pay the correct value.

Firstly, David needs to create a Working Transaction of two different types of Allowances for the employee. The JobKeeper payment needs to be entered as '+1000' and the wrong Allowance as '-1000'.

Secondly, David has to follow the instructions of Scenario 2 above but only for the upcoming pay run.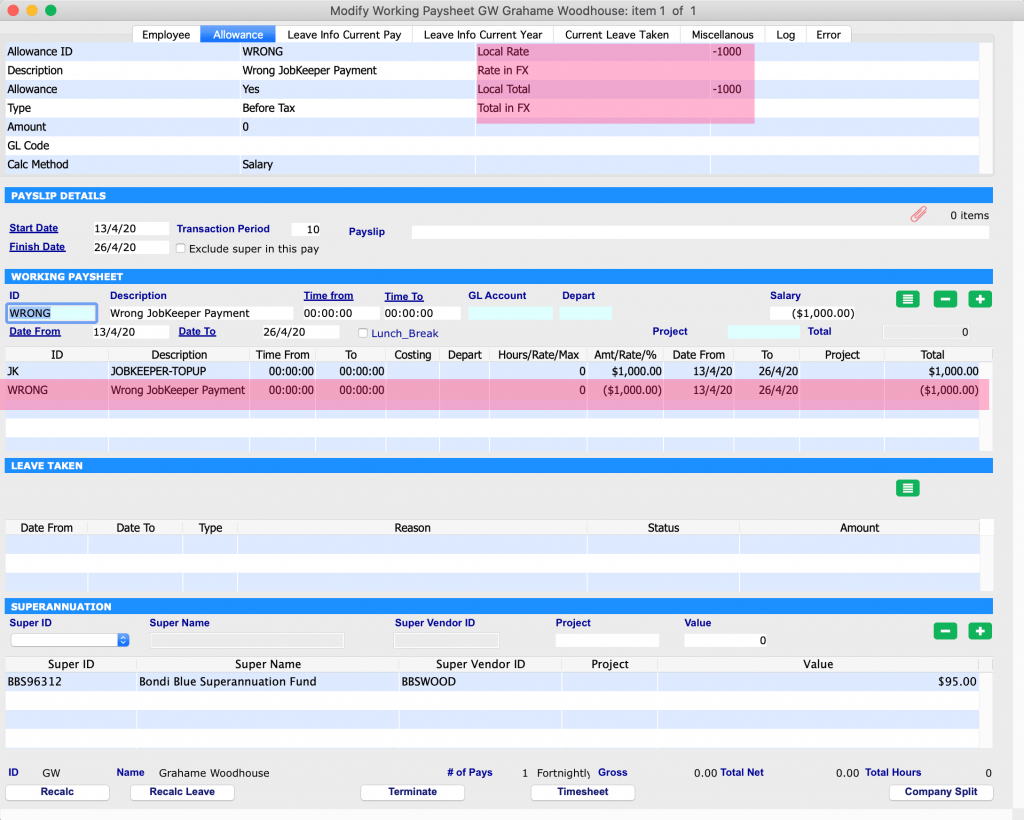 Scenario 4 – Method II: David has to adjust the Working Transaction for the employee by adding the JobKeeper allowance in addition to the wrong allowance.

Firstly, David needs to create a Working Transaction of three different types of Allowances: The Normal Salary has to be entered as '+$500', the Wrong Allowance as '-$1000' and the JobKeeper Payment as '+$2000'.

This ensures that the employee is receiving a JobKeeper Payment of $1500 and it also corrects the wrong payment that was made previously.

Secondly, David has to use this new Working Transaction for the upcoming pay run.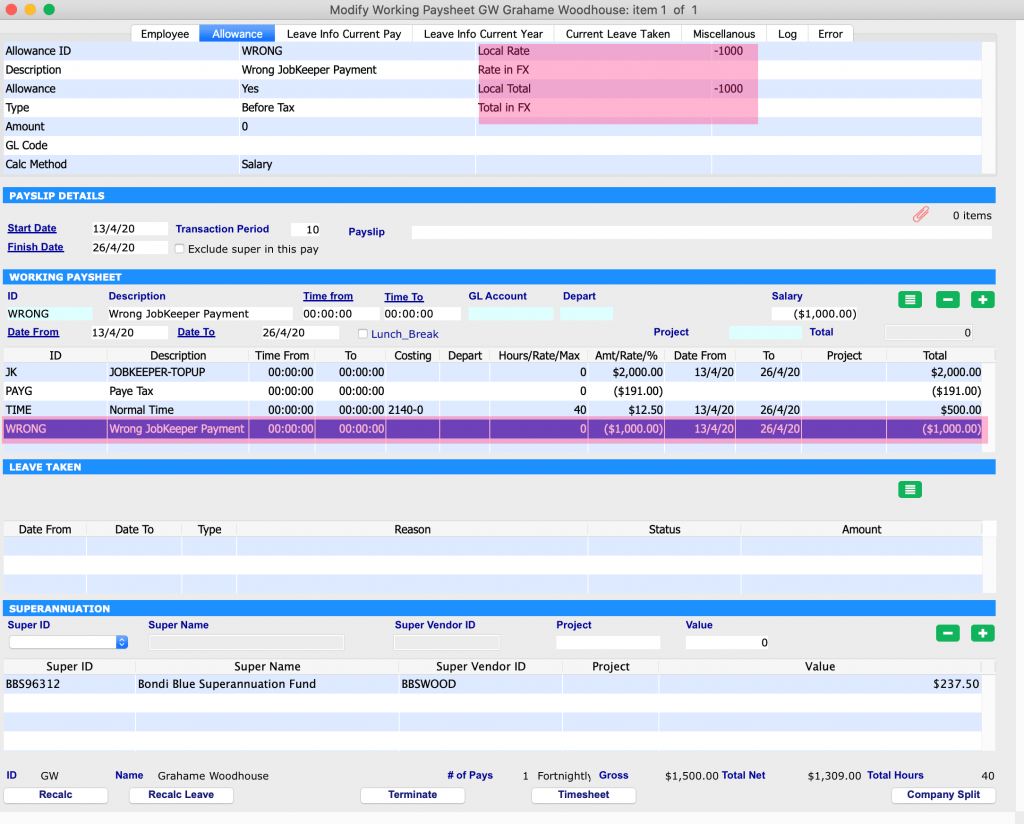 Please book a support call via our website, in case you have any questions or need any further assistance.
May 5, 2020 8:45 am | by Rubai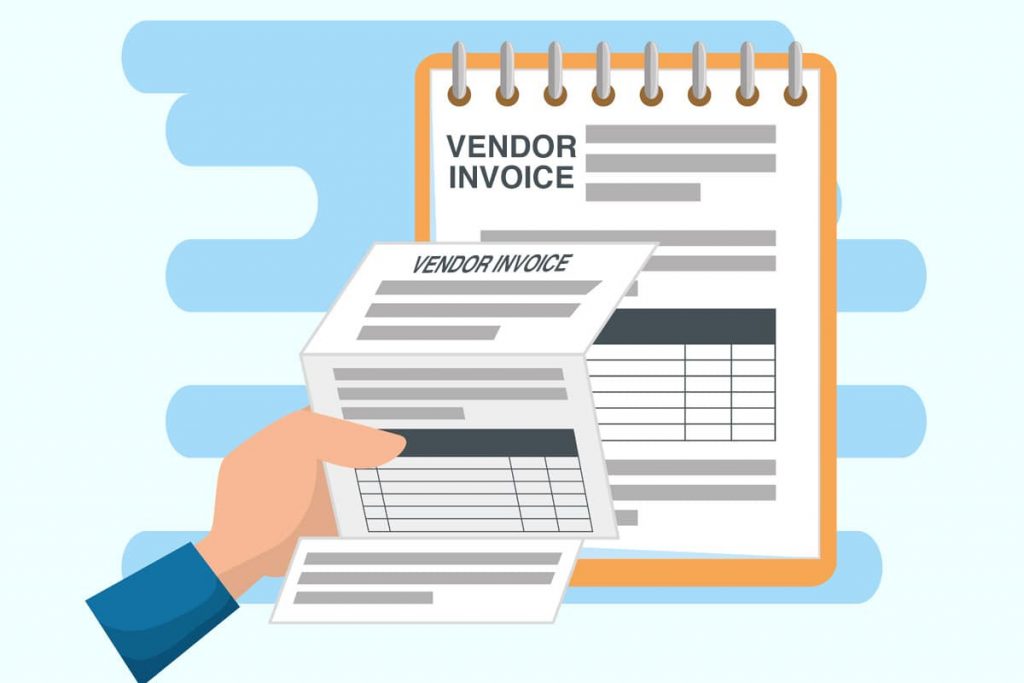 In today's business climate, organisations in every sector are under pressure to do more with less. Businesses worldwide operate based on the expenditure cycle and the revenue cycle. The full cycle Accounts Payable process falls under the broader expenditure and purchasing cycle. The process includes the complete range of essential accounting activities needed to complete a purchase when a Purchase Order is placed and the client receives the desired product or service. By improving Accounts Payable governance, setting up clear management processes and consistently tracking key metrics, businesses can streamline their processes and inject a working capital culture into their enterprise.
Accounts Payable process
Every business, no matter how large or small, has invoices to pay. These invoices are normally for goods and services provided by their vendors. Receiving, approving and paying these Vendor Invoices can be categorised into a process called Accounts Payable (AP). The Accounts Payable process or function is immensely important since it involves nearly all of a company's payments outside of Payroll. To safeguard a company's cash and other assets, the Accounts Payable process should have internal controls. A few reasons for internal controls are:

To prevent paying a fraudulent invoice
To prevent paying an inaccurate invoice
To prevent paying a vendor invoices twice>
To be certain that all vendor invoices are accounted for.
Without the Accounts Payable process being up-to-date and well run, the company's management and financial reporting will receive inaccurate data on the company's performance and financial position. A poorly run Accounts Payable process can also mean missing a discount for paying Vendor Invoices on time. If vendor invoices are not paid upon their due date, supplier relationships will be strained. This may lead to those vendors demanding cash on delivery. If that were to occur, it could have extreme consequences for a company's financial position.
A perfect Accounts Payable (AP) process can be broken down in to 5 steps:
Invoice received – sent by the vendor via email or post
Invoice recorded – details are manually entered into the ERP system
Invoice approved – authorised by the person who ordered the goods and services
Invoice paid – details are checked before the amount is paid by Accounts Payables
Invoice finalised – payment allocated to the invoice so that it no longer shows up as a liability in your ERP system
Challenges in the Accounts Payable process:
The steps above are indicative only and are considered the basic steps that need to be taken before payments are made in order to avoid errors and fraud. Large companies can sometimes have more steps in between, with additional approvals and verification being required before an invoice is paid.
SapphireOne ERP Accounting Software is a large-scale software solution designed for businesses, both large and small. Accounts Payable function of SapphireOne allows you to manage, organise and track your payments to vendors. This includes the tracking of cash, EFT, credit cards and any other types of payments.

When researching each of the tasks in the manual Accounts Payable process and categorising their associated problems, it reveals four key challenges facing AP departments:
Cost per invoice
Accuracy and efficiency
Transparency and reporting
Risk of invoice fraud
The processing and reporting functionality of SapphireOne have the ability to eliminate these key challenges.
The ability to group vendors for reporting and payment runs streamlines Accounts Payable
Accounts Payable allows for the creation of Payments for Vendors and generates the payments in different forms. Payments in SapphireOne can be created either by vendors or transactions. Grouping facilities are particularly useful when paying multiple invoices in a single process. This allows for reducing the costs of processing invoices. Additionally, high workloads increase the capacity for human error and create a risk of scrutiny, both internally and externally. Any inaccuracies and delays in processing and recording invoices can result in:
A strain on human resources
Misplaced, mishandled or overlooked invoices
Inaccurate financial statements
Issues during regulatory compliance audits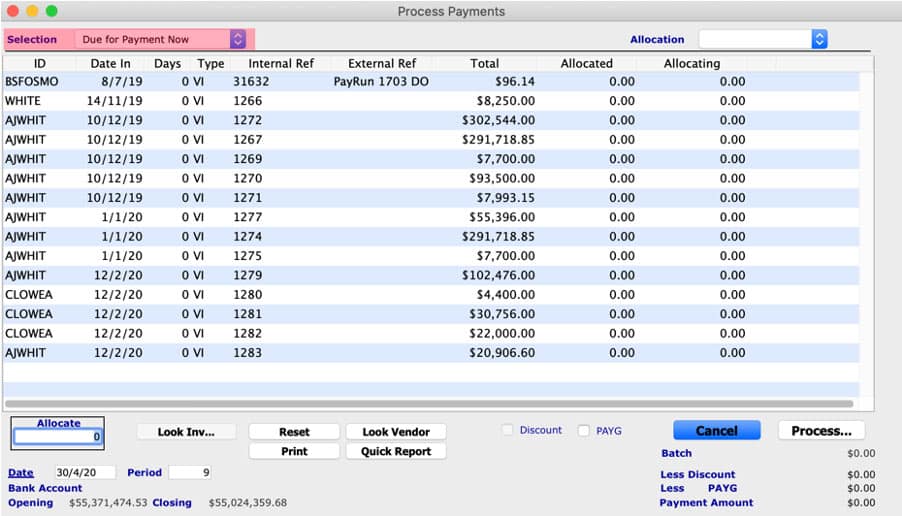 SapphireOne's grouping functionality in payment run can immensely help to resolve these challenges.
Reports allow the production of standard reports based on templates already designed in SapphireOne. There are four types of reports available: Details, Balances, Transactions, and Statements. The Balances Report allows the printing of Credit Information Reports on Vendors with outstanding amounts. SapphireOne allows the creation of unlimited vendor classes to classify vendors by product, industry, demographic region or as required. These groupings or classes can be used to print effective balance reports, creating the ability to eliminate another key challenge that is transparency and reporting.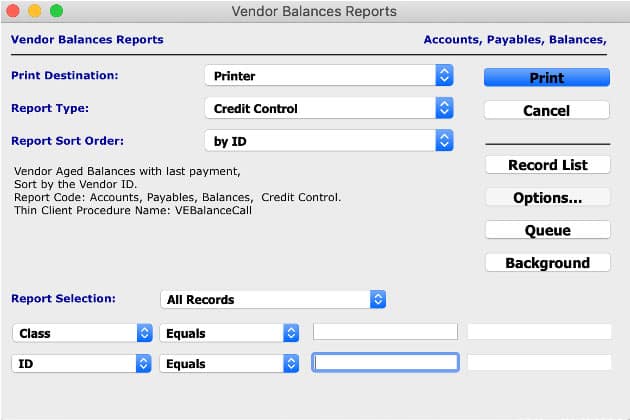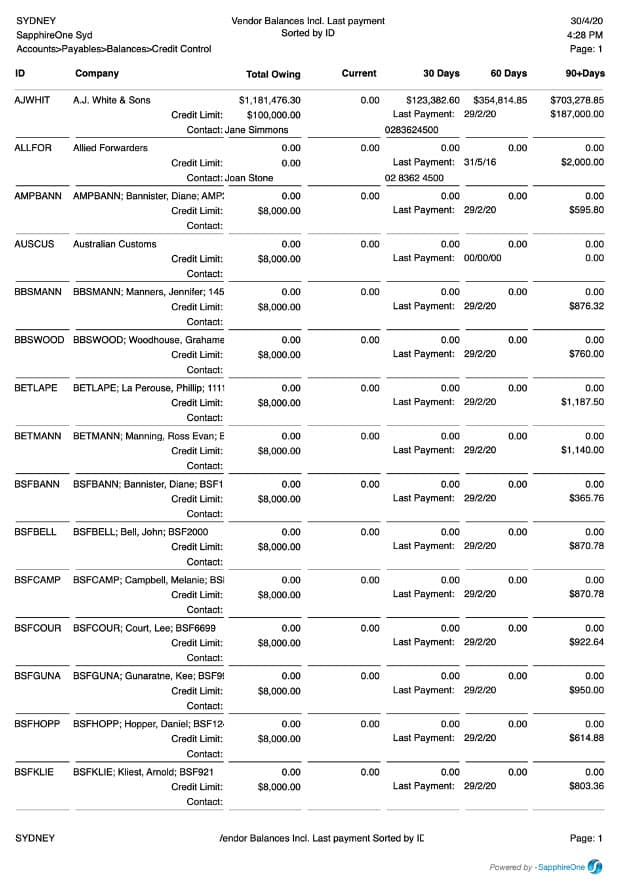 A myriad of requests are regularly submitted to a finance team, containing everything from supplier queries, audit history reporting, invoice tracking, supplier spend, invoice status and monthly accruals and needs to be handled quickly and efficiently. A traditional non-automated process can create a lack of financial visibility and transparency for a finance department, which in turn can contribute to the increase in the transaction cost. Grouping or sorting by class or ID provides for clear visibility in finance reporting.
SapphireOne also has the unrestricted history functionality in Accounts Payable. Unlimited history allows the viewing of all historical data including transactions, distribution or activity history for a particular vendor. Historical data may be sorted or reviewed by calendar or financial periods giving the information required when and where needed.
SapphireOne automates the processes required to effectively manage sales and purchases. All functions from the processing of purchases through to the bank reconciliation are in real time. Transactions within Accounts Payable are updated across the system to the General Ledger Account immediately.
SapphireOne payables presents a detailed overview of the financial position of a business at any given time and provides accurate information on various features, such as automated cheque runs, electronic funds transfer (ABA EFT) and allocation of payments.
April 28, 2020 10:43 am | by Rubai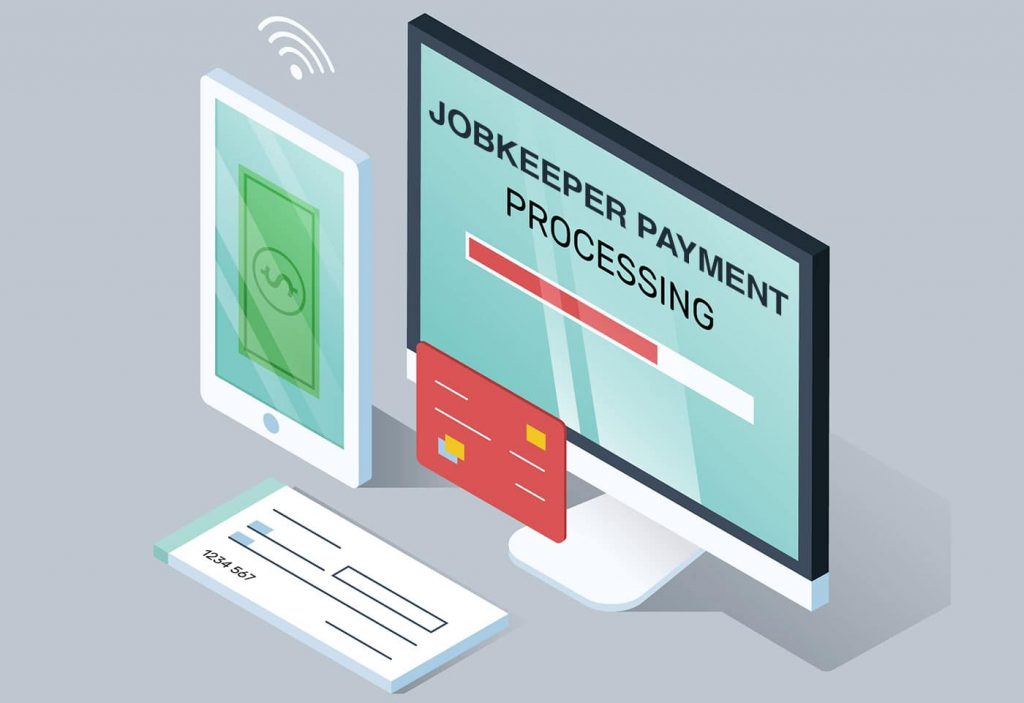 The JobKeeper Payment is a wage subsidy made to eligible businesses, charities and not-for-profits affected by the Coronavirus to support them in retaining employees. Payments under this scheme are available from 30 March 2020 until 27 September 2020.
Employers that choose to participate in the scheme nominate all employees they are entitled to claim the subsidy for. It should be noted that this is an all in or all out optional decision for your eligible employees.
If you want to participate in the JobKeeper program, you can register your interest on the ATO's website in order to receive updates and information on how and when to claim payments. It is advisable to enrol and pay your employees by 30 April 2020 in order to be eligible to claim the subsidy. However, if you need more time, you have until 30 May 2020 to enrol and nominate your employees.
Before you decide to process payments for JobKeeper in SapphireOne, you should understand the eligibility criteria, responsibilities of your company and payment information. Be aware that the ATO pays JobKeeper one month in arrears.
Eligibility criteria for JobKeeper Payment
In order to receive any payments under the JobKeeper scheme, both the employer and employee must meet all eligibility criteria.
For Employers:
Employers are eligible if they are businesses (including companies, partnerships, trusts and sole traders), not-for-profits and charities:
1. with a turnover of less than $1bn, if they have lost 30% or more of their revenue compared to a comparable period a year ago, or
2. with a turnover of $1bn or more, if they have seen at least a 50% reduction in revenue compared to a comparable period a year ago, and
3. there was at least one employee eligible on 1 March 2020, and
4. the eligible employees are currently still employed (including those who have been stood down or re-hired) during all relevant JobKeeper fortnights, and
5. the business is not listed in any of the ineligible categories
Example – Turnover test period
John runs a software company and he applies for the JobKeeper scheme during the first fortnight that the scheme started operating. This fortnight ends on 12 April 2020.
The turnover test period for John can be either:
• the month of March 2020 or April 2020, or
• the quarter from 1 April 2020 to 30 June 2020.
Example – Relevant comparison period
John identifies the relevant comparison period in 2019.
• For the month of April 2020, the relevant comparison period is April 2019.
• For the quarter of 1 April 2020 to 30 June 2020, the relevant comparison period is 1 April 2019 to 30 June 2019.
Read More from – https://www.ato.gov.au/general/jobkeeper-payment/employers/eligible-employers/
For Employees:
Employees are eligible if they are currently still employed and:
1. were employed by an eligible employer at 1 March 2020 (either full-time, part-time or fixed-term), or
2. were a long-term casual employee at 1 March 2020 (if they were employed on a regular and systematic basis for at least 12 months) and not working permanently for any other employer, and
3. were at least 18 years of age at 1 March 2020 (special rules for eligibility apply for younger employees), and
4. were an Australian resident (or if they are a holder of a Subclass 444 visa, were an Australian resident for tax purposes), and
5. did not receive either government parental leave, Dad and partner or worker compensation payments during the relevant JobKeeper fortnight.
Read More from –
https://www.ato.gov.au/general/jobkeeper-payment/employees/eligible-employees/
https://www.ato.gov.au/General/JobKeeper-Payment/Employers/Your-eligible-employees/
Responsibility of employers and employees
Employers need to give each eligible employee a JobKeeper Employee Nomination notice, informing them on the intention to participate in the scheme and asking for their approval to be nominated and receive payments under the program. These forms should be kept as records, but do not need to be sent to the ATO.
The notice can be accessed via following link:
https://www.ato.gov.au/Forms/JobKeeper-payment—employee-nomination-notice/
Additionally, the ATO requires companies participating in the JobKeeper scheme to make monthly declarations through the ATO's business portal about their eligible employees and their turnover via STP and SBR2.
How much to pay
Every employer has to pay a minimum of gross $1,500 per fortnight to each eligible employee, withholding income tax as appropriate. If the wage paid to an employee exceeds this amount, the employer will regardless only be reimbursed for $1,500.
Employers are advised to pay their employees every fortnight under the JobKeeper scheme in order to maintain eligibility. The first fortnight runs from 30 March 2020 until 12 April 2020 and the last fortnight ends on 27 September 2020, respectively.
If an employee earns a wage of less than $1,500, their employer is only allowed to receive reimbursement under the JobKeeper program if they pay an according 'top up' in order to reach the value of gross $1,500 per fortnight. If the employer fails to pay this minimum amount to an eligible employee, he or she forfeits their claim under the subsidy scheme for the relevant fortnight.
All JobKeeper payments are considered assessable income of the eligible business. Further, the normal rules for tax deductibility apply in respect of the wages a company pays to its employees and for which they receive subsidies under the JobKeeper scheme. With regard to compulsory superannuation, the employer is not obligated to pay any super contributions for JobKeeper payments. Such payments are also not subject to GST.
How to Process JobKeeper Payments in SapphireOne
There are 5 steps needed to Process Payroll within SapphireOne for JobKeeper Payments for first time. You can skip step 1 – 3 every following time you make a payment under the JobKeeper scheme.
Step 1: Create new Allowance record for JobKeeper.
Go to: Payroll > Administration > Allowance > Create New
The new Allowance has to have the name "JOBKEEPER-TOPUP". Make sure the Payment Summary Names are set up between "Allowance A" to "Allowance J" and the Payment Summary / STP Position is set as "Other".
Example:
Type ID – JK
Description – JOBKEEPER-TOPUP
Type – Before tax
Multiplier – 750 (Weekly) or 1500 (Fortnightly) or 3250 (Monthly)
Calc Method – Fixed amount, Allowance
Payment summary – Allowance A, other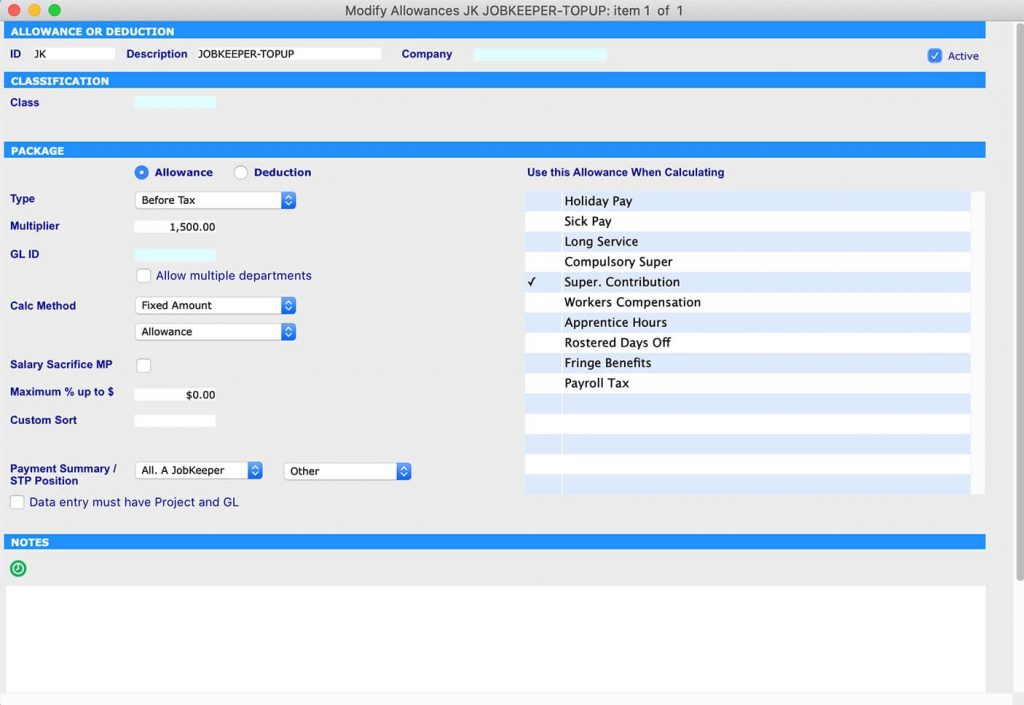 Step 2: Create start date for Job Keeper and leave finish date as 00/00/00
Go to: Payroll >Administration > Employee > Select Employee > Details – Controls > Job Keeper 2020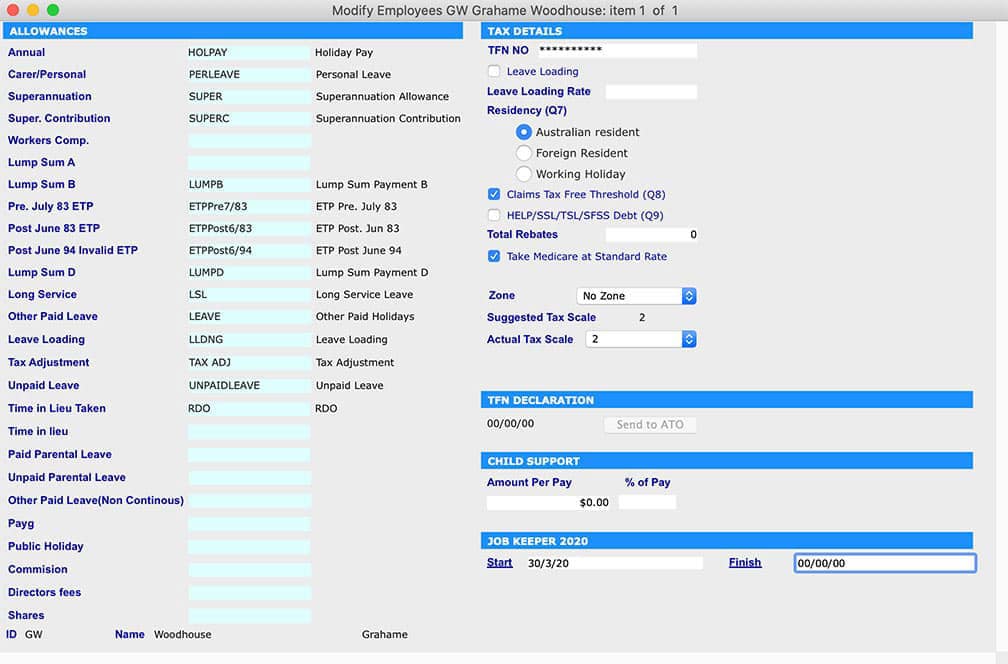 Step 3: Add JobKeeper name in Payment Summary
Go to: Utilities > control > Company > Modify Company > Details -Allowance > add JobKeeper in appropriate Allowance field.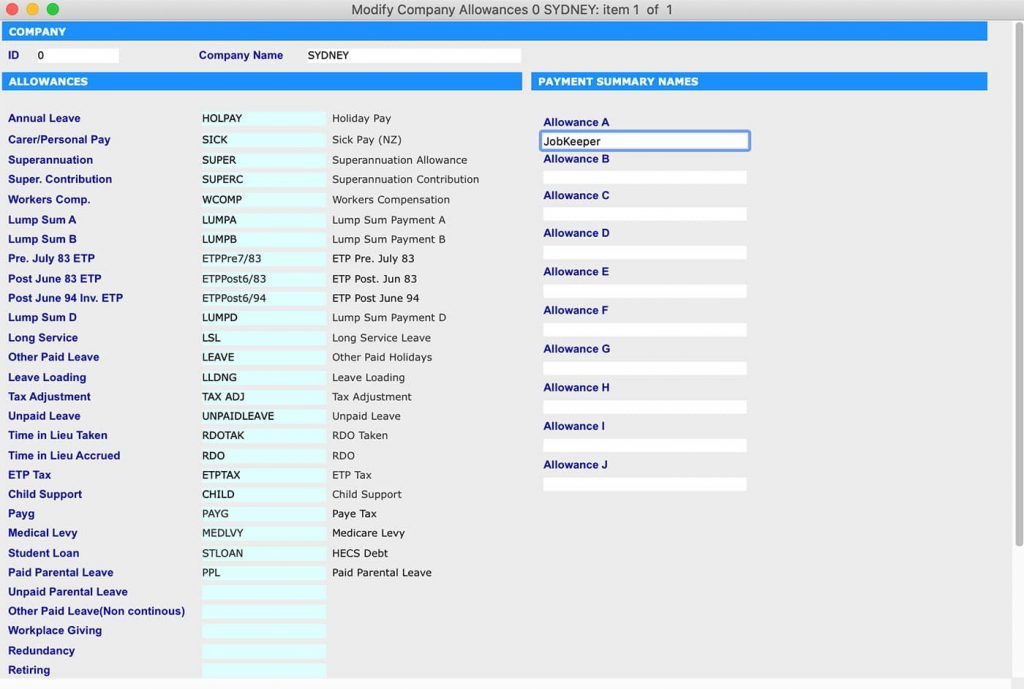 Step 4:Only apply the JobKeeper Wage Payment Item to your Employees who earned $1500 or less or who have been stood down
Go to: Payroll > Payroll > Working Transaction > Select Employee > Add JobKeeper in 'Working Paysheet' then click recalc button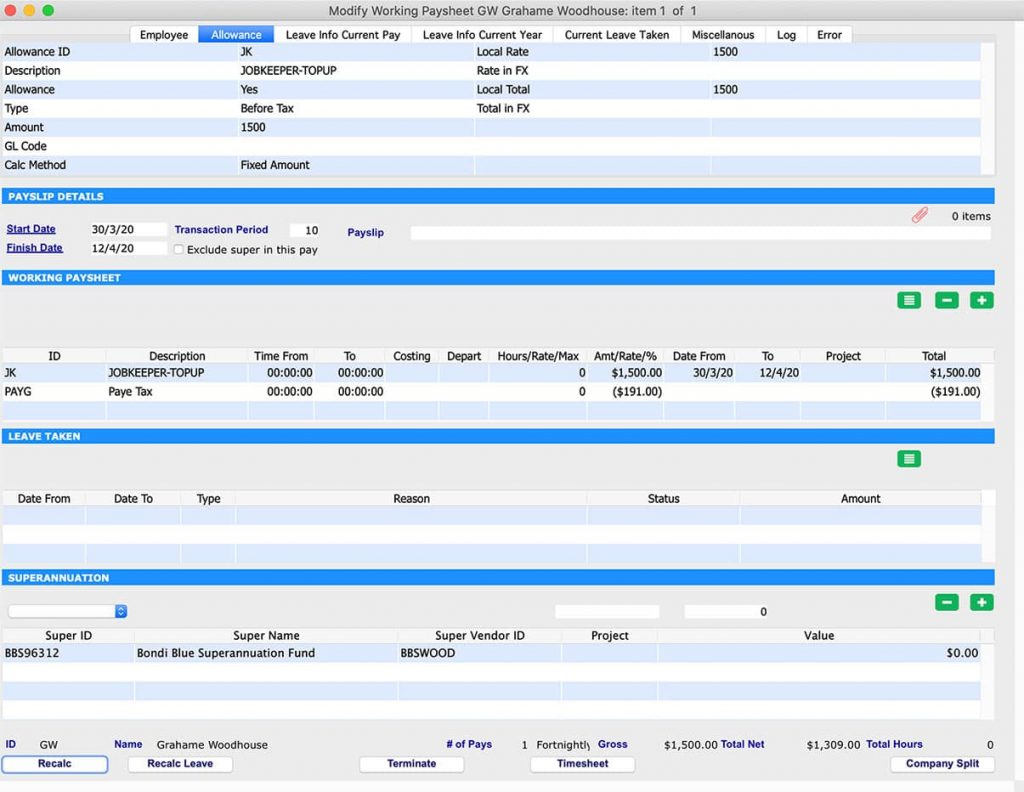 Step 5: Run Payrun to pay employees

Go to: Payroll > Payroll > Pay Run > Select Employee > Process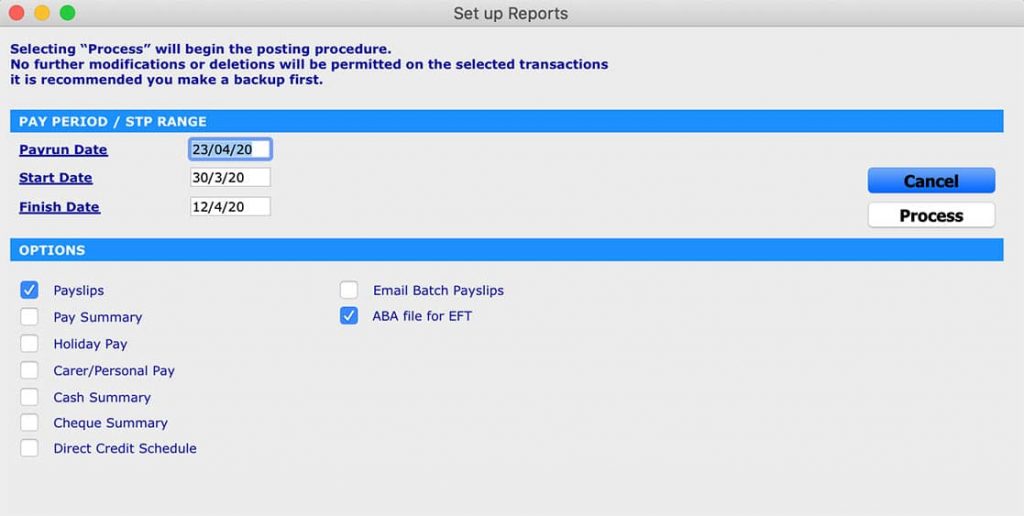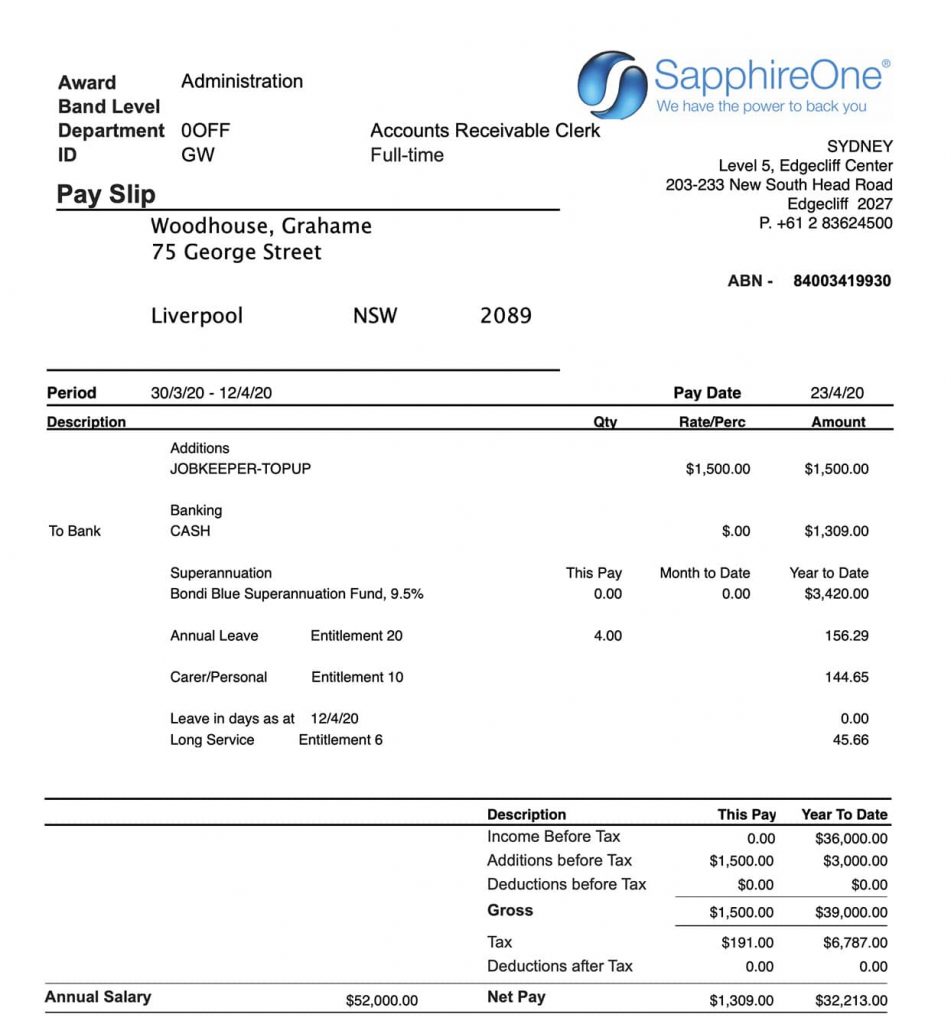 Once the payment is made you can review the payslip. You will notice that this payment has been taxed and Superannuation has been added.
After completion of the payment process, you can submit your STP with the ATO using SapphireOne Single Touch Payroll.