October 15, 2018 2:43 pm | by Loren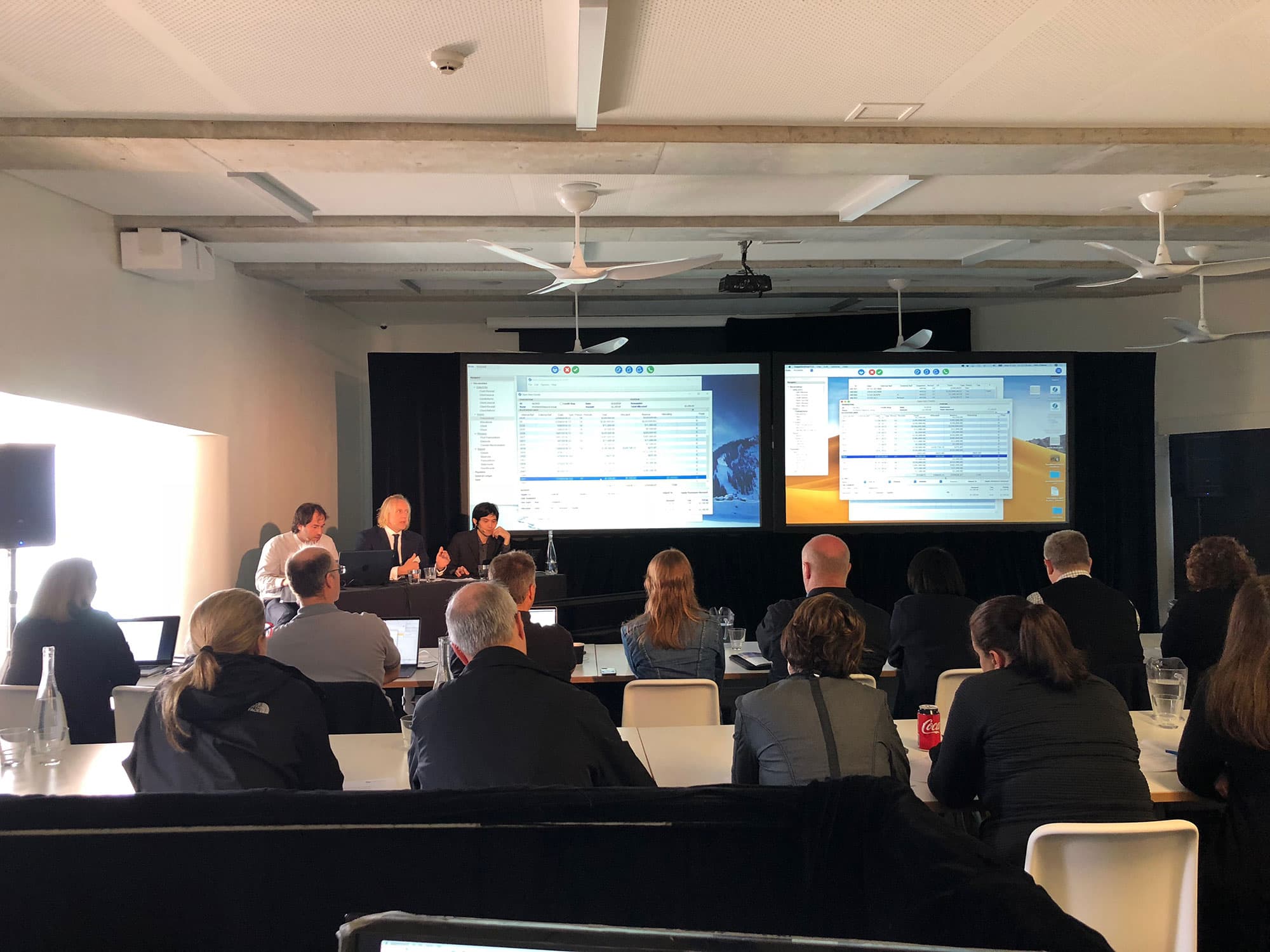 On 8th October 2018, SapphireOne launched Version 17 in the Ros Packer room of the North Bondi Surf Lifesaving Club.

New features and improvements in Version 17.0.1.0 of the SapphireOne ERP Business Accounting Application
Performance improvements
There are some amazing performance improvements in the large processing functions in version 17. For example, when processing Month End or Business Activity Statement (BAS SBR2), which historically have been two of the more time-consuming processes in the SapphireOne ERP Business Accounting Application, we have seen dramatic increases in performance of up to ten times than earlier versions.
New BAS SBR2 and STP working with ATO, adding your AUSkey to SapphireOne
SapphireOne version 17 incorporates the ATO Standard Business Reporting SBR2, Single Touch Payroll STP and Tax File Declaration TFN for SapphireOne users who have installed their AUSkey into their SapphireOne datafile. These clients now benefit from what used to be a very time-consuming task with the ATO business portal, where they often had to reinstall java or change browsers frequently so they could lodge their BAS. Now with SapphireOne, there is no requirement for a browser as the interface seamlessly connects to the ATO.
SPS Commerce Fulfilment EDI Integration
SPS Commerce's integrated end-to-end EDI solution, automatically populates orders into version 17 of the Sapphire and SapphireOne ERP Business accounting application system, while checking for errors when sending and receiving transactions. It also verifies that all transactions were sent and received successfully, providing critical process controls for vendors and suppliers. Implementing SPS commerce's fulfilment EDI has brought many benefits into SapphireOne. It has reduced or eliminated manual data entry, saved chargeback penalties, streamlined inventory management, increased the speed time-to-market (TTM) delivery, boosted productivity without increasing staff, expedited receipt verification, improved record-keeping processes. The overall result is greater competitiveness, which will help SapphireOne users to be a major player in the market with larger enterprise retailers.
Single Document Interface (SDI)
With the release of Version 17, we have now implemented SDI Single Document Interface. This new interface provides a new menu navigator which allows for every data entry screen, inquiry and reporting and processing screens to be opened simultaneously. This is a major advantage for those power users who require to run reports while still being able to make inquiries and process data entry.
Web Pack upgrade
Version 17 of the Sapphire Webpack has seen an upgrade of the original web interface bringing the application a fresher look to users. This includes a scalable interface which allows for minimal change of user interface from smaller devices such as iPhones through to web browsers being used on large monitors linked to desktop computers. Some new features such as the Sapphire Market WebPack, Leave Request, Time Sheets, Stock List and Stock Count have given users more functionality to access using this popular Sapphire product.
For more information regarding improvements and features within the latest release of SapphireOne ERP Business Accounting Application please contact our office on (02) 8362 4500 or request a demo.
July 19, 2018 12:16 pm | by Loren
After two weeks skills and gate training at Round Hill Lake Tekapo and Mt Dobson the SapphireOne Alpine Ski Team split up as they leave the McKenzie country in South Canterbury. The team had a fantastic time in the region, even having time to go trout fishing, Warwick Crawford was pleased to catch some of New Zealand's finest trout.
Hugh McAdam and Warwick Crawford now head back to Australia to finish their year 12 studies, Hugh at The Scots College in NSW where he is the current captain of snow sports at the senior school, and Warwick at Mansfield Secondary College in Victoria.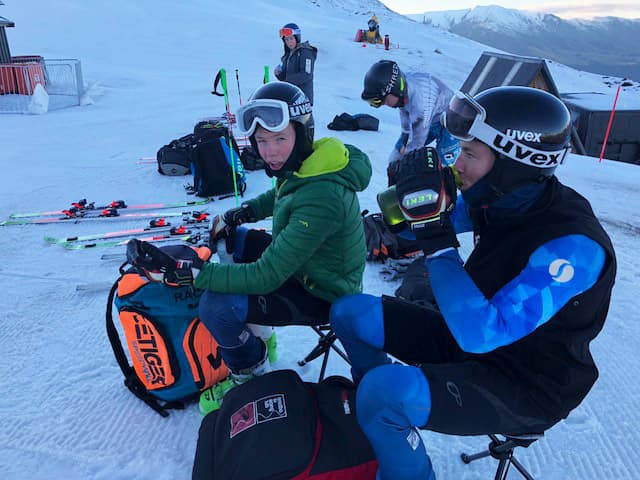 Meanwhile Jack Adams heads down to Central Otago to join team member Theo Coates at the home of New Zealand Olympian Adam Barword in magnificent Queenstown.
Jack has one week before heading home to Sydney, back to University of NWS (UNSW) for a week, then heads back to join the team in Queenstown. Theo will stay with Adam for two weeks before joining Jack and the rest of the team.
Coronet Peak Queenstown offers a world class training facility unique in the Southern Hemisphere.  Ski legends such as Ted Leggity and Michaela Shiffrin regularly train here.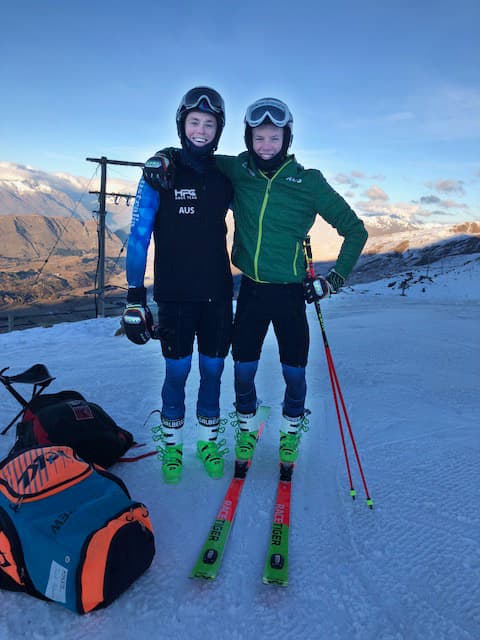 Coronet Peak is the training base and mountain for New Zealand Olympians Adam Barwood, Willis Feasey, Alice Robinson and their coach Nils Coberger, and also past Olympian and former alpine skier  Annelise Coberger (skiing, 1992, '94). Born in Christchurch, Annelise became the first person from the Southern Hemisphere to win a medal at the Winter Olympics when she won silver in the slalom at Albertville in France in 1992.
The New Zealand Alpine team will all be training at Coronet Peak Queenstown over the coming weeks alongside our SapphireOne Alpine Team for the upcoming New Zealand Championships, to be held on the 12 to 15 August 2018. The New Zealand Alpine Ski Races are always well supported by a large range of international teams from some of the ski nations powerhouses such as the Austria Ski Team and the USA Ski Team.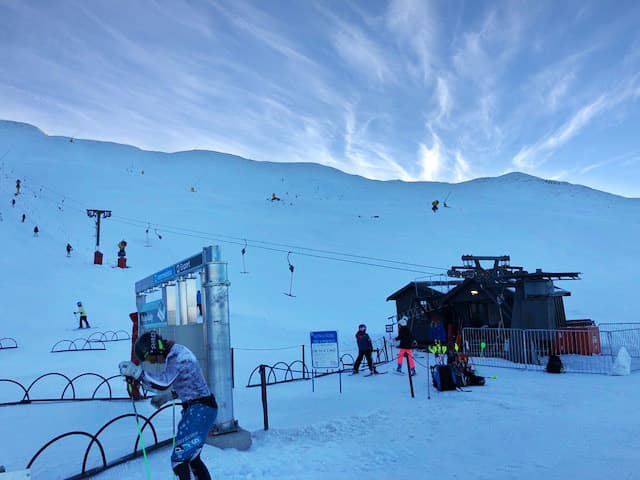 For a sneak peek at the full capabilities ERP, CRM, Accounting Software, Human Resources, Payroll, Assets and Document Management,  check out SapphireOne and request a live demo, it is everything you'll ever need to make your company management a success. Know more about us.
June 19, 2018 5:09 pm | by Loren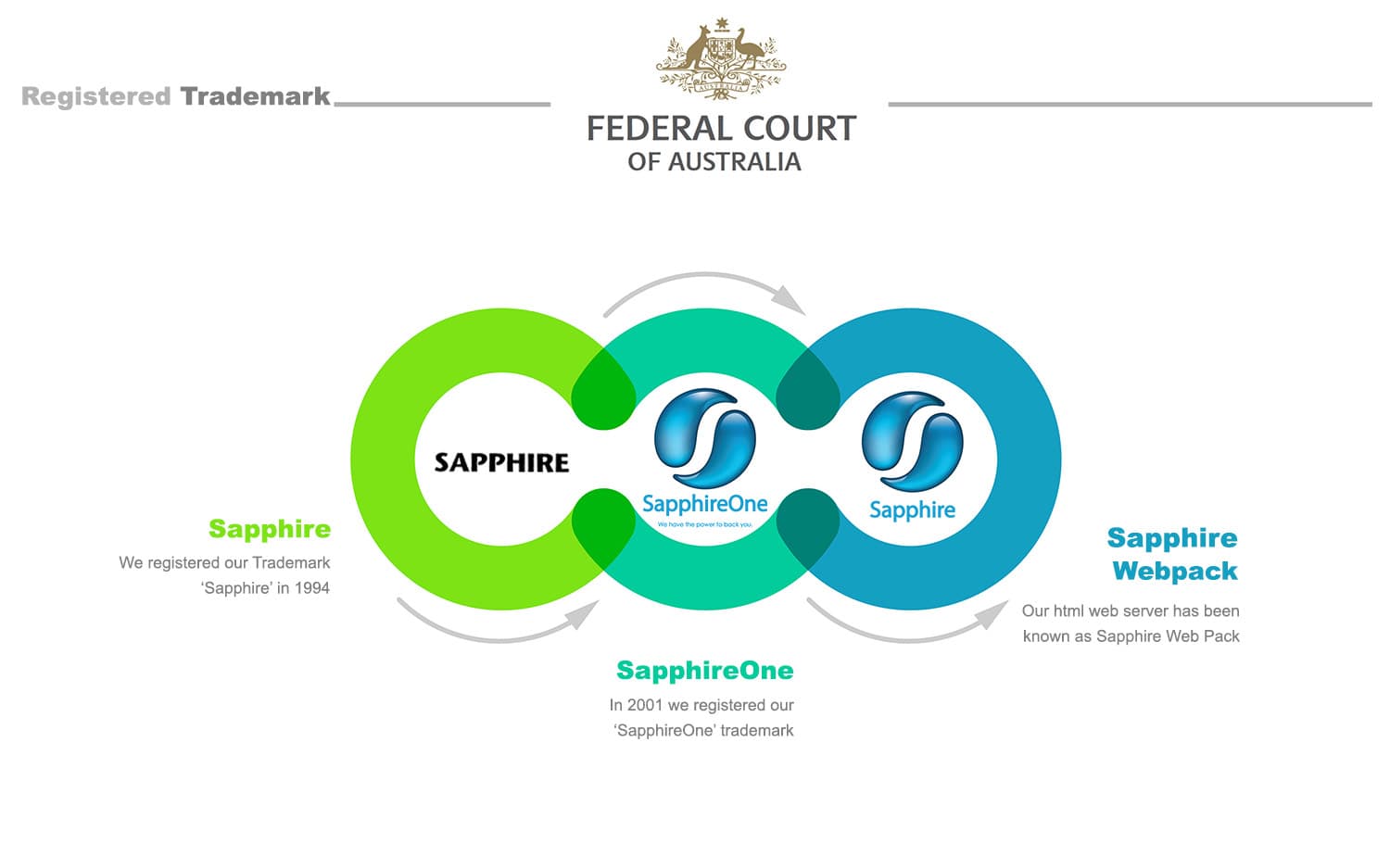 In May 2017, Justice Bromwich in the Federal Court of Australia made orders restraining Sapphire Systems Pty Ltd from infringement of our Sapphire Trade Mark (a copy of the orders can be viewed at this link).
An order was subsequently made that Sapphire Systems was required to pay us $20,000 and also pay our legal costs incurred in the proceedings.
Our company SapphireOne Pty Ltd was delighted to have its concerns of unauthorised infringement of its intellectual property rights vindicated in such a fulsome way.
We were represented by the following legal team:
Bart Adams of Adams & Co Lawyers  
Barrister Andrew Fox 
www.5wentworth.com.au/junior-counsel/andrew-fox
Barrister Anna Spies   
www.5wentworth.com.au/junior-counsel/anna-spies
SapphireOne is an Australian company distributing globally providing an all-inclusive software application for managing Enterprise Resource Planning (ERP), Contact Relationship Management (CRM) and Document Management System (DMS). These offerings consist of a standalone Single User application named Sapphire, our Client Server application named SapphireOne and our Sapphire Web Pack solution. With our clients established globally, SapphireOne has been providing business freedom since 1986.
We registered our Trademark 'Sapphire' in 1994, this was our first Trademark registration initially registering it in Australia.
In 2001 we registered our 'SapphireOne' trademark. The additional name was brought about by the merger of the Sapphire Financials, Sapphire Assets, Sapphire Point of Sale (POS) and Sapphire Payroll Human Resources (HR) into a single application, hence we added the 'One' to signify the unification of all four applications into one.
From this point onwards our Single User standalone application has been known as Sapphire, our client server application has been known as SapphireOne, our html web server has been known as Sapphire Web Pack.
For a sneak peek at the full capabilities ERP, CRM, Accounting Software, Human Resources, Payroll, Assets and Document Management,  check out SapphireOne and request a live demo, it is everything you'll ever need to make your company management a success. Know more about us
May 3, 2018 3:24 pm | by Loren


Based on the information provided SapphireOne has been assessed and given Full Operational Framework Approval for SapphireOne who are consuming BAS (PLS) and STP low risk API (payevent services) with the following terms and conditions.
API consumption conditions  
Conditions
Full Approval granted SapphireOne for BAS services (PLS) and  STP low risk API (payevent services)
SapphireOne have ISO certification with software stored and managed by the client, in accordance with our requirements MFA is not a requirement as the as they are  Desktop application provider storing no data onsite.
Production Verification Testing (PVT)
You must successfully complete the required PVT scenarios with your Account Manager for each PLS API required.
Changes to your situation
The ATO must be notified via your Account Manager of any changes to your business or product environment, in relation to the information you supplied in your questionnaire.
Monitoring 
Monitoring is considered a joint responsibility between the ATO and the DSP.
The ATO conducts monitoring at the network, application and transaction layers; if anomalies or areas of concern are identified, we may re-assess your whitelisting suitability. The ATO will generally contact you or your representative unless exceptional circumstances apply.
Where you identify a breach through your own monitoring controls you must notify the ATO immediately via your Account Manager to ensure appropriate action can be taken.
Please respond with your agreement, understanding and acceptance of the conditions contained within this email.

May 3, 2018 11:39 am | by Loren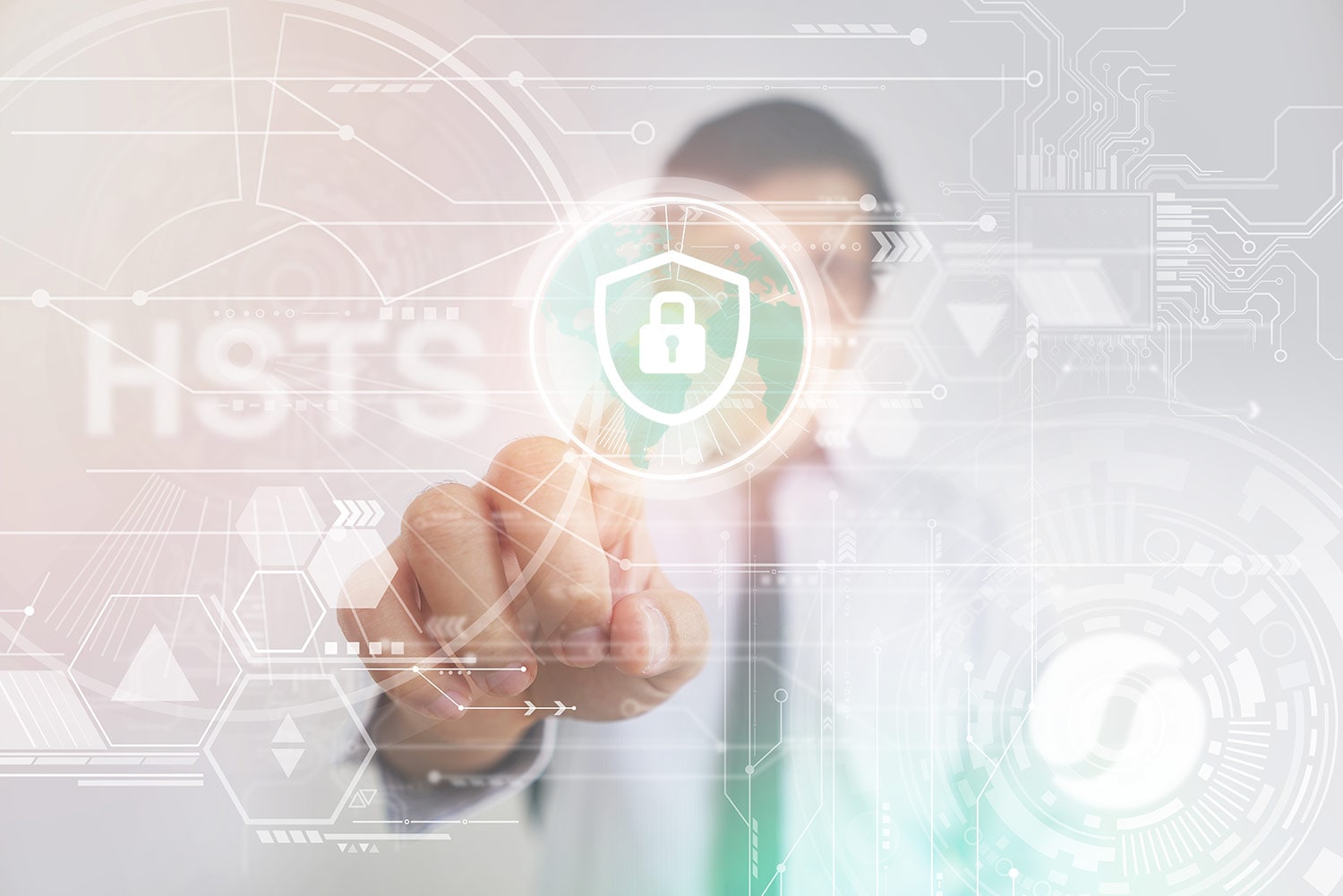 We have deployed 17 beta on our live internal company datafile. We are very excited to announce that we are seeing some amazing performance improvements in the large process functions. When creating the BAS we are experiencing up to 12 times speed increase, processing Month End has shown up to 10 times increase in speed. These very large processes typically can be time consuming and we are very happy to report these huge time improvements, this will be a huge time saving improvement which will have a dramatic effect for all our clients.
Version 17 has hundreds of new features with 64 Bit Mac and Windows forming the foundation. Some of the new features are:-
WritePro
4D Write Pro keeps offering more and more programming capabilities! Let's say you want to programmatically change the style of a table, paragraph, or image in an existing 4D Write Pro document. With 4D v17, it's possible! Now you can access any element or part of a document, by programming. These parts, called elements, will be returned either as a collection thanks to the WP Get elements function, or as a single element with WP Get element by ID function.
GDPR
Taking effect on May 25, the General Data Protection Regulation (GDPR) imposes new privacy restrictions governing the collection and use of personal data of European Union (EU) citizens. And as a first step to help you get more insight into the GDPR law, we're pleased to announce the first part of a GDPR dedicated guide: General Data Protection Regulation and 4D.
ORDA
Imagine a way of using your database with an object-oriented approach, without worrying about its physical structure. Imagine that you could maintain multiple current selections at the same time or that you could perform recursive queries in a single line of code. Well, this is now a reality thanks to ORDA. With 4D version 17, your code can be written in an object-oriented mode, and you can easily navigate through your entire data model.
Webpack Security
After introducing Perfect Forward Secrecy, the security level of 4D Web server has been increased again with the support of HTTP Strict transport Security (HSTS). Henceforth, 4D Web server is compliant with the very latest security protocols. Simply upgrade to 4D v17 and enable HSTS to get the A+ ranking (the highest level) from SSL Labs for your web sites.
The SapphireOne ERP, CRM and Business Accounting Software suite is an industry leader in both functionality and features.
April 11, 2018 10:29 am | by Loren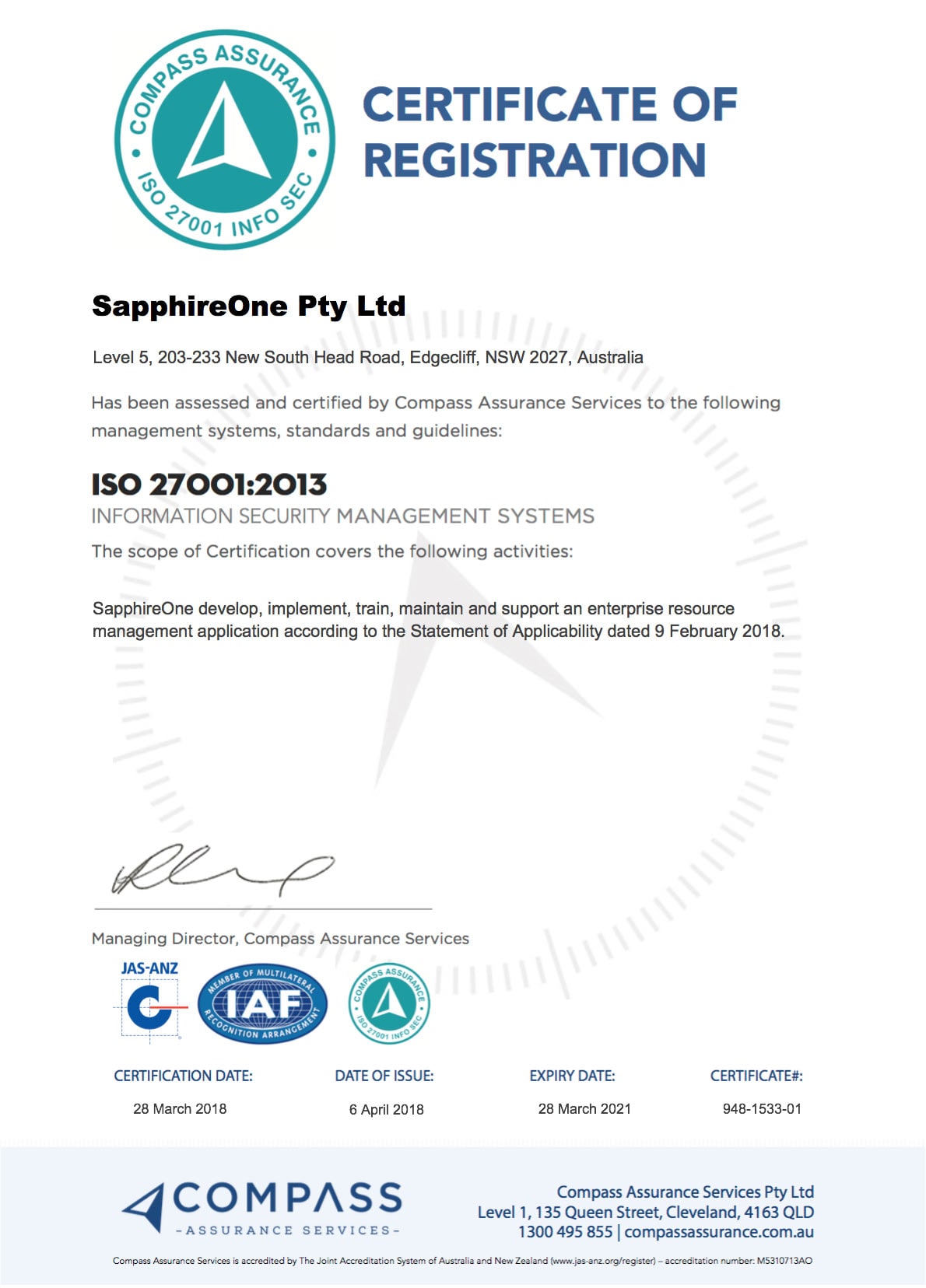 Certification to ISO 27001 Information Security Standards provides you with an independent endorsement that your commitment to protecting crucial information security meets international standard.
ISO 27001:2013 Security Certification
The ISO 27001 standard requires a systematic examination of security risks, threats, vulnerabilities and their impact. SapphireOne has achieved the certification process by demonstrating that a comprehensive system of information security controls and management processes has been implemented. These processes ensure the information security controls continue to meet the organisation's requirements on an ongoing basis.
SapphireOne's compliance with this important industry certification demonstrates that SapphireOne develop, implement, train, maintain and support an enterprise resource management application as per ISO Standards, and maintain the requirements of :-
1. Confidentiality
Ensuring that information is not made available or disclosed to unauthorised individuals, entities or processes
2. Integrity 
Maintaining the consistency, accuracy, and trustworthiness of information over its entire lifecycle
3. Availability
Ensuring that information is both accessible and usable upon demand by an authorised party.
The SapphireOne ERP, CRM and Business Accounting Software suite is an industry leader in both functionality and features.
View the pricing plans or request for a Live demo.