August 14, 2020 12:46 pm | by Archana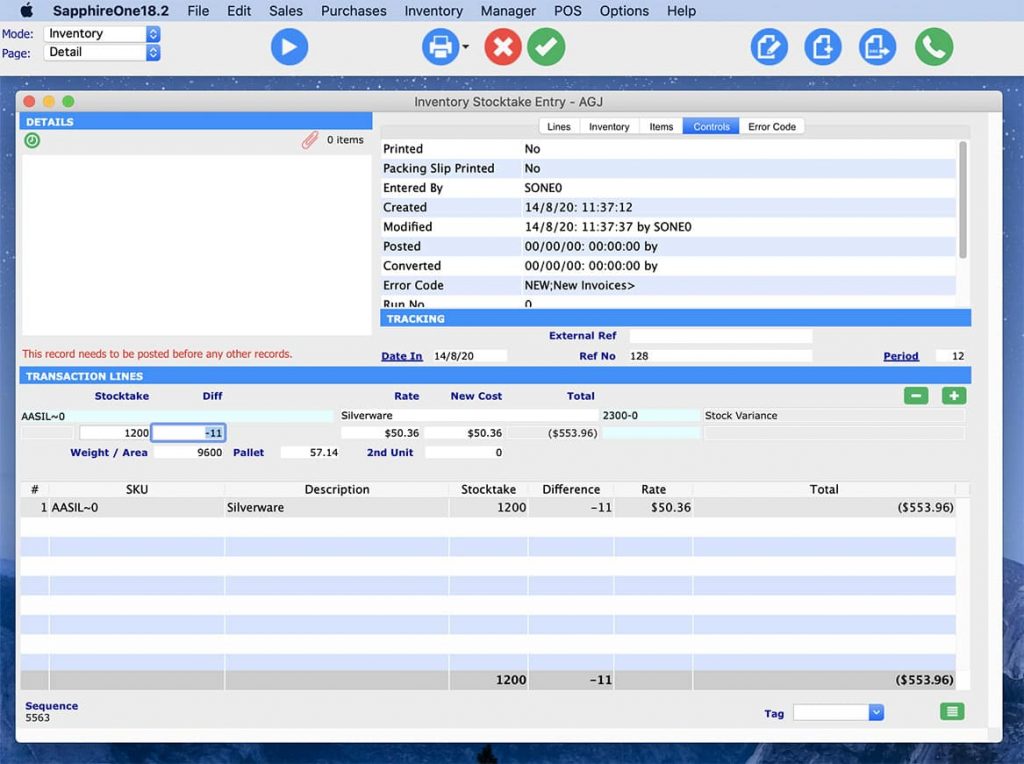 The Inventory menu is the main area of activity for entering transactions for the adjustment, transfer or building of an inventory item. These transactions are then processed through to Inventory Mode and Accounts Mode updating the Inventory and General Ledger files.
The Data Entry functions enable you to enter your data for this mode into SapphireOne, such as Stocktake Entry
The Inquiry Functions allow for the viewing of a many different Inquiries.
The Post Transactionsfunction allows the posting of Inventory adjustment transactions.
The Reportssection allows detailed analysis of the Inventory file and the production of transaction reports.

Transaction Types and their Codes:
AGJ) Adjustment General Ledger = This Stocktake Adjustment invoice is created when an adjustment is made to the current stock.
(TGJ) Transfer General Ledger = A Transfer Journal allows the transfer of stock from one department to another.
(OGJ) Order General Ledger = A pre-build Journal is created when an item is pre-built.
(BGJ) Build General Ledger = A Build Journal is the transaction that is produced when a built item is created from a number of line items.
Stocktake Entry
The Stocktake Entry function for entering data has been designed for the adjustment of stock levels and/or actual costs per unit. The Stocktake Entry screen allows control of the stock and automatic entry of the opposing adjustments within the General Ledger. The General Ledger account is the Debit or Credit side to be adjusted against the Inventory Asset Account.
Important Information on Stocktake Entry
If the Stocktake Entry involves negative stock, there is no cost change.
Any Inventory stock that has its Type set as Hire is treated differently to all other stock during Stocktake Entry. These items will also not be displayed in any Sales or Purchase lists. Once the stock has been purchased as a normal Inventory item this Stock Entry function is used to transfer normal stock into the Hire Stock.
June 8, 2018 3:55 pm | by Archana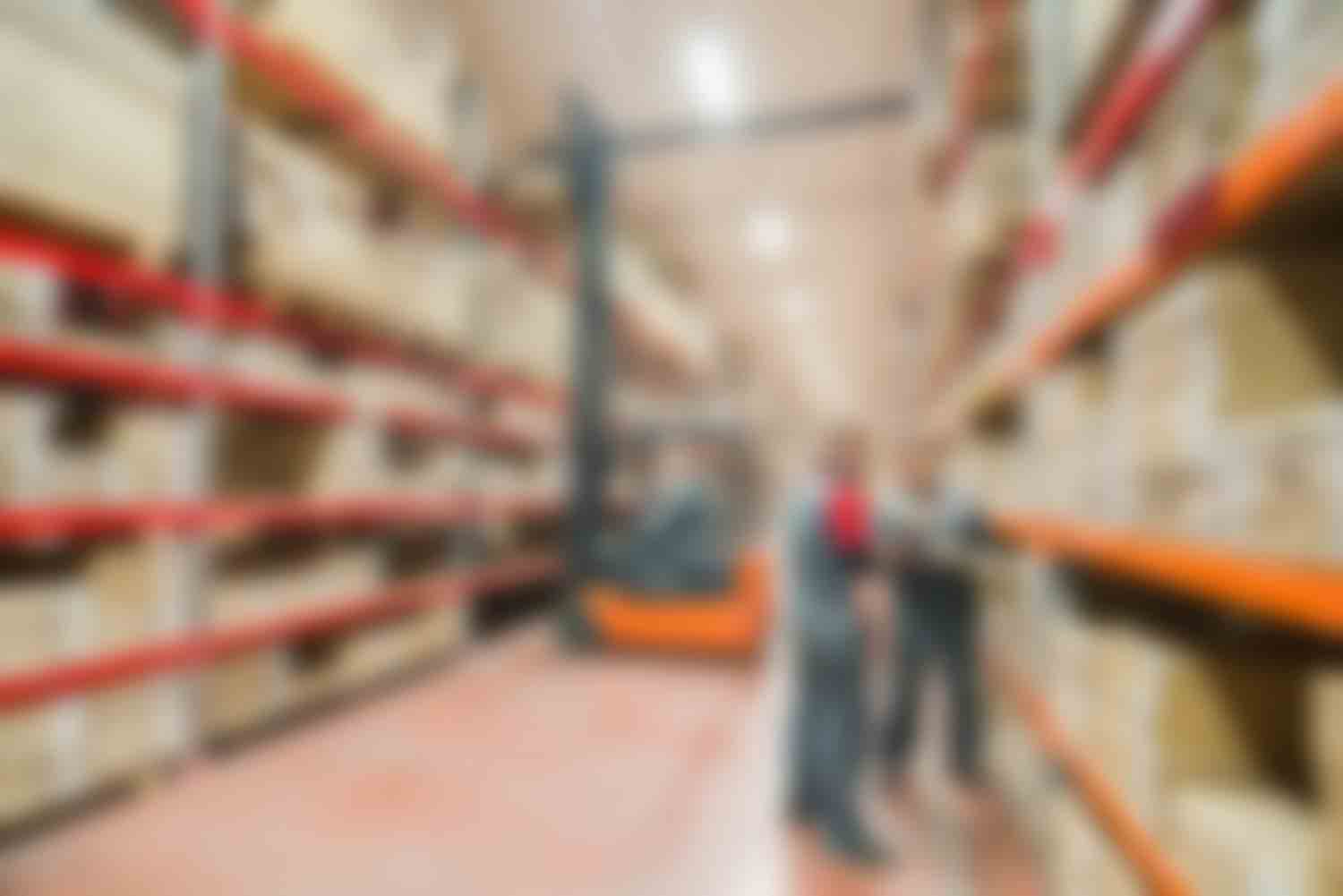 Warehousing, distribution and logistics businesses have a critical need to manage their inventory in a timely and efficient manner. When shipping direct to retailers or customers your ERP solution becomes mission critical for the smooth ongoing operation of your business enterprise.
SapphireOne will meet all your warehousing, distribution and logistics requirements with integrated EDI/API functionality. Our large range of API vendors include freight forwarders, courier companies and various third-party transport and distribution operators. The SapphireOne ERP has everything inbuilt that a warehousing, distribution and logistics business needs, and can help you to create the highest level of efficiency at the lowest cost of operation for your warehousing, distribution and logistics business enterprise.
Some examples of the built-in functionality include unlimited barcodes per item, unlimited images per item, bill of materials with unlimited levels, serial batch control, multiple costing types, material resource processing (MRP), material safety datasheets (MSDS) bin/bay management, multi-location, multi-warehouse, SSCC labling.
SapphireOne ERP is perfect for SMEs and large companies for the wholesale Warehousing, Distribution  and Logistics business enterprises
SapphireOne ERP is suitable for large companies, as well as small and medium-sized enterprises (SMEs) providing extremely high quality information in real time covering all your inventory requirements.
Wholesale distribution and logistics is an extremely competitive market place, it is critical that when dealing with all your inventory needs it is handled in real time.
SapphireOne's inventory management functionality tracks stock movements quantifying the volume while simultaneously tracking bin and bay management of all inventory items throughout the warehouse.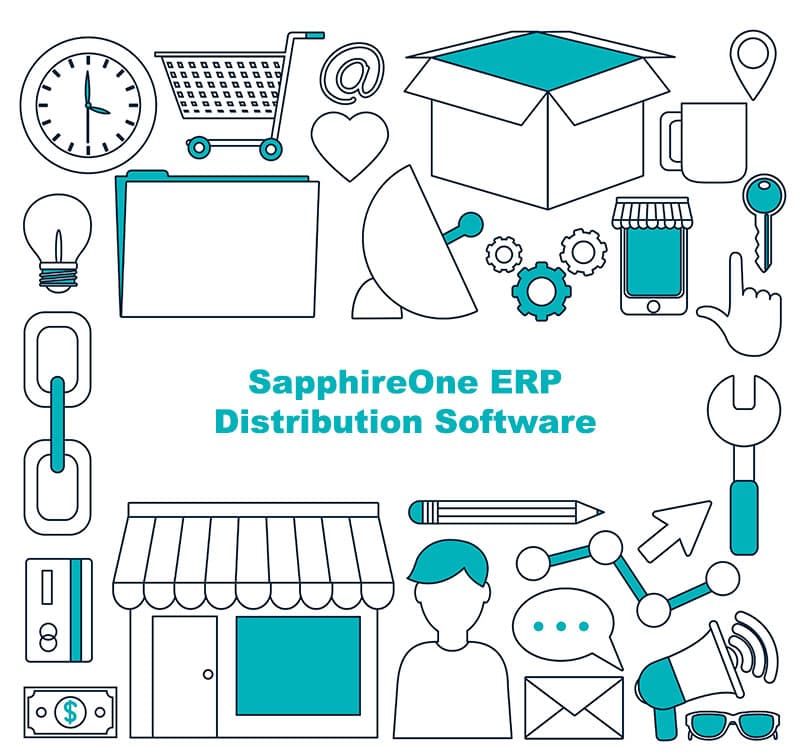 SapphireOne ERP is an integrated Accounting, Payroll/HR and Inventory Management software solution
At SapphireOne we understand that a wholesale, distribution and logistics business needs to have integration between financials, warehousing, and a full range of customer and supplier information to help anticipate future needs.
SapphireOne ERP system offers an integrated accounting, payroll/HR, inventory management software solution that is perfect to increase efficiency in your warehousing, distribution and logistics business enterprises.
SapphireOne allows you to analyse Payroll/HR expenses and employee productivity to help control costs and review expense distribution.
SapphireOne can facilit­ate the design of an efficient warehouse, distribution and logistics system to create the foundation of an efficient supply chain, one that can service your customers in real time.
For the full capabilities of the ERP, CRM, Accounting Software, Human Resources, Payroll, Assets and Document Management,  check out the SapphireOne website and request a live demo.
SapphireOne – We have the Power to back you. Find Out More Details