July 26, 2019 3:08 pm | by Fiona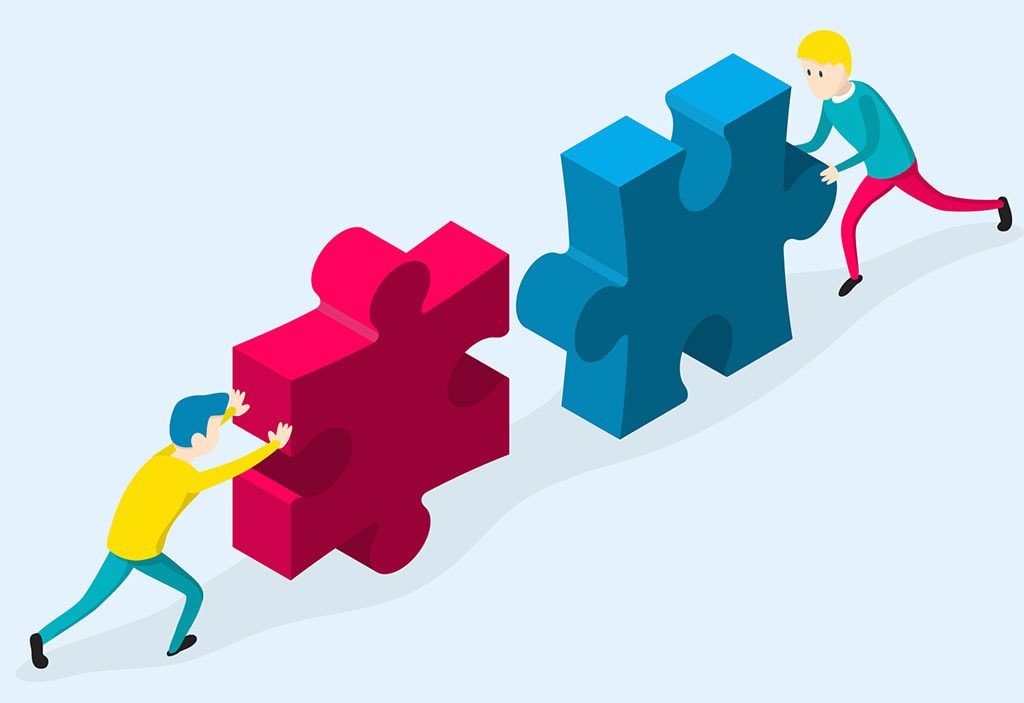 ERP and CRM integration allows departments and systems to talk with each other to increase profitability and sales. A Customer Relationship Management (CRM) system provides transparency, better qualified leads and manages valuable customer interactions. It also stores valuable information from your marketing department. Marketing develops new customer relationships through content, digital marketing and management, sourcing and nurturing leads etc. This helps with brand awareness and increasing your market share.
On the other side, your ERP system manages the back-end processes from accounts, operation and human resources departments. These include order placement, tracking, billing, shipping, accounting and supply chain details. So why integrate these systems and departments together?
Benefits to your bottom line of an ERP and CRM integration
1. Reduction in data entry and improved efficiency.
One centralised location for your data ensures any updating of information from accounts, operations, sales or marketing is only entered once. This saves you time and money as these mundane tasks are often labour-intensive. Combining your CRM and ERP automates and manages processes through workflows, which enhances your efficiency by simplifying them.
2. Stronger Visibility, Forecasting and Accuracy.
Your sales reps need to be able to access on-the-go, real-time data. Errors are reduced when they can enter a quote or order in the one system. The ERP system allows the sales rep to look into current inventory and costings for these quotes. The CRM stores promotional and marketing activities which can be accessed whilst on the road to obtain true, accurate quotes. Customer interactions and sales documentation can be produced quickly increasing visibility and efficiency. By integrating both, staff gain access to the whole picture to assist with sales and forecasting.
3. Complete 360-degree view on your customers.
A complete view of your customers provides better insights for building lasting relationships and determining where there is potential for future growth. Fast and consistent up-to-date data enables better analytics and reporting. This helps to effectively market and track changes in your customers preferences, profitability, and loyalty.
4. Cross-Departmental Collaboration.
Departments have different functions within the business and can sometimes discourage collaboration and sharing of information. This ends up making data accessibility a challenge and duplication a problem. When departments talk to each staff are able to access real-time data, view all relevant key facts, so they can work towards achieving the company's goals.
How They All Work Together
Both ERP and CRM systems improve efficiencies in business processes which in turn strengthens your business. A CRM system coupled with marketing drives sales; an ERP system manages customer information once the order has been placed to reduce overall costs.
With one source of truth, management has an overview in real-time of the business, what is happening in every department. This is extremely important for growing companies and companies who want to scale. A single source of all data and transactions contains contact details, shipments, credit history for quotes, orders and any other customer service interactions. This ensures anyone from sales, marketing, accounts or operations can access a complete history of the customer when required. Business workflows will be enhanced which ultimately improves revenue generation, reduces costs, and provides management with more insightful and useful reports.
Click for more information on ERP and CRM systems and the latest release of SapphireOne ERP, CRM, DMS and Business Accounting Software Application. Alternatively, contact our office on (02) 8362 4500 or request a demo.
March 6, 2019 11:22 am | by Fiona
Email marketing is an effective way to keep your customers informed. It helps you stay connected with prospects and customers by delivering targeted content messages. Marketers look at developing personalised digital campaigns while staying on budget. SapphireOne has partnered with Mailchimp so clients can start combining the two.
Mailchimp is the world's largest marketing automation platform. It helps you design email newsletters, share them on social networks, integrate with services you already use, and track your results. Millions of people and businesses use Mailchimp to send 1 billion emails every day. They provide a marketing platform which works around the clock helping you find your people, grow your business, and get smarter as you go. Small businesses to large e-commerce retailers need an experienced marketing automation provider that can scale with them. Find your audience, engage customers, and build your brand with Mailchimp.
How Mailchimp and SapphireOne integration works
SapphireOne has seamlessly integrated with Mailchimp to ensure updated information is exchanged between the applications. Keep in touch with your contacts in SapphireOne by creating engaging, brand building messages through email, e-commerce and social interactions in Mailchimp.
Don't have a Mailchimp account- it's easy to set one up and start emailing today. For more information…create account in Mailchimp.
SapphireOne has inbuilt features with every contact having a marketing section located above the notes. On the right-hand side there is a "Create Member in Mailchimp" button. Once you have consent from your contact you can add them into the different lists in your Mailchimp account. It's as easy as a click of the button.
Afterwards all Mailchimp marketing activities will be recorded and logged directly into your SapphireOne contact. The last 3 campaigns will be displayed in your contact card under Marketing for quick reference. For the rest, click on the green box next to the Mailchimp button to see all communications. Hence you have a record of interactions that can be further segmented for interests etc.

Subscription management of your contacts is handled by Mailchimp and their rules relating to permission. Please ensure current contacts in SapphireOne are happy to receive digital communications from you.
Getting started is easy
In Mailchimp:
Create your own Mailchimp account OR
Log into your existing one
Retrieve the API key from Mailchimp located under Accounts, Extras
In SapphireOne Windows OS:

Go to Utilities Mode
In the left navigator, select Controls then Master Defaults
Return back to Utilities Mode and underneath in Page drop down menu, select API
In the API Settings Demo screen, go to Mailchimp on the bottom right
Insert your Mailchimp API key
Green tick to save and exit
In SapphireOne MAC OS:

Go to Utilities Mode
Select Controls in the top toolbar then Master Defaults
Return back to Utilities Mode and underneath in Page drop down menu, select API
In the API Settings Demo screen, go to Mailchimp on the bottom right
Insert your Mailchimp API key 
Green tick to save and exit.
More information on Mailchimp partnership.
SapphireOne and Mailchimp- powering together to get your marketing moving.
For more information regarding improvements and features within the latest release of SapphireOne ERP, CRM software and Business Accounting Application please contact our office on (02) 8362 4500 or request a demo.