May 24, 2017 10:50 am | by Archana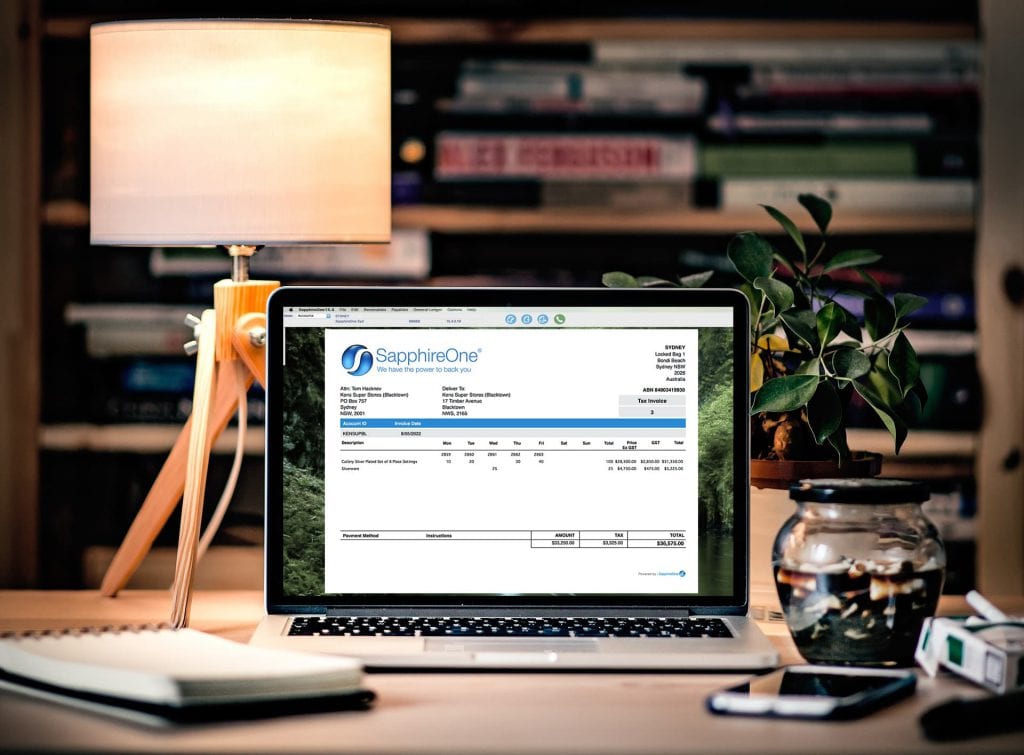 Press Release 
SapphireOne Pty Ltd (SapphireOne), an Australian ERP Accounting Software vendor, has been recently enriched with a number of new features. SapphireOne is known among its clients as a live work in progress solution. Unlike other ERP Accounting Software solution, a live work in progress means that SapphireOne can respond immediately to specific customer requests. As a result of this, PDF Capture, Periodic Invoicing and MRP functionalities now have been added to the SapphireOne ERP Accounting software suite.
Greater control over inventory management and invoice processing :
PDF Capture eliminates manual vendor invoice processing and enhances data accuracy.
Periodic Invoice efficiently streamlines invoicing by consolidating recurring invoices into a single bill.
The MRP function fulfils customer requirements while maintaining a tighter control over inventory stock levels
1. PDF Capture:
The SapphireOne accounting system already has a function that provides for the storing of documents of all types within the data file. So the additional functionality of scanning PDF documents, known as PDF Capture, from within the software itself, is a natural progression to make this procedure easier and faster for users. The SapphireOne system makes use of the fact that a PDF contains both characters and numbers that may be read by the Software. This means that SapphireOne can directly create transactions when electronically received PDF's are read by the system. Since the system is directly reading numbers and characters, the transactions created are accurately entered and so required little or no modification before any processing.
To Learn More about PDF Capture, visit: https://blog.sapphireone.com/2017/02/eliminate-manual-vendor-invoice-processing-sapphireone-pdf-capture/
2. Periodic Invoice
Periodic invoicing has now been included in the standing transaction function of the SapphireOne system. This new Periodic Invoicing function allows consolidation of invoices to a particular client or vendor, at specified intervals. Even though the invoices that will go to create a periodic invoice, will be entered by different users, the system will automatically consolidate these to a single periodic invoice that the accounts manager will check and process. This will reduce or eliminate any errors, lessen administration tasks. and minimize the time taken for data entry for account managers and users alike.
To Learn More about SapphireOne Periodic Invoicing, visit: https://blog.sapphireone.com/2017/05/streamline-invoicing-efficiency-periodic-invoice/
3. MRP Functionality
Material Safety Data Sheets (MSDS) functionality was added at the beginning of 2017 in the SapphireOne ERP system. Now Material Resource Planning (MRP) has been added as well. MRP will allow efficient inventory management systems that will provide opportunity to keep a minimum stock level while satisfying customers' requirements on a continuous basis.  This is calculated by using historical data and lead times that must be entered into the SapphireOne system beforehand. It is basically an Artificial Intelligence (AI) setup which accesses historical data already in the system, for better forecasting of inventory stock level management in future points of time, i.e. weeks, months or even a year in advance.
"SapphireOne manages our inventory, clients and vendors. It's a well-integrated ERP software that covers sales, purchasing, General Ledger, payroll, super and a number of other tasks." Don Nichols, Administration Manager at Team Digital, Western Australia.
To Learn More about SapphireOne MRP system, visit: https://blog.sapphireone.com/2017/05/mrp-software-improves-inventory-management/
Source : http://prwire.com.au/pr/70365/new-features-of-sapphireone-erp-accounting-software-streamlines-invoice-processing-and-inventory-management
February 3, 2017 9:47 am | by Archana
SapphireOne's PDF capture function can help you streamline daily accounting tasks. Currently, not many vendor invoices are processed through Electronic Data Interchange (EDI) which means that majority of vendor invoices are still received as PDF documents or paper. This makes the processing of capturing the data from a vendor invoice slow and inefficient. Mistakes in classification and data entry lead to late payments, missed discounts, deteriorating relationships with suppliers and cost overrides.
Invoice processing made easy via PDF capture :
The total task of invoice processing includes sorting documents, manual data entry and archiving which can be a burden on the business. With SapphireOne PDF capture these negative effects can be easily avoided. SapphireOne uses the Optical Character Recognition (OCR) technology in PDF capture function that takes a paper document, usually an invoice, scans and "reads" it and turns it into metadata that can be used to populate fields in a database.
SapphireOne's PDF capture solution will streamline your daily accounting tasks, eliminate time consuming presorting of vendor invoices and supporting documents, improve data accuracy and free personnel from doing manual keying. This ensure data integrity with automatic rules and validations.
Automated vendor invoice capture is a complicated task because the position of data (e.g. company name, vendor invoice, total price etc) fields that are to be extracted, varies greatly from one form to another. Data may be positioned anywhere on the page; in addition, it can include columns arranged in different order. The logic driving SapphireOne's PDF capture function imitates human reason, for example to look up the number on a vendor invoice a person would look for the keywords which determine the meaning of the value such as invoice, invoice number, invoice ID etc. Usually the value will be somewhere next to or below these keywords. In most cases SapphireOne PDF capture is able to identify keywords and find the data and populate in the SapphireOne database automatically.  SapphireOne PDF capture allows capturing data from the majority of vendor invoices correctly.
If PDF capture comes across different types of PDF files or keywords that it is not familiar with, the operator then can simply draw a box around that keyword and the program will file into the SapphireOne database.

This new PDF capture functionality of SapphireOne is a Document capture software that will help your organisation to reduce the cost of vendor invoice processing and improve relationships with your key vendors. To receive more information about SapphireOne's PDF capture vendor invoice processing, request a demo.