June 10, 2020 11:15 am | by Archana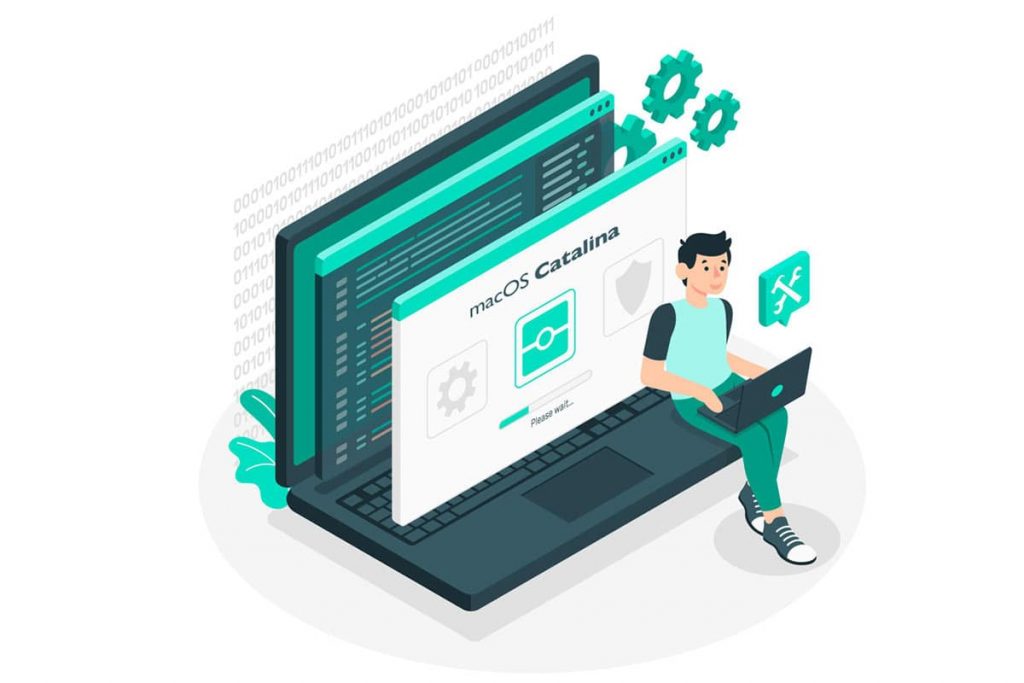 As recently announced by MYOB, it is walking away from its MacOS product AccountEdge as it is unable to make it compliant with Catalina. Many business owners are now faced with the difficult question of how to smoothly transition to an alternative product. SapphireOne is a highly functional and user-friendly accounting software that has been running on MacOS Catalina since its implementation in October 2019. It is a unique application due to its ability to remove much of the complexity of accounting. Instead, it replaces it with practicality and efficiency regarding all daily business operations.
SapphireOne is a highly functional and user-friendly accounting software that has been running on MacOS Catalina.
Switching to this accounting vendor from MYOB AccountEdge will open up companies to a vast range of advantages, a few of which will be introduced to you in this blog:
Upgrading to MacOS Catalina without any interruptions

SapphireOne has been MacOS-compliant since 1986 and consistently managed to seamlessly transition its clients to the newest versions released by Apple. Although AccountEdge users will still be able to run the programme even if they choose not to update their computers, they are, in essence, just delaying the inevitable as other applications will eventually stop functioning under MacOS Mojave. Therefore, it is highly recommendable for these users to switch to a substitute as soon as possible as the size of their data files to be migrated is growing day by day.

All-inclusive software with no expensive add-ons or upgrades

When implementing SapphireOne, business owners will be able to enjoy multiple functionalities that are all part of the system. It prides itself in a "no hidden costs" policy. Many other ERPs on the market today use a single functional system and interface it with add-on modules. This can become expensive to implement in the long term as each individual module attracts its own costs and licensing. SapphireOne is all-inclusive, providing access to every module via a single toolbar which includes: Accounts, Inventory, Job Projects, Assets, Payroll/HR, Management, Utilities and Workbook.

Immediate support available via phone or email

The on-call IT support team is available to its customers via email to help them with any queries they may have or issues they encounter. You can also book a support call via the SapphireOne website for a specific time at which the team will contact you and assist you over the phone. During the implementation process, extensive training will be provided to all relevant staff members. Comprehensive manuals, which are updated regularly, are available to all clients. The SapphireOne community website also offers multiple explanations of the most commonly used functionalities and features.

Managing ERP, CRM and DMS in one single application

The access to the database is available in real-time and to an unlimited number of users. As it leverages off the database back end, optimal processing speed can be ensured. It is a platform-independent system, meaning transitioning from MacOS to Windows or vice versa poses no issue. If required, you can also run both operating systems concurrently. It also provides an integrated VoIP Telephone system, enabling calls to be made to contacts using softphone technology. Further, it offers web access allowing data to be entered or retrieved from any browser touchpoint including smartphones and tablets. Within just one single application, the user can manage documents (DMS), conduct resource planning (ERP) and maintain all customer relationships (CRM).

Vast range of partners

SapphireOne partners with platforms and add-ons to meet the changing requirements of its clients. Its API gateway supports bulk data imports from various sources. The APIs are integrated regularly, and high importance is placed on R&D to accommodate for the latest technological innovations and advancements. To date, SapphireOne has partnered with Shopify, Australia Post, PayPal, BigCommerce, Channel Advisory, the ATO and many others to help its clients in advancing their business. Due to its "no hidden costs" approach, there are no additional subscription fees for these services and tools from SapphireOne.

Applicable to small- and large-scale companies

AccountEdge is mainly targeted at small businesses, whereas SapphireOne caters to all business owners, whether they are long standing traditional companies, small-scale businesses or rapidly growing start-ups. For instance, on the one hand, it incorporates all currencies, tax realms and unlimited business locations within one single data file. On the other hand, it also streamlines processes for smaller companies saving them valuable time. Foreign exchange control is automated in the application which alleviates the strain on accounting staff of companies operating on an international level.
Once you have opted for SapphireOne, you will not have to pay for add-ons to enjoy the full extent of all eight modules. This is especially beneficial to start-ups that may not require all functionalities available just yet but they can already familiarise themselves with the entire system. As a result, they will not be facing any additional expenses once their requirements of a software grows, alongside the size of their business.
If you are currently a customer of MYOB AccountEdge and want to upgrade to MacOS Catalina, SapphireOne is the perfect substitute for you. The application will streamline your processes with ease and improve your current business intelligence by delivering an efficient and easy-to-use solution for all your accounting activities.
Please contact us to request a live demo and/or read the testimonials from our long-standing clients.
June 21, 2019 2:30 pm | by Archana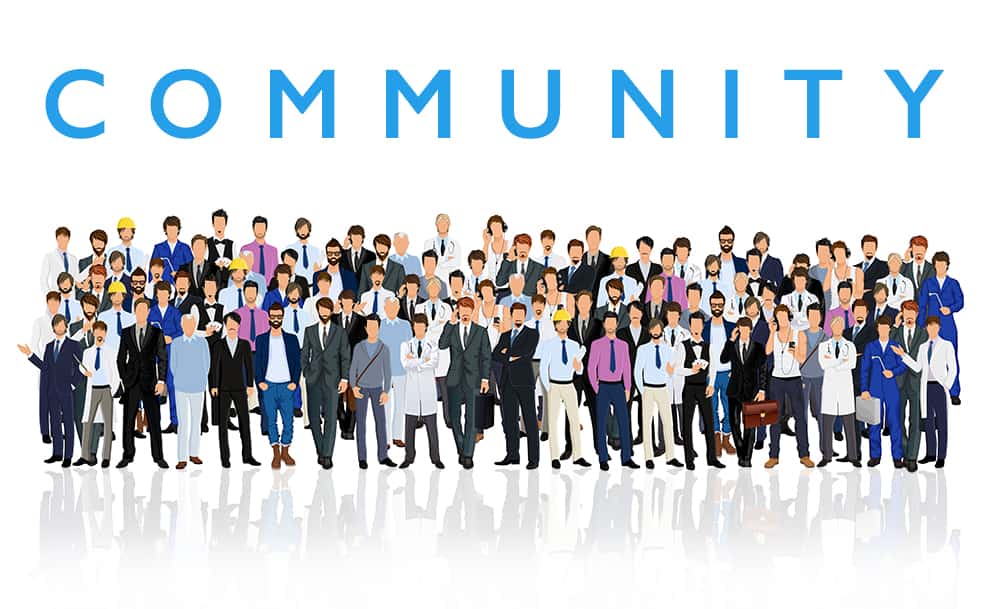 IT'S ARRIVED! SapphireOne would like to introduce a new resource for you called SapphireOne Community. This is a central place where our clients and users can access the latest guides, interactive manuals and step-by-step videos of our SapphireOne application.
It's a great place to share, connect and ask questions on your ERP Accounting needs.
What to expect in SapphireOne Community
New features, release notes and latest versions will be listed on this Community platform to keep you ahead of changes.
To launch, we have been working on the Accounts Mode. Take a look at the easy to follow, intuitive overviews with tips and shortcuts that are bound to ensure working with SapphireOne is faster and more productive.
What's to come- the rest of SapphireOne guides and videos on our 8 modes. These include Inventory, Job Projects, Payroll/HR, Assets Management, Management, Utilities and Workbook. Web Pack, Market Pack, Web POS and Release Notes will also be featured in detail giving you, the user a simplified way of learning.
Can't find the information you need? Take a look at our Frequently Asked Questions (FAQ). Prefer to speak to one of the team? Fill in our form and we'll be in touch.
The best part of Community- it's online, allowing you access 24/7 on any device!
Discover now SapphireOne Community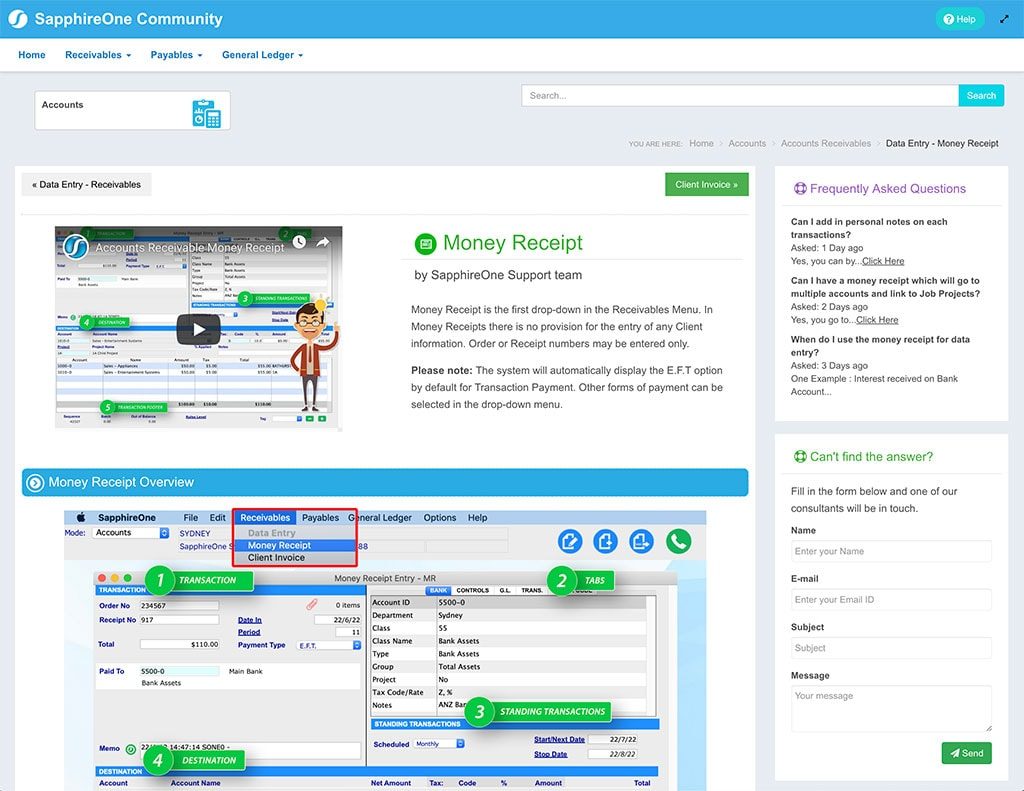 In the meantime, rest assured our manuals are still available on the FTP server until the content is transferred into our Community site. The manuals are continuously updated with new and exciting features and are a tremendous guide for training and reference purposes.
To access the manuals, go to FileZilla, connect, then click on the Public Folder. In the SapphireOne Manuals folder you will find a list of the current versions. Highlight and drag the manual you would like to transfer to your desktop.
Click for more information regarding improvements and features within the latest release of SapphireOne ERP, CRM, DMS and Business Accounting Software Application. Alternatively, contact our office on (02) 8362 4500 or request a demo.