November 1, 2018 2:05 pm | by Fiona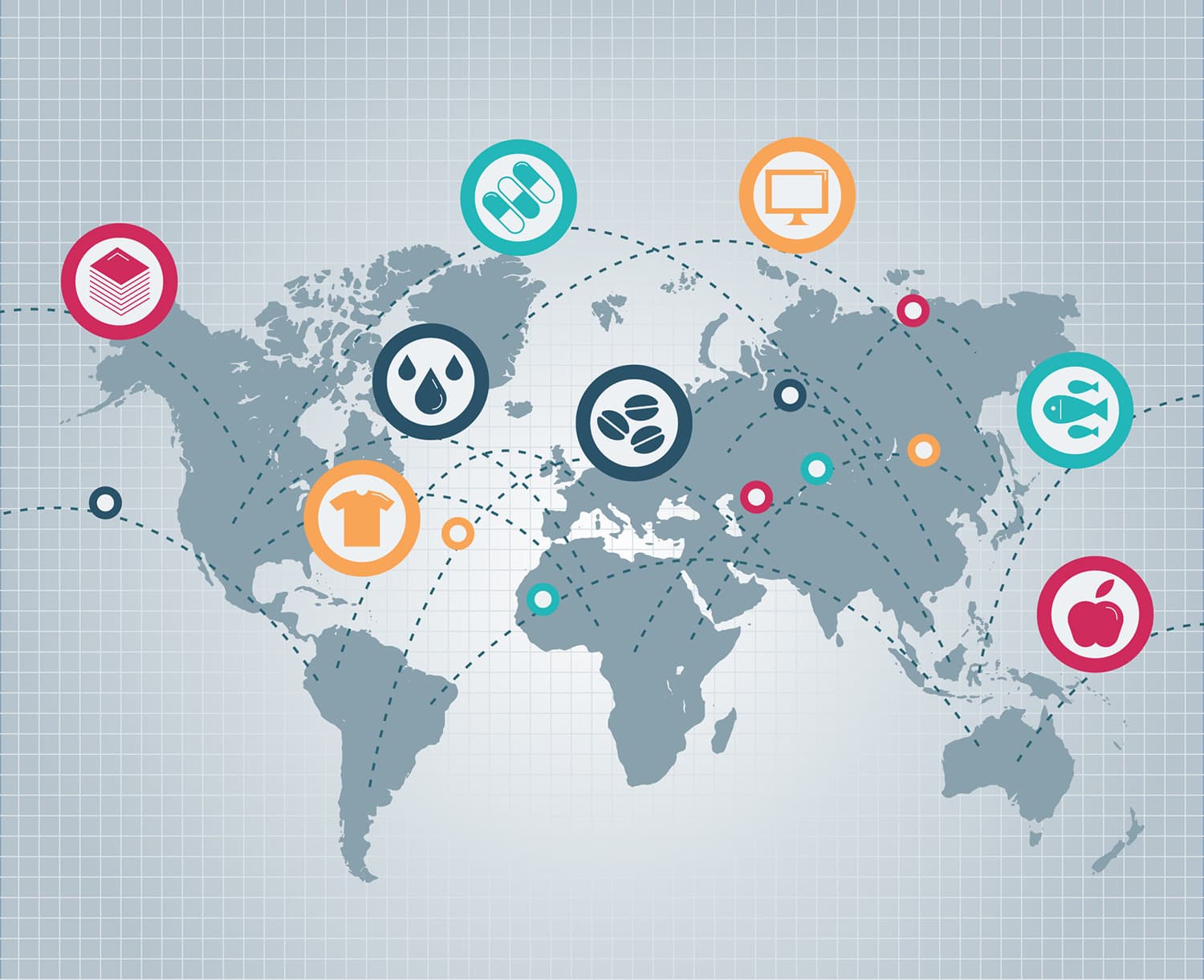 When looking into whether you should invest in an ERP system for supply chain management, you need to ask the following questions. Are we working at optimal speed and efficiency? Can you reduce waste? How susceptible is your business to outside risks? Are you staff working to their full capacity?
If you answered no to any of these then it may be time to install SapphireOne ERP application. Our ERP plays an integral part of managing supply chain management risk by making the entire chain more visible and resilient to changes in market demand.
SapphireOne supply chain management and ERP accounting software
SapphireOne ERP Accounting application allows manufacturing and distribution businesses the ability to gain enterprise wide, supply chain management visibility. The ERP also increases speed, efficiency and overall customer satisfaction. Our ERP offers real-time data which helps sales act on information faster, manage risks and save money via automated stock control and purchasing. The ERP will seamlessly coordinate and integrate the flow of material, information and financial.
Excessive Supply
With lack of information or the right tools to manage supply, it can be a tricky ensuring you won't order too much or too little raw materials and inventory. SapphireOne ERP application automates your purchasing which reduces human errors, saving money and warehousing.
Inventory management
SapphireOne ERP inventory management ensures you have enough inventory on hand, in the right location, to accommodate demand. It enables you to integrate with external partners to ensure all parties communicate with each other. Stock tracking and management, sales and purchase order management, multi-channel fulfilment, warehouse management, and stock transfers are synced across the entire supply chain management.
Product delivery
SapphireOne ERP application has excellent distribution and logistics software functionalities. Optimise your logistics management with our delivery scheduling and manifest functionalities. Multi-location Inventory, advanced shipping, bin management, real-time dashboards are just some of the features offered.
Stock flow
In managing stock, you need real-time access to stock levels, cost and tracking information. SapphireOne ERP Accounting application has multi-warehousing functionality. Easily view where a stocked item is being held. Estimate how long it will take to deliver this item in store or to your customer. Tracking and control are made easy with our POS system via serial or batch numbers.
Labour costs
Optimising your inventory processes with SapphireOne ERP application will reduce manual labour. Time is saved in replenishing stock, processing shipments and deliveries to your customers. Having an automated system saves money, reduces the risk of human error and allows you to focus on delivering quality customer service.
For more information regarding improvements and features within the latest release of SapphireOne ERP Business Accounting Application please contact our office on (02) 8362 4500 or request a demo.
October 18, 2018 11:19 am | by Fiona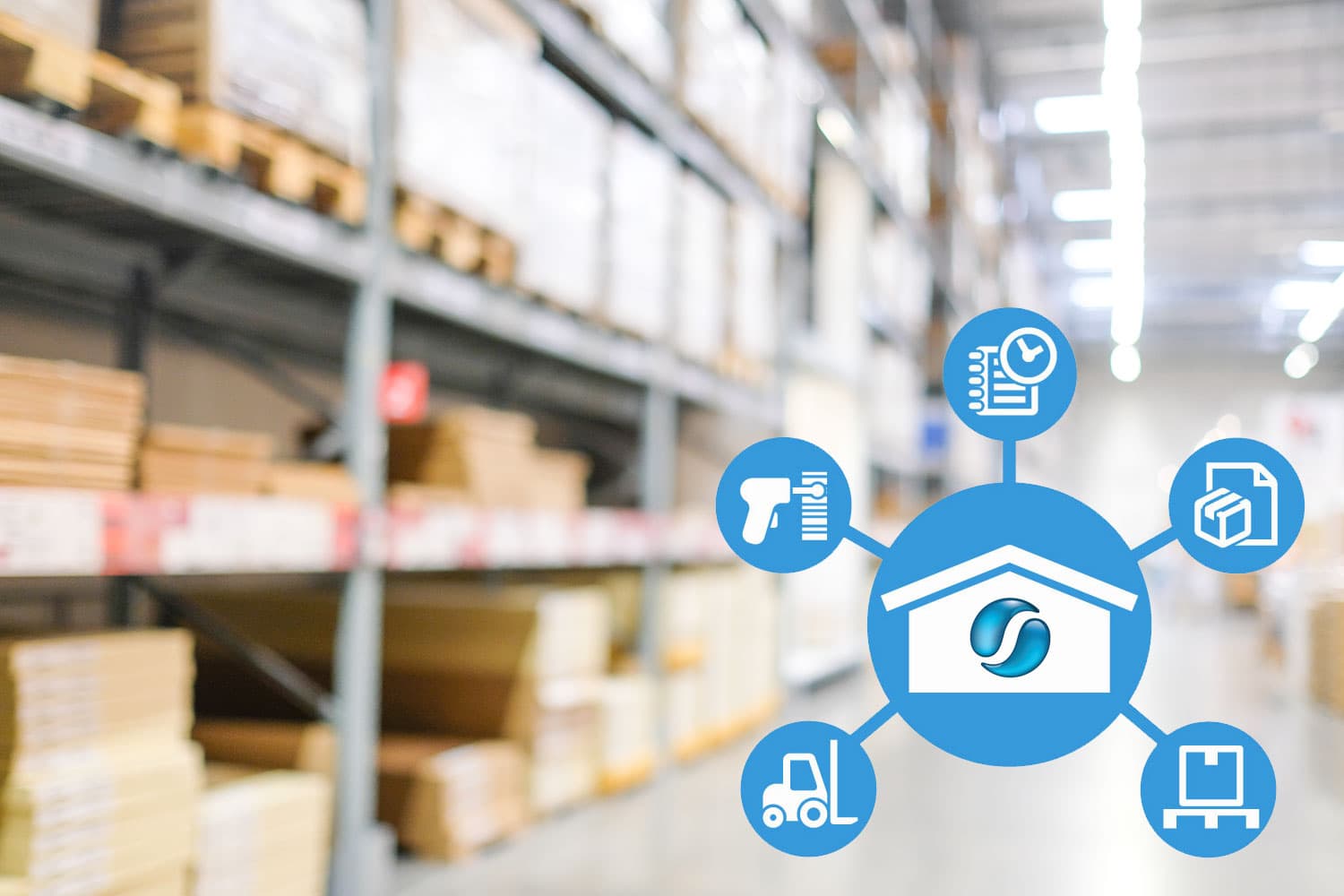 SapphireOne ERP Business Accounting Application handles the complexity of warehouse management and inventory control providing with you the necessary tools to assist in bins, matrix tables, batch control, serial number tracking, location control, department control and normal or non-diminishing stock. The Inventory Module highly organises your stock to optimise warehouse "real estate" and reduces the misuse of employees' time.
SapphireOne enhances productivity with a warehouse management application for logistics, channel management and information systems
SapphireOne ERP is an all-in-one application capable of integrating warehousing activities with other departments within your organisation, from manufacturing to customer service and purchasing. Warehouse management application, logistics, channel management and information systems, all integral parts of the supply chain, have access to real-time data so deeper insights can be formulated creating better decision making.
The Inventory Module provides the exact location of inventory, a clear view of stock levels with fast and accurate reporting at your fingertips. Automated workflow allows you to spend less time getting orders out and focus on what's important, productivity.
Training new personnel is easy
The SapphireOne interface is easy to use withthe majority of screens following the same clear and concise layout. This enables the user to quickly enter data using the same procedure throughout the software to enhance performance and ease of operation.
SapphireOne offers training and support via multiple avenues. Team Viewer Training is conducted over the internet and can be individual or group based. Bondi Blue Training Tool and manuals are representative of a fully operational company file and are there for users to practice their data entry processes.
Training made simple with SapphireOne.
Document system which removes paperwork
SapphireOne ERP, CRM, DMS and Business Accounting Application fully integrates and automates warehouse management application with the rest of your business so departments are working on a single-data file.  No need for cumbersome re-entry of data, increasing accuracy and less paperwork.
The SapphireOne Document Management System (DMS) attaches, stores and manages your documentation. This ensures you have relevant documents in the right place at the right time. You simply scan, upload existing paper documentation to the data file and shred the paper documents afterwards.
Efficiency in pickup process
Using RF barcode readers, designed exclusively in Sapphire Web Pack for wholesale distribution companies, speeds up the process of picking and thus creates efficiencies and minimizes steps. Utilising the barcode readers mitigates human error and ensures smoother internal operations.
Streamline your Inventory Management
SapphireOne streamlines Inventory Management and allows you to oversee, track and process your inventory from purchasing through to manufacturing and sales within the single-data file. Using real-time data empowers your salesforce and increases customer satisfaction. Live mobile device capabilities deliver unlimited users the ability to view multiple locations and distribution centres to enter, view and process your data.
October 10, 2018 11:25 am | by Fiona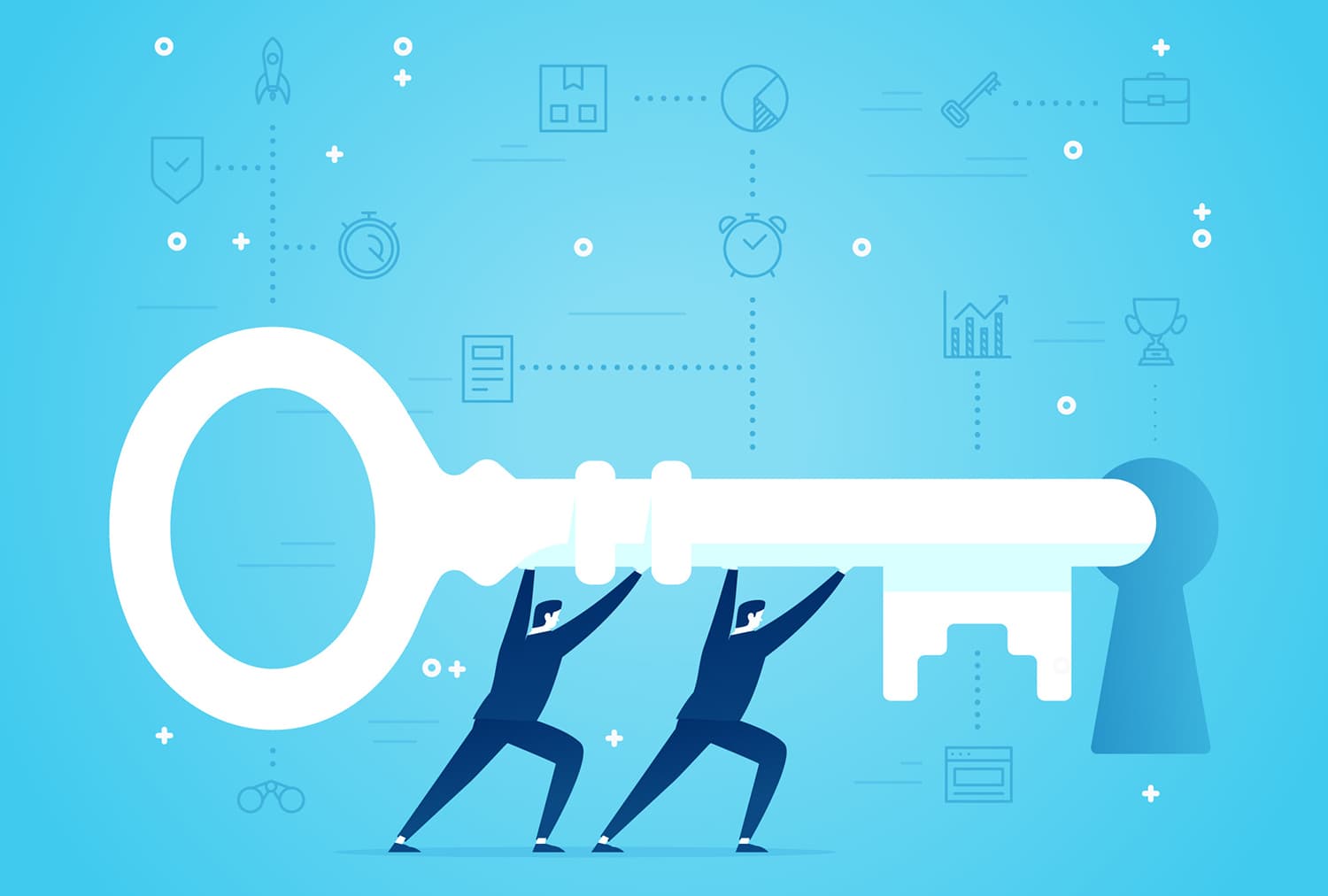 SapphireOne ERP business accounting suite has a unique framework which allows management and decision makers to maintain full control over the entire organisation.
With full control you have the flow on effect of improved productivity, increased efficiencies, decreasing costs and streamlining processes. SapphireOne Enterprise Resource Planning software gives your finance team the necessary tools to create more realistic estimates and accurate forecasts in accrual-based costs, bank reconciliations, billing & invoicing, budgeting and tax preparation.
It's your one stop complete business solution in functionality; easy to use, intuitive with a clear interface.
Fulfil your business dreams: ERP Business Accounting Suite with Business Intelligence Dashboards (BI), HR/Payroll automation, Inventory Management with Supply Chain control and Projects Management all within the one software application.
SapphireOne ERP, CRM, DMS and Business Accounting Software solution offers a comprehensive software suite which is highly scalable and supports unlimited users concurrently. We readily adapt to meet the changing requirements brought on by business expansion with customised integrated applications.
Our Enterprise Resource Planning ERP application offers a singular business accounting solution in functionality for Accounts Receivables, Accounts Payables, General Ledger, Fixed Assets, Payroll/HR, Job Costing/Project Tracking, Multi-Company within the one database, Reporting with BI dashboards and Budgeting.
As you grow, your operations become more and more complex. Our ERP solution increases productivity and efficiency by guiding you though the complexities, preventing the never-ending data re-entry, streamlining functions such as your production, order fulfilment and delivery.
SapphireOne reduces labor costs
SapphireOne's mission is to provide accurate, real-time information which in turn will streamline your ERP business accounting processes and make it easier, more efficient for your organisation. Reducing labor costs allows your managers to focus on what is important, prevent disruptions and delays, ensures reporting is easily accessible so they can make the right decisions quickly.
SapphireOne utilises warehouse space
Warehouses experience continuous transfer and shipping, so it is imperative to have tight controls and access to real-time data. SapphireOne Inventory mode will provide you with the exact location of inventory, a clear view of stock levels available, so you can maximise your "real estate" and warehousing. Multiple locations and distribution centres are linked using live data via Sapphire Web Pack. This allows for unlimited users to access certain parts of the live data file from any device with a browser including iPhones, iPads, android smartphones and tablets, along with your standard laptop or desktop.
SapphireOne improves supplier and customer relationship
Our SapphireOne Customer Relationship Management (CRM) and Document Management System (DMS) applications ensure you stay ahead of the game by providing high quality customer service. Information at your fingertips and BI dashboards, allow the user to custom dashboards, custom reports, create role-based and ERP dashboards and forecast which inturn enables your staff to focus on what is important, sales and customer service.
SapphireOne maintains corrects inventory levels
SapphireOne Inventory module tackles the complexity of inventory control and provides the necessary tools to assist with bins, matrix tables, batch control, serial number tracking, location control, department control and normal or non-diminishing stock. Using our SapphireOne Inventory module, inventory forecasting and multi costing are made it simple.
SapphireOne drives sales, orders and profit
Simply put, our SapphireOne ERP, CRM, DMS and Business Accounting Software application integrates various aspects of your business — from accounting and human resources to production and sales. This allows you to easily manage tasks and process data, so you can concentrate on the bottom line, making sales and profit. The key feature is a centralised database allowing our users a complete summary of financials, sales figures and other important metrics. All your employees in different departments can have access to the same information without re-entering.
For a sneak peek at the full capabilities ERP, CRM, Accounting Software, Human Resources, Payroll, Assets and Document Management,  check out SapphireOne and request a live demo, it is everything you'll ever need to make your company management a success. Know more about us.
June 8, 2018 3:55 pm | by Loren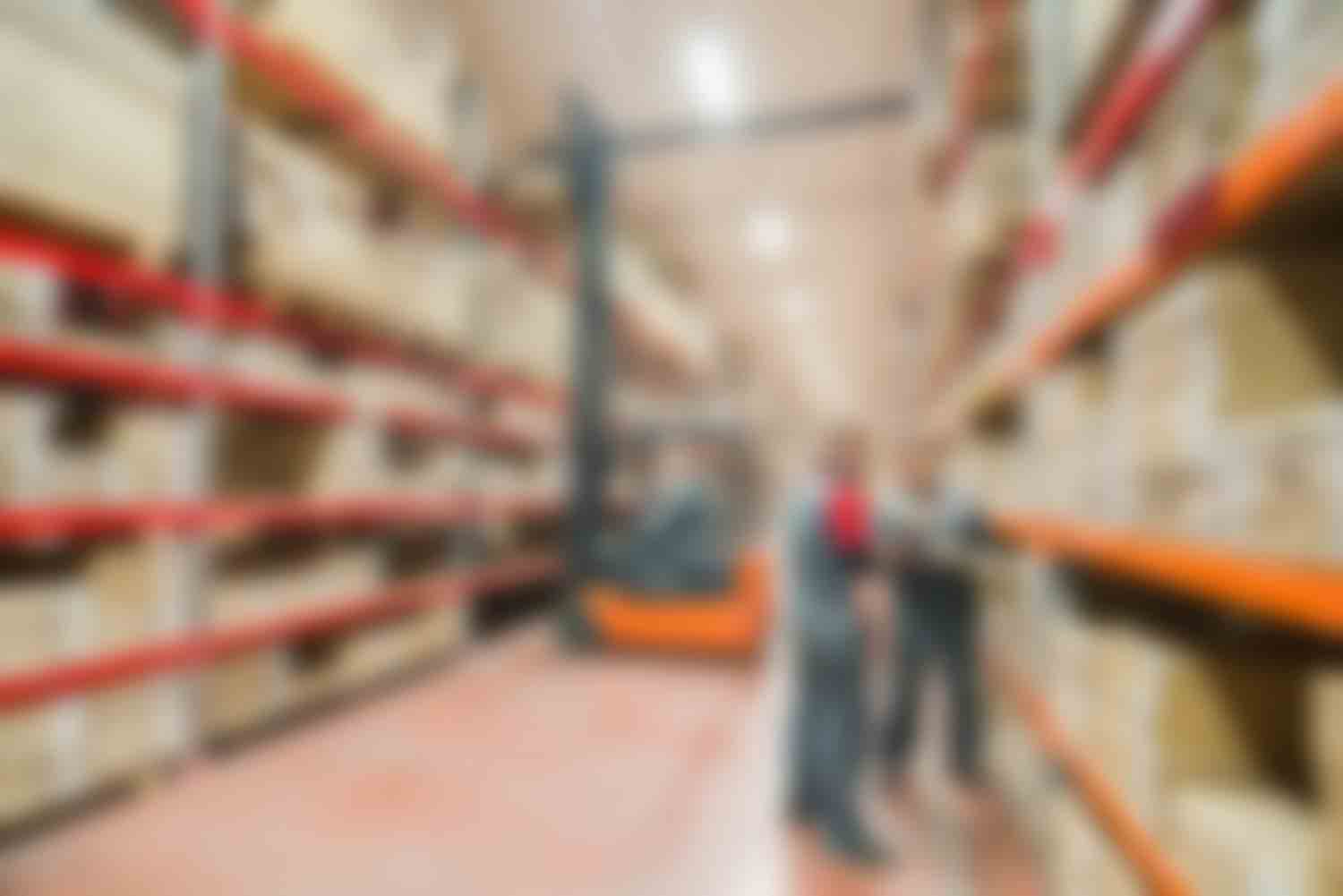 Warehousing, distribution and logistics businesses have a critical need to manage their inventory in a timely and efficient manner. When shipping direct to retailers or customers your ERP solution becomes mission critical for the smooth ongoing operation of your business enterprise.
SapphireOne will meet all your warehousing, distribution and logistics requirements with integrated EDI/API functionality. Our large range of API vendors include freight forwarders, courier companies and various third-party transport and distribution operators. The SapphireOne ERP has everything inbuilt that a warehousing, distribution and logistics business needs, and can help you to create the highest level of efficiency at the lowest cost of operation for your warehousing, distribution and logistics business enterprise.
Some examples of the built-in functionality include unlimited barcodes per item, unlimited images per item, bill of materials with unlimited levels, serial batch control, multiple costing types, material resource processing (MRP), material safety datasheets (MSDS) bin/bay management, multi-location, multi-warehouse, SSCC labling.
SapphireOne ERP is perfect for SMEs and large companies for the wholesale Warehousing, Distribution  and Logistics business enterprises
SapphireOne ERP is suitable for large companies, as well as small and medium-sized enterprises (SMEs) providing extremely high quality information in real time covering all your inventory requirements.
Wholesale distribution and logistics is an extremely competitive market place, it is critical that when dealing with all your inventory needs it is handled in real time.
SapphireOne's inventory management functionality tracks stock movements quantifying the volume while simultaneously tracking bin and bay management of all inventory items throughout the warehouse.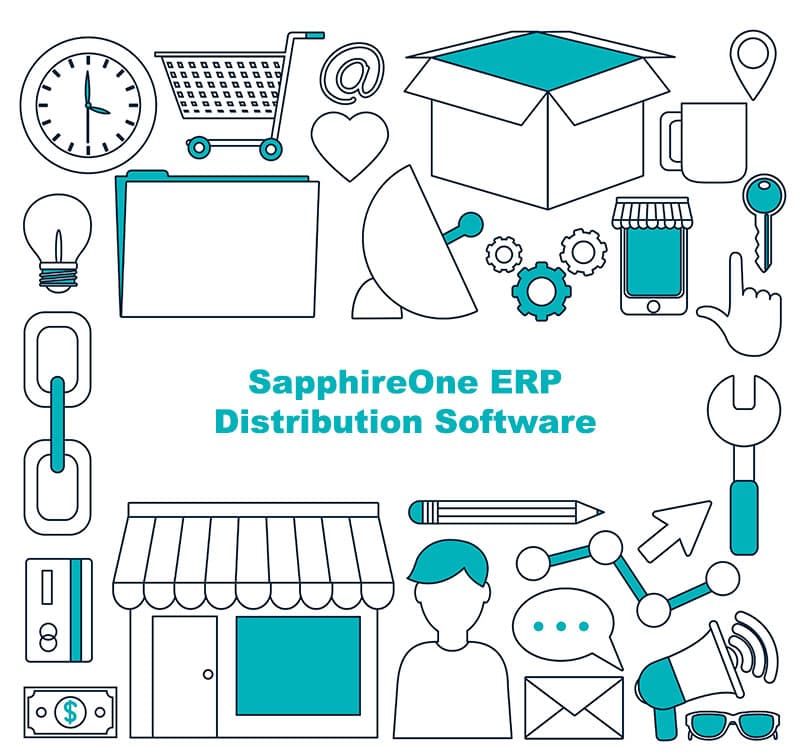 SapphireOne ERP is an integrated Accounting, Payroll/HR and Inventory Management software solution
At SapphireOne we understand that a wholesale, distribution and logistics business needs to have integration between financials, warehousing, and a full range of customer and supplier information to help anticipate future needs.
SapphireOne ERP system offers an integrated accounting, payroll/HR, inventory management software solution that is perfect to increase efficiency in your warehousing, distribution and logistics business enterprises.
SapphireOne allows you to analyse Payroll/HR expenses and employee productivity to help control costs and review expense distribution.
SapphireOne can facilit­ate the design of an efficient warehouse, distribution and logistics system to create the foundation of an efficient supply chain, one that can service your customers in real time.
For the full capabilities of the ERP, CRM, Accounting Software, Human Resources, Payroll, Assets and Document Management,  check out the SapphireOne website and request a live demo.
SapphireOne – We have the Power to back you. Find Out More Details
February 6, 2018 11:51 am | by Loren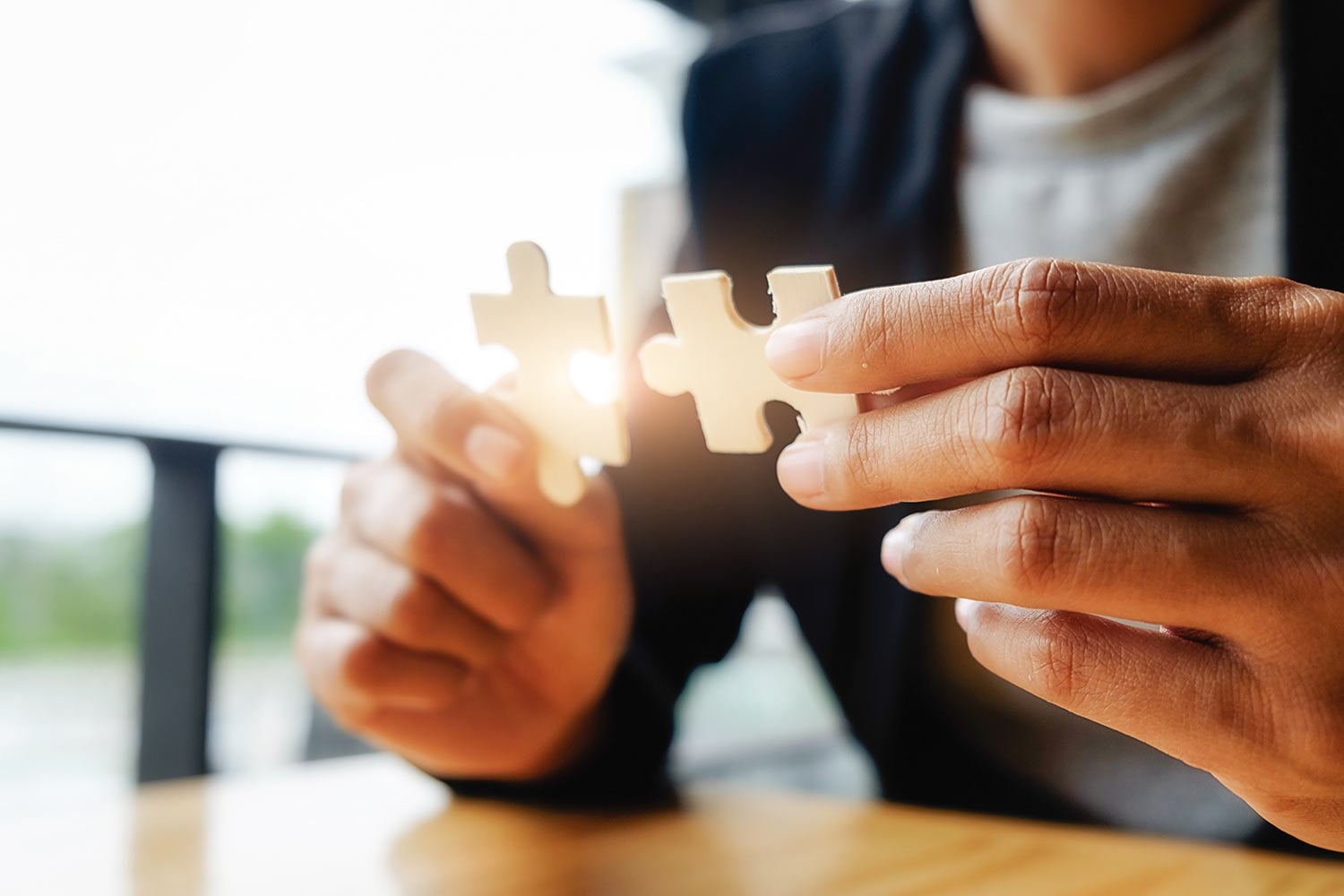 Managing your Supply Chain is a process that starts from the raw materials and the inbound logistics all the way to the outbound logistics. While supply chain management concepts have received increased attention, the key to an efficient supply chain is to make sure that the process runs as smoothly as possible.
Supply chain management is recognised as the management of key business processes across the network of organisations that supply you. Without an efficient supply chain, there would be many bottlenecks in the process.
One needs to follow through each and every step of the process and make sure that things go efficiently and smoothly. ERP Accounting plays a significant function in supply chain management, however recent studies have shown how your business can be affected by the management of supply chain and distribution.
What does the ERP accounting system do in supply chain management?
Accounts Payables
The amount of cash that flows out of the company in exchange for goods or services from another person or company is the accounts payable. With accounting, we can organise and track the payments to vendors efficiently. An ERP accounting system allows a business to keep track of all types of financial transactions and is capable of generating reports that provide management with specific information to aid in the decision-making process.
Accounts Receivables
Accounts receivable allows you to track invoices for payment, that your clients have ordered but not yet paid for. It helps in managing your accounts efficiently with customer tracking, invoice management, activity analysis, receipt and cash receipt processing.
For a successful supply chain, you need data, records, reports, analysis, accurate accounting information about your assets, liabilities and profits. This is why ERP Accounting plays a crucial role in supply chain management.
SapphireOne ERP CRM Business Accounting Software purpose is to provide an accounting system with a framework to be used in implementing supply chain management and logistics. The objective is to establish a common strategy for the SCM with common aims across multiple accounting software companies.
Logistics and supply chain management are now firmly established as analytical business practices. Many companies have appointed expert accountants who are responsible for ensuring the cost-effective operation of the end-to-end pipeline that link the supply side of the business with the end market. The practice of logistics and Supply chain management is an evolving process even though the underlying ideas have been around for a while. Logistics and supply chain management play an important role in achieving a competitive advantage. Supply chains today operate in a world where the rate of change continues to increase. There is a need to develop logistics and supply chain solutions that are flexible and capable of adapting quickly to changes in the business environment.
For a sneak peek at the full capabilities ERP, CRM, Accounting Software, Human Resources, Payroll, Assets and Document Management,  check out SapphireOne and request a live demo, it is everything you'll ever need to make your company management a success.