October 4, 2019 1:31 pm | by Archana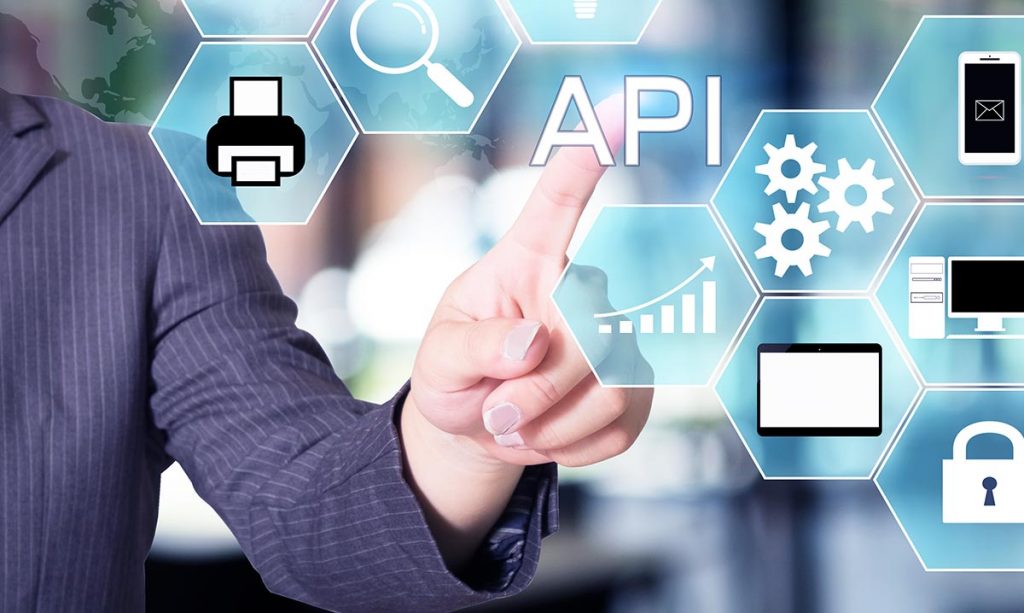 APIs and ERP what are they? API stands for "Application Programming Interface". They are a set of clearly defined methods of communication among various components. A good API makes it easier to develop a computer program by providing all the necessary building blocks. These in turn are assembled by the programmer. Simply put, they define the way software and programmes interact and work together.
APIs are necessary for Enterprise Resource Planning ERP applications to ensure data is accessible with other programmes and systems. This way transactions can be directly fed into your accounting, inventory, CRM, and HR software.
APIs and SapphireOne ERP– our point of difference is they are all included
It's part of the SapphireOne ERP all-in-one solution. We work closely with our clients and actively encourage ideas for innovation. Our programmers are happy to integrate platforms to make your working life easier.
PayPal + SapphireOne
provides an online invoicing payment solution which connects to SapphireOne for direct feeds into your bank rec.
Tyro + SapphireOne
accepts in-store EFTPOS and eCommerce online payments and direct feeds them into SapphireOne accounts.
WooCommerce, Shopify, BigCommerce + SapphireOne
ensures your front-end online stores are combined with back office accounting functionality.
Mailchimp + SapphireOne
delivers marketing automation and an email service to keep in touch with your contacts through SapphireOne CRM.
Stripe, CyberSource + SapphireOne
accepts credit card payments on-the-go through SapphireOne and Sapphire Web Pack.
SPS Commerce + SapphireOne
gives you access to the largest network of EDI connections.
GS1 + SapphireOne
GS1 barcoding is accepted in SapphireOne Inventory to streamline business processes such as traceability within a centralised database.
Brandscope + SapphireOne
enables you to release and buy multiple brands and ranges on the one platform whilst linking directly to your accounts and inventory.
Splicecom + SapphireOne
maximises CRM functionality in SapphireOne with Softphone technology.
ATO + SapphireOne
full certification and useability in Single Touch Payroll (STP), Standard Business Reporting (SBR2).
Easypost, MoveIt, Startrack + SapphireOne
order and control parcel shipping, con notes and logistics directly through SapphireOne.
Expensify + SapphireOne
tracks receipts and manages on-the-go expenses then connects to SapphireOne accounts for real-time reporting.
TANDA + SapphireOne
combines rostering, attendance and time clocks into SapphireOne Payroll for processing.
OANDA, Xe + SapphireOne
offers global currency solutions, exchange data, insights and money transfer services which are processed into SapphireOne accounts.
4D + SapphireOne
offers the latest framework for your data management.
For more information on the latest release of SapphireOne ERP, CRM software and Business Accounting Application, contact our office, call on (02) 8362 4500, or request a demo.
November 9, 2018 3:18 pm | by Archana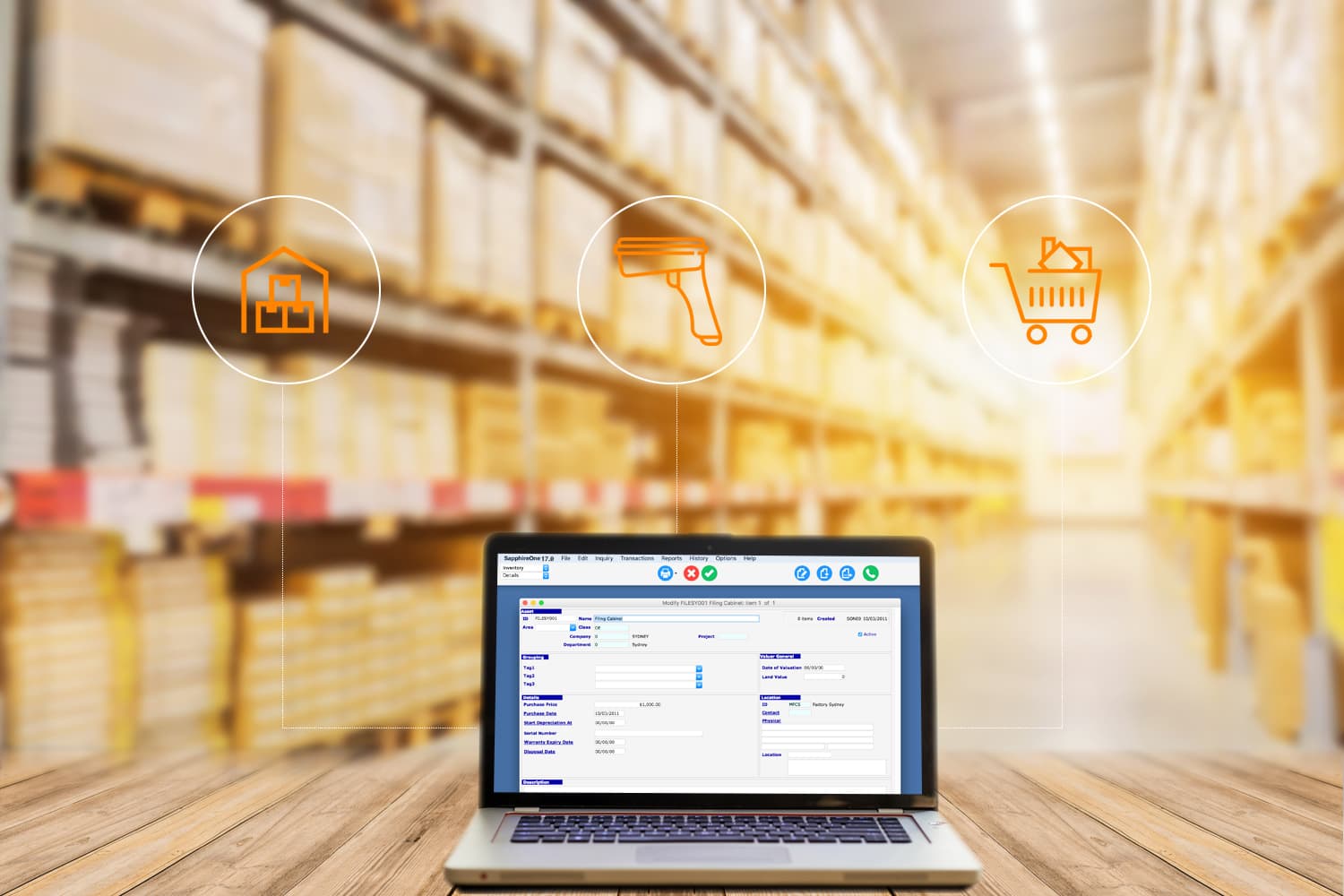 In simplified terms, inventory management allows organisations to see all the small moving parts of its operations thus ensuring they make better decisions and investments. It is a key element in business today, and an ERP software provides an integrated approach to business planning and operations. Over-inventory or under-inventory will affect your finances and can damage the overall health of your business as well as business opportunities.
The SapphireOne ERP Business Accounting application ensures you have the integration you need to help you make quick decisions and avoid mistakes. The inventory management module assists you in managing your finances, logistics, operations and inventory management, to maintain accurate records of stock all in one central repository.
Obtain a powerful solution for the accurate control of stock, inventory management, from ordering, manufacturing, right through to sales and delivery with SapphireOne ERP Accounting application
A shortage of stock will result in dissatisfied consumers, with a flow on effect of less sales and greater handling and delivery charges. The all-in-one SapphireOne ERP Business Accounting application solution integrates the organisation to working within the one data file, with access to real-time data to make it easier to monitor and control movement of stock.  Accurate reporting gives you the flexibility necessary to meet changing demands. The ERP will ensure you have better control of your stock and its movements by improving efficiency across multiple departments and operations in the supply chain.
Obtain a complete view of inventory management under one application platform
SapphireOne helps you to view inventory and track items in one application. All departments are integrated and receive instant visibility from entry of inventory as raw materials to their exit as finished goods to the suppliers/customers. This real-time visibility across the operations and supply chain provides the necessary planning tools to help you make better decisions.
Avoiding over and understocking
SapphireOne ERP application gives you real-time data to instantly see surplus or shortage in stock and react accordingly. This manages stock optimisation and inventory control and keeps track of the items that are selling quickly. Pre-built automated solutions are within the SapphireOne ERP application to help with streamlining of all stock activities.
Get smarter warehouse managing techniques
Correct warehousing techniques ensure the management of multiple sales and logistics channels. It coordinates movements of goods in and out of the organisation warehouses.
SapphireOne ERP application facilitates order and operating delivery flows with automation, multiple tracking options to access bin locations, centralised database and advanced picking methodologies. This will improve warehouse productivity via labor efficiency, decreasing inventory levels, increasing order fulfilment and reducing order cycle times.
SapphireOne ERP application provides speed and visibility across the supply chains within the organisations
Without control of the supply chains as they grow more complex and global, organisations today risk extended lead times, running out of stock, delayed deliveries or complete stoppage of production. Ensuring the right stock is at the right place, right time, is critical to managing supply chain volatility.
SapphireOne ERP application mitigates these challenges by giving you control, speed and visibility. Automated processes, expanded insights, BI (Business Intelligence) Dashboards enables you to find patterns rapdily and use the data to further improve your company's offering. Real-time data and visibility within a centralised database ensure accurate management of supply chains and operations.
Helps in responding faster to customers through real-time information
With customers being your most valuable asset, it makes sense ensuring their demands are met in a timely manner. SapphireOne ERP application delivers real-time data in one database across the organisation, so goods and level of service are kept at an optimum level. Our ERP system has all the information integrated and ready, so you can respond quickly on important decisions on what to do now or in the future.  Queries regarding product availability or managing inventory management can be dealt with accurately giving your business the competitive edge.
SapphireOne ERP application helps in forecasting future stock needs with precision and accuracy for your inventory management
Stock management allows you to properly plan your stock needs. Stock quantity must be accurate so you can forecast in a timely manner. SapphireOne ERP application ensures you have real-time data to gain the confidence you need to forecast demand. Our inventory management module will highlight specific demands of stock, track turnover, in turn will help with forecasting and ordering of the right quantity. Data analysis and rich reporting features ensures you can deliver precise demands, accurate forecasting and predictions.
Plan your inventory with SapphireOne ERP
Avoid all your inventory pitfalls with SapphireOne ERP Accounting application. Planning will improve profits through reduced inventory cost structures. SapphireOne ERP application has automated order replenishment and with the functionality of real-time data, surplus inventory is spotted immediately. Inventory turnover with the ability to drill down to tracking segments of inventory, improves your supply chain efficiency and productivity.
November 1, 2018 2:05 pm | by Archana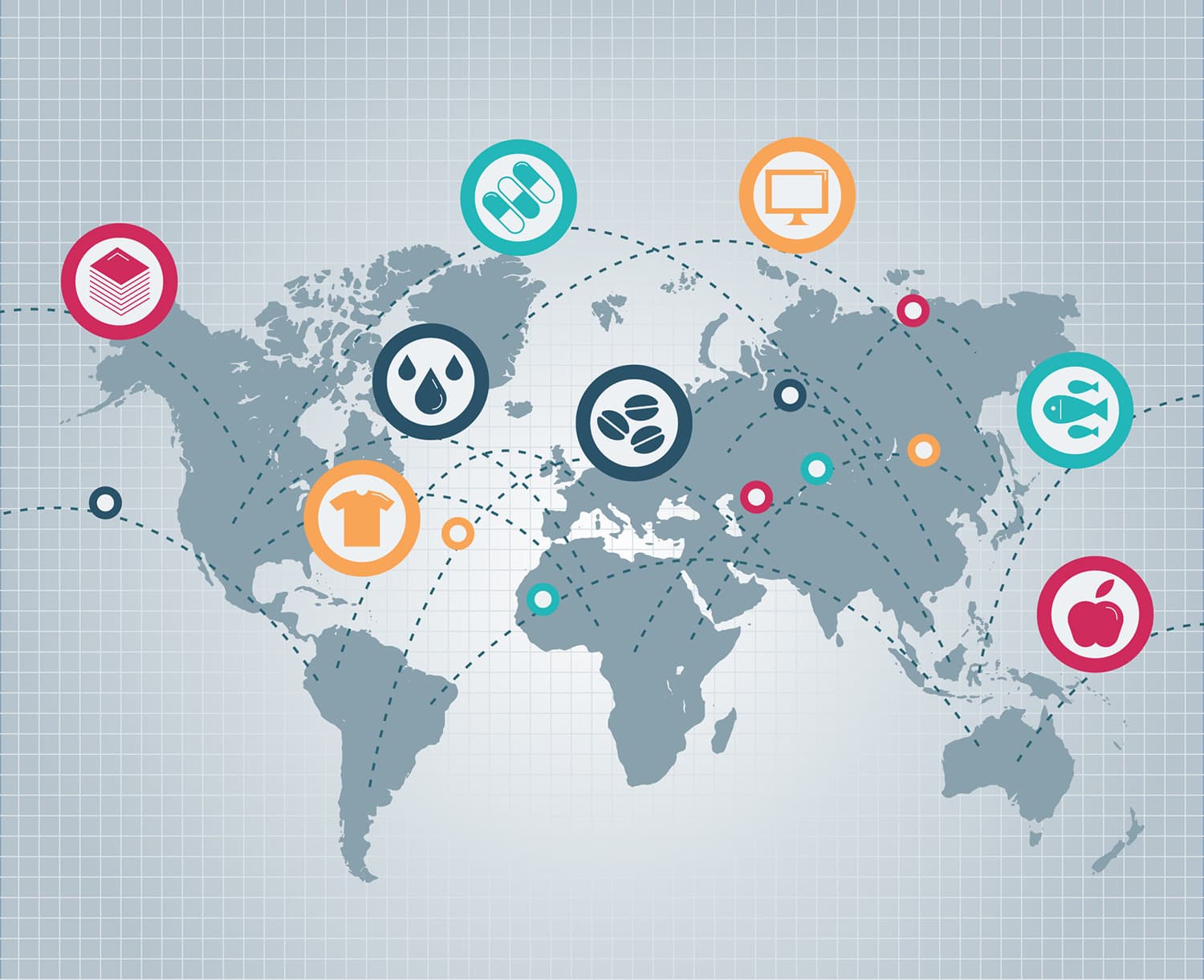 When looking into whether you should invest in an ERP system for supply chain management, you need to ask the following questions. Are we working at optimal speed and efficiency? Can you reduce waste? How susceptible is your business to outside risks? Are you staff working to their full capacity?
If you answered no to any of these then it may be time to install SapphireOne ERP application. Our ERP plays an integral part of managing supply chain management risk by making the entire chain more visible and resilient to changes in market demand.
SapphireOne supply chain management and ERP accounting software
SapphireOne ERP Accounting application allows manufacturing and distribution businesses the ability to gain enterprise wide, supply chain management visibility. The ERP also increases speed, efficiency and overall customer satisfaction. Our ERP offers real-time data which helps sales act on information faster, manage risks and save money via automated stock control and purchasing. The ERP will seamlessly coordinate and integrate the flow of material, information and financial.
Excessive Supply
With lack of information or the right tools to manage supply, it can be a tricky ensuring you won't order too much or too little raw materials and inventory. SapphireOne ERP application automates your purchasing which reduces human errors, saving money and warehousing.
Inventory management
SapphireOne ERP inventory management ensures you have enough inventory on hand, in the right location, to accommodate demand. It enables you to integrate with external partners to ensure all parties communicate with each other. Stock tracking and management, sales and purchase order management, multi-channel fulfilment, warehouse management, and stock transfers are synced across the entire supply chain management.
Product delivery
SapphireOne ERP application has excellent distribution and logistics software functionalities. Optimise your logistics management with our delivery scheduling and manifest functionalities. Multi-location Inventory, advanced shipping, bin management, real-time dashboards are just some of the features offered.
Stock flow
In managing stock, you need real-time access to stock levels, cost and tracking information. SapphireOne ERP Accounting application has multi-warehousing functionality. Easily view where a stocked item is being held. Estimate how long it will take to deliver this item in store or to your customer. Tracking and control are made easy with our POS system via serial or batch numbers.
Labour costs
Optimising your inventory processes with SapphireOne ERP application will reduce manual labour. Time is saved in replenishing stock, processing shipments and deliveries to your customers. Having an automated system saves money, reduces the risk of human error and allows you to focus on delivering quality customer service.
For more information regarding improvements and features within the latest release of SapphireOne ERP Business Accounting Application please contact our office on (02) 8362 4500 or request a demo.