August 14, 2020 12:46 pm | by Archana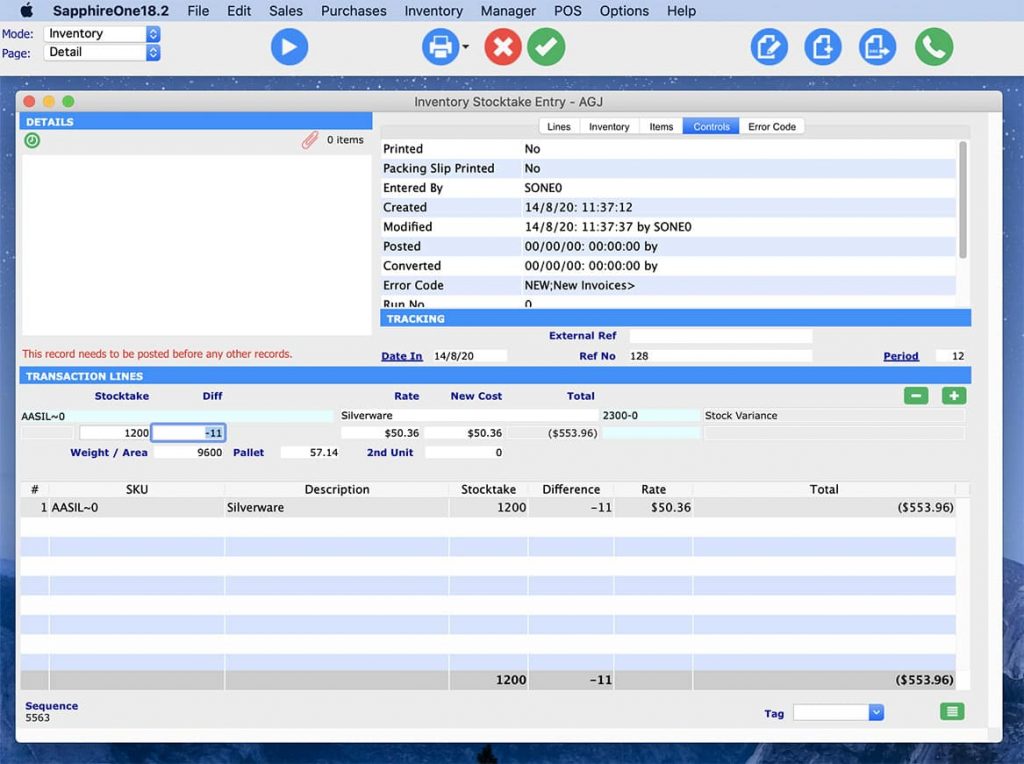 The Inventory menu is the main area of activity for entering transactions for the adjustment, transfer or building of an inventory item. These transactions are then processed through to Inventory Mode and Accounts Mode updating the Inventory and General Ledger files.
The Data Entry functions enable you to enter your data for this mode into SapphireOne, such as Stocktake Entry
The Inquiry Functions allow for the viewing of a many different Inquiries.
The Post Transactionsfunction allows the posting of Inventory adjustment transactions.
The Reportssection allows detailed analysis of the Inventory file and the production of transaction reports.

Transaction Types and their Codes:
AGJ) Adjustment General Ledger = This Stocktake Adjustment invoice is created when an adjustment is made to the current stock.
(TGJ) Transfer General Ledger = A Transfer Journal allows the transfer of stock from one department to another.
(OGJ) Order General Ledger = A pre-build Journal is created when an item is pre-built.
(BGJ) Build General Ledger = A Build Journal is the transaction that is produced when a built item is created from a number of line items.
Stocktake Entry
The Stocktake Entry function for entering data has been designed for the adjustment of stock levels and/or actual costs per unit. The Stocktake Entry screen allows control of the stock and automatic entry of the opposing adjustments within the General Ledger. The General Ledger account is the Debit or Credit side to be adjusted against the Inventory Asset Account.
Important Information on Stocktake Entry
If the Stocktake Entry involves negative stock, there is no cost change.
Any Inventory stock that has its Type set as Hire is treated differently to all other stock during Stocktake Entry. These items will also not be displayed in any Sales or Purchase lists. Once the stock has been purchased as a normal Inventory item this Stock Entry function is used to transfer normal stock into the Hire Stock.
February 6, 2018 11:51 am | by Archana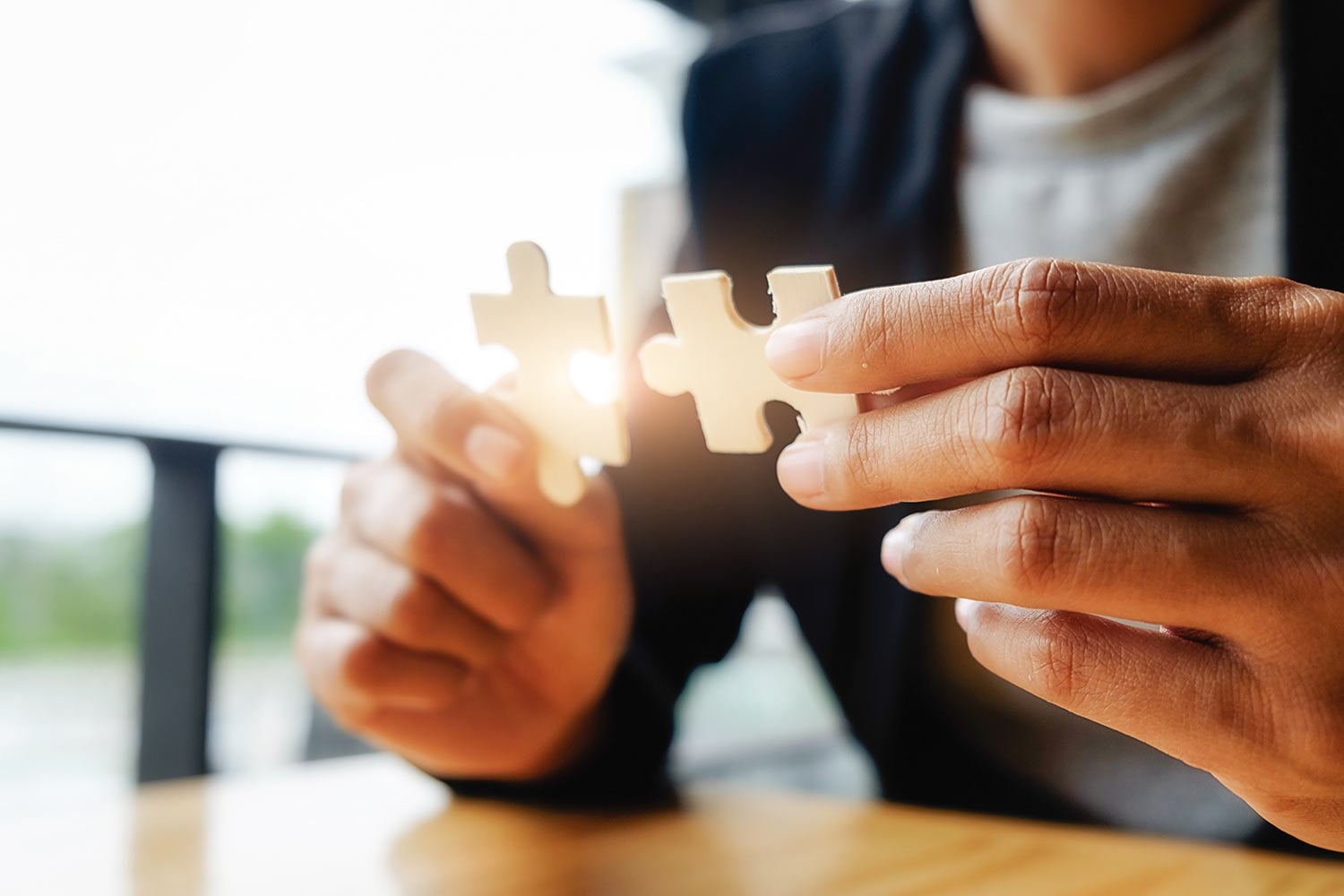 Managing your Supply Chain is a process that starts from the raw materials and the inbound logistics all the way to the outbound logistics. While supply chain management concepts have received increased attention, the key to an efficient supply chain is to make sure that the process runs as smoothly as possible.
Supply chain management is recognised as the management of key business processes across the network of organisations that supply you. Without an efficient supply chain, there would be many bottlenecks in the process.
One needs to follow through each and every step of the process and make sure that things go efficiently and smoothly. ERP Accounting plays a significant function in supply chain management, however recent studies have shown how your business can be affected by the management of supply chain and distribution.
What does the ERP accounting system do in supply chain management?
Accounts Payables
The amount of cash that flows out of the company in exchange for goods or services from another person or company is the accounts payable. With accounting, we can organise and track the payments to vendors efficiently. An ERP accounting system allows a business to keep track of all types of financial transactions and is capable of generating reports that provide management with specific information to aid in the decision-making process.
Accounts Receivables
Accounts receivable allows you to track invoices for payment, that your clients have ordered but not yet paid for. It helps in managing your accounts efficiently with customer tracking, invoice management, activity analysis, receipt and cash receipt processing.
For a successful supply chain, you need data, records, reports, analysis, accurate accounting information about your assets, liabilities and profits. This is why ERP Accounting plays a crucial role in supply chain management.
SapphireOne ERP CRM Business Accounting Software purpose is to provide an accounting system with a framework to be used in implementing supply chain management and logistics. The objective is to establish a common strategy for the SCM with common aims across multiple accounting software companies.
Logistics and supply chain management are now firmly established as analytical business practices. Many companies have appointed expert accountants who are responsible for ensuring the cost-effective operation of the end-to-end pipeline that link the supply side of the business with the end market. The practice of logistics and Supply chain management is an evolving process even though the underlying ideas have been around for a while. Logistics and supply chain management play an important role in achieving a competitive advantage. Supply chains today operate in a world where the rate of change continues to increase. There is a need to develop logistics and supply chain solutions that are flexible and capable of adapting quickly to changes in the business environment.
For a sneak peek at the full capabilities ERP, CRM, Accounting Software, Human Resources, Payroll, Assets and Document Management,  check out SapphireOne and request a live demo, it is everything you'll ever need to make your company management a success.