December 13, 2019 11:18 am | by Archana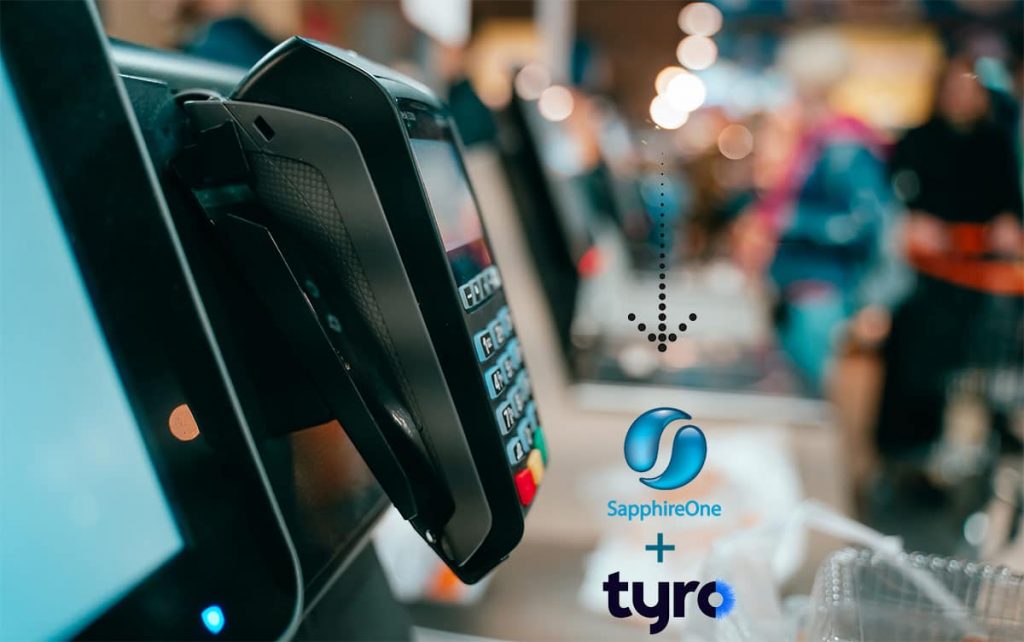 Hague Haswell from Timbecon has explained how implementing Tyro API with SapphireOne has made the biggest difference in their business.

Q : What was the main reason for you to implement Tyro into SapphireOne?
A : The main reason for us was to ensure that there wasn't any errors made when transferring data from the sale to the POS machines. We used to have a problem in the past when we were integrated with Tyro API, where people would type in the value of the sale incorrectly. And then that would obviously throw our sales figures out at the end of the day. In some cases we lost money.

Q : So one of the business cases was to reduce potential human error.
A: Yes. So anything we can do to automate, anything that reduces data entry needing to be done manually, it's going to make the system far more efficient.

Q : What was the implementation like for you, so you implemented the Tyro with SapphireOne as an API? What was that integration like for you? What was the experience?
A : Overall the implementation of Tyro was very good.

Q : Once you could actually go live how much time and effort did it actually take to turn it on and get it operational if you had to quantify that?
A : Virtually none, the first one took me maybe 15 minutes to get it set up, then the other 3 I had to set up took less that 5 minutes to set up each Till, because when I did the implementation I got the instructions, but I did something wrong and that's why the first one took a little bit of time but it basically worked straight away. So basically 5 minutes and the configuration is done and then you are live and working. What actually took the time was not setting it up, but we basically had everyone set up under the same Till, we had three separate machine, and we were balancing 3 separate machines back to one total at end of the day, what took me most of the time to match up with the different machines. Each till has its own Till ID and then you can identify those transactions and which Till it went through and who processed it.

Q : Once you've implemented at the actual processing of a transaction, how much quicker is that compared to the way you used to do it manually?
A : Compared to doing it manually you probably only save maybe 5 to 10 seconds on each transaction, so over the year it saves time, but we were more interested in reducing errors. We used to end up spending so much time to look for what went wrong with the reconciliation. That's where the real time saving has been, with not having to do the reconciliations anymore.

Q : Do you find that the capability to store the client's credit card details in SapphireOne convenient, so then it's all stored for next time?
A : What we generally do if it's a POS transaction, we will just do the sale then and there , but with the credit card transactions for customers who are calling in orders, we just put that directly into SapphireOne.

Q: So you know you can put the credit card details inside SapphireOne and then you just hit process and it will process the transaction for you. So it will pick up the credit card number expiry date, csv everything. That is in the terms page. If you go to terms on the client enquiry you can actually enter the credit card details. It speeds up the process.
A : Yes I do know that and it is so simple.

Q: So what was the overall experience for you with the implementation of Tyro?
A: The overall experience as a user is pretty seamless using Tyro. You can do your POS easily through Tyro. The staff like it and anything that reduces errors is good for everyone and it makes it less stressful for the staff when it is done this way.
November 29, 2018 10:17 am | by Archana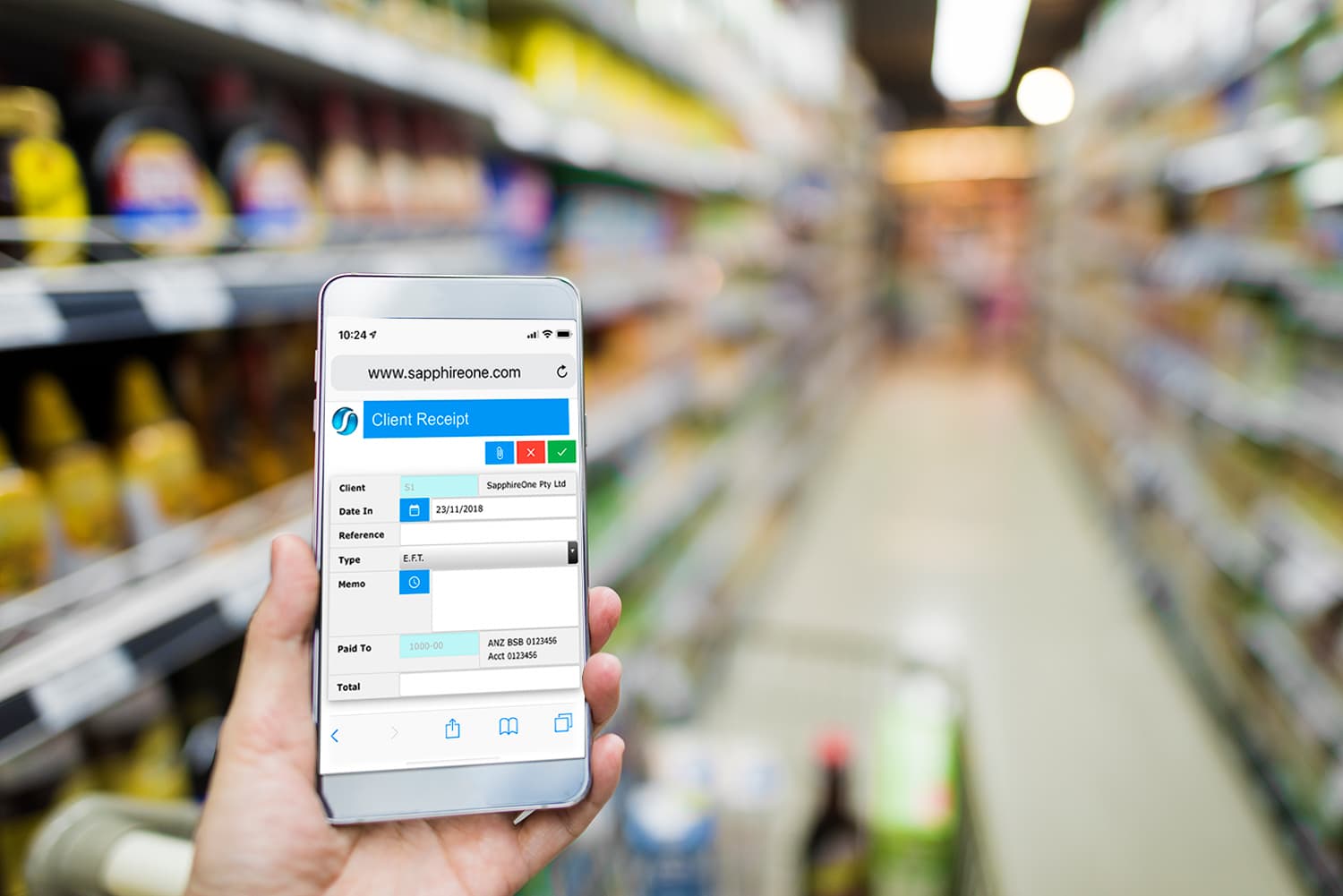 Single location stores can be challenging at times, and when you start to operate a multi-location supermarket and retail chain, new complications and difficulties arise. Efficient management of these multi-locations is the key. Sharing of information and data is fundamental to success.
Because competition is fierce, margins are small within the retail environment, the management of your daily operations becomes imperative.
SapphireOne ERP enables multi-locations access to a shared database. This provides a comprehensive range of business wide processes consolidated into a single unified database.  The SapphireOne ERP ensures enhanced efficiency, speed and visibility.
Easy to operate POS systems for multi-location supermarket and retail chain
Sapphire Web Pack POS terminals allow management of business processes from mobile devices. Unlimited users can have access to certain parts of the live data file from any device with a browser. Inventory, stock control and ordering can be performed onsite saving time and money. With real-time data across the multi-location supermarket and retail chain, head office can focus on pricing, inventory management, performance reporting and marketing.
Sapphire POS terminal provides users the much-needed flexibility and lifts restrictions on how and when data can be added into the system. Stock can be transferred from one location to another, clients can be invoiced, and vendors paid on mobile devices with a browser.
Time saving in purchase & replenishment
With the SapphireOne ERP application multi-location supermarket and retail chains have access to data from all points of their business. This enables increased operational efficiencies. Time is saved in purchasing and replenishment through better planning and reduced costs.
Centralised financial control
The SapphireOne ERP application gives the ability to increase and enhance operational efficiencies by managing within the one application. Total visibility at head office ensures improved reporting, planning and greater financial control of your business.
Efficient employee management
SapphireOne ERP Payroll/HR module seamlessly manages employee data and payroll information.  Head office can set up pay periods, track history and administer employee history through the easy to use interface. The ERP software ensures sharing of information with employees, management and HR. This sharing facilitates management in making executive decisions on job assignments and how to improve performance.
Some of the features of SapphireOne Payroll/HR include modifying an employee, class, inquiry, award entitlements, leave, remuneration inquiry, allowances, tax, scales, reports, ATO's Single Touch Payroll and employee benefits.
Acquire new customers, increase sales and profit with SapphireOne
An effective sales process and customer management software equates to greater revenue. SapphireOne ERP, CRM, DMS Business Accounting Application combines integrated business processes with CRM software. This allows marketing to focus efforts on maximising sales and reaching out to new and existing customers. Our ERP, CRM software helps business engage with customers, provide insights, improve efficiencies and ultimately increase sales.
For more information regarding improvements and features within the latest release of SapphireOne ERP Business Accounting Application please contact our office on (02) 8362 4500 or request a demo.
April 24, 2018 2:13 pm | by Archana

Be ready with an engaging presentation for a smart sales pipeline : –
Prospecting / initial contact
Quickly and efficiently capturing the company name, contact details, email address, phone numbers and website is the first step in the sales pipeline.
Pre-approach – planning the sale
You should have a prepared sales pitch for approaching different customers. Prepare a sales pitch based on the customer type, requirements, product specialities etc.
Identifying and cross questioning
Have your questions prepared to identify the prospects requirements and be prepared to answer all the questions raised by the potential client. List all the probable questions which may arise based on your previous experiences.
Need assessment
Now that you have understood the client's needs, you can decide how to meet their requirements and what you are able to deliver. You should then identify the need gap and come up with customised solutions for the client.
Presentation
Be ready with an engaging presentation, a smart sales person knows how to turn a prospect into a potential client with the sales presentation. Set up a product demonstration to show how your product or service is a better value proposition for them.
Meeting objections
Your prospective client will make a decision based on the answers of your product delivery, service, prices etc. You have to address all these requirements and be clear on the contract terms and solutions offered.
Gaining commitment


Once you have addressed all the questions, requirements and objections of the client, it is very important to gain their trust. Show them your previous work, give some client references and testimonials, show them you have the capability to deliver both product and services.

Follow-up


The final step in the sales pipeline is to follow up and close the sale.



For the full capabilities of the ERP, CRM, Accounting Software, Human Resources, Payroll, Assets and Document Management,  check out the SapphireOne website and request a live demo.
SapphireOne – We have the Power to back you. Find Out More Details
June 13, 2017 4:24 pm | by Archana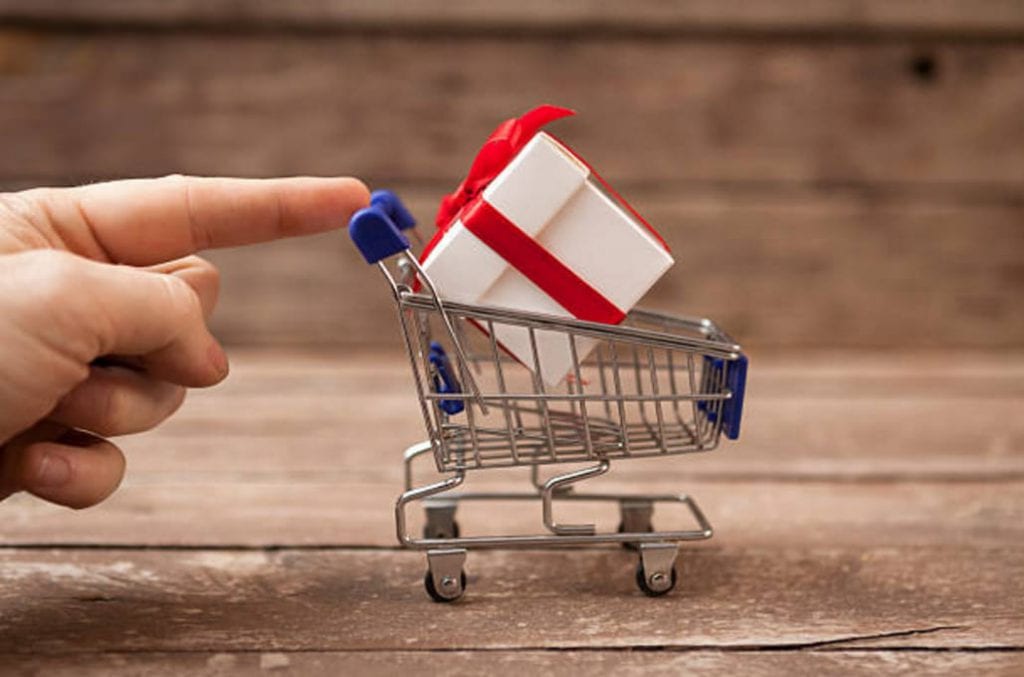 The Point of Sale interface is the main area of activity for entering point of sale transactions for the sales of goods and/or services. This is usually a computer or computers on the sales desk in the business.
SapphireOne Point of Sale procedure
The POS transaction Procedure is easy to follow and may be entered by the following process –
Simply enter transactions by scanning the barcode or manually entering them.  The easy to use yet powerful search functionality is located within the inventory ID.
Easily check item pricing and stock quantities at various locations with the click of a button.
Show photos of items in both search and transaction procedures. This helps with visual verification for staff.
Many businesses have matrixes for Style, Colour, Size etc. The user can easily find available items within the Matrix item at the push of a button.
Easily allocate % or $ discounts to selected items.
Allow for all types of payments including mixed payment types (ie. cash, cheque, eft, credit card, voucher etc). These can be allocated to point of sales transactions.
Parking transactions allows for faster processing times. This applies if customers go back out to the retail floor to look for more products.
Create & edit customer records on the fly.
Customise the POS interface with pictures or an array of colour pallets.
Easily access to popular items for faster entry of transactions.
Increase staff productivity by utilising the system's ability for the entry of transactions using an iPad or android tablet device.
Keep or make notes on inventory items. This can help with product knowledge or order processes.
Manage your LayBy transactions and any Returns that have to be processed.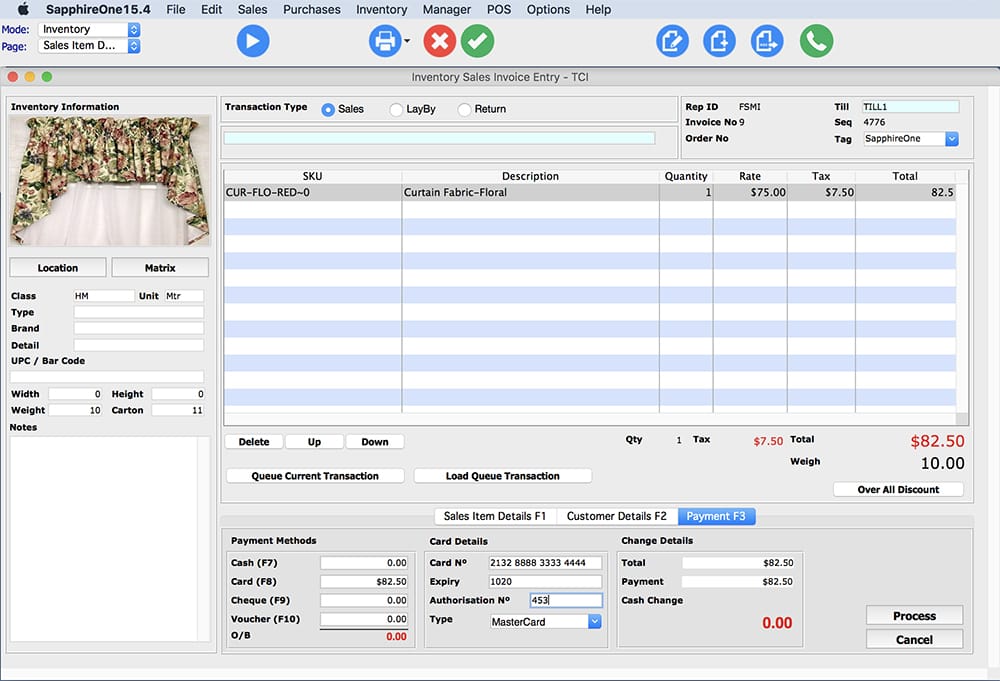 One of the popular functions of SapphireOne point of sale (POS) feature is user can create multiple stores and control these store via Sapphire Web Pack. Discover how SapphireOne Web Pack and ERP, CRM and Business Accounting software suite can help your business by requesting a live demo today.
October 26, 2016 4:31 am | by Archana

Businesses are increasingly the victim of data breaches and brands are at risk. The "Verizon 2016 data Breach Investigations Reports" tells about incidents affecting organizations in 82 countries and across a variety of industries. This is based on contribution from dozens of organizations around the world, such as technology companies, information security firms and law enforcement agencies, including Australian Federal Police.
The ratio of incidents that result in a confirmed data breach vary from industry to industry. Some, like accommodation and retail, have a very high rate of successful breach per incident. Others like the public sector, experienced tens of thousands of incidents but only reported 193 confirmed data breaches in last year.
POINT-OF-SALE INTRUSIONS is one of the nine incident classification patterns included in the "Verizon 2016 data Breach Investigations Reports". Many more incidents are recorded but can't be classified due to a lack of information (Commonly that means phishing incidents without the necessary details to cluster them into a more specific pattern).
Remote attacks against the environments where retail transactions are conducted. POS terminals and POS controllers are the targeted areas (This includes remote attacks only, not physical tampering such as with payment card skimmers). Top target industries includes accommodation, food services, retail. The recorded frequency is 534 incidents where 525 is confirmed breaches.
SapphireOne is uniquely designed ERP, CRM and Business Accounting software.
It is written in 4D language. SapphireOne excels in providing all the features required to perform point of sale transactions. Entry of payment detail fields are available to record all the details for your customer's preferred payment method.
SapphireOne prides itself by saying that to date, in SapphireOne no incident of data breach has taken place. SapphireOne ERP provides the security of your company data file. SapphireOne's sophisticated design, secured 4D database connection protect your company data from attack cycle and ensure smooth running of your business and company data file.
SapphireOne also recommends securing your ERP, CRM & business accounting software data with Fortinet which is a leading provider of fast and secure cyber security solutions.