November 29, 2018 * John Adams at 10:17 am
Complete control for multi-location supermarket and retail chains with SapphireOne ERP, CRM, DMS Business Accounting Application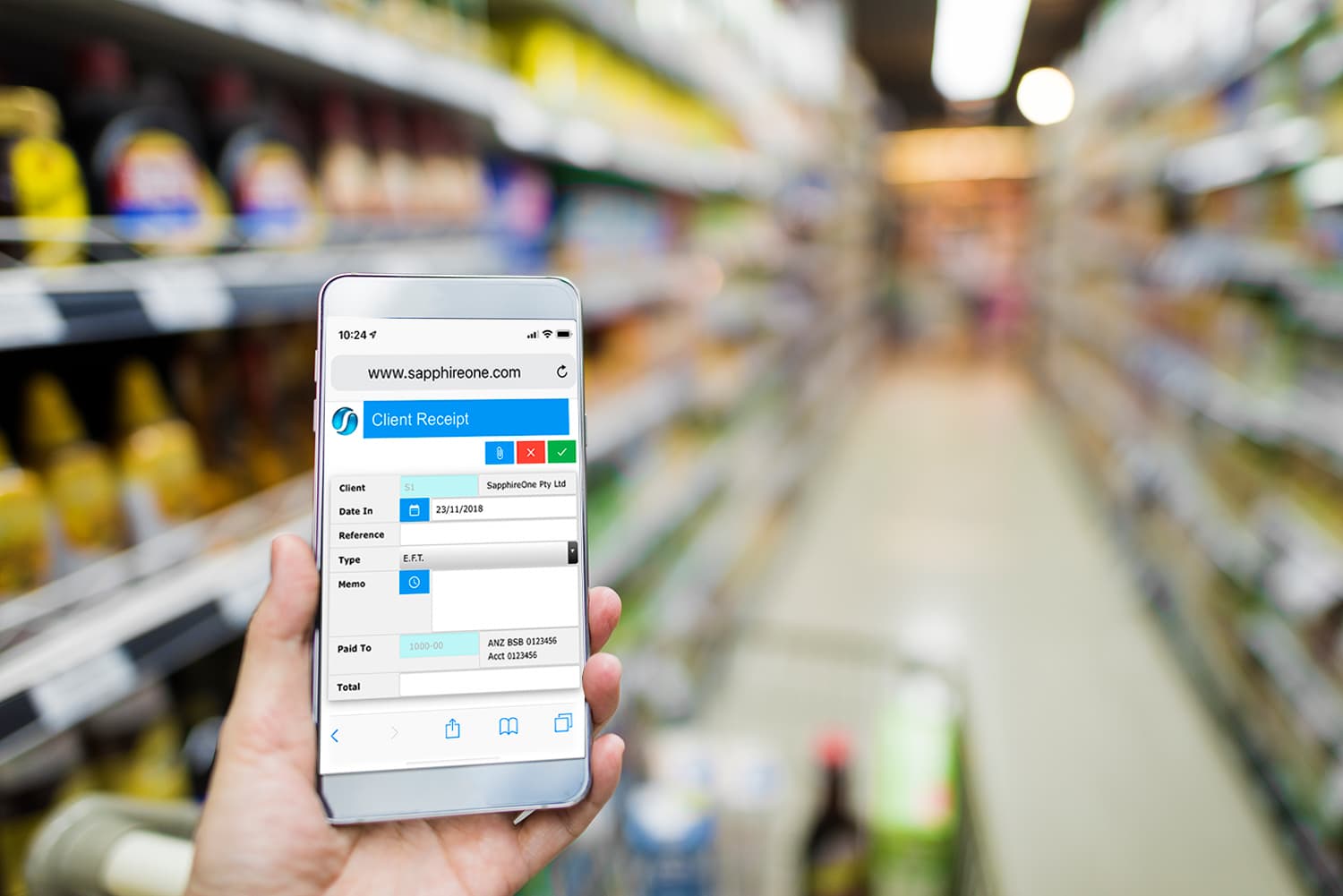 Single location stores can be challenging at times, and when you start to operate a multi-location supermarket and retail chain, new complications and difficulties arise. Efficient management of these multi-locations is the key. Sharing of information and data is fundamental to success.
Because competition is fierce, margins are small within the retail environment, the management of your daily operations becomes imperative.
SapphireOne ERP enables multi-locations access to a shared database. This provides a comprehensive range of business wide processes consolidated into a single unified database.  The SapphireOne ERP ensures enhanced efficiency, speed and visibility.
Easy to operate POS systems for multi-location supermarket and retail chain
Sapphire Web Pack POS terminals allow management of business processes from mobile devices. Unlimited users can have access to certain parts of the live data file from any device with a browser. Inventory, stock control and ordering can be performed onsite saving time and money. With real-time data across the multi-location supermarket and retail chain, head office can focus on pricing, inventory management, performance reporting and marketing.
Sapphire POS terminal provides users the much-needed flexibility and lifts restrictions on how and when data can be added into the system. Stock can be transferred from one location to another, clients can be invoiced, and vendors paid on mobile devices with a browser.
Time saving in purchase & replenishment
With the SapphireOne ERP application multi-location supermarket and retail chains have access to data from all points of their business. This enables increased operational efficiencies. Time is saved in purchasing and replenishment through better planning and reduced costs.
Centralised financial control
The SapphireOne ERP application gives the ability to increase and enhance operational efficiencies by managing within the one application. Total visibility at head office ensures improved reporting, planning and greater financial control of your business.
Efficient employee management
SapphireOne ERP Payroll/HR module seamlessly manages employee data and payroll information.  Head office can set up pay periods, track history and administer employee history through the easy to use interface. The ERP software ensures sharing of information with employees, management and HR. This sharing facilitates management in making executive decisions on job assignments and how to improve performance.
Some of the features of SapphireOne Payroll/HR include modifying an employee, class, inquiry, award entitlements, leave, remuneration inquiry, allowances, tax, scales, reports, ATO's Single Touch Payroll and employee benefits.
Acquire new customers, increase sales and profit with SapphireOne
An effective sales process and customer management software equates to greater revenue. SapphireOne ERP, CRM, DMS Business Accounting Application combines integrated business processes with CRM software. This allows marketing to focus efforts on maximising sales and reaching out to new and existing customers. Our ERP, CRM software helps business engage with customers, provide insights, improve efficiencies and ultimately increase sales.
For more information regarding improvements and features within the latest release of SapphireOne ERP Business Accounting Application please contact our office on (02) 8362 4500 or request a demo.
Tags : -