February 19, 2020 * Archana at 9:38 am
4 Steps to Implement SapphireOne as your ERP System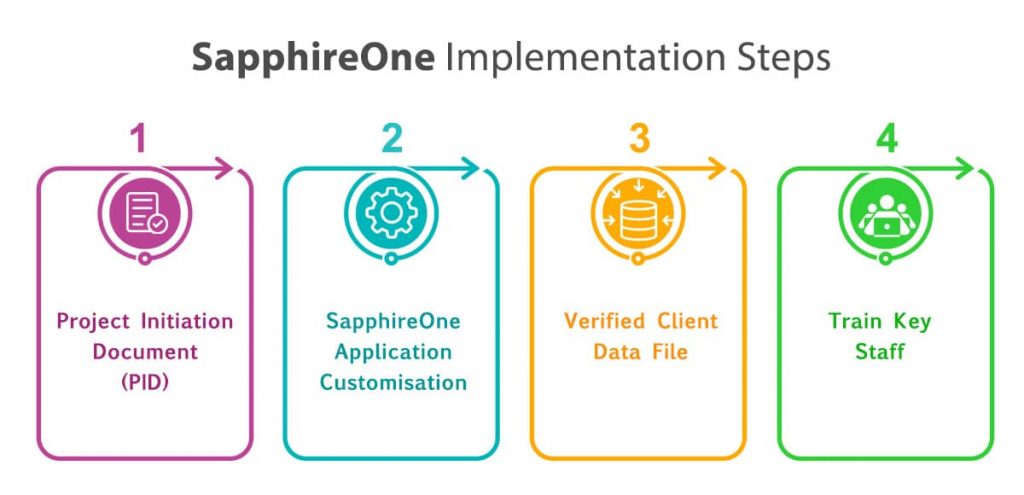 Since our inception in 1986, we have implemented SapphireOne globally. Our sole goal is to get your organisation up and running as smoothly and as quickly as possible.
SapphireOne ERP System implementation strategy focuses on four main products
These are –

1. Project Initiation Document (PID)

2. SapphireOne Application Customisation

3. Verified Client Data File

4. Train Key Staff
1. Project Initiation Document (PID)
PID defines the project in order to form a basis for its management and assessment of its overall success. The document outlines the objectives and desired outcomes, project scope (including customisation requirements) and exclusions, project costs, project plan, project controls and the roles and responsibilities of the project team.
The PID contains 9 activities.
Team Viewer Scoping sessions
Demonstrate current business processes using SapphireOne and identify gaps
Customisation Designs
Develop designs for customisations from gap analysis
Data Integrity Assessment
Assess current data for anomalies and rectify any out-of- balance accounts
Business Case
Document the objectives and expected outcomes for the project
Project Scope
Document project scope in its entirety
Identified Project Team
Identify & assign team members and management structure
Role Descriptions
Refine role descriptions and responsibilities
Project Plan
Document how and when the project's objectives are to be achieved
Project Contols
Identify stage boundaries, monitoring and reporting requirements
2. SapphireOne Application Customisation
This is a version of the SapphireOne Application that includes any identified and agreed to product customisations. In these steps SapphireOne programmers develop customised functionality based on the approved customisation designs which when completed forms part of our generic source code.
3. Verified Client Data File
This is an electronic file generated by the SapphireOne Application and linked to the Client's own unique identifier.
The file includes all imported data and formatting as dictated by First Time mode and is located on the Client's dedicated SapphireOne server. This file has undergone testing for any identifiable data anomalies by the SapphireOne Team and the Senior User.
There are 3 core components in the verified client data file steps.
Data Migration
At first, our implementation team Imports base data , Import balances , Import client and vendor specific data, inventory data, job project data, Payroll/HR data, Asset data, CRM data etc and reconcile balances. This is a lock down period in the implementation steps process.
Configuration
After that, we configure clients, vendors, General Ledger Accounts, contacts details, payroll/HR sections, assets, inventory, job projects and other additional clients requirements. At the end of these steps we tailor the outputs and are ready for a Go Live.
Verification & Adjustment
After going live, we conduct live verification and data adjustments.
4. Train Key Client Staff
Identified Key Users as designated by the Senior User, acknowledge that they are comfortable with their ability to use SapphireOne to accomplish their assigned tasks after undergoing Team Viewer training sessions, self paced learning using the Sapphire Single User and Bondi Blue training tool and the Data Re-key exercise.
There are 3 activities in the training steps.
Team Viewer Training Sessions
Our support team conducts One-on-one Team Viewer training sessions
Re Keyed Data
In this step, users re-key data accumulated from date of lock down
Task Confidence Assessment
Finally, senior users review the whole system and upon confirmation of the completion of the 4 steps SapphireOne implementation, it is then complete.
We pride ourselves on supporting our clients' businesses as they grow from a venture to a major global enterprises; and as SapphireOne is highly scalable, with the ability to support 1000s of users concurrently, we readily adapt to meet the changing requirements brought on by your business expansion.
Tags : -