October 5, 2016 * Archana at 4:50 am
SapphireOne release version 15
SapphireOne release version 15 with Contractor FX functionality allows for the seamless flow of information across the Job Project, Payroll, Accounts and Utilities Modes. These Employees/Resources can be linked to various currencies.
In today's world, many companies deal with overseas customers and need accounting software that can cater to multiple currencies. Companies are sourcing materials and products from different countries in order to remain cost effective and competitive. Foreign Exchange (FX) rates and managing these multi-currencies is necessary to track gains and losses. Generating sales and purchase orders in different currencies needs to be automated. In SapphireOne, all foreign currency transactions are converted into your local currency in real time. Foreign exchange rates are updated hourly, which allows you to instantly know exactly how gains and losses are affecting your cash flow. The system is posting in real time, which provides you with all the information up to date for reconciling. No additional postings will be required.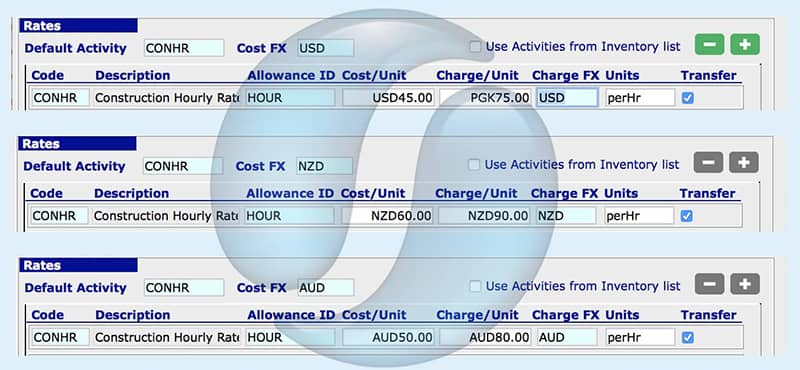 Who can benefit from new release FX software in SapphireOne
There are many types of businesses that can benefit, however the main ones are : exporters, service providers or online retailers.  
Exporters usually receive funds from global customers in local currency. SapphireOne has the ability to create invoices in a range of currencies, making the payment process cheaper and faster. The FX functionality allows you to create invoices using an automatic exchange rate or enter your own rate manually.
Business service providers often deal with global partners or clients. SapphireOne FX Accounting Software helps you simplify and accelerate the receipt of funds.
Online retailers sell internationally through marketplaces like Amazon or platforms like Shopify. Utilising the SapphireOne FX feature, helps you achieve better exchange rates from global sales. Your business can make payments to suppliers in the same-currency and accept funds from anyone.
SapphireOne caters for unlimited companies and currencies within the one data file.
Click for more information on the latest release of SapphireOne ERP, CRM, DMS and Business Accounting Software Application. Alternatively, contact our office on (02) 8362 4500 or request a demo.
Tags : -