December 21, 2020 * John Adams at 9:51 am
SapphireOne Accounts Receivables Report Tutorial: The Transactions Report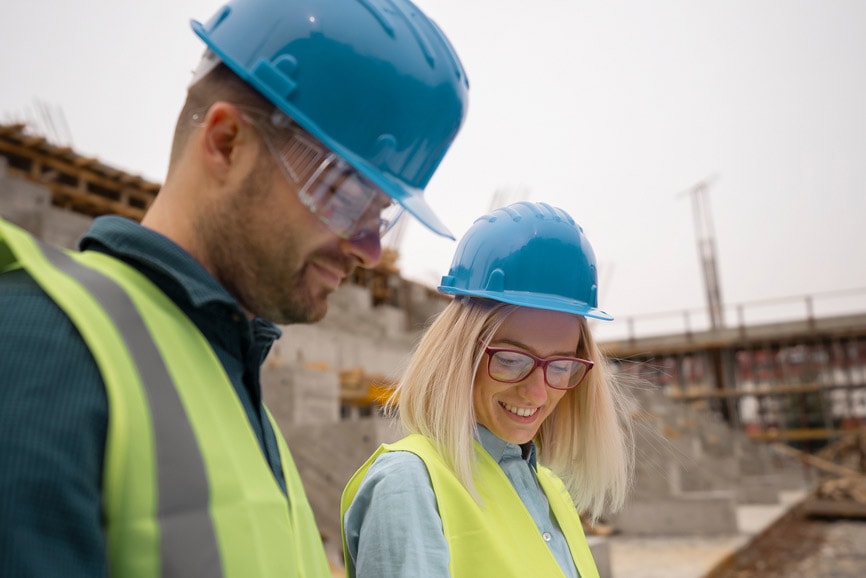 Creating an Accounts Receivables Transactions Report in SapphireOne.
SapphireOne has six different Accounts Receivables reports options, each allowing you to report dynamically on client data for many different purposes.
Details
Balances
Transactions
Statements
Show Reports
Dashboards
In our previous tutorials we looked at how to create the first two Client Details Report and Balances Report in more detail. This post focuses on the third Accounts Receivables report option within SapphireOne, the Transactions Report.
Continue reading to learn more about when and how to use the Accounts Receivables Transactions Report, and stay up-do-date on all reporting functionalities available with SapphireOne.
The Transactions Report.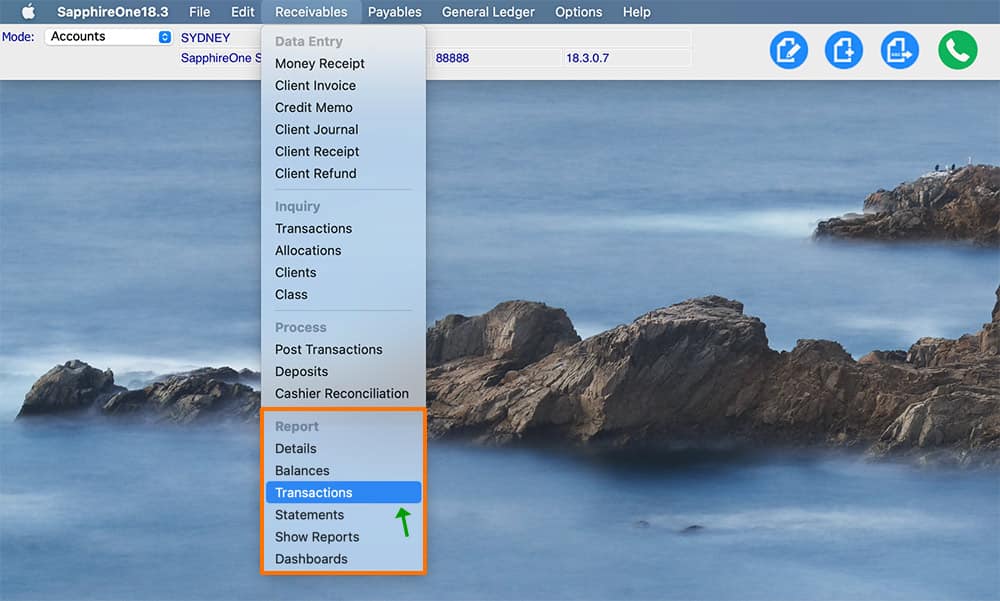 The Client Transactions Report gives you the ability to generate a list of all outstanding transactions via a variety of different criteria and fields contained within your SapphireOne Client data profiles.
When selecting the Transactions Report, you are presented with the following print dialog pop-up enabling the selection of items required in the report: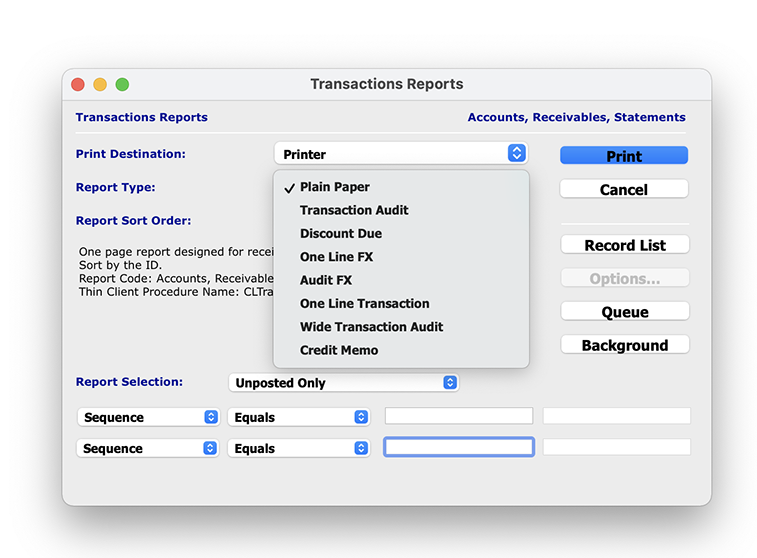 When 'Printer' is selected from the Print Destination drop-down menu, the 'Report Type' menu gives you the ability to create 8 different Transaction Report Types depending on your specific reporting requirements. This includes:
Plain Paper – This report is a one page report designed for receipts only.
Transaction Audit – This report gives the Tracking Details of the transaction and the value. It also includes Sub-Lines showing where the transaction was allocated.


Discount Due – This report gives the details of Discounts due to the Client on each transaction. This includes the number of days the discount is limited to, the percentage amount and the actual amount in dollars.


One Line FX – This report gives the Tracking Details of Foreign Currency transactions and its value.


Audit FX – This report is as above for the One Line FX report but also includes the Sub-Lines showing where the Foreign Currency transaction was allocated.


One Line Transaction – Gives the Tracking Details of the transaction and the value.


Wide Transaction Audit – Landscape version of the Transaction Audit report above.


Credit Memo – This option allows you to create a credit memo when required.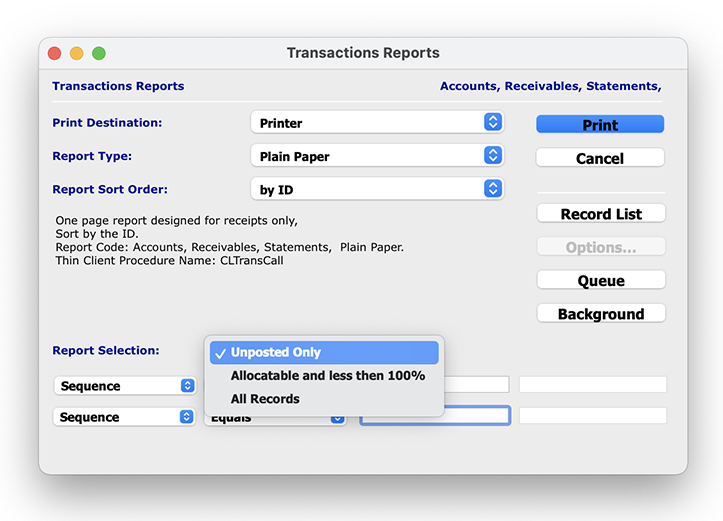 The 'Report Selection' drop-down menu also allows you to select which Client transaction data you would like to report on, allowing you to get more granular and specific with your reporting capabilities.
Unposted Only – This option creates a report for all transactions that are not posted and have not been transferred to the GL.


Allocatable and less than 100% – This option creates a report for transactions that have not yet been allocated at 100%.


All Records – This option prints a report for all Clients irrespective of balances owing. This also includes all Clients with a balance of $0.00.
Once you have chosen your defined report details, and selected 'Print', you have the option to open the report as a PDF or print the report directly from SapphireOne.
Any questions?
Stay tuned for the next blog post in our next Accounts Receivables Report Tutorials, where we will be diving into the Statements Report.
For more information on Accounts Receivables Reports, or to learn how how you can get the most out of your SapphireOne application, please contact us or book a call with a member of our Support Team. We love hearing from you!
Tags : -