June 16, 2020 * Archana at 11:20 am
Are You Ready for Payroll Year End?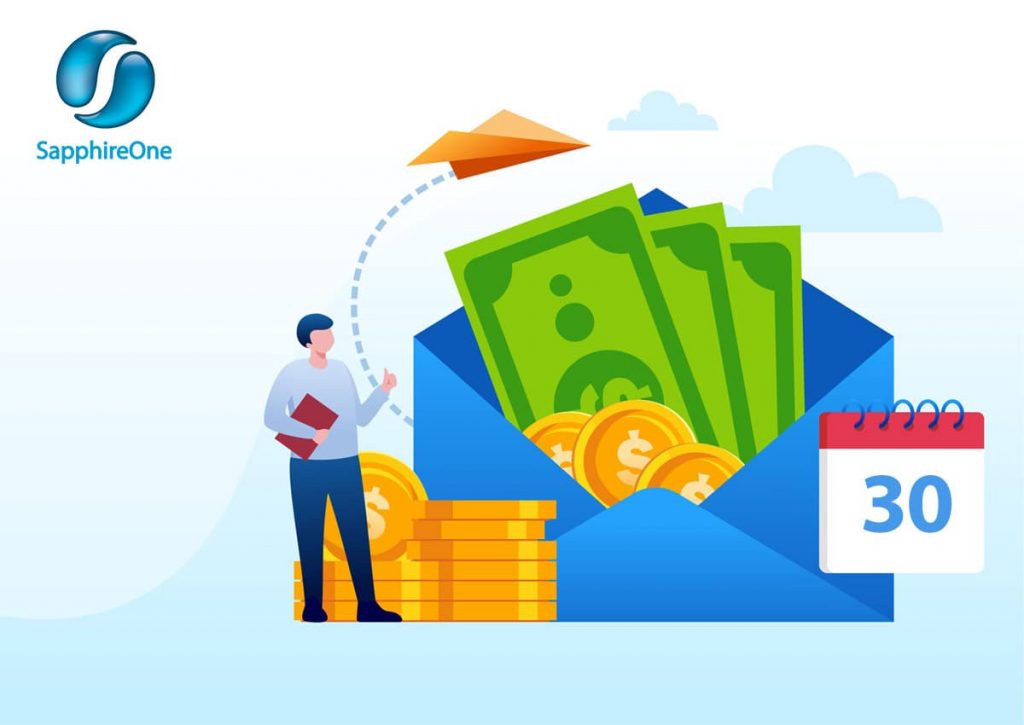 Preparing and processing your Payroll Year End only takes 8 simple steps and by following them closely, you will smoothly roll over into the new financial year.
COVID has turned the world upside down in 2020 in so many aspects. From an accounting perspective, Payroll has had to carry the brunt of it with the introduction of JobKeeper. On top of that, employees have chosen to sacrifice parts of their salaries in order to help struggling companies survive during these unprecedented times.
If you are working within Payroll, it is understandable that Payroll Year End has been the least of your worries. However, small mistakes can lead to dire consequences. Not to worry though – we have got you covered! In this blog, we are providing you with guidance on how to get your business prepared for Payroll Year End.
Review of Balances and Settings

Before processing your final Pay Run, make sure that you have revised your closing balances and all of your Allowance settings, especially if something was altered in 2019/20. During this process, you can also go through all current employees' payroll details and payments to ensure they are up to date.

If you are claiming JobKeeper payments and are a little worried that you are not complying with the ATO's criteria, have a read through our JobKeeper step-by-step guide.

Reconciliation of Posted Pay Run

Use Payroll Year End as an opportunity to revise any of your company's checklists and reports that make up your workflow to ensure that all your prior reconciliation activities for posted Pay Runs in 2019/20 have been flawless.

We also recommend at least verifying the General Ledger Audit, Transactions Audit and Trial Balance.

Run Final Pay Run

Now process your last Pay Run of the financial year as you usually do on a weekly, fortnightly, or monthly basis.

Finalise STP Declaration

Every time you process a Pay Run, you also have to submit your STP Report to the ATO and SapphireOne automatically transfers all employees' tax and super information.

However, when it comes to Payroll Year End, the ATO requires an additional STP finalisation declaration. It entails the confirmation that Payroll Year End has been completed for the current financial year and that all values are final.

If you employ 20+ employees, the declaration is due on the 14 July. If your company has 19 or less employees, you have until the 31 July to declare your STP Finalisation.

Luckily, submitting it only requires a couple of quick and easy steps in SapphireOne:

Go To: Payroll/HR > History > Pay Run Log / STP

Click on: STP Submit

In pop-up window: Tick "Final Pay of the financial Year" and confirm and tick the 3 declarations below it




The option of re-submitting the STP Report with opting for "This is an Amendment" only applies for category changes in the Allowance settings (Payment Summary / STP Position).
For example, if you have added an additional allowance in 2019/20 but did not set it as Gross Salary by default, it is set as Not to be Printed and it will not be reported to the ATO. Note that the amendment option is not intended for re-submitting any alterations in your Payroll figures after you have reversed a Pay Run.



Run End of Month

It is very important that you run Period End for Payroll for the last month of your financial year before processing your Payroll Year End, otherwise you will end up in the wrong period!

This means that when running your Payroll Year End, your Payroll will be in period 13. Your last Pay Run for the financial year has to be in period 12 and not in period 1 or period 13.

Important things to remember:
When you have started a new pay in period 12, do not process it in period 13. Run Payroll Year End first and then process it once you are in period 1 of the new financial year.
Do not post your last Payroll of the financial year after processing Year End.
Remember that your Payroll period is different to that of your Financials. When Payroll is in period 12, your General Ledger and other financials may be, as an example, in period 12 or 24.
It is vital that you review your final Pay Run results before you submit your Payroll End of Month as you cannot correct any errors in your data entry afterwards. This is due to the fact that SapphireOne has now implemented a security mechanism preventing Pay Runs to be processed in the wrong financial year. Once you have run Month End to roll from period 12 to period 13, you cannot reverse and re-run Payroll in period 13.
Post Payroll Year End
Your Payroll is now all set for processing Year End. As a reminder, verify that your Payroll is, indeed, in period 13 and not still in period 12 or already in period 1.

Go to : Management > Management > End of Year Payroll
Update Periods and Taxes
Once you have successfully posted your End of Year Payroll, you need to update the periods and taxes for Payroll.

Go to : Utilities > Controls > Select the Company > Page: Periods and Taxes > Select: Payroll > Manually change the Finish Date for Period 1 to the next Payroll year.

For example, as we were in 2019 you will have to set it to 2020 for the current year. By selecting "Auto Fill" (Select: Increment by Month) the year will be adjusted automatically for all other periods in the screen.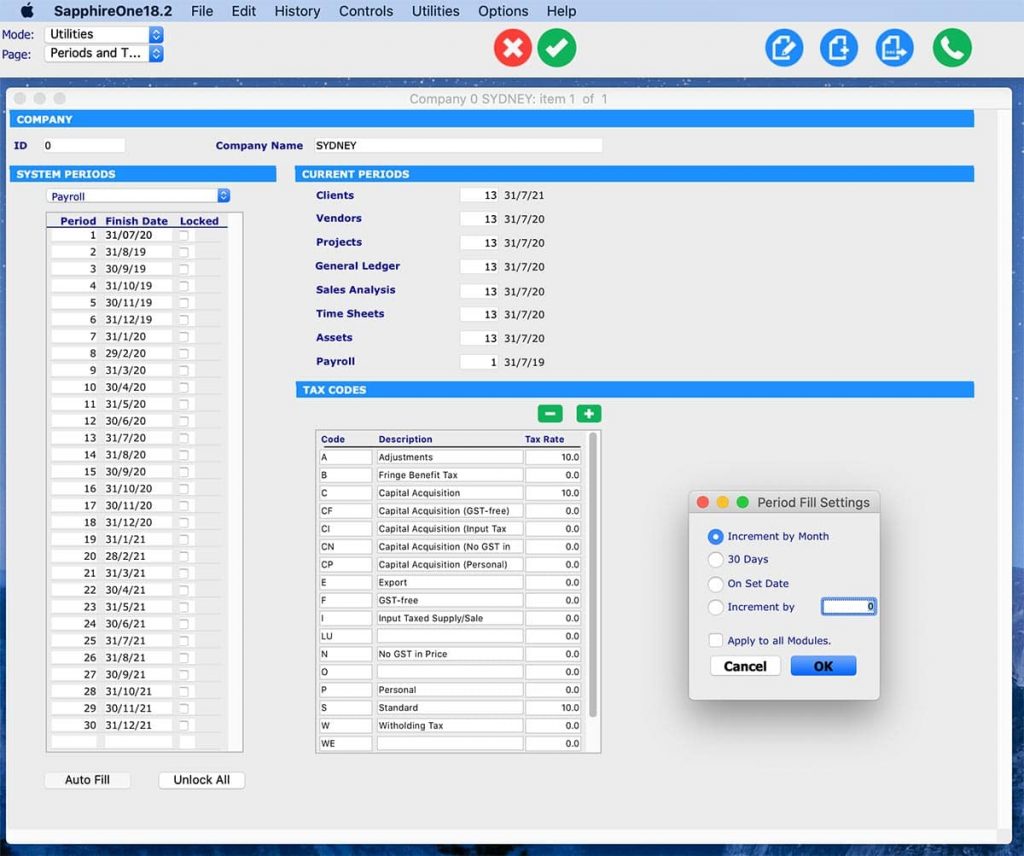 Import Tax Scales
You are almost done! The last step requires you to import the tax scales for Payroll if they have been updated already.

Once the ATO releases the new tax rates, you will receive a reminder email from SapphireOne to make sure that you import them into your system.

Go to : Utilities > Utilities > Sapphire Functions > Dropdown: Payroll >

Then select: ImportTaxRatesTCP (or Text, if required)

If you follow all of the eight steps outlined above, you will hopefully find it easy to get through processing Payroll Year End quickly and without any issues.

We at SapphireOne are here to support you through the procedures to make sure your Payroll Year End runs smoothly. If you have any questions or need any further assistance, please book a support call and our friendly IT support team will help you out!
Tags : -