October 19, 2021 * Maddie Kent at 11:17 am
SapphireOne Certified for ISO 27001:2013 Information Security Management Systems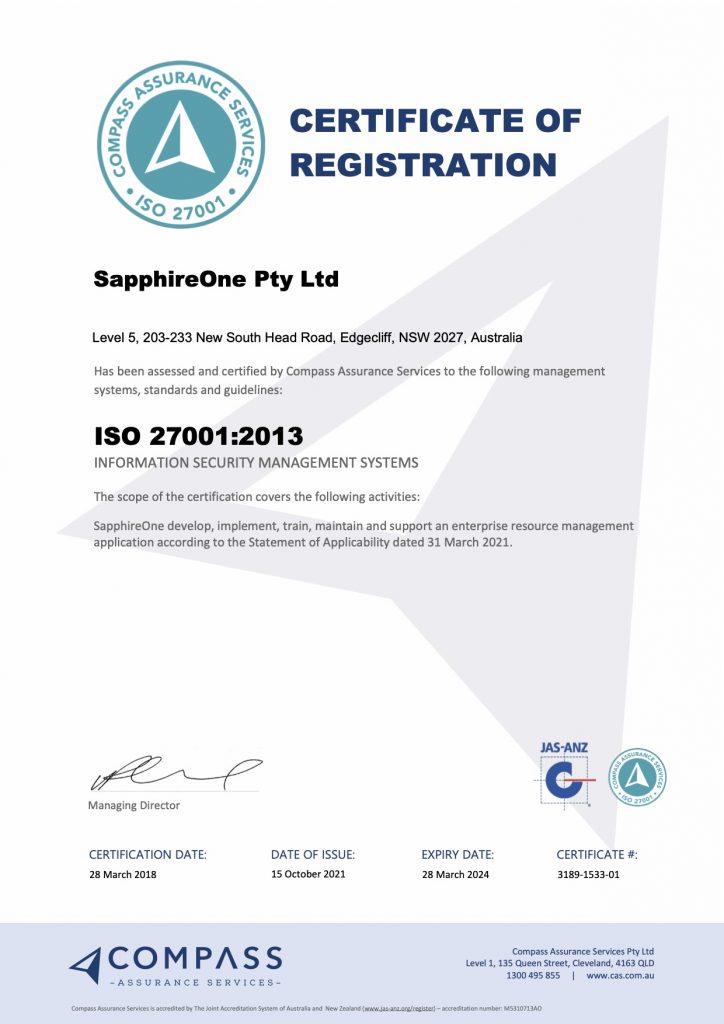 ISO 27001:2013 Security Certification
We are happy to share that SapphireOne has been re-certified, valid until March 2024, for ISO 27001:2013. The re-certification is aligned with our previous ISO 27001 certification in 2018.
ISO 27001 is an internationally recognised standard for security information that sets global requirements for Information Security Management Systems (ISMS). The ISO standard, updated in 2013 and currently referred to as ISO/IEC 27001:2013, is considered the benchmark to maintaining customer and stakeholder confidentiality.
The ISO 27001 standard requires a systematic examination of security risks, threats, vulnerabilities and their impact. SapphireOne has achieved the certification process by demonstrating that a comprehensive system of information security controls and management processes have been implemented. These processes ensure that information security controls continue to meet the organisation's requirements on an ongoing basis.
Certification to ISO 27001 Information Security Standards provides SapphireOne clients and vendors with an independent endorsement that our commitment to protecting crucial information security meets international standards and best practices.
To find out more about SapphireOne integrated ERP, CRM, Business Accounting application and innovative software solutions, please get in touch – we're always here to help.
Tags : -