November 6, 2020 * Maddie Kent at 10:58 am
SapphireOne Material Requirement Planning (MRP)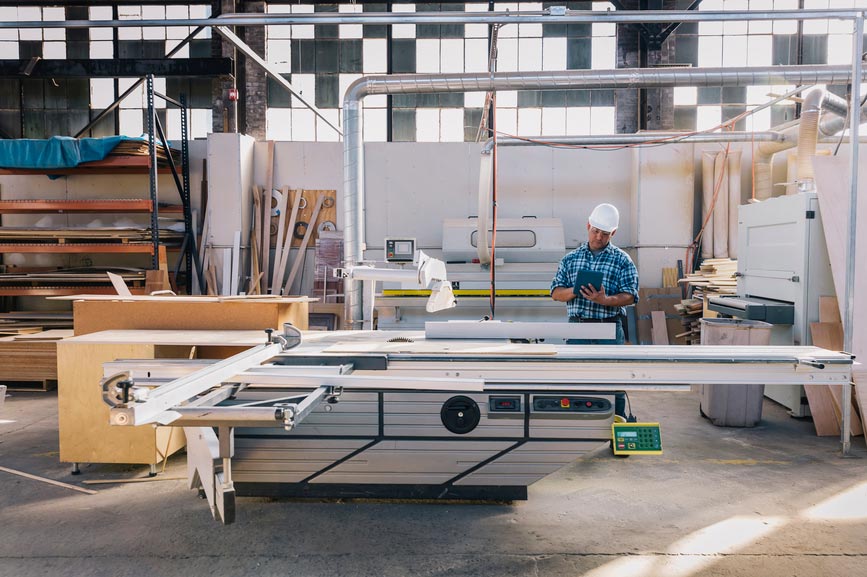 SapphireOne Material Requirement Planning (MRP) gives you total control of your inventory and production process.
Control inventory, enhance production, reduce costs and forecast for the future with SapphireOne Material Requirement Planning.
What is Material Requirement Planning?
Material Requirement Planning (MRP), also referred to as Material Resource Planning, is a production planning, scheduling and inventory control system used to manage manufacturing processes and improve productivity for businesses.
Material Requirement Planning has become an essential tool for production facilities, and is designed to answer three important questions for a business – What is needed? How much is needed? And when is it needed?
How to do Material Requirement Planning
MRP works backwards from a production plan for finished goods, which is converted into a list of requirements for the subassemblies, component parts, and raw material that are needed to produce the final product within an established schedule.
Developing a plan for resources within your operation is a must. Without proper resource planning, your operation may have a much more challenging time managing areas of your supply chain such as inventory, production and output – leading to high inventory costs or unfulfillment of customer orders.
Components of Material Requirement Planning
SapphireOne's Inventory Management module provides many powerful solutions for our clients to manage inventory distribution control and tracking. This includes our inbuilt MRP feature, which gives you the ability to manage your resource planning directly within the SapphireOne ERP system.
SapphireOne's MPR feature has two main important functionalities. These are:
The ability to track, adjust and analyse historical inventory usage for the past 2, 3 and 4 years.
The ability to forecast your future material resource requirements for the next 2.5 years, calculated based on your historical data.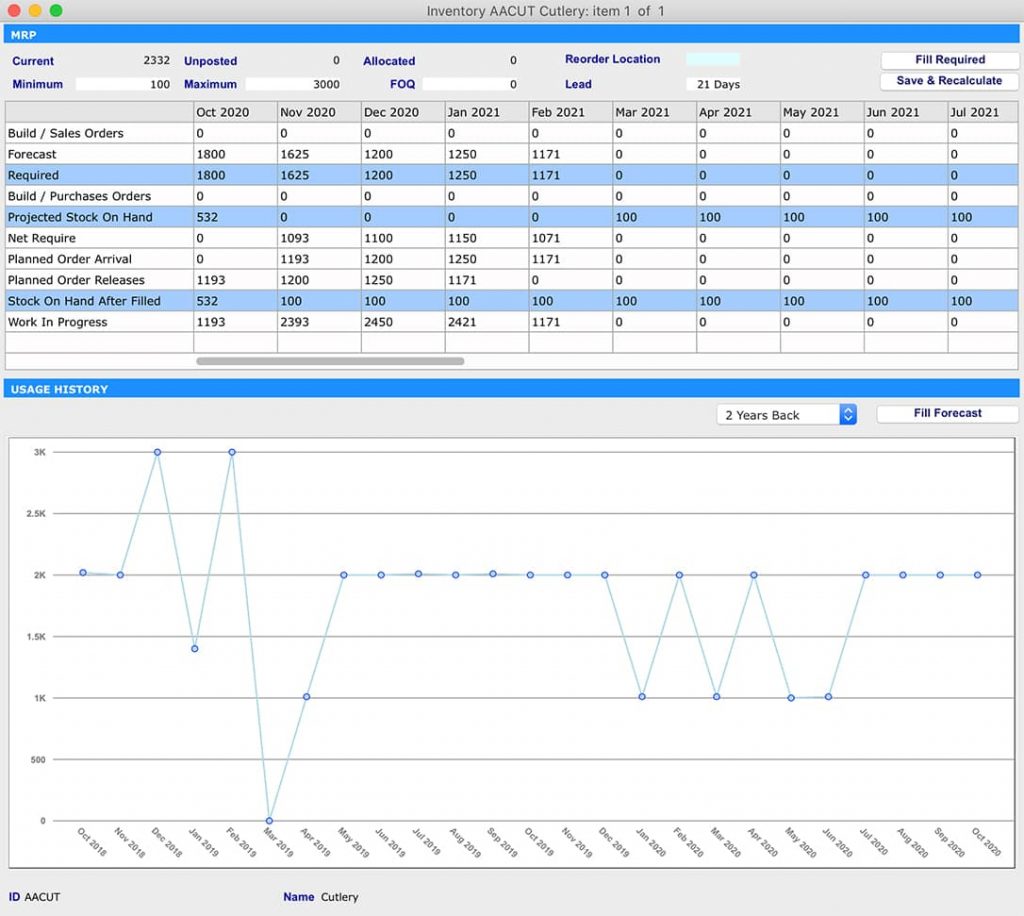 Main features of SapphireOne's MRP Forecasting tool
Forecast and plan your required material resources for the next 2.5 years.
Forecasting tool is fully adjustable, meaning you can tweak any number and it will automatically recalculate your forecast based on recent adjustments. This is a powerful tool as it gives you the ability to account for and recalculate forecasts for unexpected events and occurrences.
You have the ability to set multiple variants – such as your Minimum/Maximum inventory requirements, Fixed Order Quantities (FOQ), and Lead Times – and the forecast will automatically calculate your future material requirements based on these quantities.
Any line highlighted in blue can be edited to suit your businesses specific forecasting needs.
Once you have made all adjustments, you can select 'Save & Recalculate' to automatically populate your new forecast.
You can use this tool to forecast your total inventory, as well as for specific inventory items.

Main features of SapphireOne's MRP Usage History tool
Record, track and review historical resource usage for the past 2, 3 and 4 years.
The Usage History graph is fully adjustable, and the graph can be tweaked by moving the blue dot up or down to reflect past monthly performance – allowing you to account for unexpected events within the historical data.
When the Usage History graph has been adjusted, the Forecasting tool will then recalculate future monthly projections automatically based on the new historical usage information.
You can use this tool to track and review usage history for your total inventory, as well as for specific inventory items.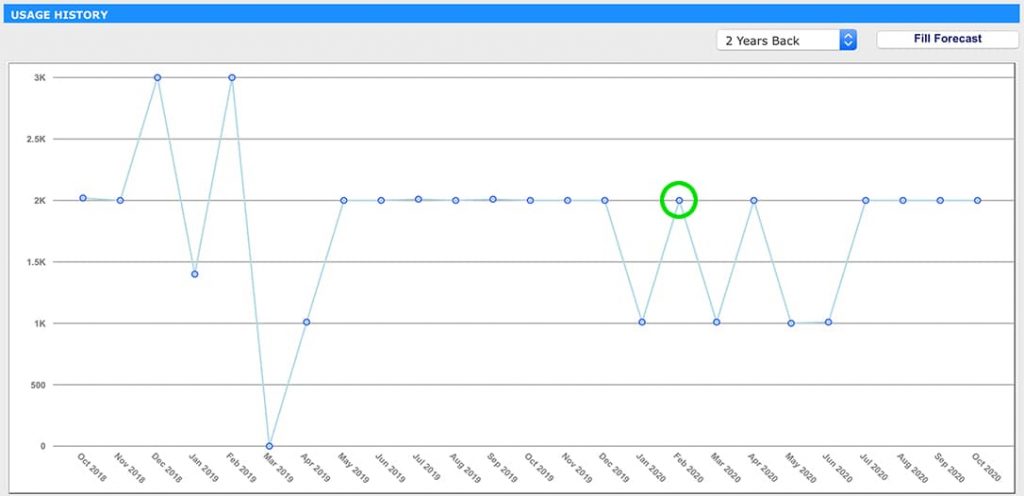 Benefits of SapphireOne Material Requirements Planning tool
Inventory Control – Ensure materials are available, track stock on hand, minimise inventory levels and plan future MRP requirements.
Cost Reduction – A steady flow of inventory reduces holding and delivery costs, leading to more revenue within the operation.
Enhanced Scheduling – Allocate production time among various products and ensure the economic order quantity is achieved on all orders.
Production Optimisation – An optimised production workflow requires the right material, in the right quantities, at the right time. The MRP tool can help to reduce waste and schedule production according to the forecast, allowing equipment and employees to work more efficiently.
Improved Supplier Relationships – MRP will help you balance your sales demand and inventory control with the capabilities and capacities of your suppliers, leading to more transparent dealings and a better understanding of both parties' business needs.
Plan for the Future – Save your business time, resources and money by using historical data for sales analysis and future forecasting.
Check out the below video for a step-by-step process on how to use SapphireOne MRP, and how it can help improve your inventory and production process.
Any questions?
As always, if you have any questions about how our Inventory Management functionality and MRP feature can help your business, please do not hesitate to get in touch or book a demo with a member of our team. We're always here to help!
Tags : -