September 18, 2017 * Archana at 9:56 am
Invoicing Made Easy with SapphireOne Accounting Software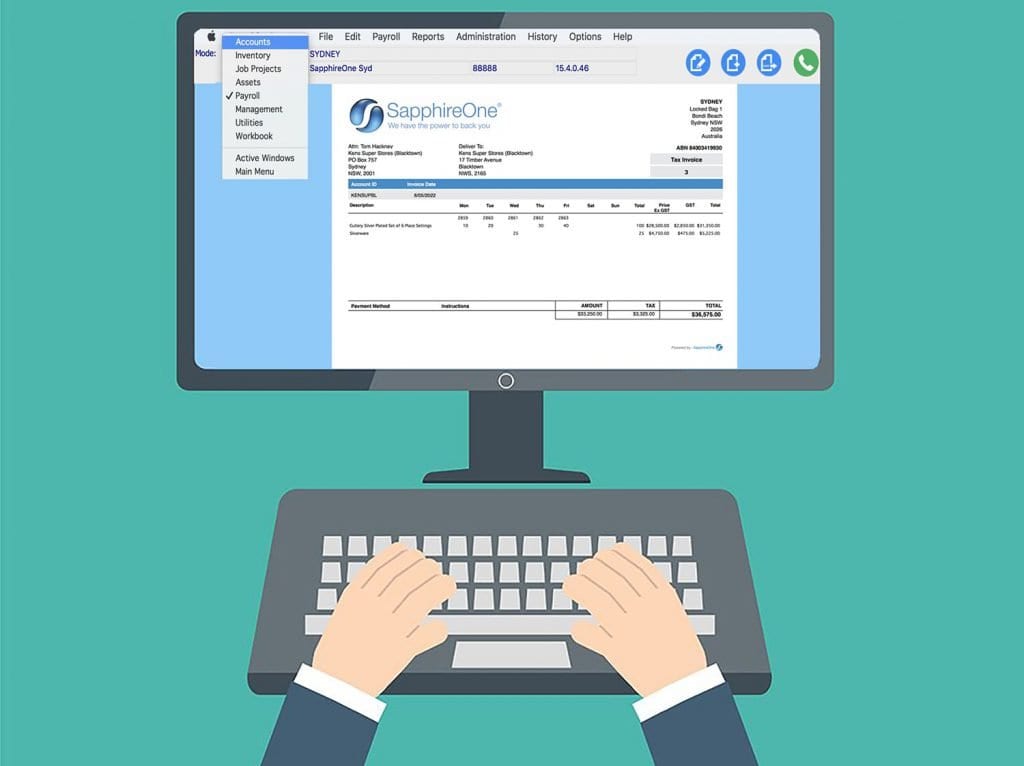 A good Accounting Software puts you in control of your finances, your time and your business. It lets you save time on managing your finances so you become more efficient in running your business. Invoicing is one of the most important accounting functions for start-ups as well as medium sized enterprises. Many businesses need help with handling invoicing efficiently. There are a range of accounting software available in the market that improves invoicing performance. If you are looking for an accounting software for managing and tracking your billing easily, then that is where SapphireOne comes in.
Accounting Software is one of the most powerful tools any business can have to take control of their finances and stay on top on their business. SapphireOne Business Accounting Software is designed to manage your invoicing quickly and easily as it has many useful features, that are so easy to use. SapphireOne is an on-premises Accounting Software which also has an integrated web-based solution called Sapphire Web Pack. This Web Pack solution allows unlimited users to access parts of the live data file from a mobile device or any device that has a browser which allows you to do quotes, orders and invoices on the go.
Once SapphireOne software suite is installed, the user simply needs to login to the system using a desktop computer or via any mobile device. There is no need to purchase, install or download any other software to use SapphireOne Business Accounting Software. Anyone can operate it and there is minimal training required. Even people with basic computer skills can use it as the software is easy to follow and has no accounting jargon.
What you can do with SapphireOne Accounting Software?
You can do a lot of things with Sapphire Business Accounting Software. Here are some of the key things business owners can do easily when it comes to invoicing using this software.
Customisable invoices
Entering cash reports
Entering client invoices
Entering cash payments
Entering vendor invoices
Entering credit memos
Entering vendor payments
Entering vendor refunds
Benefits of Using SapphireOne Accounting Software for Invoicing
Businesses can obtain a wide range of benefits by using SapphireOne Business Accounting Software, including:
Simple and easy way to create and send invoices
Fastest way to receive payments as clients receive the invoices instantly
Automated reminders of when invoices are due
Clients can view them at anytime from anywhere with any device
Clients can print their own paper copies if they need them
Clients can create their own statements anytime from anywhere
Clients can create their own copy if they need a copy because they misplaced their copy
Reduce costs associated with paper, envelopes and postage fees
Handling invoicing with SapphireOne
SapphireOne is an easy to use Business Accounting Software designed to help you with organising your finances. It is simple and easy to use, so the user does not need to read long manuals on how to handle invoicing.
Not in the office? With SapphireOne, you are not tied to your office computer. You can manage everything from anywhere with one easy web pack solution through your mobile or any device with a browser. You can invoice from anywhere. You can have your customers accept your quotes, view and pay their invoices via the Sapphire web pack solution.
SapphireOne prides itself on delivering world class Business Accounting Software to handle invoicing easily, letting you receive money from your customers and pay (to vendors) without hassle. It allows you to focus on running your business more efficiently.
Invoicing is a time consuming task traditionally, but not with SapphireOne Accounting Software. SapphireOne software will speed up your invoicing. SapphireOne and Sapphire software is compatible with Windows and Mac operating systems. It is a highly scalable solution, with the ability to support unlimited users concurrently.
Request a demo today, the purchase of accounting software is an important investment, don't leave it to chance.
Read More – https://www.sapphireone.com/testimonials/project-accounting-and-invoicing/
Tags : -