August 2, 2019 * Archana at 4:00 pm
Multi-Company Accounting Software- what it means for your organisation
The ability to manage multiple companies with multi-locations, operations, currencies and tax realms completely independent from each other. These are run via a single data file which consolidates and automates financial activities. In short, you no longer have to exit out of one company's database to work in another. Your multi-company accounting software simplifies accounts payables and spending across entities by having one platform to view and search for information.
With a single data file, single source of truth, companies can share clients, vendors and financials. This means corporate head office can view accounts from all company locations. Employees can access inventory, customer data, invoices, orders and documents etc on nominated companies from different locations and devices.
Each company can go about their business processes and the multi-company software prepares individual financials and business reports. This ensures any errors or issues that may occur within one will be separated. For group financials and all areas of the business, access can be limited to corporate head office and management to ensure security and integrity of data.
SapphireOne Built-In Free Multi-Company Software
SapphireOne Multi-Company functionality supports unlimited companies and is included within the SapphireOne ERP software. 
In all relevant data entry screens, there is the multi-company functionality. This allows you to split transactions between multiple companies and projects. The multi-company button is only visible if you have multiple companies set up in your SapphireOne data file. When selecting, the User will be directed to a new Posting screen where you can manage and allocate percentages or fixed amounts.
Step-by-Step Guide to the Simplicity of Multi-Company in SapphireOne
Account – is auto filled.
Amount – enter the amount to be allocated.
Loan – is a linked field or search for the loan account using the Wildcard*.


To split the transaction between companies or projects:


Add a new Record. – click on the green + button down the bottom of the screen. To delete a record, click on the – button.
ID – enter the multi-company ID or use the Wildcard* for a list of available Company ID's.
Project – enter the Project ID or use the Wildcard* for a list of available Project ID's.
Department – auto fills with Company ID number.
General Ledger – auto fills with the default GL or use the Wildcard* for a list of General Ledger accounts.
Fixed Amount – enter the amount to be allocated.
% – of fixed amount and auto calculated. The % can be manually changed which will change the fixed amount proportionately.
Notes: enter in any notes regarding the transaction.
Transaction Footer (highlighted in red):


Company or Department – displays Company and Department details or Company only.
100% – allocates the remaining balance of the transaction to the lines selected.
Even Split – allocates the Amount equally amongst the transactions.
Selection – allocates the Amount equally amongst the selected transactions.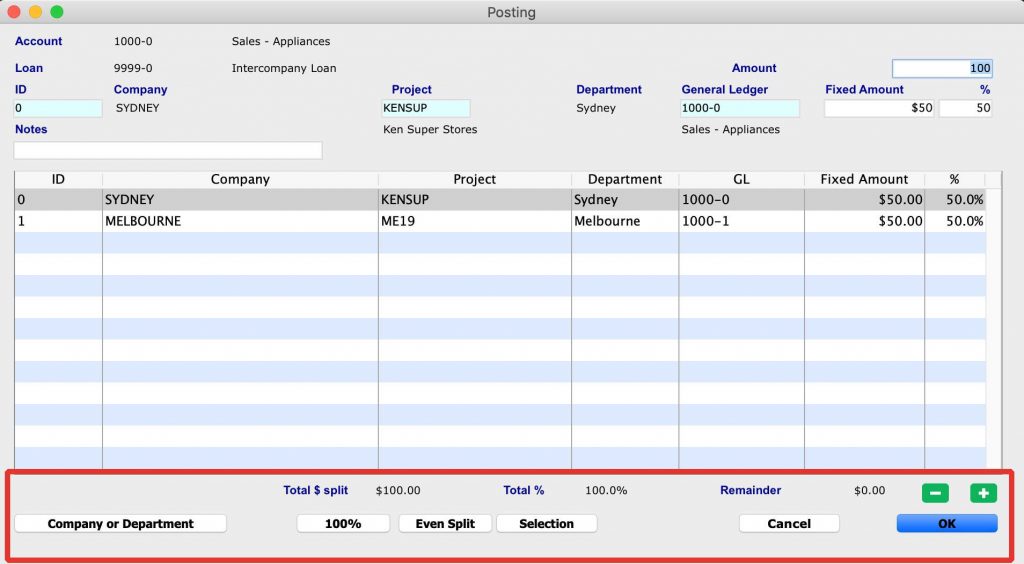 Wildcard* = [( @ or ? ) and TAB ]
Click for more information on Multi-Company Accounting and the free functionality in SapphireOne ERP, CRM, DMS and Business Accounting Software Application. Alternatively, contact our office on +61 2 8362 4500 or request a demo.
Tags : -