There's no question that a good accounting software package saves time, money and is a game changer for any business.
There is a vast array of accounting software that is currently available in the market. You should be aware that not all of them offer the same standard features.  Choosing an accounting software package is one of the most crucial decisions you will ever make for your business. Good Accounting software not only tracks all of the financial transactions within your business, including invoices, sales and your tax liabilities, but it should also track numerous other items as well. These include Clients and vendors, inventory, job/projects, assets, and your payroll/HR payments and reporting requirements. In addition, a good financial package should include the ability to store all documents and customer information (CRM) needed for the management of your business finances.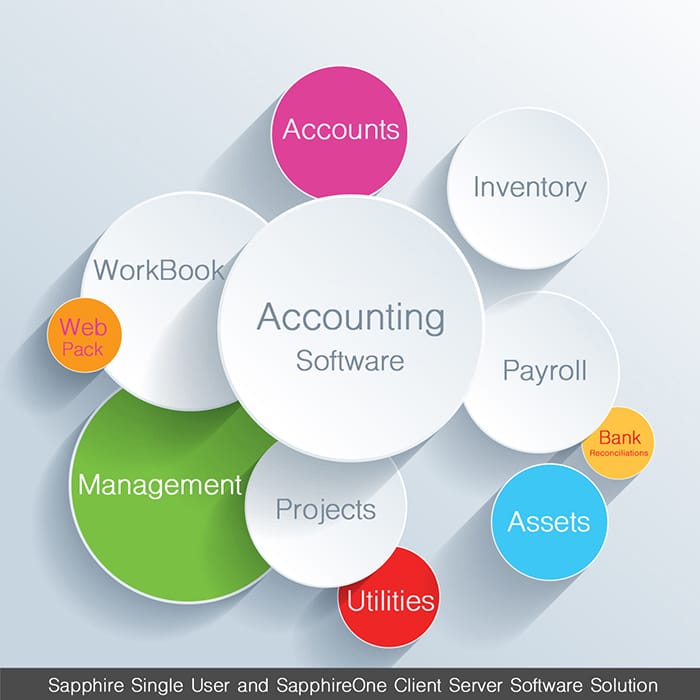 Good Accounting software :
Good Accounting software should be designed so that not only accountants can follow it, but also management who need to understand the financial processes. An easy to use Accounting software should make many tasks easier by simplifying and automating many of the day to day accounting procedures. With a range of real time management functionality, a good accounting software should also allow for easy management and reconciliation of your banking requirements. It should provide standard financial analysis and reporting of the following. Balance sheets, profit/loss and cash flow reports. It should also have the ability to view your current financial position against any budgeted financial estimates and revised budgets.
If you need basic accounting software for small entry level businesses, you can't go wrong with business accounting software like Intuit QuickBooks, MYOB, XERO, Reckon, Cashflow manager . SapphireOne also has a good record for small business, with its Sapphire Single-User package which has been supplied since 1986. Read one of our Australian client's stories for the application of SapphireOne's small business accounting software packages.
However, if you have a complex organization or you plan to stretch your capabilities so that multiple users can access the accounting Enterprise Resource Planning (ERP) system concurrently, then you have to think differently. An ERP Accounting software solution should, have the ability to take control of business data and processes on an enterprise scale. It is evident from statistical data that for managing large corporation an accounting software requires ERP software capabilities.

An ERP Accounting software should not just comply with the law, but it must provide you with the insight to help you run your business and make business decisions. SapphireOne is offering Sapphire Single-User and SapphireOne Client Server ERP Accounting Software solutions. Our software solution has 8 Modules and these are, Accounts, Inventory, Job Projects, Assets, Payroll/HR, Management, Utilities and Workbook. From locally based accounting software to Global ERP, the SapphireOne financial packages can help you to have a complete understanding of your business financial processes.
The SapphireOne financial packages is an industry leader in both functionality and features at an extremely affordable pricing. View the
pricing plans
or
request for a Live demo.