March 22, 2017 * Archana at 12:21 pm
Using ERP Accounting Software to integrate Business Processes
When starting a business at first an owner often only needs few employees to serve the customer's needs. It is possible to serve information requests from customers manually. As time goes by the company grows rapidly, the number of branches / sales increase. The old system is no longer sufficient. Customers are not satisfied as a result of the slow delivery or out of date information and others. The owner of the business might not realize that his/her rival companies may be using a new system, an ERP accounting to do a better and faster service than his/her.
So as an owner of business do you already have the best system that suites your company's needs?
A good ERP accounting system integrates all aspects of company's business information system and keeps the business system well organised. At the center of the integrated ERP accounting system there is a database that can be shared by all employees. This makes it possible for all units of business organisation to have access to current data to support operation and planning.  ERP accounting system supports complex business activities with a variety of operational activity as well as relying on the information in making decisions.  With this kind of integrated software system, a business owner can achieve –
Setting ordering process,
Storage of historical transactions,
Speed up services and
Better business analysis.
There are things one business owner need to know with the right ERP accounting software qualification for his/her company including –
Flexibility,
Fully data integration facility,
Type of modification and
Demonstration of integration process.
Team Digital's experiences with SapphireOne ERP Accounting Software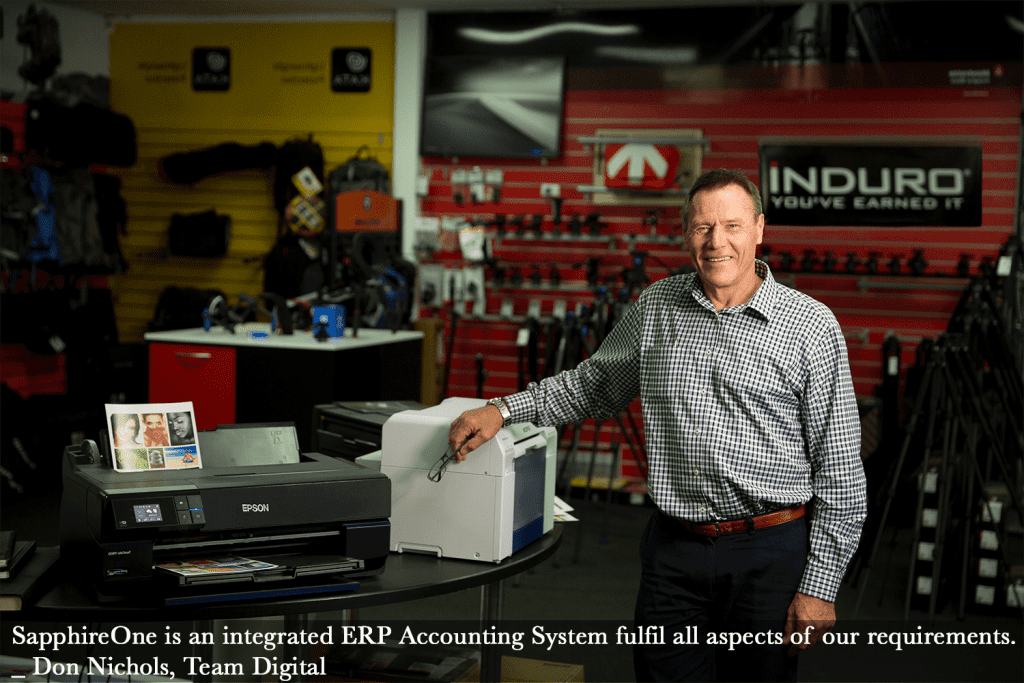 As a retailer/wholesaler, Team Digital, a Photographic reseller distributor in Perth, Western Australia, wanted an easy to use software system that would integrate all of their accounting and sales functions.  They also needed separate packages to run creditors, debtors and the general ledger.
Team digital purchased Sapphire in 2009, a single-user version of SapphireOne and later in 2010 they started using SapphireOne client server version. Today SapphireOne manages Team Digital's inventory, clients and vendors. As said by Don Nicholls, Administration manager of Team Digital –
"SapphireOne is a really well integrated ERP Accounting system that covers sales, purchasing, General Ledger, Payroll, super and a number of other tasks. "
Team digital's efforts in implementing SapphireOne ERP Accounting Software didn't go in vain. Read the testimonial of Don Nicholls, Team Digital, how SapphireOne is helping to run their business activities in a daily basis.
Discover how SapphireOne ERP , CRM and accounting software suite can help your business by requesting a live demo.
Tags : -