January 1, 2019 3:34 pm | by Archana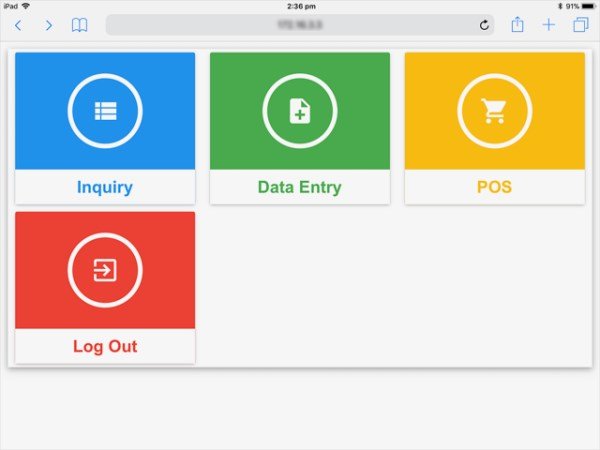 Point of sale and POS system integration. It's got to be right. So, let's talk turkey for a second without the gobble-dee-gook.
A clunky POS will mean the loss of a sale in a heartbeat to your competitors. It is almost as bad as having a really rude shop assistant on the floor or worst, a barista, who gets the coffee and milk composition wrong in a latte.
A good POS system integration will connect seamlessly with your entire business system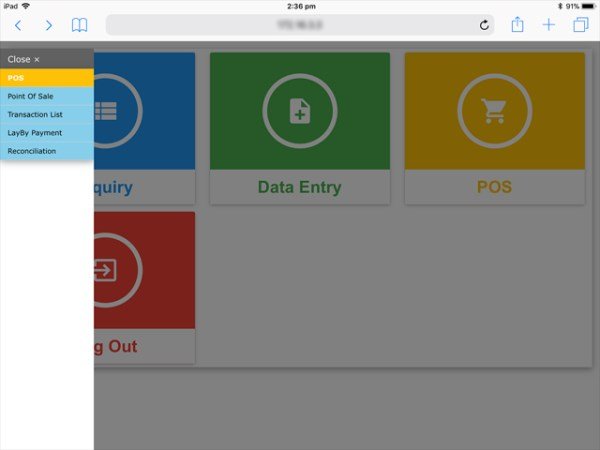 Your POS should be a seamless process for your customer. I'm constantly surprised at how many small business owners set up an online store without fully testing their POS and going live, with a site which at the pivotal time of purchase takes the user to nowhere. Get your cigarette lighter out and burn those $50 notes. You wouldn't dare, so why would you go live without a POS that not only works but integrates with your existing software.
Thanks to a clever bunch of software developers, POS system integration can be seamless with your entire business software. It is quite remarkable and even better, one of the leaders in the field is based in Sydney, not the Silicon Valley.
SapphireOne not only have POS systems but also have the software to ensure POS works with all business management systems. Software development guru Paul Beard said: "Our software is an all in one solution which combines account management, inventory management, job/project management, assets management, HR, payroll, Document Management System (DMS), Business Activity Statement (BAS), Standard Business Reporting (SBR), VoIP SoftPhone and Customer Relationship Management (CRM)."
John Adams, CEO of SapphireOne said "the most complex business accounting software is frequently part of an extensive suite of software often known as enterprise resource planning (ERP) application".
He says users can utilise the software for normal accounting and/or ERP purposes. The POS functionality is very important when a small business needs to manage their inventory. One of the popular functionalities is they can create multiple stores and control these stores via SapphireOne POS.
"Though SapphireOne is a desktop-based system but we also have a web version," Paul Beard said.
"The Sapphire Web Pack solution allows for unlimited users to access certain parts of the live data file from any device with a browser. POS is one of the functions that is included in the Sapphire Web Pack solution."
For more information on the benefits of POS system integration and ERP – SapphireOne ERP, CRM, DMS and Business Accounting Software Application Alternatively, contact our office on (02) 8362 4500 or request a demo.
November 29, 2018 10:17 am | by Archana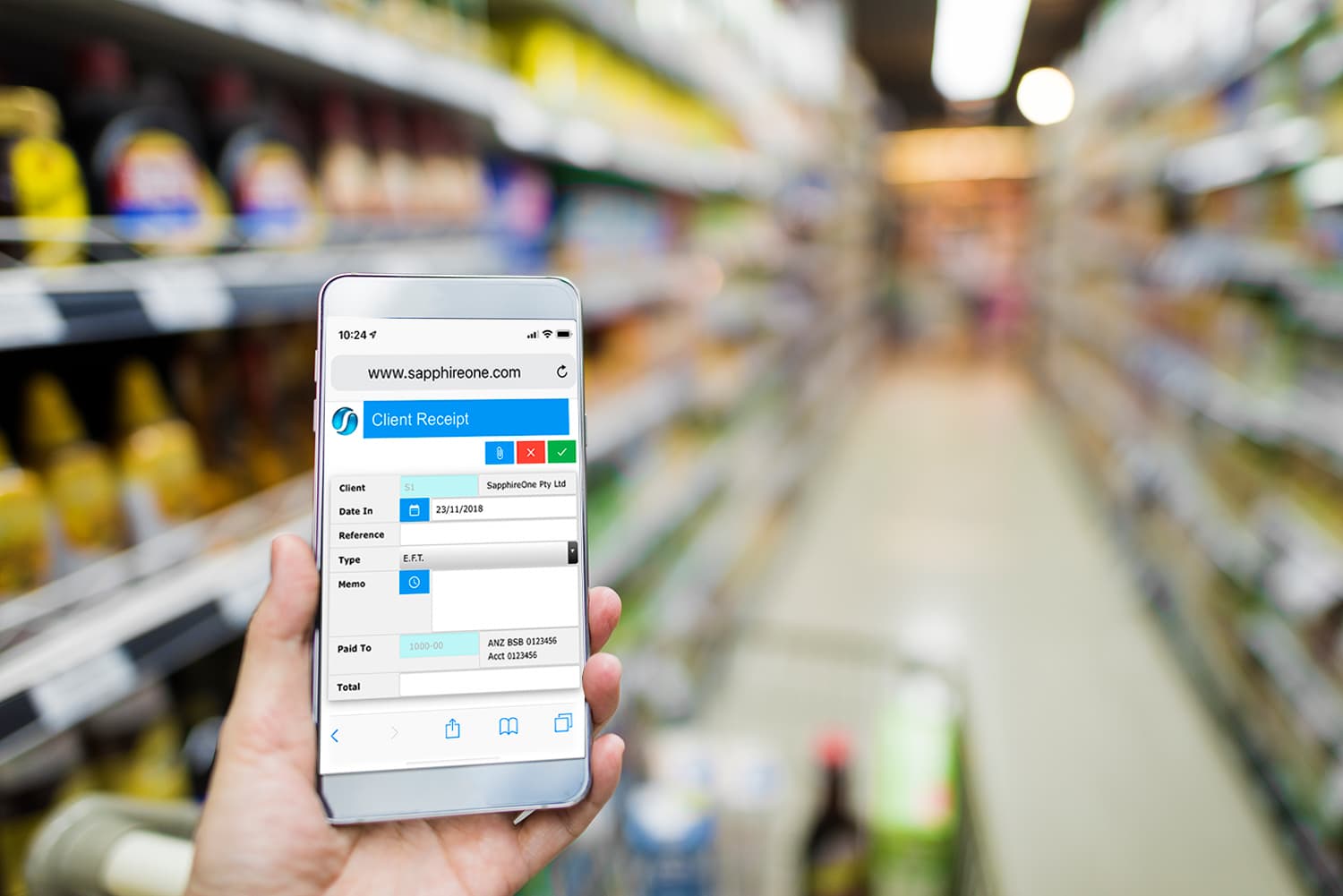 Single location stores can be challenging at times, and when you start to operate a multi-location supermarket and retail chain, new complications and difficulties arise. Efficient management of these multi-locations is the key. Sharing of information and data is fundamental to success.
Because competition is fierce, margins are small within the retail environment, the management of your daily operations becomes imperative.
SapphireOne ERP enables multi-locations access to a shared database. This provides a comprehensive range of business wide processes consolidated into a single unified database.  The SapphireOne ERP ensures enhanced efficiency, speed and visibility.
Easy to operate POS systems for multi-location supermarket and retail chain
Sapphire Web Pack POS terminals allow management of business processes from mobile devices. Unlimited users can have access to certain parts of the live data file from any device with a browser. Inventory, stock control and ordering can be performed onsite saving time and money. With real-time data across the multi-location supermarket and retail chain, head office can focus on pricing, inventory management, performance reporting and marketing.
Sapphire POS terminal provides users the much-needed flexibility and lifts restrictions on how and when data can be added into the system. Stock can be transferred from one location to another, clients can be invoiced, and vendors paid on mobile devices with a browser.
Time saving in purchase & replenishment
With the SapphireOne ERP application multi-location supermarket and retail chains have access to data from all points of their business. This enables increased operational efficiencies. Time is saved in purchasing and replenishment through better planning and reduced costs.
Centralised financial control
The SapphireOne ERP application gives the ability to increase and enhance operational efficiencies by managing within the one application. Total visibility at head office ensures improved reporting, planning and greater financial control of your business.
Efficient employee management
SapphireOne ERP Payroll/HR module seamlessly manages employee data and payroll information.  Head office can set up pay periods, track history and administer employee history through the easy to use interface. The ERP software ensures sharing of information with employees, management and HR. This sharing facilitates management in making executive decisions on job assignments and how to improve performance.
Some of the features of SapphireOne Payroll/HR include modifying an employee, class, inquiry, award entitlements, leave, remuneration inquiry, allowances, tax, scales, reports, ATO's Single Touch Payroll and employee benefits.
Acquire new customers, increase sales and profit with SapphireOne
An effective sales process and customer management software equates to greater revenue. SapphireOne ERP, CRM, DMS Business Accounting Application combines integrated business processes with CRM software. This allows marketing to focus efforts on maximising sales and reaching out to new and existing customers. Our ERP, CRM software helps business engage with customers, provide insights, improve efficiencies and ultimately increase sales.
For more information regarding improvements and features within the latest release of SapphireOne ERP Business Accounting Application please contact our office on (02) 8362 4500 or request a demo.
November 15, 2018 1:18 pm | by Archana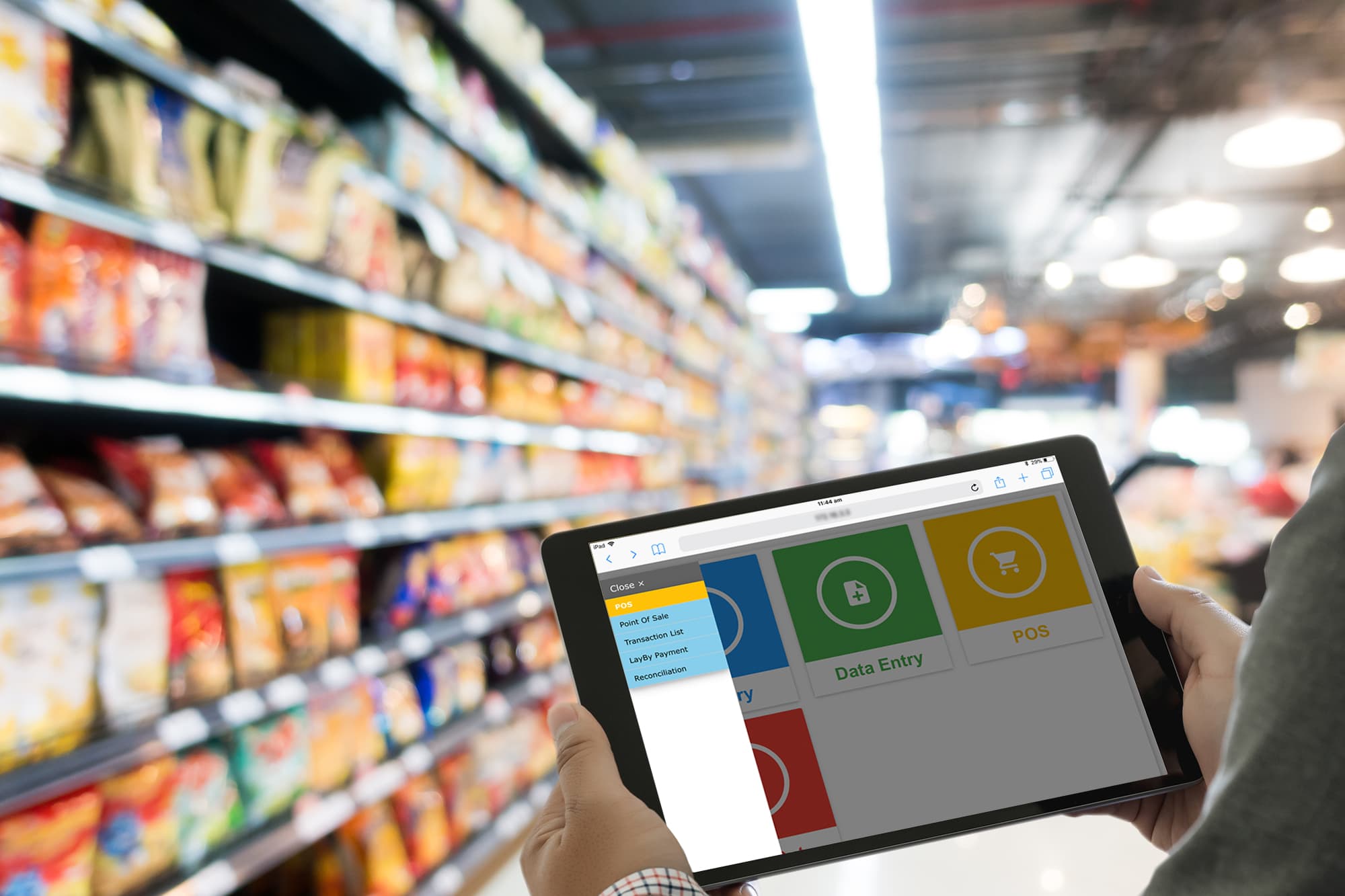 No matter if you are a small convenience store or a large supermarket chain, SapphireOne ERP application is built to maximise product availability, while speeding up service and minimising the carrying costs.
If you have encountered any issue regarding overstocking and out of stock, then it's time you understand how the right Inventory replenishment software can support your business today.
SapphireOne ERP Business Accounting Application is the easiest way to handle the complexities of running a convenience store or supermarket without losing control
Even a small grocery store can stock more than a thousand different items, all of which have different shelf lives. Overstocking and out of stock are both problematic, as fresh produce can be spoiled, and loss of sales occur due to missing stock.
Usually supermarkets or convenience stores have several departments and depending on the accounting software system or billing software, the software in place tend to never be enough in functionality. To improve the business, a supermarket or convenience store requires a complete solution, every department under a centralised integrated management system.
Management is the backbone of a business; hence a strong business management software and ERP application helps a business last throughout the trials and tribulations of the environment today.
SapphireOne ERP, CRM, DMS Business Accounting Application is a user-friendly software that has the features you need while providing maximum security.
SapphireOne ERP application also has the option that enables you to work remotely, access your database anywhere or anytime.
With SapphireOne ERP Business Accounting Application you can:
Automate your convenience store or supermarket
Automating your business saves times, allowing you to focus on other important functions in your business helping it grow.
Inventory management
SapphireOne ERP application helps you track what's coming in and what's going out. Tracking is made easy of the products in demand or ones stagnant, leading to less expenditure and wastage. This in turn benefits the organising and optimising of your warehouse and storage space.
SapphireOne POS system simplifies and automates the complex retail requirements
SapphireOne ERP offers flexible, high-speed Point-of-Sale (POS) software, designed for retail operators. These are installed and utilised via barcode readers and the barcode scanning provides a cost-effective solution designed for retail point of sale environments, where speed and accuracy are important.
Helps you with better decision making
SapphireOne ERP, CRM, DMS Business Accounting Application is an intelligent integrated software helping you make better decisions. BI (Business Intelligence) dashboards and accurate, comprehensive reporting, ensures you make informed decisions regarding the future of your business. SapphireOne will improve forecasting, customer services and overall sales via an in-built CRM module.
For more information regarding improvements and features within the latest release of SapphireOne ERP Business Accounting Application please contact our office on (02) 8362 4500 or request a demo.