February 23, 2021 11:00 am | by Maddie Kent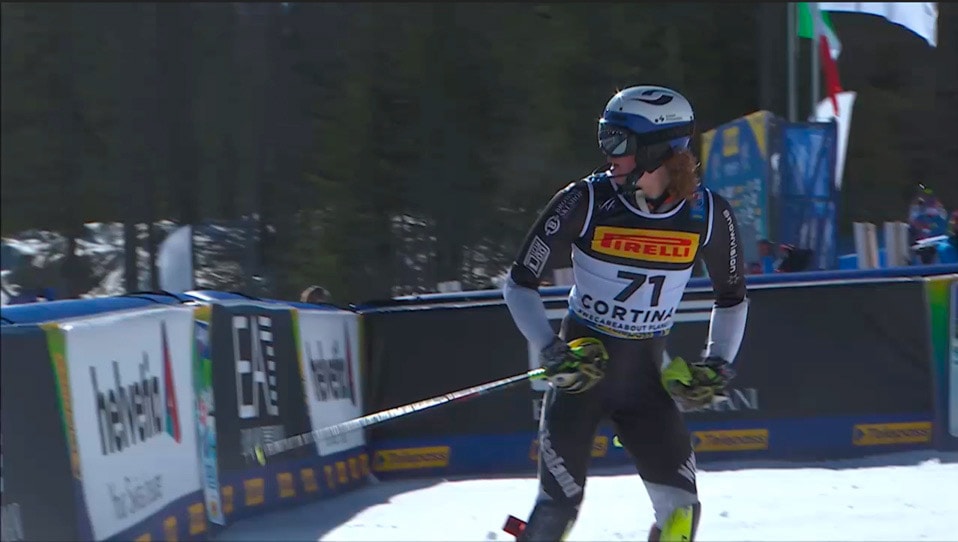 Jack Adams competes for New Zealand in the Giant Slalom and Slalom at the 2021 FIS Alpine World Ski Championships.
Congratulations to SapphireOne sponsored athlete Jack Adams who has just competed in the FIS Alpine World Championships in Cortina, Italy. The event is held every second year and showcases the best alpine athletes from around the world.
In the Giant Slalom Jack placed 32nd in the Qualifying race, just missing out on the finals, and achieved an impressive overall ranking of 50th.
In the Slalom Jack fought hard in Run 1 on a course that challenged the best in the world, with 30% of the field being a 'Did Not Finish' (DNF). Jack moved from 71st to 35th after the first run and was ready for Run 2.
In Run 2 he was on track for a top 20 result, and just a few gates from the finish line hit one bump too many and joined the 70% of athletes that had a DNF.
We are all extremely proud of Jack and his efforts at his first World Champs, and look forward to following his progress through the rest of the season. We also thank SnowSports NZ for giving Jack the opportunity to be part of a major event surrounded by the best in the world.
Video edited by Steve Kantarelis. Blog by Suzie Adams and Maddie Kent.
January 18, 2021 11:00 am | by Maddie Kent
Jack Adams to compete for New Zealand team at the FIS Alpine World Ski Championships in Italy, February 2021.
We are proud to announce that SapphireOne sponsored alpine athlete Jack Adams has been selected to compete as part of the New Zealand team at the 2021 FIS Alpine World Ski Championships in Cortina d'Ampezzo, Italy between the 7th and 21st of February, 2021.
Jack has been selected to be part of the Kiwi team of four, alongside fellow teammates Alice Robinson, Piera Hudson and Will Feasey.
Jack is currently based in Pitzal, Austria where he has spent the past two months training and competing, and has recently achieved his career best result at a FIS Slalom race in Hochfuegen, Austria.
The FIS Alpine World Ski Championships are held once every two years. In a recent article by Snow Sports NZ, NZ Head of Alpine Jono Howson explains "World Champs is a stand alone-event and the person that is crowned world champion gets to claim that for two years, it is quite an honour."
We wish Jack Adams and the team every success and look forward to following their results at this prestigious event.
October 7, 2020 8:20 am | by Maddie Kent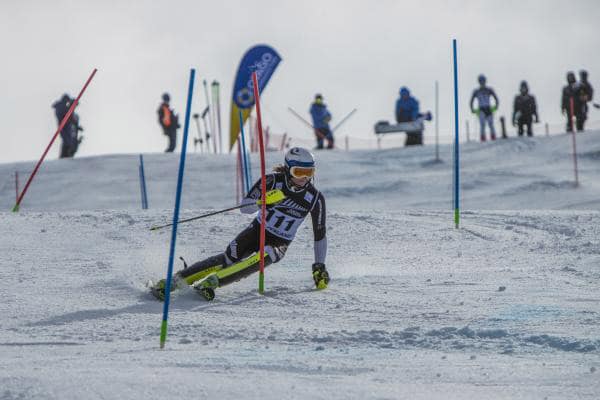 How's that for harmonisation?
Alpine athlete Jack Adams, proudly sponsored by SapphireOne, is currently in New Zealand where he has been training with Coberger Academy at Coronet Peak and Cardrona Ski Resorts in preparation for the European FIS race season, including Europa Cup and Alpine World Championship events. Check out the video below to see him in action at Cardrona Resort.
Watching this type of graceful coordination is a beautiful reminder of how great it feels when things just… work.
At SapphireOne we're working continuously to bring more harmony into your day-to-day operations. Get in touch or give us a call to find out how our customisable API integrations and software solutions can offer your business seamless digital integrations, and help bring the flow back into your every day.
September 7, 2020 11:17 am | by Archana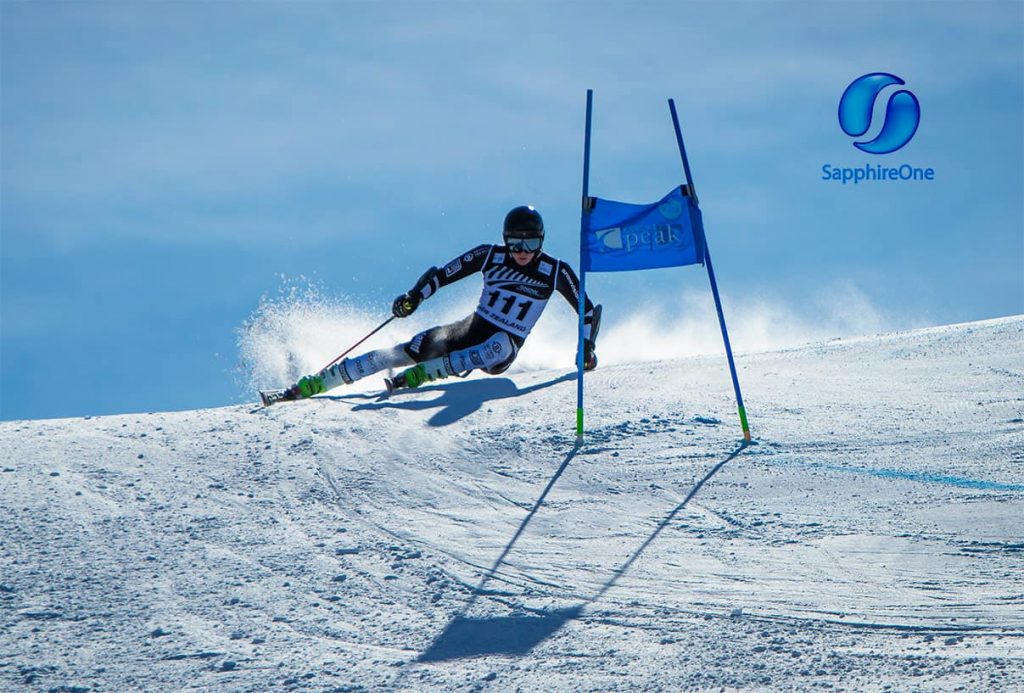 Eliza Grigg and Jack Adams were crowned the Alpine National Combined Disciplines Overall Champions at Coronet Peak today.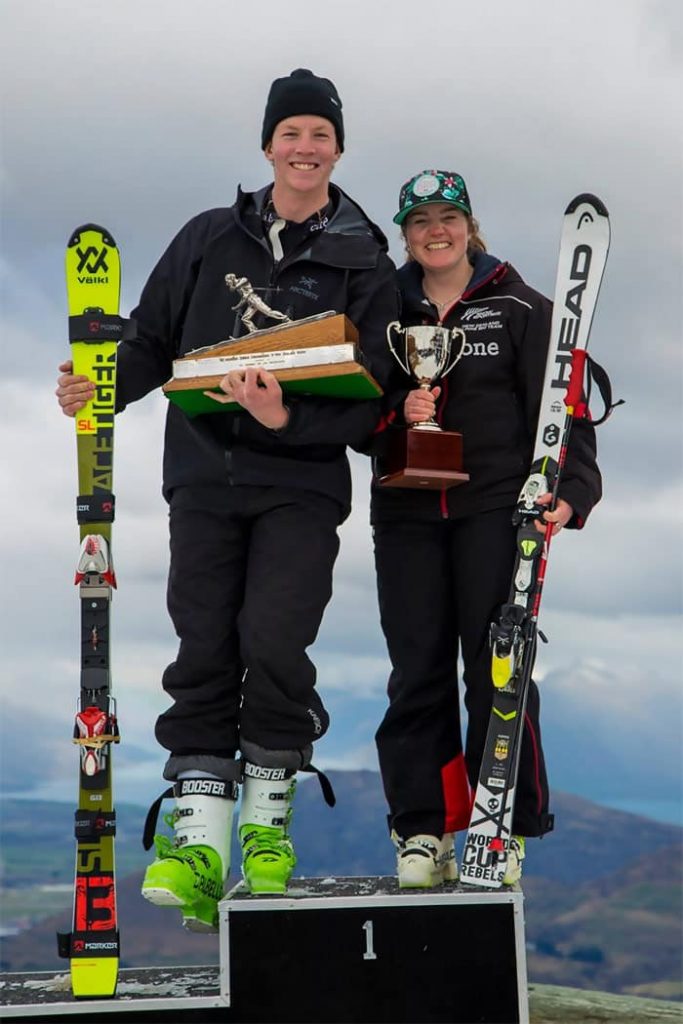 Today was the third and final day of the National Alpine Championships, National Para Alpine Championships and the National Alpine Junior Championships with the athletes competing in Slalom today.

Eliza Grigg, a Team Hutt athlete, has had a stellar Alpine National Championships, earning a medal of each colour this weekend finishing first in Super G on Friday, second in Giant Slalom yesterday and third is Slalom today. Her achievements over the last three days resulted in her being crowned the women's Overall Combined Disciplines Champion. "This is my first time winning the overall which I am super excited about, it's been a lot of work".
Jack Adams, a Coberger Academy athlete, won the Slalom race today and finished second in both Giant Slalom yesterday and in Super G on Friday. Off the back of his fantastic results this weekend, Jack was awarded the men's Overall Combined Disciplines Championship trophy for his first time. "It is nice to get the overall, it's a beautiful trophy". Winning the Slalom today, Jack explained that "It's been a good competition with Willis this weekend and I prefer slalom, I know he prefers Giant Slalom, so I was hoping for a good race between us but unfortunately he straddled on the first run". Willis Feasey, 2018 Winter Olympian, who won both the Super G and Giant Slalom this weekend had a DNF on his Slalom landing him in second place overall.
Olivia Flight and Harrison Messenger are the Junior Alpine National Combined Disciplines Overall Champions. Olivia, a Coberger Academy athlete, finished second in both Super G and Giant Slalom this weekend and finished third today in Slalom. Harrison, a Wanaka Ski Team athlete, had a fantastic weekend winning all three races, resulting in him being the clear winner of the men's Junior Overall Championships.
Piera Hudson, World Cup Slalom athlete, blew the competition out of the water today when she won the women's National Slalom Championships over four seconds ahead of the second place time. Piera enjoyed the Slalom course today, explaining that "first run, there was a little bit of a whoopsie, but I managed to recover and get back in there and then just had to go full charge to make up for it".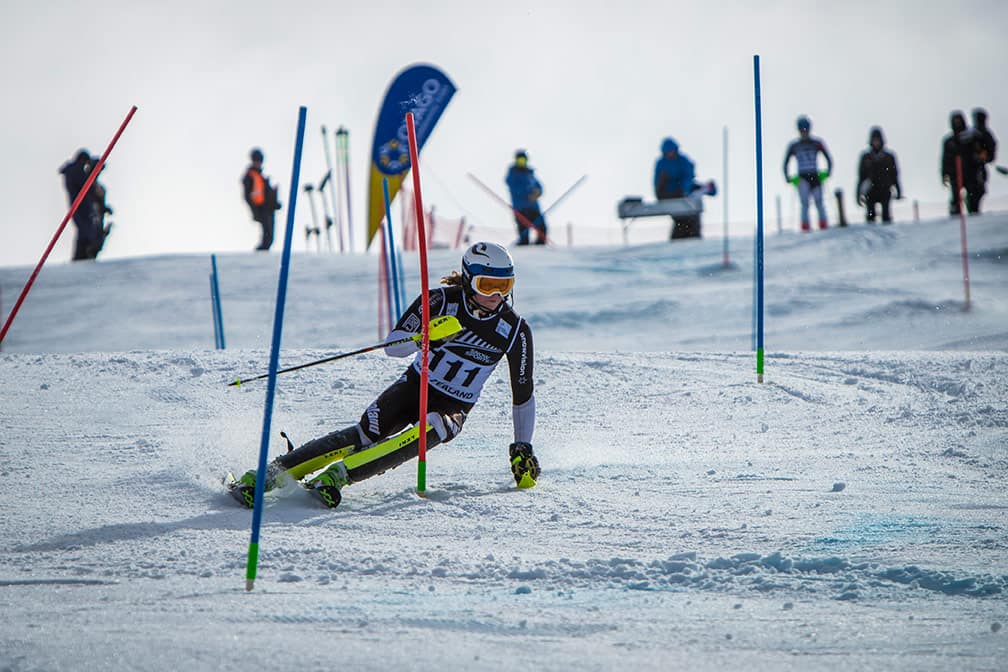 Adam Hall and Corey Peters, Paralympians and World Cup Para athletes, both continued to carry their momentum from the past two days. Adam won the men's standing National Para Slalom, his third gold medal this weekend. Corey won the men's sitting National Para Slalom race, also his third win of the weekend. Kirstie Fairhurst is the women's sitting National Para Slalom Champion after completing two successful runs on the course.
The race today was also a National Points race for under 14 and under 16 athletes, whose national champions will be crowned at the Snowvision National Youth Championships held at Cardrona starting on the 25th of September.
Read more about this on Snowsports.co.nz
September 4, 2018 5:48 pm | by Archana
It's been a busy few weeks for the SapphireOne Team as they zig zag back and forth between Australia and New Zealand.
National Championships – Coronet Peak, Queenstown, New Zealand – August 13 – 16, 2018
Our athletes in New Zealand started a gruelling 3 week block of races with the National Championships and FIS races in Coronet Peak, Queenstown.
Lily Tomkinson, Alec Scott, Jack Adams, Theo Coates, Connor Leggett and Shaun Findlay battled it out against the best skiers from NZ and a strong international field including many World Cup skiers. Ted Ligety who just happened to be at Coronet Peak training decided to drop in to the Slalom race and add to the amazing talent already on the hill.
At the end of the week, the athletes flew into Melbourne to make their way to Mt Hotham for the start of the Australia New Zealand Cup series.
Ted Ligety with SapphireOne Team 
Australia New Zealand Cup (ANC) – Mt Hotham, VIC, Australia – August 20-23, 2018
Day 1 update ANC Mt Hotham – Giant Slalom
In the Women Greta Small placed 6th with 36 FIS points, Madison Hoffman placed 8th/48 points, Kendra Etherton 12th/68 points, Zoe Michael 16th/108 points, Zanna Farrell 17th/117 points, Adele Selig 18th/118 points and Isabel Walker 20th/127 points in the top 20. Also competing were Isabella Davis, Kate Hobbs, Tess Mahony, Jalili Wakim, Elise Kenny, Catarina Di Ramio, Zara Gardiner, Zali Offord and Lily Tomkinson.
In the Men, with a large international field, we had Alec Scott 20th/33 points, Louis Muhlen-Schulte 25th/37 points, Harry Laidlaw 27th/38 points, Theo Coates 28th/39points, Jack Adams 32nd/46 points in the tightly packed top 35 men. Also competing were Finn Bowes, Connor Leggett, Angus McKenzie, Shaun Findlay, Wim Roney, Cody Allport, Hayden Etherton, Lachlan Green, Nicholas Drechsel, Jack Drechsel, Nicholas Morris and Alfred Went.
Day 2 update ANC Mt Hotham – Giant Slalom
The second day of the race series went ahead after a weather delay of one day.
In the Women's Madison Hoffman had a great result skiing into 4th/28 points. In the Top 15 were Adele Selig in 12th/92 points and Zoe Michael 13th/96 points. Other racers competing on a soft and challenging course were Kate Hobbs 15th, Elise Kenny 16th, Zara Gardiner 17th, Isabel Walker 18th, Isabella Davis, 20th and Tess Mahony 21st.
In the Men's we had a number of athletes in the Top 20. Harry Laidlaw 11th/20 points, Alec Scott 14th/22 points, Louis Muhlen-Schulte 16th/28 points and a PB from Jack Adams at 18th/30 points. In the top 40 we had Connor Leggett 33rd/60 points and Wim Roney 40th/84 points with our other athletes not far behind – Finn Bowes, Shaun Findlay, Alfred Wenk, Tom Davies, Cody Allport, Hayden Etherton, Lachlan Green and Nicholas Morris.
Day 3 update ANC Mt Hotham – Slalom
Our Aussie athletes had a great day yesterday. In the Womens all our finishing athletes were in the Top 20 with Madison Hoffman taking the podium in 2nd place/18 points. Behind Madison was Lily Tomkinson 8th/40 points, Zoe Michael 11th/91 pionts, Kendra Etherton 12th/108 points, Zara Gardiner 16th/177 ponts and first year FIS Isabella Davis 17th/184 points. We had a few DNF's however they'll be back on course to battle it out on Day 2 of Slalom.
In the Men's we had four athletes in the Top 25. Louis Muhlen-Schulte 6th/14 points, Alec Scott 20th/30 points, Jack Adams 21st/34 points and Theo Coates 25th/36 points. In the top 35 we had Hayden Etherton 33rd/188 points, Lachlan Green 246 points and Cody Allport 35th/250 points.
Day 4 Update ANC Mt Hotham – Slalom
Mt Hotham turned on a picture perfect day for the last day of the ANC Mt Hotham race series.
Our Aussie athletes continued to make their mark with strong results on challenging courses against world class international competition.
In the Womens race Lily Tomkinson skied into 5th place/51 points, Zali Offord 9th/60 points, 1st year FIS Zoe Michael scored a great result with 10th/69 points, Kendra Etherton 13th/115 points, Isabella Davis 14th/149 points and Zara Gardiner 15th/182 points.
In the Men's race congratulations to Louis Muhlen-Schulte who podiumed with 2nd place and scored 13 points. In the top 15 we had Alec Scott 10th/28 points, Jack Adams 13th/36 points and Theo Coates 15th/42 points. Shaun Findlay came in at 23rd, Hayden Etherton 25th and Cody Allport 26th.
All results:  https://www.fis-ski.com/DB/global-links/calendar-results.html
Many of the athletes, including the SapphireOne Team, drove directly to Melbourne Airport on completion of the final day of competition to travel to New Zealand for the start of the Australia New Zealand Cup at Coronet Peak starting Monday 27 August.
Australia New Zealand Cup (ANC) – Coronet Peak Queenstown, New Zealand – August 27 – 31, 2018The ANC Coronet Peak, New Zealand kicked off as part of the New Zealand Winter Games. With athletes from almost all skiing nations, the competition was particularly tough. In the Men's events there were World Cup skiers with bib numbers in the 30's.
Day 1 Update ANC Coronet Peak – Giant Slalom

Women – Lily Tomkinson was our only Aussie athlete who unfortunately had a DNF in the second run.
Men – In the Men our best performing athletes were Alec Scott placed 26th/29 points, Harry Laidlaw 27th/33 points, Jack Adams 36th/49 points and Connor Leggett 45th/72 points.
Day 2 Update ANC Coronet Peak – Giant Slalom
Another tough day of competition.  Australia had two athletes in the Top 25 – Alec Scott 19th and Harry Laidlaw 22nd.   SapphireOne Team athletes placed 34th (Jack Adams) and 37th(Connor Leggett).
Day 3 Update ANC Coronet Peak – Slalom
As the Slalom event took its toll on our tiring athletes Theo Coates scored a Personal Best (PB) of 25thplace/30 points.
Day 4 Update ANC Coronet Peak – Slalom
Day 2 of Slalom ended with only 29 of the men finishing and 18 of the women finishing. Our best result was from Alec Scott placing 13th/33 points. Congratulations to all the athletes that competed over the 4 days against a field of World Cup racers including legend Ted Ligety (who our boys managed to beat!!). Good luck with the races for the rest of season.
August 21, 2018 3:33 pm | by Archana
The SapphireOne Team have had a busy week competing in the New Zealand National Championships Slalom and Giant Slalom events at Coronet Peak, Queenstown.
Jack Adams, Theo Coates, Connor Leggett and Shaun Findlay fought the fierce competition in the GS and Slalom events and had some significant results.
Once again the event drew a large international crowd including Belgium, Slovakia, Austria, Russia, Netherlands, Switzerland, Italy, Norway, Liechtenstein, New Zealand, Germany, USA, Japan, Canada, Sweden, Great Britain, Korea, Ireland and of course Australia.   World Champion Ted Ligety was training on the hill and decided to drop into the Slalom events at the last minute.   Fantastic opportunity for the athletes to watch the World Champion in action.
Jack and Theo just missed out on the all essential "flip" in the first run of GS coming 32ndand 33rdafter Run 1.   If they had made the "flip" and come 29thand 30ththey would have been 1stand 2nd skiers in the 2nd run.   A start that can make a difference of 2 seconds or more in the final result.
Day 2 the boys had a similar finish in Run 1 however Theo didn't finish Run 2 and Jack made a few too many errors.  Team mate Connor leap frogged both boys to finish an impressive 32nd.
The Slalom event as usual took it's fair share of casualties with Jack and Connor not finishing Day 1, and Jack and Theo not finishing Day 2.

Photos above of Jack (Slalom) and Theo (Giant Slalom) in action.
New Zealand racers Adam Barwood and Piera Hudson claimed back-to-back National titles at the National Championships. Barwood and Hudson claimed the Slalom Championship titles on Tuesday, having also been crowned Giant Slalom National Champions in Sunday's race.
In the men's field, defending NZ champion Adam Barwood never looked in too much danger of relinquishing his title, so long as he could hold on in the tricky snow conditions. After the first run Adam was placed fifth with Willis Feasey as his closest teammate way back in 19th place.

As it was, a mistake in the bottom half of the course on run two would put an end to Feasey's second run charge for the men's national championship title while Barwood hung on, dropping back to eighth overall but managing to retain the men's slalom title for another year.
The women's leader after the first run, Hudson started 30th in run two and had to battle the ruts to get to the finish. A few mistakes on the bumpy course cost her the overall lead, finishing in sixth place overall, but taking the National Ladies' Slalom title.
Congratulations to all the competitors and good luck to those competing in the Australia New Cup starting next week (August 20) in Mt Hotham, Victoria, Australia.
To see full results from this series, click here.