October 4, 2019 1:31 pm | by Archana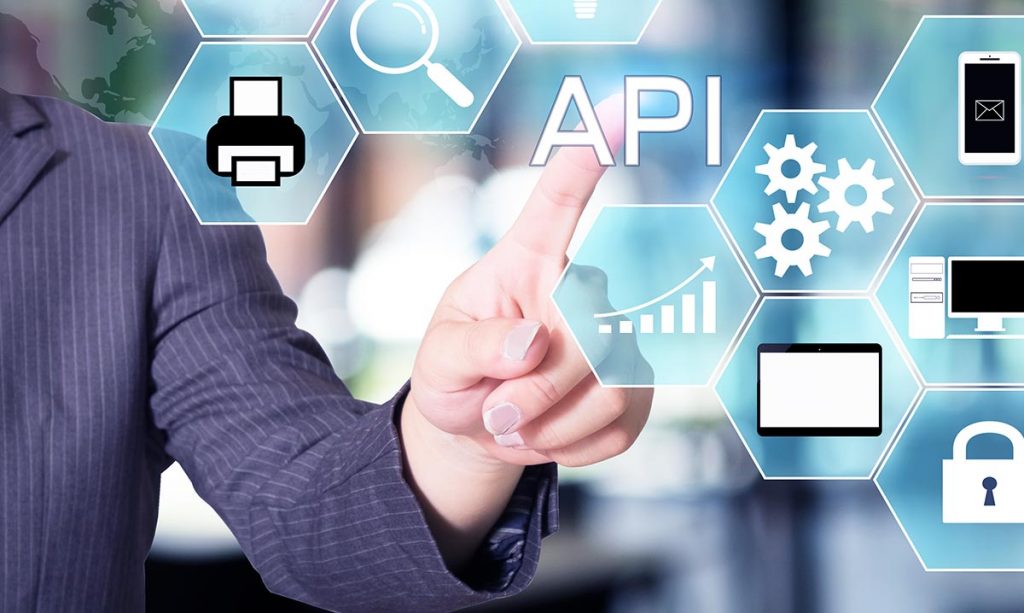 APIs and ERP what are they? API stands for "Application Programming Interface". They are a set of clearly defined methods of communication among various components. A good API makes it easier to develop a computer program by providing all the necessary building blocks. These in turn are assembled by the programmer. Simply put, they define the way software and programmes interact and work together.
APIs are necessary for Enterprise Resource Planning ERP applications to ensure data is accessible with other programmes and systems. This way transactions can be directly fed into your accounting, inventory, CRM, and HR software.
APIs and SapphireOne ERP– our point of difference is they are all included
It's part of the SapphireOne ERP all-in-one solution. We work closely with our clients and actively encourage ideas for innovation. Our programmers are happy to integrate platforms to make your working life easier.
PayPal + SapphireOne
provides an online invoicing payment solution which connects to SapphireOne for direct feeds into your bank rec.
Tyro + SapphireOne
accepts in-store EFTPOS and eCommerce online payments and direct feeds them into SapphireOne accounts.
WooCommerce, Shopify, BigCommerce + SapphireOne
ensures your front-end online stores are combined with back office accounting functionality.
Mailchimp + SapphireOne
delivers marketing automation and an email service to keep in touch with your contacts through SapphireOne CRM.
Stripe, CyberSource + SapphireOne
accepts credit card payments on-the-go through SapphireOne and Sapphire Web Pack.
SPS Commerce + SapphireOne
gives you access to the largest network of EDI connections.
GS1 + SapphireOne
GS1 barcoding is accepted in SapphireOne Inventory to streamline business processes such as traceability within a centralised database.
Brandscope + SapphireOne
enables you to release and buy multiple brands and ranges on the one platform whilst linking directly to your accounts and inventory.
Splicecom + SapphireOne
maximises CRM functionality in SapphireOne with Softphone technology.
ATO + SapphireOne
full certification and useability in Single Touch Payroll (STP), Standard Business Reporting (SBR2).
Easypost, MoveIt, Startrack + SapphireOne
order and control parcel shipping, con notes and logistics directly through SapphireOne.
Expensify + SapphireOne
tracks receipts and manages on-the-go expenses then connects to SapphireOne accounts for real-time reporting.
TANDA + SapphireOne
combines rostering, attendance and time clocks into SapphireOne Payroll for processing.
OANDA, Xe + SapphireOne
offers global currency solutions, exchange data, insights and money transfer services which are processed into SapphireOne accounts.
4D + SapphireOne
offers the latest framework for your data management.
For more information on the latest release of SapphireOne ERP, CRM software and Business Accounting Application, contact our office, call on (02) 8362 4500, or request a demo.
March 6, 2019 11:22 am | by Archana
Email marketing is an effective way to keep your customers informed. It helps you stay connected with prospects and customers by delivering targeted content messages. Marketers look at developing personalised digital campaigns while staying on budget. SapphireOne has partnered with Mailchimp so clients can start combining the two.
Mailchimp is the world's largest marketing automation platform. It helps you design email newsletters, share them on social networks, integrate with services you already use, and track your results. Millions of people and businesses use Mailchimp to send 1 billion emails every day. They provide a marketing platform which works around the clock helping you find your people, grow your business, and get smarter as you go. Small businesses to large e-commerce retailers need an experienced marketing automation provider that can scale with them. Find your audience, engage customers, and build your brand with Mailchimp.
How Mailchimp and SapphireOne integration works
SapphireOne has seamlessly integrated with Mailchimp to ensure updated information is exchanged between the applications. Keep in touch with your contacts in SapphireOne by creating engaging, brand building messages through email, e-commerce and social interactions in Mailchimp.
Don't have a Mailchimp account- it's easy to set one up and start emailing today. For more information…create account in Mailchimp.
SapphireOne has inbuilt features with every contact having a marketing section located above the notes. On the right-hand side there is a "Create Member in Mailchimp" button. Once you have consent from your contact you can add them into the different lists in your Mailchimp account. It's as easy as a click of the button.
Afterwards all Mailchimp marketing activities will be recorded and logged directly into your SapphireOne contact. The last 3 campaigns will be displayed in your contact card under Marketing for quick reference. For the rest, click on the green box next to the Mailchimp button to see all communications. Hence you have a record of interactions that can be further segmented for interests etc.

Subscription management of your contacts is handled by Mailchimp and their rules relating to permission. Please ensure current contacts in SapphireOne are happy to receive digital communications from you.
Getting started is easy
In Mailchimp:
Create your own Mailchimp account OR
Log into your existing one
Retrieve the API key from Mailchimp located under Accounts, Extras
In SapphireOne Windows OS:

Go to Utilities Mode
In the left navigator, select Controls then Master Defaults
Return back to Utilities Mode and underneath in Page drop down menu, select API
In the API Settings Demo screen, go to Mailchimp on the bottom right
Insert your Mailchimp API key
Green tick to save and exit
In SapphireOne MAC OS:

Go to Utilities Mode
Select Controls in the top toolbar then Master Defaults
Return back to Utilities Mode and underneath in Page drop down menu, select API
In the API Settings Demo screen, go to Mailchimp on the bottom right
Insert your Mailchimp API key 
Green tick to save and exit.
More information on Mailchimp partnership.
SapphireOne and Mailchimp- powering together to get your marketing moving.
For more information regarding improvements and features within the latest release of SapphireOne ERP, CRM software and Business Accounting Application please contact our office on (02) 8362 4500 or request a demo.
December 21, 2018 11:04 am | by Archana
By Wayne Stewart from 4D
Energy setting and speed- 4D is embedded in our SapphireOne client server application so please read the following article from Wayne.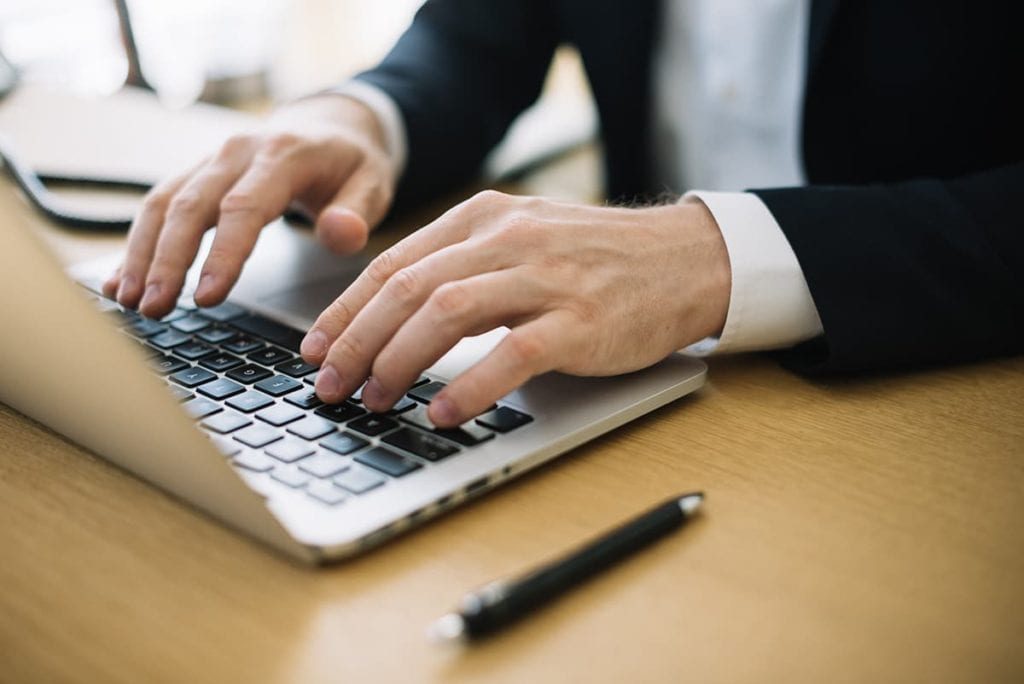 I was aware that Windows Desktop uses energy saving systems to lower the power need, extend battery live, lower heat, etc.
Surprise was that Windows Server (2008-2016) is also shipped with "balanced" energy saving as default AND that this makes 4D 30-50% slower.
Tested with long running (sequential) search in a text field on 1 million records. After 30 seconds CPU was busy with about 50% and running on 1.7 GHZ and kept this level. Changing to "high performance" energy setting pushed the CPU usage to 100% and 3.4 GHZ.
This was even visible in the progress bar, it moved visible faster.
Long running backup changed from 24 minutes to 14 minutes.
With balanced energy a "not busy" CPU might run with 5% max speed. With high performance setting and speed it is kept at 100% as minimum.
How are your experiences with energy setting and speed?
Some links to read about:
https://support.microsoft.com/en-us/help/2207548/slow-performance-on-windows-server-when-using-the-balanced-power-plan
https://docs.microsoft.com/en-us/windows-server/administration/performance-tuning/hardware/power/power-performance-tuning

Balanced (recommended)
Default setting targets good energy efficiency with minimal performance impact. General computing Matches capacity to demand. Energy-saving features balance power and performance.
High Performance
Increases performance at the cost of high energy consumption. Power and thermal limitations, operating expenses, and reliability considerations apply. Low latency apps and app code that is sensitive to processor performance changes. Processors are always locked at the highest performance state (including "turbo frequencies). All cores are unparked. Thermal output may be significant.
https://blog.sqlauthority.com/2015/04/27/sql-server-using-high-performance-power-plan-for-sql-server/
If a server requires ultra-low latency, invariant CPU frequency, or the very highest performance levels, such as a database servers like SQL Server, it might not be helpful that the processors keep switching to lower-performance states. As such, the High Performance power plan caps the minimum processor performance state at 100 percent.
https://straightpathsql.com/archives/2016/12/power-saving-settings-killing-sql-server-performance-quick-tip/
In essence, the CPUs will run at a lower clock multiplier when demand isn't deemed high enough, and that clock speed will only increase when demand is high enough for long enough. This results in a slower CPU speed during normal operations. That setting actually works well on my laptop or tablet when I want to conserve battery life and don't have a workload that is sensitive to CPU speed.
For a SQL Server, though? That is horrible for performance. Windows balanced mode also can cause other components to run slower or behave differently than when the server is running in High Performance mode. For instance, USB ports can be underpowered and network interfaces can be under-powered or even go to sleep. Frankly, for a SQL Server, nothing good comes out of these modes.
December 11, 2018 10:09 am | by Archana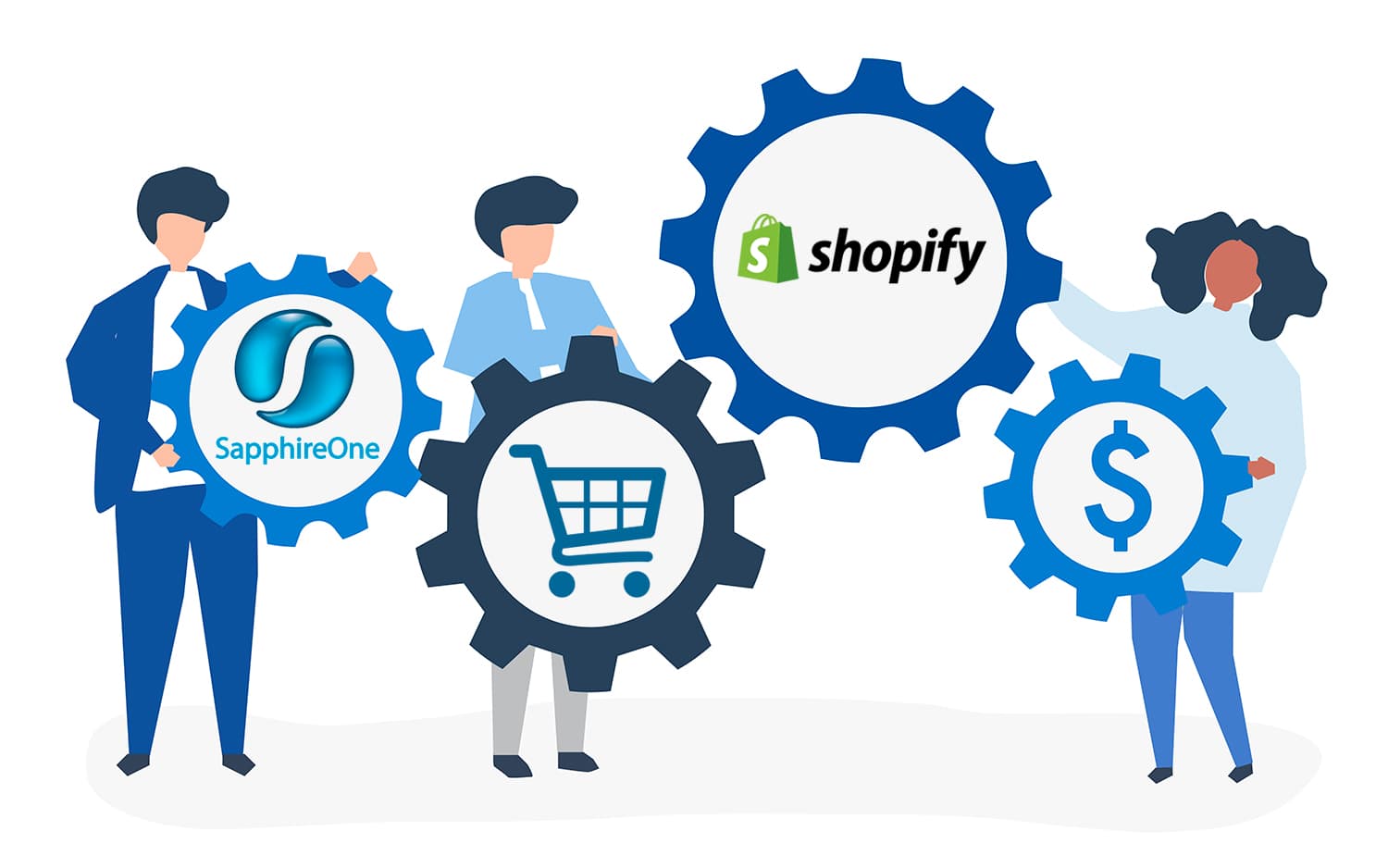 SapphireOne ERP with Shopify- Shopify is a complete e-commerce software platform that allows you to set up an online store, and provides everything you need to sell online, on social media or in person. SapphireOne ERP is a a complete all-in-one accounting software suite.
A Robust Interface of SapphireOne ERP with Shopify helps you to grow your business
SapphireOne ERP Business Accounting Application has the ability to connect your Shopify online store with our SapphireOne application.
More and more B2C and B2B eCommerce merchants are building platforms for their online stores, so SapphireOne has programmed an integration between Shopify and the SapphireOne ERP. Online and back-office systems are integrated via SapphireOne, allowing tasks such as ordering, invoicing, inventory stock updates to be automated and in the one database. This helps your business grow by providing better customerservice and delivery.
Generate Revenue
With SapphireOne and Shopify integration you can sell more without working harder, as Shopify can be a new sales channel for your business to generate revenue. Before you had the tedious task of manually transferring every order into an ERP system, but with SapphireOne it is now automatic.
Start Selling Online Now
The SapphireOne and Shopify integration is a great solution for online stores because your Shopify store is linked directly to your back-end ERP system. Hence, all business processes are managed directly from SapphireOne ERP Business Accounting Application. Shopify gives you a unified platform to sell your products and run your business. Everything from marketing to payments, secure checkout, shipping and accounting needs can be handled through Shopify and SapphireOne.
100% Protection
Your data is safe. SapphireOne is certified for ISO 27001-Information Security Management System. Recent release of SapphireOne Version 17 offers more feature rich functionalities and enhanced data security. On the other side, for your online store, Shopify handles everything from payment to secure checkout. All the data flows between Shopify and SapphireOne is guaranteed 100% safe.
For more information regarding improvements and features within the latest release of SapphireOne ERP Business Accounting Application please contact our office on (02) 8362 4500 or request a demo.
July 31, 2018 3:56 pm | by Archana

Welcome to the NSWACT Alpine State team.
We would like to thank SapphireOne for sponsoring the Team Vest once again this year and look forward to their ongoing support.
Athletes in the picture below represent some of the members of the FIS Open team, FIS Junior team and the Children's team, with a complete list of all Team members below. The Team night was recently held at Candlelight Lodge Thredbo Village and kindly hosted by owners John and Megan Leggett. John was also our official photographer for the night. NSWACT Alpine President Patrick Heller welcomed athletes and their families and acknowledged their achievements over the previous twelve months.
Congratulations to all team members who have raced and trained successfully both domestically and internationally over the last 12 months. Many of the Team members were unable to attend the evening as they are already overseas training in the Southern Hemisphere and preparing for races in resorts such as Round Hill, Mt Dobson and Coronet Peak in New Zealand, Perisher Valley and Thredbo Alpine Resort, Australia and Chile. First race on the FIS AUS/NZ calendar is this week at Cardrona where they will run the Tech Series Slalom and GS events. It is good to see team member Jack Adams found time for a quick surf in eight degree water in Dunedin while on the road between Tekapo and Queenstown.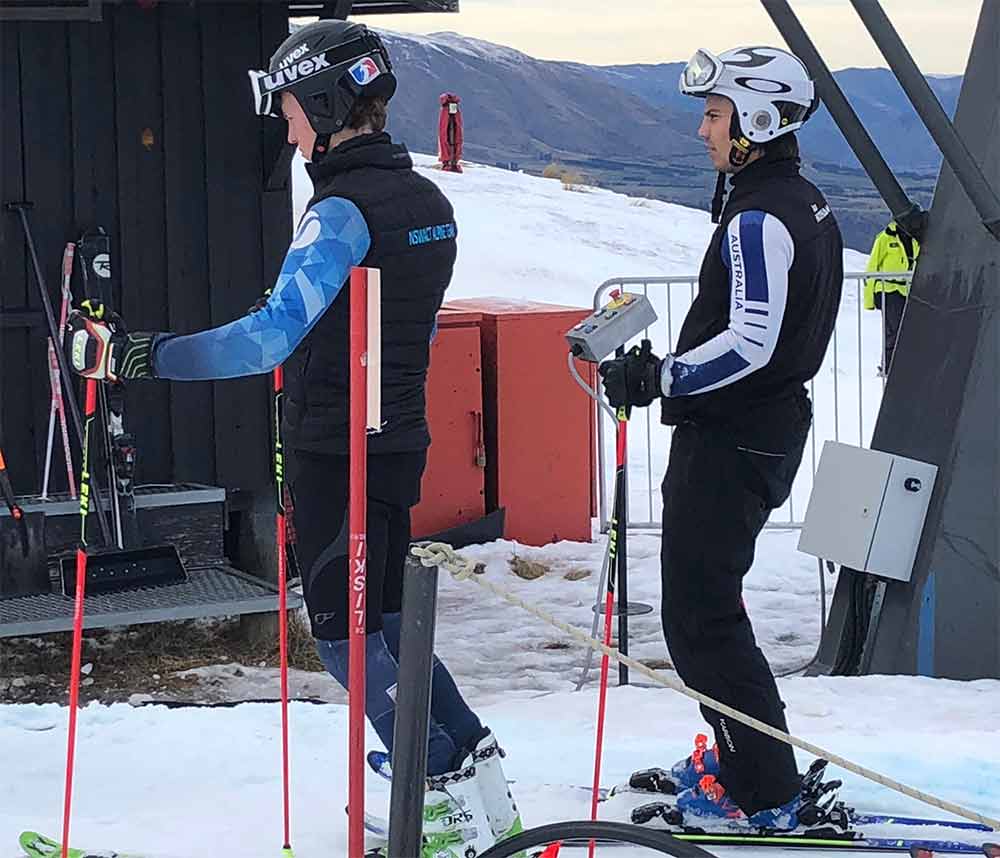 At Coronet Peak in New Zealand, team members Jack Adams and Theo Coates are excited to be training alongside Alpine Olympians Harry Laidlaw (Australia), Adam Barwood (NZ), Willis Feasey (NZ) and Alice Robinson (NZ). Jack and Theo have been fortunate enough to stay in the home of Adam Barwood for the last two weeks and live and breathe what it takes to become an Olympic athlete. Other members of the SapphireOne Team, Shaun Findlay and Connor Leggett arrived in New Zealand last weekend and the team will move to the Team House "Little Farm" in Arrowtown Queenstown. Team members Hugh McAdam and Warwick Crawford are finishing their Year 12 studies in Australia and will join the team later the year.
Meanwhile back in Australia members of the NSWACT Childrens Team have been competing last weekend in the Thredbo Race Club TSRC Cup. This is the first of the major events on the Children's Race Calendar in Australia, to be followed by the Blue Cow Cup at Perisher Blue and the Children's Festival Ski and Snowboard Australia race at the end of the season in Thredbo.
Best wishes to all athletes for the coming year and we look forward to watching their progress.

NSW/ACT Alpine FIS Open Team 2018
Women
Madison Hoffman
Zali Offord
Sammie Gaul
Men
Jack Adams
Theo Coates
Henry Heaydon
Liam Michael
Connor Leggett
Ned Neill
Hugh McAdam
NSW/ACT Alpine FIS Junior Team 2018/19
Women
Lucy Neill (Injury Status)
Bridget Lennon
Zanna Farrell
Adele Selig
Zara Gardiner
Alexandra Manning
Antonia Murphy*
Zoe Michael*
Lara Agnew*
Isabella Davis*
Men
Tom Davies*
Thomas Hoffman*
Finn Sadler*
Jasper Cobcroft*
*Provisional to October 2018 review
NSWACT Alpine Children's Team 2018 (Updated June 26, 2018)
2003 or 2004 Female
Penelope Hughes
Kyra Wheatley
Letitia Murphy
Josie Baff
Jacqueline Davis
2003 or 2004 Male
James Huon
Laidley Dowling
Joey Steggall
Harry Hoffman
Benjamin Wynn
2005 Female
Abbey Davis
Sienna Huon
2005 Male
Ruben Mead
Romeo Atra