July 13, 2018 10:38 am | by Loren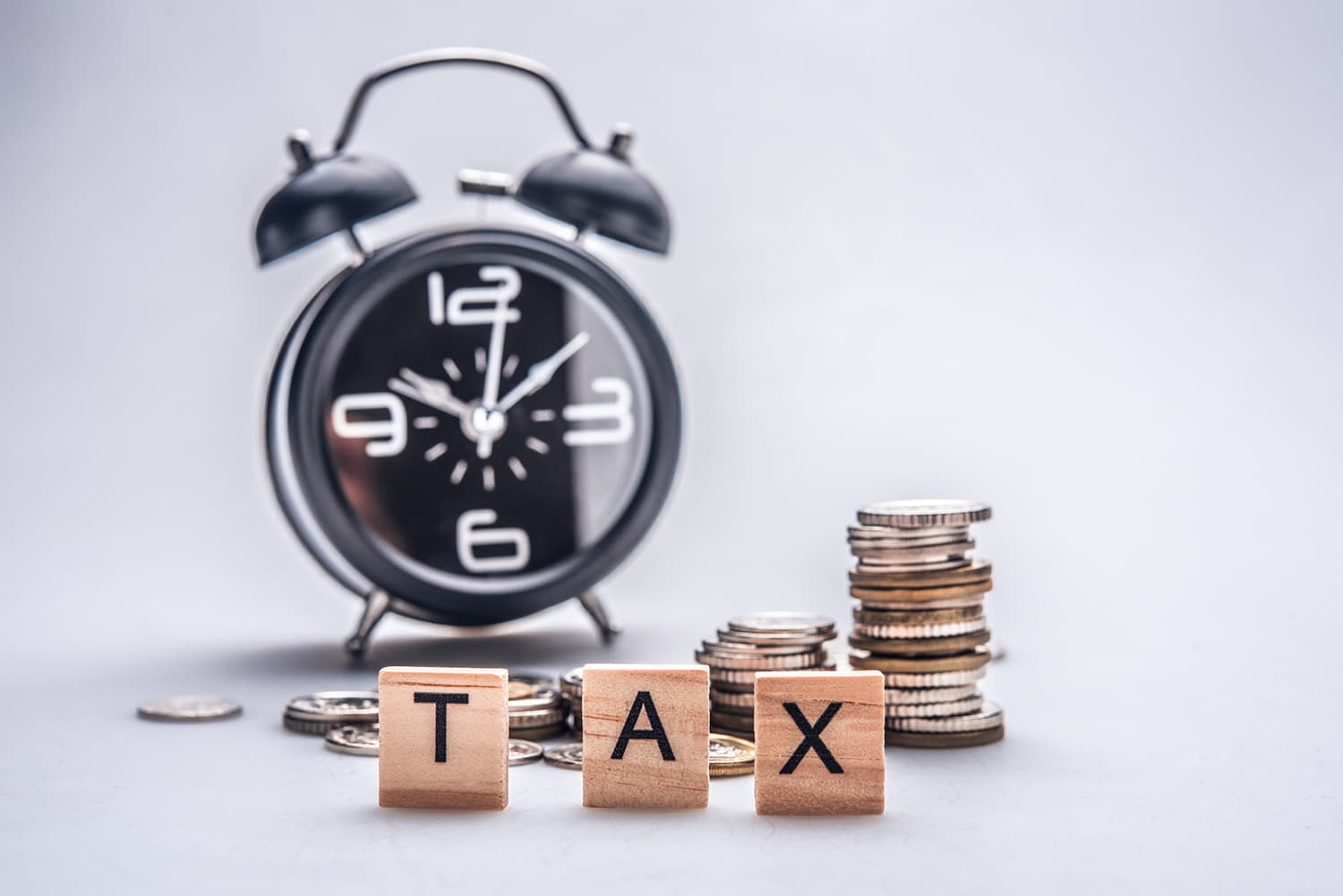 At the end of financial year whether you are in Australia, New Zealand or anywhere in the world, all companies have tax obligations. The requirement to produce your Profit & Loss and Balance Sheet at the end of the financial year is mandatory for all businesses and organisations.
A financial year (or fiscal year, or sometimes budget year) is the period used by governments and their tax agencies for accounting and budget purposes, which vary between countries. It is also used for financial reporting by business and other organizations. Laws in many tax jurisdictions/countries require company financial reports to be prepared and published on an annual basis, but generally do not require the reporting period to align with the calendar year. The End of Financial Year (EOFY) is the date that marks the end of the financial year.
The calendar year is used as the financial year by about two thirds of publicly traded companies in the United States and for a majority of large corporations in the UK and elsewhere, with notable exceptions being in Australia, New Zealand and Japan. In Australia the End of Financial year generally falls on June 30th, New Zealand ends their financial year on March 31st. Some organisations and companies follow the USA end their financial year which is often on the same day of the week each year, for example, the Friday closest to 31 December. Under such a system, some fiscal years will have 52 weeks and others 53 weeks.
Taxation laws generally require accounting records to be maintained and taxes calculated annually, which usually corresponds to the financial year used by the government. The calculation of tax on an annual basis is especially relevant for direct taxation, such as company income tax. Many annual government fees and levies—such as Council rates, licence fees, etc. are also calculated on a financial year basis, while others are charged on an anniversary basis.
Many educational institutions have a financial year which ends during the summer to align with the academic year (and, in some cases involving public universities, with the state government's financial year), and because the university is normally less busy during the summer months. In the northern hemisphere this is July to the next June. In the southern hemisphere this is calendar year, January to December. Some media/communication-based organisations use a broadcast calendar as the basis for their fiscal year.
Whatever the size of your business and tax obligations, you must report and pay any amount due to the ATO, this includes Superannuation and GST, VAT or Sales Tax reporting. It is essential to lodge tax return accurately in order to achieve the maximum business offset and possibly even receive a tax refund.
By managing everything from Financial Reporting, Inventory Control, Assets, Job Projects, Payroll/HR to Bank Reconciliations, SapphireOne ERP CRM DMS can give you more time to do the things that matter, such as developing new strategies and thinking in your business or organisation.
SapphireOne helps you to prepare and lodge tax return
SapphireOne helps you calculate GST and seamlessly lodge your Business Activity Statement (BAS) Standard Business Reporting (SBR2), pay employees and track your PAYG and Superannuation.
SapphireOne ERP CRM DMS can generate comprehensive reports to help you prepare and lodge tax return. Effortless reporting of SapphireOne can help you to get the right data at the right time including Year to Date (YTD) financial reports, PAYG payment summaries, Profit & Loss and Balance Sheet reports. That's why Alison Phillips from Moyle Bendale Timber said in her testimonial that "SapphireOne is a RocketShip because of its excellent reporting."
For a sneak peek at the full capabilities ERP, CRM, Accounting Software, Human Resources, Payroll, Assets and Document Management,  check out SapphireOne and request a live demo, it is everything you'll ever need to make your company management a success. Know more about us.
July 11, 2018 10:34 am | by Linda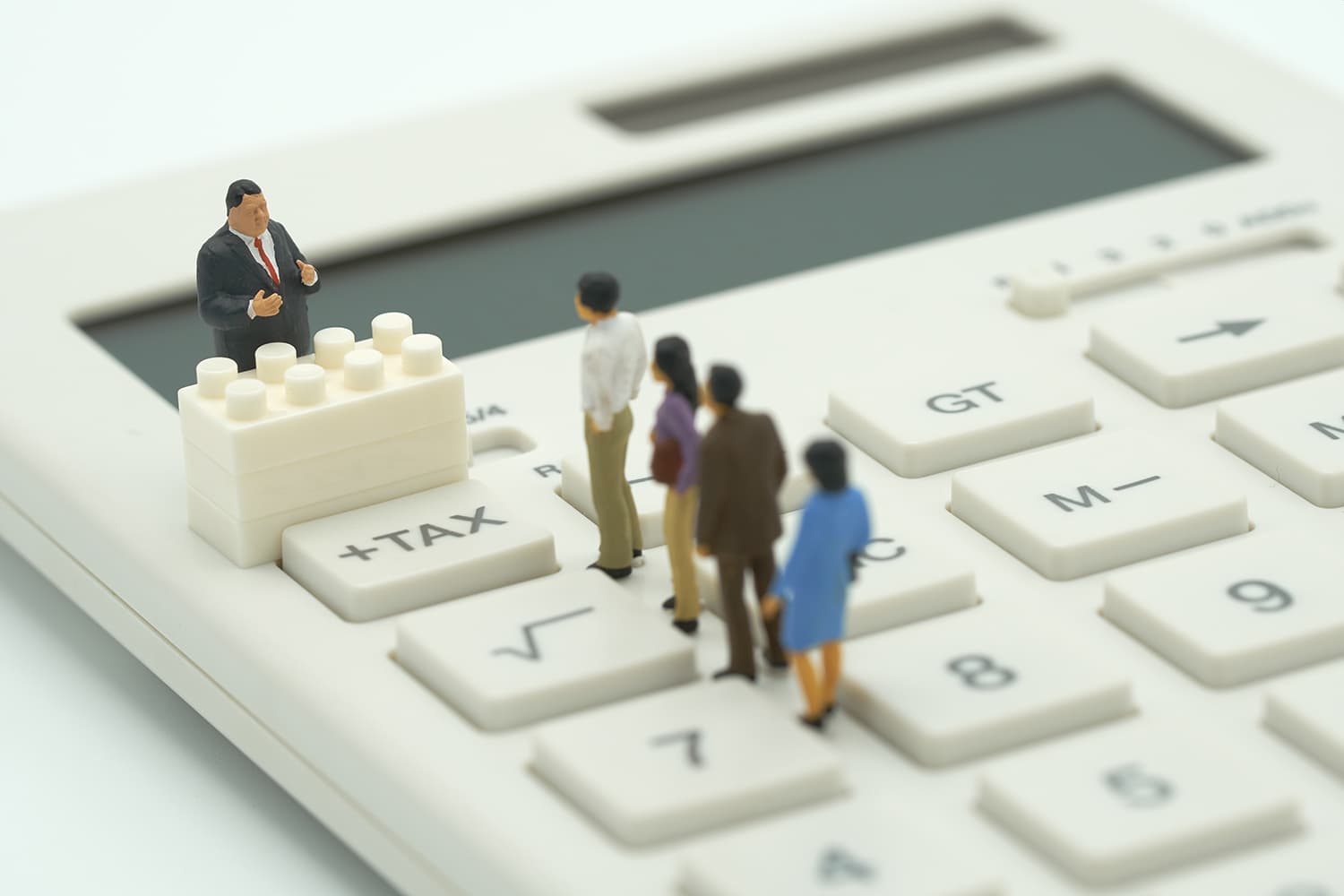 The Australian financial year typically starts from 1st July and ends on 30th June. The 30th June is also known as end of financial year when businesses start preparing their financial reports in order to submit their financial position to the Australian government. In New Zealand the end of financial year is on 31st March, in the United States of America the financial is typically the last Friday of December.
Documents needed for end of financial year
A range of documents are needed to assess the tax obligations of your business such as Income Statement, (also known as the Profit and Loss P&L) and Balance sheet.
The objective of financial statements is to provide information about the financial position, performance and changes in financial position of an enterprise that is useful to a wide range of users in making economic decisions. Financial statements should be understandable, relevant, reliable and comparable. Reported assets, liabilities, equity, income and expenses are directly related to an organization's financial position.
Countries over time have developed their own accounting methods and principles, making international comparisons of companies difficult. To ensure comparability and uniformity between financial statements prepared by different companies, a set of guidelines and rules are used. Commonly referred to as Generally Accepted Accounting Principles (GAAP), these set of guidelines provide the basis in the preparation of financial statements.
SapphireOne ERP CRM DMS can support unlimited number of companies in unlimited tax jurisdictions in one data file. SapphireOne also support multiple foreign currencies and unlimited number of foreign bank accounts, supporting all your foreign exchange (FX) requirements.
Income statement / Profit and Loss (P & L)
The Income Statement or Profit and Loss (P & L) measures a company's income and expenses during a specified period of time. A profit and loss statement provides information on the operation of the enterprise. These include sales and the various expenses incurred during the stated period.
The Income Statement is one of the most important financial statements a business or organisation issues annually, along with the balance sheet and the cash-flow statement.
SapphireOne ERP CRM DMS has the ability to run the current year versus last year reports, or if required up to ten years historical data on the one report.
SapphireOne also has the ability to copy last year's actual general ledger balances into the current year's budget.
Balance sheet
The company Balance Sheet represents company's financial position, which is important at the end of financial year. The Balance Sheet outlines the total assets, liabilities and owner's or stockholders' equity at a specified point in time. Assets the business owns, such as vehicles, plant and equipment, property, intellectual property and cash in the bank are included on the Balance Sheet, depreciation of these assets is included on the Income Statement (P&L). Liabilities include your creditors, payroll obligations such as employee's annual, carer and long-service accrued leave.
SapphireOne ERP CRM DMS financial reporting has the ability to export data to spreadsheet and also import data to the general ledger budget via the Sapphire API gateway.
For a sneak peek at the full capabilities ERP, CRM, Accounting Software, Human Resources, Payroll, Assets and Document Management, check out SapphireOne and request a live demo, it is everything you'll ever need to make your company management a success. Know more about us.
June 12, 2018 10:22 am | by Loren

Innovation in the Enterprise Resource Planning – ERP Application world is a very mature marketplace.
Some of the ERP vendors have been developing their applications for close to forty years, so true world class ground-breaking innovation development in these mature markets are rare and seldom. SapphireOne ERP Accounting provides Top 10 innovations in ERP.
Top 10 Innovations in ERP Application market :-

Document Management System (DMS)
An ERP application with document managing capabilities grants you the ability to conveniently sort and manage vast caches of transaction documents with ease in the shortest time possible. No longer will time be spent on unproductive activities like document filing and searching, the document management system will do all these in real-time.
Not only do you reduce running costs through decreased expenditure on paper and other stationery, your employees can focus on other more productive tasks. By reducing your paper consumption you're also making your business eco-friendly.
A document management system allows you to implement a stratified documents and sensitive information access protocol. With this framework in place, you can effectively specify and monitor who has access to the documents.
HTML Web Server in A Client/Server application
SapphireOne provides a Web Pack solution with Top 10 innovations in ERP. This is a HTML webserver in-built into SapphireOne server which allows the ability to do data entry, client lookup, vendor look up and other functions from any device that supports a browser such as iPads, iPhones etc. SapphireOne Web Pack also provides the ability to set up and run unlimited Point of Sale (POS) web based stores.
Softphone Integration CRM
A Softphone is a software phone that enable users to call any telephone number without a physical telephone.  The Softphone works in many ways such as Computer to Computer or phone to phone where VoIP telephone & adapter is required. Softphone is the bridge between VoIP network and telephone line or mobile network.  It enables users to make a call between computer to a phone network and phone network to computer, when you have a dedicated number to receiver call.
The biggest benefit of having a Softphone is you can call any employee, client or supplier without having to worry about software matchup or whether or not they are online. It is a perfect solution for remote employees. A significant part of SapphireOne's functionality is Customer Relationship Management (CRM). Inside SapphireOne CRM package, Softphone has been fully integrated into all aspects of the SapphireOne application. Whether you are calling clients, vendors, employees, or other contacts, all this can be driven from a single click on the softphone icon. This instantly keeps a date & time stamp with the ability to record the call. This built-in functionality can bring immense advantages in managing relationship with vendors, clients and employees.
EDI/API Integration
To manage orders and pay vendors on time, large organisations use electronic data interchange (EDI). EDI decreases the order-to-cash cycle time, i.e. suppliers to retailers get paid faster. This helps to maximise efficiency and minimise errors. EDI improves speed, accuracy, security and trade communication. More than just a data format, EDI is a system or method for exchanging business documents with external entities and integrating the data from those documents into your internal systems. Without EDI capabilities, a business has a greater risk of revenue loss from chargeback penalties, loss of opportunity to the processing delay, loss of reputation and credit with customers.
SPS Commerce's fulfilment EDI has hundreds of document types covering most transaction types that are commonly used among vendors and suppliers. With a singular focus on the retail marketplace, SPS commerce has revolutionised traditional EDI systems, by developing a model that is the most cost-effective and reliable in the industry.
Barcode Scanning
Data synchronisation in the core ERP application is the biggest concern in Warehouse management or Inventory Management business.  Barcode scanners automate the process of inventory management and stock control process. This eliminates the need for manual data entry and checklist evaluation process.
Barcode scanners are usually used to sell the product or to make inventory of the selected product. Scanner will help you to record all the information about the product and thus, streamlines the inventory management process. With Sapphire WebPack Solution all inventory management processes will be available out of the box, and there is no need to separately integrate ERP and barcode scanners.
Material Resource Planning MRP
Material Resource Planning (MRP) is a computer based inventory management system. MRP generates time-based manufacturing and purchasing plans for optimal inventory availability which is tied to historical data of customer demands. MRP is a subset of ERP for managing manufacturing requirements using integrated production planning and inventory controls. The main theme of MRP software is to "get the materials to the right place at the right time". In any inventory management, regardless of the level of sophisticated technology used, the Saw Tooth pattern is followed. In this pattern there is a certain amount of inventory that you start with, then you consume it, stock levels drop, you reorder the stock, you receive this stock and the process continues.
SapphireOne ERP Application Dashboard
The ERP application Dashboard goes by many names. You most likely would have heard them being called Business Intelligences (BI) or Performance Indicator Dashboards. Regardless of the name, these features do one thing – present business statistics and performance indicators in a visually attractive and graphically intuitive interface. The SapphireOne ERP dashboard utilises graphs, bar charts and other visually engaging design elements that provide a succinct overview of a business's financial standings.
Single Touch Payroll (STP) & Standard Business Reporting (SBR2)
From 1 July 2018, it is compulsory for all businesses with over 20 employees to report to the ATO after each pay event.
Single Touch Payroll (STP) aligns your reporting obligations of your payroll processes. The information you send the Australian Taxation Office (ATO) will include your employees' salaries and wages, allowances, deductions (for example, workplace giving) and other payments, pay as you go (PAYG) withholding and superannuation information. SapphireOne is fully integrated with STP.
Standard Business reporting (SBR2) allows you to access and download your Business Activity Statement (BAS) directly from the ATO. This function can prefill the form with your BAS document number and other relevant fields.
PDF capture
The task of processing supplier invoices includes sorting documents, manual data entry and archiving the paperwork, this can be time consuming and inefficient. With SapphireOne PDF capture these negative effects can be easily avoided. SapphireOne uses the Optical Character Recognition (OCR) technology in PDF capture function that takes a paper document, usually an invoice, scans and "reads" it and turns it into metadata that can be used to populate fields in a database.
SapphireOne's PDF capture function can help you streamline daily accounting tasks. Currently, few vendor invoices are processed through Electronic Data Interchange (EDI) which means that majority of vendor invoices are still received as PDF documents or paper. This makes the processing of capturing the data from a vendor invoice slow and inefficient. Mistakes in classification and data entry lead to late payments, missed discounts, deteriorating relationships with suppliers and cost overrides.
Material Safety Data Sheets
Any organisation or enterprise that is storing products as simple as food, motor vehicle fuel, and farm fertiliser, to dangerous products such as chemicals, pharmaceuticals, radioactive or explosive materials require Material Safety Data Sheets (MSDS).
SapphireOne inventory has integrated MSDS into the Inventory module which offers 30 unique alphanumeric fields, 10 unique numeric fields and 10 unique date fields which are fully customisable.
December 14, 2017 2:13 pm | by Rubai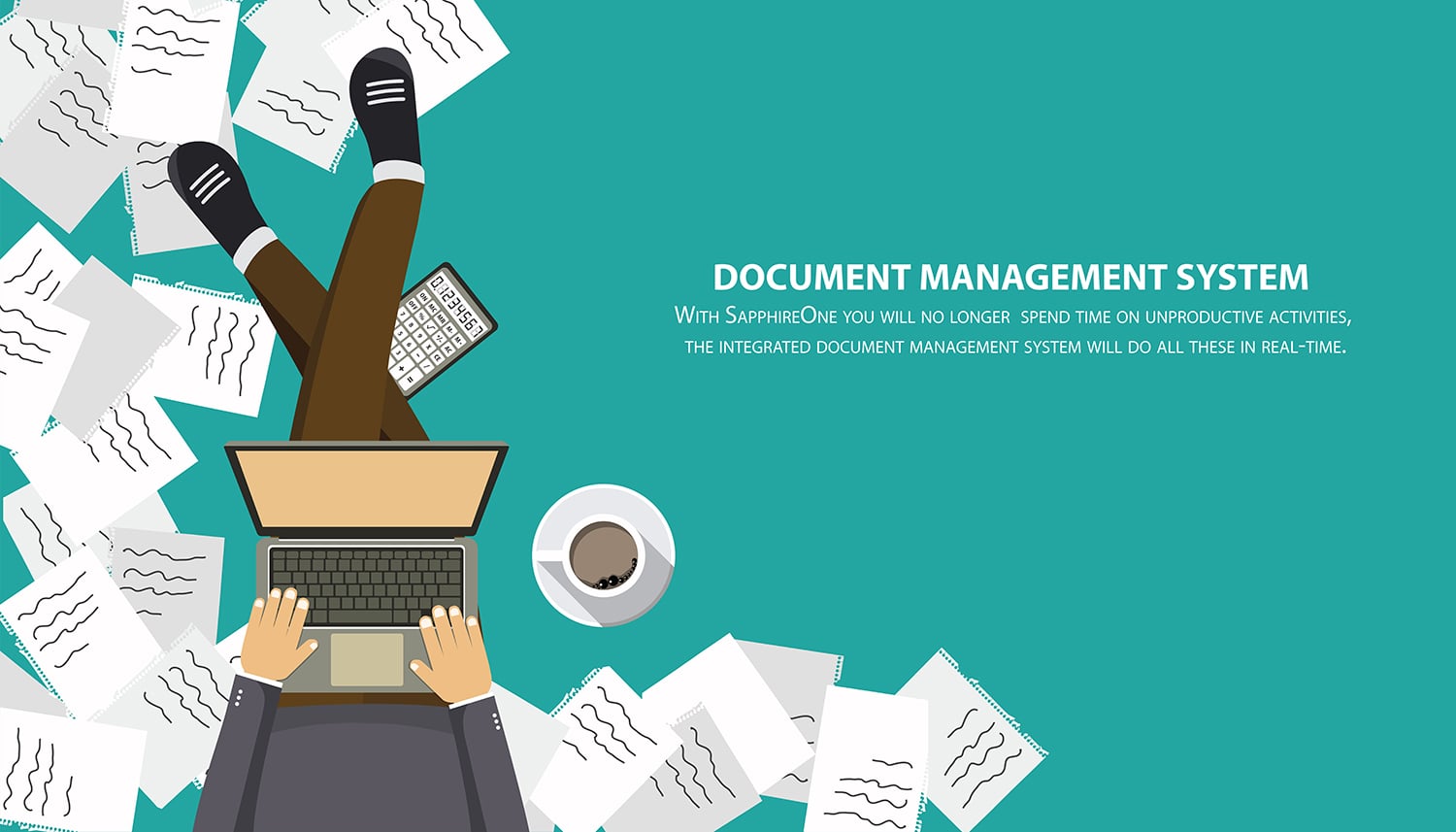 Transactions usually come with paperwork – sometimes tons of it depending on the transaction type. Managing these transactions is one thing, but sorting out their accompanying paperwork is another thing entirely.  For that, you'll be needing an ERP module with Document management capabilities.
An ERP framework is a versatile accounting tool that helps in modulating different segments of day to day business; from processing orders to managing inventories, shipments and the likes. It is in very simple terms the Swiss army knife of business management. A document management module on the other hands makes the business of handling, sorting and filing important documents nothing short of a breeze. Together these two work hand in hand to facilitate efficient and effective management of businesses.
The Benefits of Integrated Document Management System
But why exactly should you adopt an ERP system like SapphireOne and its Document management system? Here's why;
   1.You're going to be saving a lot of time and effort
Like was already stated, an ERP system with document managing capabilities grants you the ability to conveniently sort and manage vast caches of transaction documents with ease in the shortest time possible. No longer will time be spent on unproductive activities like document filing and searching, the document management system will do all these in real-time.
   2. Fluidity and Departmental Integration
With a Document Management capable ERP system, your business can function as one big beehive, interconnected at all fundamental levels and sharing information in real time. Employees in customer service won't need to walk up to the accounts department to retrieve inventory, location, tax, customer details or any other relevant information for that matter. They will all be available at the click of one button in the ERP dashboard.
   3. Privacy and security
A document management system allows you to implement a stratified documents and sensitive information access protocol. With this framework in place, you can effectively specify and monitor who gets access to what documents. Want to restrict access to some records to only senior employees? Easy, just lock the records in question and provide the login parameters to the selected employees.
 4. Cut Down your management bills
Unlike manual methods of organizing and managing transactions and business paperwork, an electronic document management system shaves off the need for excess paper. What's more, it requires fewer staffers to manage. Not only do you get to tone down running costs (decreased expenditure on paper and other stationeries), your employees can focus on other more productive tasks. And then there's the fact that by reducing your paper consumption you're also making your business eco-friendly.
Finally, Document management compatible ERP systems like SapphireOne improves your decision-making skills. Ease of access to relevant information sets as it pertains to sales, general transactions, and business expenditure allows you to cogently weigh all options before committing to a particular decision. Better decision-making skills ultimately translate to better decisions, and in the long run, it is the cumulation of such critical decisions that determine the fate of a business.
Want your business to excel in the nearest future? It's high time you adopt SapphireOne ERP CRM Accounting Software Feel free to contact us or request a  live demo.
More Info : https://www.sapphireone.com/home/dms/