February 26, 2018 3:50 pm | by Loren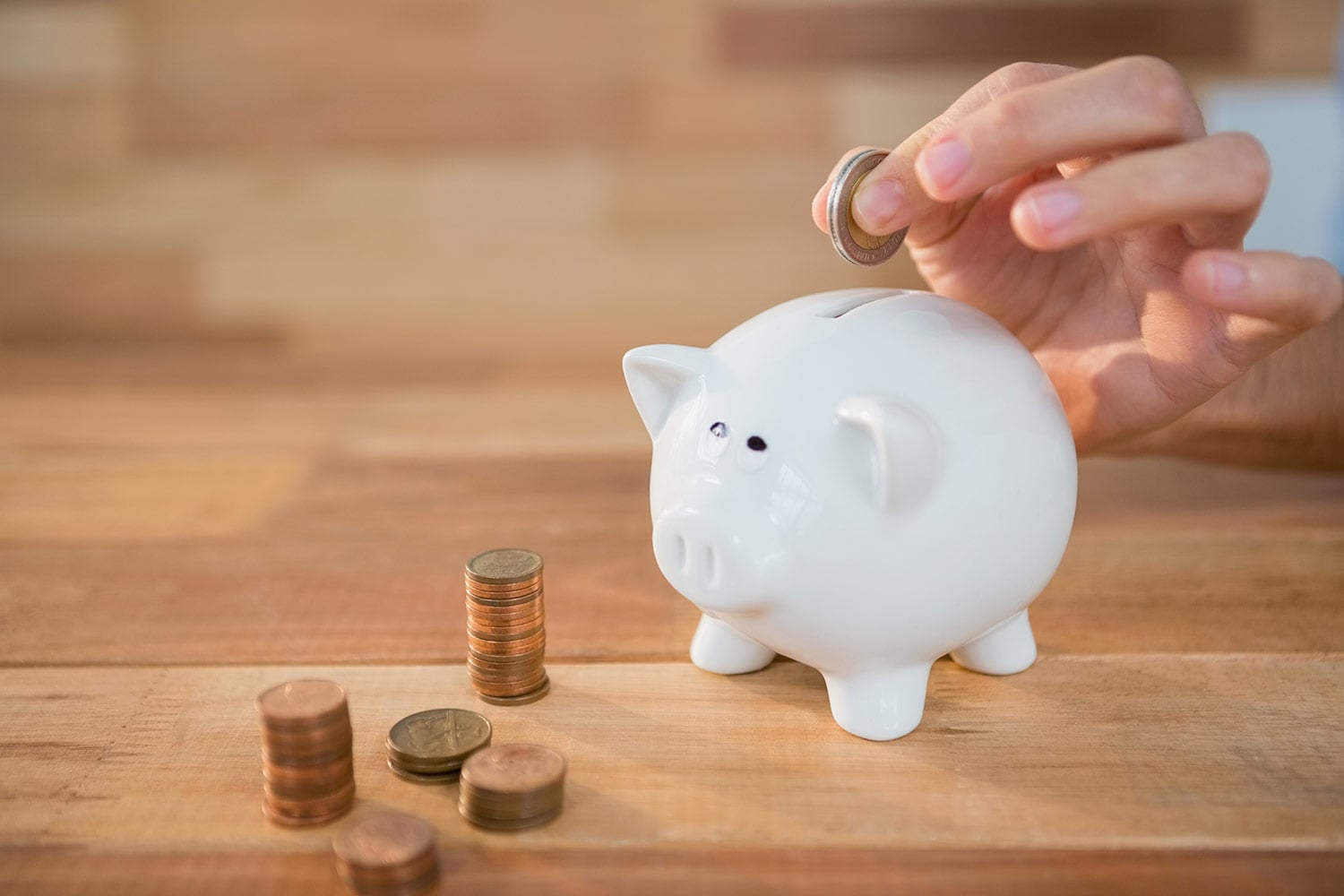 Organisations look out for ways to improve their productivity, save time, save money and manage their overall business. Enterprise Resource Planning is a management tool that manages all data in the organisation. ERP in the recent times has been an important factor for the business growth. It streamlines the processes and improves the organisation's performance. ERP Accounting Software has been utilised in various accounting tasks of payroll, inventory management, purchasing, sales etc. ERP Accounting Software saves a lot of time and money for the company.
 How to save time and money using Modern ERP Accounting Software
Employees prefer mobile accessories over the age-old desktops. Availability of a modern ERP accounting software helps the employees to work from anywhere, for example they can generate electronic invoices on the go and save time.
Forecast the financial growth of your company effectively using ERP accounting software. Forecast your daily, monthly or annual sales. With the use of ERP accounting software, the employee can easily forecast the inventory needed based on the previous trends.
Retrieve information whenever you want, make real-time decisions and improve performance using ERP accounting software. Modern ERP Accounting has helped to integrate accounting software with smartphones and tablets making the data more accessible.
Cut your company's operational costs using ERP, with the maintenance of data at a centralised place it helps in streamlining the functions of various departments in the organisation. Making your operations paperless will save you money.
Reduce the unnecessary costs that are involved due to delayed decisions using ERP accounting software. Don't get delayed in tax filings, calculations etc.
Payslips, statements, invoice reports, maintenance bills etc. can be generated on the go with ERP, saving you lot of time and money.
ERP makes Account Management easy for the employees with readily available data. Improve the productivity of the employee using ERP, thereby improving the performance of your company.
Manage the inventory effectively and minimise your maintenance costs using accounting software.
Stay ahead of competitors using the ERP software. Manage the company's audits, integrate with the government tax systems using ERP.
Protect your company's confidential financial information and financial performance using ERP accounting software. It keeps all transactions safe by customised access to the company's data.
For a sneak peek at the full capabilities ERP, CRM, Accounting Software, Human Resources, Payroll, Assets and Document Management,  check out SapphireOne and request a live demo, it is everything you'll ever need to make your company management a success.
February 23, 2018 3:30 pm | by Loren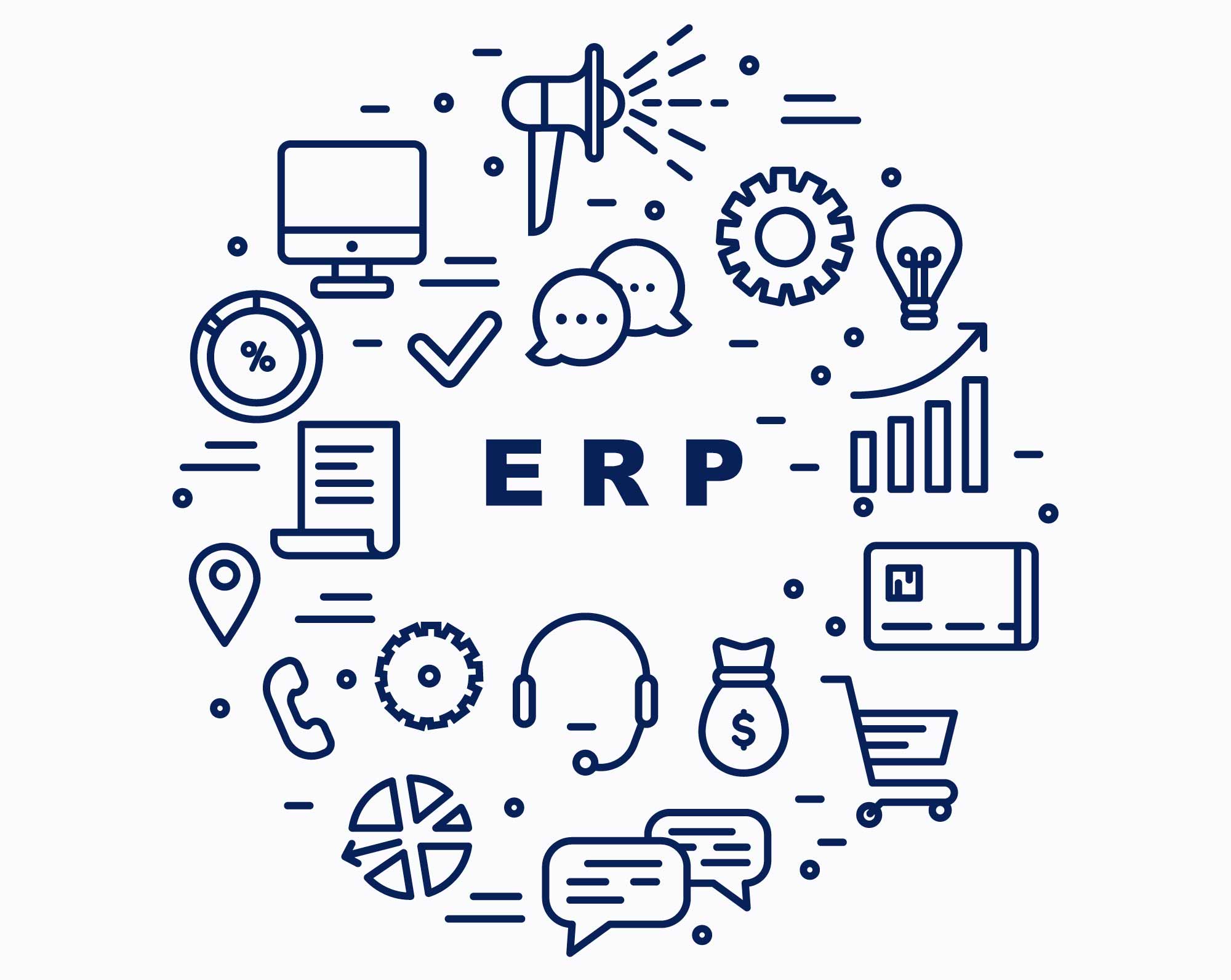 Technological changes are growing at a rapid pace and the minute we buy a new software there comes a more sophisticated one. It's a challenging situation both for the employees and employers and the companies are realising the importance of staying updated with the latest trends.
Enterprise Resource Planning helps the companies to make effective and real-time decisions thereby strengthening the organisation's profit. There are many factors that can influence the future of ERP. A leader in providing Accounting Software, Payroll Software, CRM Software, ERP software.
SapphireOne believes that the following factors will play an important role in the future of ERP.
User-friendly Enterprise Resource Planning System
Employees are looking for a more user-friendly Enterprise Resource Planning system that will solve their practical problems. Companies are developing Enterprise Resource Planning software with superior architecture and slick designs. The demand for a pro-active and next-gen Enterprise Resource Planning system is never-ending. This puts a lot of pressure on the ERP suppliers to give the customer the swiftest and most attractive Enterprise Resource Planning software. Today's workers are better equipped to face the technological changes and they should be supplied with the best Enterprise Resource Planning.
Mid-market ERP
It's the era of 'Smart' products and today's employees want to use their Enterprise Resource Planning technology anytime, anywhere. Nowadays companies are opting for accessories that they can use on the go, like opting for mobiles over desktops. Mid-market ERP solution gives you uninterrupted access to your data and in turn influences the decision makers. For Example, business people need an Accounting software that helps them save time by making invoices on the move.
Customisation
Mid-size organisations are in need of a customised ERP software that will easily help them in managing operations, sales, accounts, inventory etc. The mid-size companies are looking for a cost-effective Enterprise Resource Planning that is user-friendly and that will help them to compete with the bigger organisations. For example, many businesses need a Document Management System to maintain their records easily and keep them updated.
A challenge for the suppliers is to come up with a flawless Enterprise Resource Planning software that can be easily integrated and easily implemented. SapphireOne provides the clients with most savvy and smooth ERP, CRM & Business Accounting Software. Seize the benefits of SapphireOne ERP software.
January 8, 2018 12:06 pm | by Loren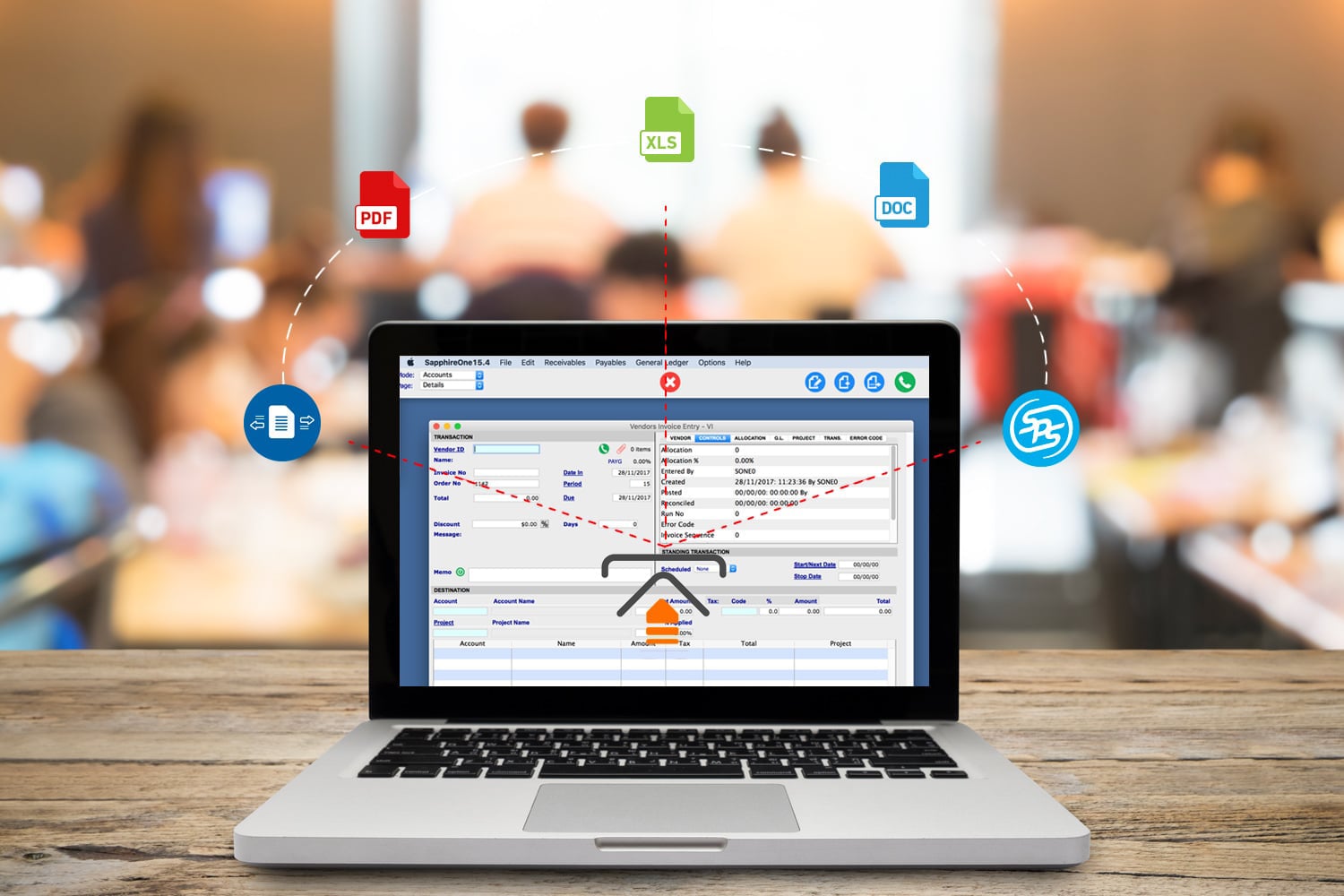 Business leaders increasingly understand the potential of API's, but still too few understand the need for API Tools. An API Tool is a necessity in today's digital world. API stands for Application Protocol Interface. An API is a software intermediary that allows two applications to talk to each other. Therefore, a good API makes it easier to develop a program by providing the building blocks for communication. API Gateway is a powerful tool that provides an efficient, accurate, and cost-effective method for CRM data integration from your web portal to your software, or online database. Integration with an API system saves time and improves your efficiency. Application Protocol Interface make data available for use by apps and the developers that create them. They allow enterprise assets to be accessed by apps, and they are the tool that enterprises use to add a digital layer to their interactions with customers, employees and partners.
In the simplest terms, Application Protocol Interfaces are sets of requirements that control how one application can integrate with another. APIs aren't at all new, whenever you use a desktop or laptop, APIs are what makes it possible to move information between programs – as an example by cutting and pasting a snippet of a document into an Excel spreadsheet. System-level APIs makes it possible for applications to run on top of an OS like Windows, Mac and other OS's. APIs are important for business because they allow programmers to build amazing tools that help us do our jobs more effectively.
How API works?
There are many big companies like Oracle, Microsoft, SAP that provide API tools. The SapphireOne API tool improves efficiency and saves on manual data entry. Some examples are Electronic Data Interchange (EDI), Finger Print scanning, Scanning Barcodes and integration with Brand Scope. The Barcode API detects barcodes in real-time on multiple devices. With clever use of this Application Protocol Interface, you can automate various commerce, business, and publishing tasks and can integrate all kinds of apps with our platform. Entering data by hand (typing it in) is likely the most common and least efficient way to get data into a database. We won't discuss this here. Instead, we will focus on other automated or real-time methods of getting data into databases.
In a similar way, if you use SapphireOne ERP, CRM & Business Accounting Software, you can automatically import your data to the SapphireOne application. Manage an unlimited number of data sources, import templates, interfaces, product templates and data entry jobs. With the help of API interface, product data can be transferred directly to different tables and there by updated as needed. Product data can be imported from one or more data sources and this allows the regular maintenance of this data in the Database. All transfer settings and the selection of the desired products within an Application Protocol Interface export profile can be made via filters and other options.
API is a software functionality which saves time as well as money. It can import and export data both ways, unlimited data in just one click. It's very easy to convert all provided data to or from common text and XML formats. The API Tool allows you to upload, list, delete and get uploaded files as well as list unlimited data sets.
For a sneak peek at the full capabilities of an ERP CRM Accounting Software check out SapphireOne and request for a live demo, its everything you'd ever need to make management a breeze.
December 5, 2017 1:38 pm | by Rubai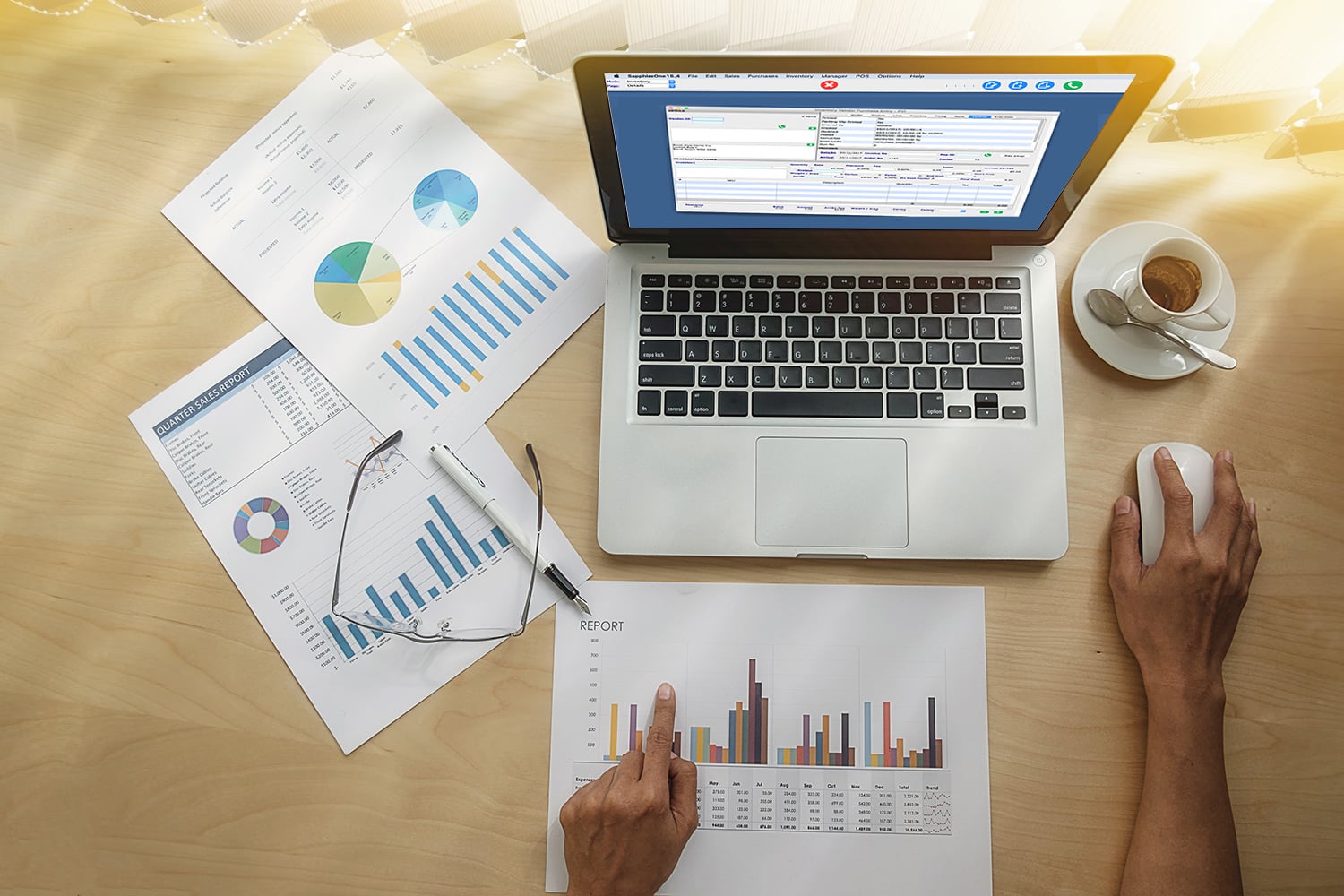 In SapphireOne all transactions that are not current are moved into a historical record which includes a complete audit trail for each and every transaction. In utilities mode there is a special function named audit trail which allows the user complete audit style tracking of all transactions in the system.
SapphireOne system provides a complete Audit Trail of Historical Records for every transaction :-
Tracking the Employees Transactional Activities
All users have a log file which records what they do and when they do it, so that any alterations made to financial records are recorded in their log file as well as in the transaction itself.
In Addition, any general ledger account that is a bank account receives specific attention in the SapphireOne system. Any changes made by employees to these banking general ledger accounts are stored in a special log file that is unable to be altered by anyone, even those with administrative privileges.  This record is not modifiable by any user and will remain a permanent part of the data file.
Better Risk Management
Large problem in the data file management is accidental or deliberate deletion of records from the data file. While quotes and orders in the SapphireOne system are able to be deleted the system, it still keeps a record of the user who deleted them. The system does not allow the deletion of any record once it is posted to the General Account. The only way to correct a posted  transaction error is to reverse the transaction, however full details of who of the user was that reversed the transaction, is recorded in the users log file.
Across the data file, the deletion of the record is not normally allowed, but they may be made inactive, so they will not be displayed, in any list of records.
From the options menu with SapphieOne application the user has a find function and within one of these dropdowns there is a display All Records option.
Once this is selected the system will display all record in the list including those that are inactive. Once the record is on screen the user may view or reactivate the record if it is allowed.
SapphireOne system provides the most comprehensive audit trail reporting functionality provided by any other ERP Accounting software in the market.
For a sneak peek at the full capabilities of an account payable system check out Sapphireone and request for a live demo, its everything you'd ever need to make your accounting system a breeze.
November 28, 2017 11:36 am | by Loren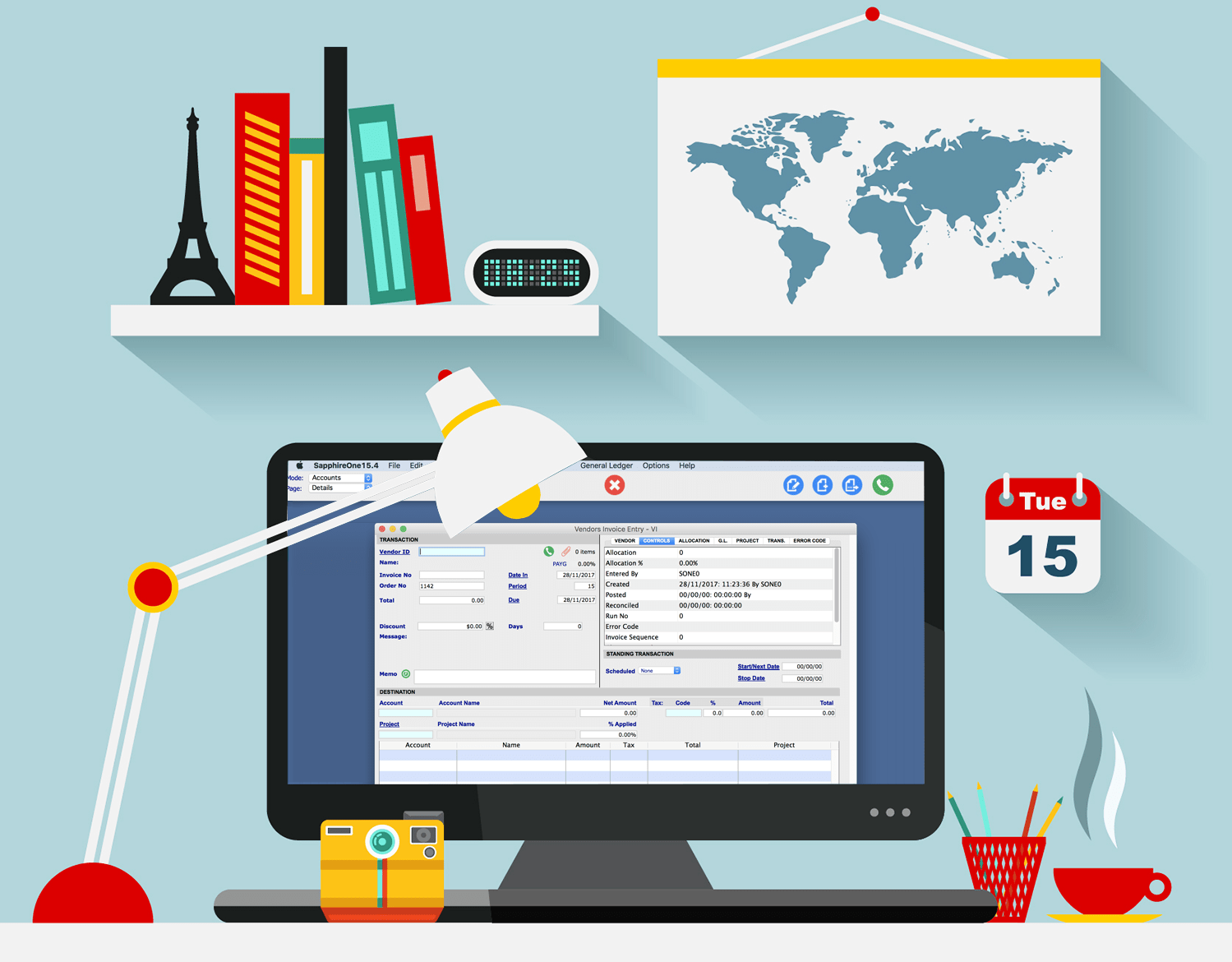 Tracking vendor invoices (bills), processing and eventually paying them is an essential part of the business management process. And while you may think 'oh well my Account Payable (AP) department is managing quite well,' deficiencies in the process of managing accounts payable, however minute, is one that sets up the precedent for innumerable unfavorable business scenarios including :
A significant increase in processing costs
An unproductive increase in AP team size
Straining company relations with suppliers
An increased risk of losing potential volume rebates
So what exactly propagates these detrimental situations in an accounts payable department? Quite a handful of them actually, we've selected the most common and relevant of them all.
Automate your accounts payable practice and you will reduce the time required to process an invoice
Problems with Data
Errors in data entry are without a doubt one of the most challenging issues accounts payable departments have to deal with. Manually inputting data from records and invoices is not only time consuming but also cost intensive and prone to mistakes – mistakes that could escalate into potentially business crunching errors. It's a well-known fact that over 88% of all data entry task orchestrated on an excel worksheet (the choice manual data input method for most organisations) are laced with significant errors.
Isolating these errors and implementing measures to correct them via manual processes is a tedious process bereft of any assurance of 100% accuracy.
Poor Transaction processing
When accounts payable is handled by a team using manual methods, the risk of mismanagement of invoice processing is significantly heightened. And while specifying a processing blueprint to employees cuts down this risk, that route only works to some extent for small accounts payable departments. Bigger or rapidly expanding organisations with larger accounts payable departments will struggle to maintain consistency when dealing with invoice processing. Luckily an automated system with sound logic and algorithm controls solves this issue without any stress.
Bulky unmanageable records
Organizing and maintaining any category of records is an already a tedious process, talk less of records emanating from the accounts payable department; a department well known for the large volume of inflow and outflow transactions. If your business uses a manual procedure to undertake this task, you'd agree with me that efficiently filling and tracking relevant documents at the time of need might be a tricky procedure.
Again this is a problem electronic systems, like SapphireOne readily do away with. Not only do they sort this info in real time and without stress, they also go the extra mile to make the information retrieval relatively stress free
Exposure to vulnerabilities
The accounts payable department is the major conduit vein through which money leaves an organisations account; hence it is one section often targeted by fraudsters. Most small businesses and start-ups treat fraud protection as irrelevant, that is until they become victims – don't be that start-up.
The issue with the majority of fraud control mechanisms is that they do not integrate well with manual AP departments, they require an automated AP system that electronically delivers the necessary variables needed to keep a keen eye out for your business. Set up correctly, fraud deterrent systems curate all activities of your business, by enforcing company rules/policies and tracking suspicious activities.
In the end, the efficiency of an accounts payable system cannot be overemphasised, in its role with the day to day running of business. To absolve your organisation of the risks brought on by this deficiency in accounts payable departments, it is critical to implement an effective accounts payable system.
For a sneak peek at the full capabilities of an account payable system check out Sapphireone and request for a live demo, its everything you'd ever need to make your accounting system a breeze.
March 14, 2017 3:33 pm | by Rubai
Softphone is a software phone that enable users to call any telephone number without a physical telephone.  Softphone works in many ways such as Computer to Computer, phone to phone where VOIP telephone & adapter is required.  Google hangout is a good example of Computer to computer softphone application. Softphone is the bridge between VoIP network and telephone line or mobile network.  It enables users to make a call between computer to a phone network and phone network to computer, when you have a dedicated number to receiver call.
The biggest benefit of having a SoftPhone is using SoftPhone can help you realise huge savings. You can call any employee, client or supplier without having to worry about software matchup or whether or not they are online. It is a perfect solution for remote employees. On other hand, since SoftPhone is a virtual phone, so users don't have to worry about update, upgrade or upkeep.
SapphireOne CRM with SoftPhone Functionality :
A significant part of SapphireOne's functionality is Customer Relationship Management (CRM). CRM is a business strategy where primary focus is on fulfilling the customer's needs. This is achieved by using cutting edge technologies to organise, automate and integrate the marketing sales and customer service components of the business. Inside SapphireOne CRM package, SoftPhone is the built in functionality that brought immense advantage in managing relationship with vendors, clients and employees.
Harry Magiros from Frutex Australia, a proud client of SapphireOne, said that – "Not many ERP, CRM, Accounting software vendors have implemented Softphone system in their system; SapphireOne's SoftPhone gives us a complete overview of all inbound and outbound calls. This extends to our cellphone users. This technology gives us an edge and is part of the organic growth with our customers." Read the full testimonial here. 
SapphireOne ERP CRM and Accounting Software is integrated with VoIP service provider SpliceCom maximizer. SpliceCom simplify phone administration system comes with many benefits such as it can handle up to 500 extensions, call logging with integrated call recording functionality and many more.  With the integration of SpliceCom inside Sapphire single user and SapphireOne client server, call can be made from SapphireOne's software suite contact list.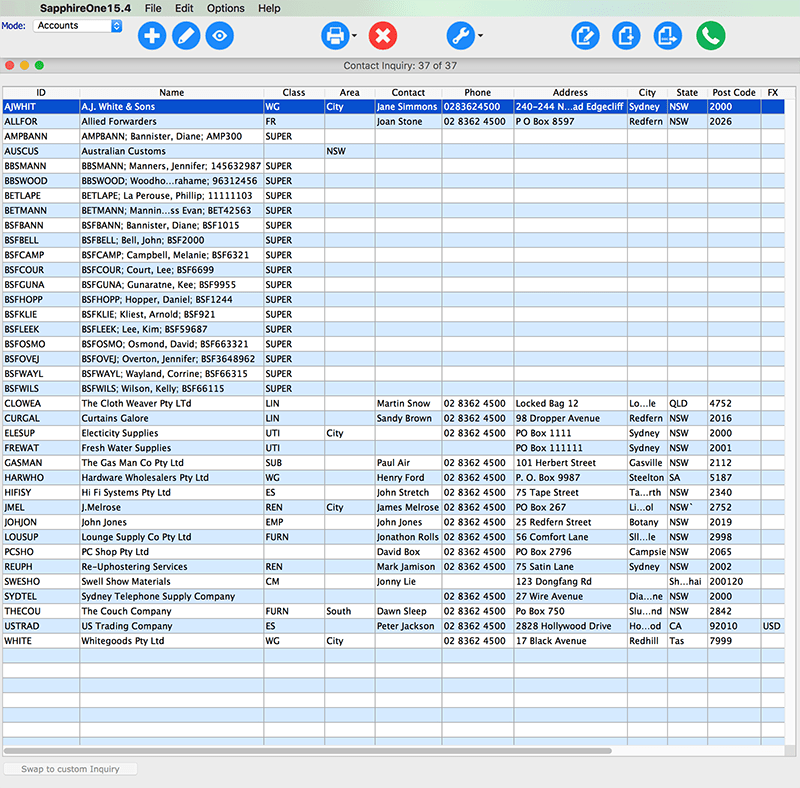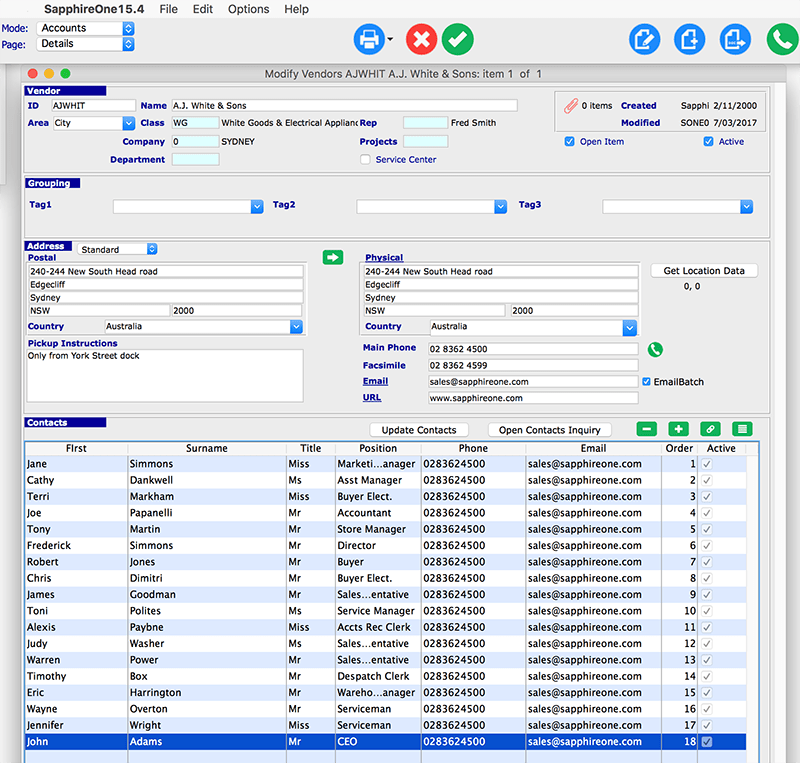 Whenever a call is made from SapphireOne software, a timestamp is added to the 'note' area.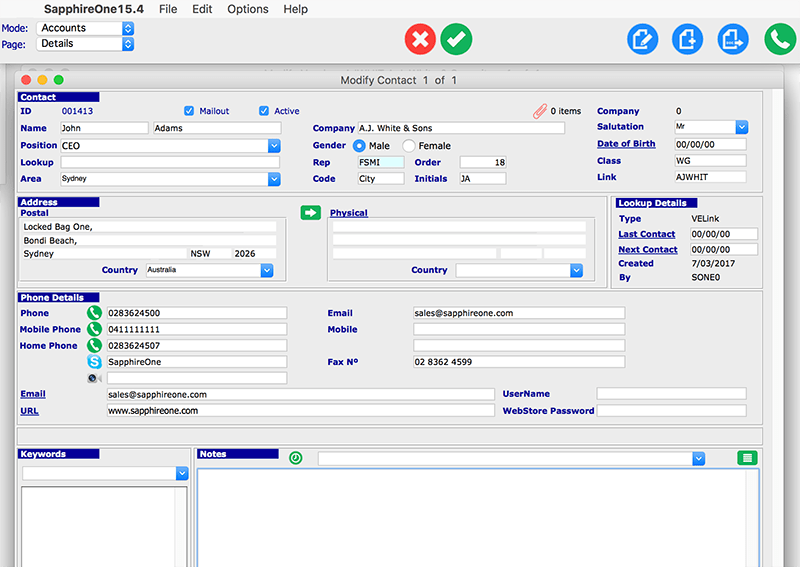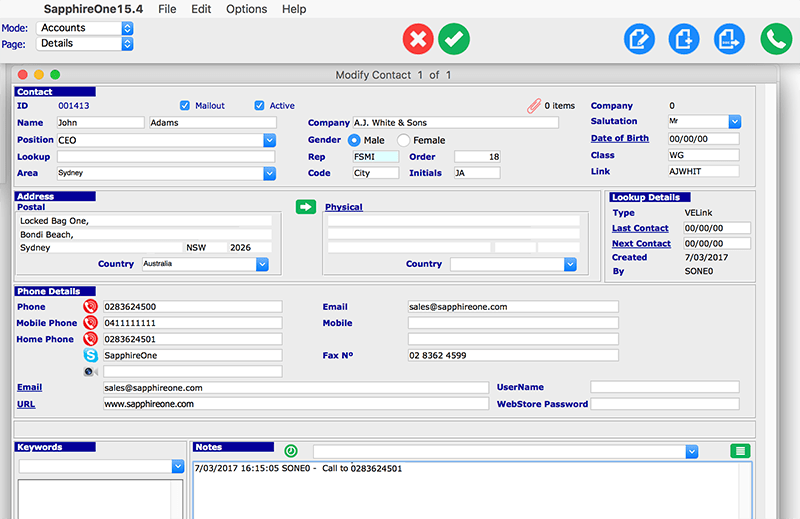 System also allows to write note, comments or short description of the conversation. This helps to track the important conversation between caller and receiver.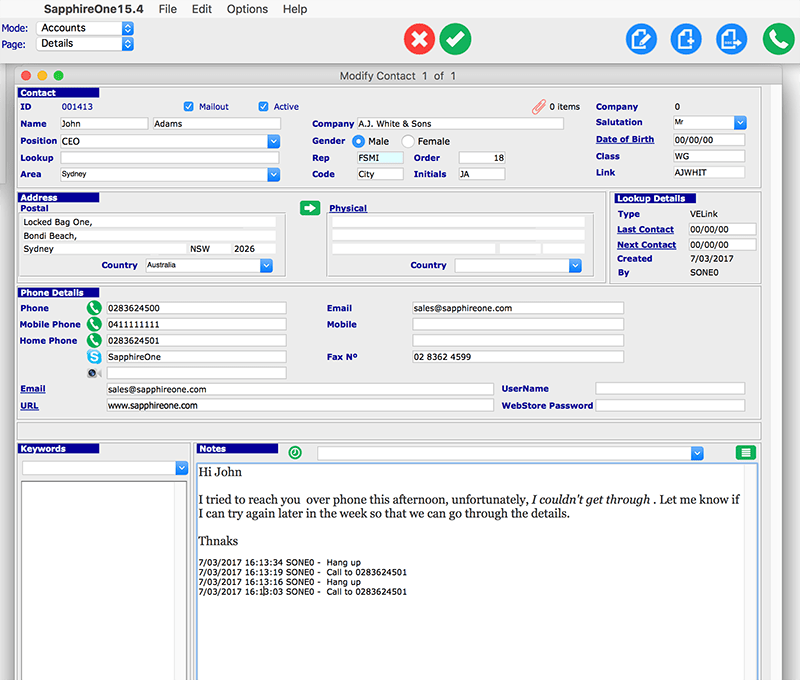 Take advantage of SapphireOne software suite's Softphone functionality, to maximize your CRM system. Request a live demo to know how SapphireOne ERP CRM and Accounting Software can help your business.