May 18, 2020 4:31 pm | by Rubai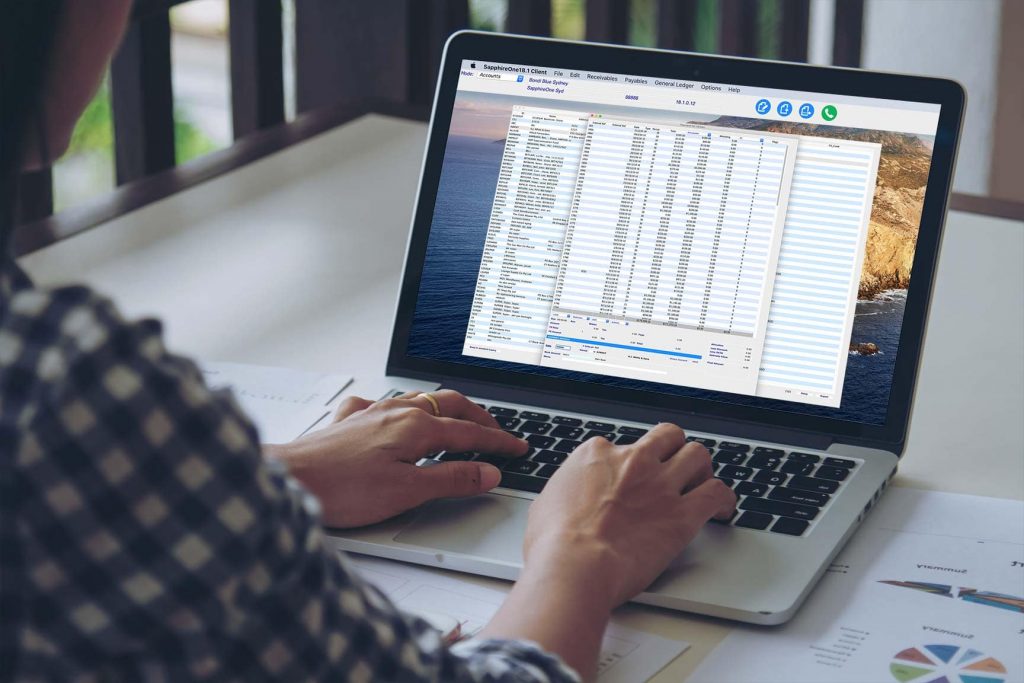 The manual payment method in Accounts Payable processing is a time-intensive process for your Accounts department. In addition, any manual operation creates the possibility of human error which can result in inconvenient effects on the production flow and costs. Although a manual Accounts Payable workflow is scalable to a certain extent, it will become inefficient and unviable in cases where a large volume of invoices needs to be processed on a daily basis.
Electronic payments are digital transfers of payments from your Enterprise Resource Planning (ERP) or Accounts Payable system to the supplier's designated bank account via a Bank's payment portal. Any electronic payment significantly reduces the burden of managing payments manually. Although the creation of an electronic Accounts Payable process is a challenging task, setting up an automated workflow for Accounts Payable leads to substantial efficiencies for your company.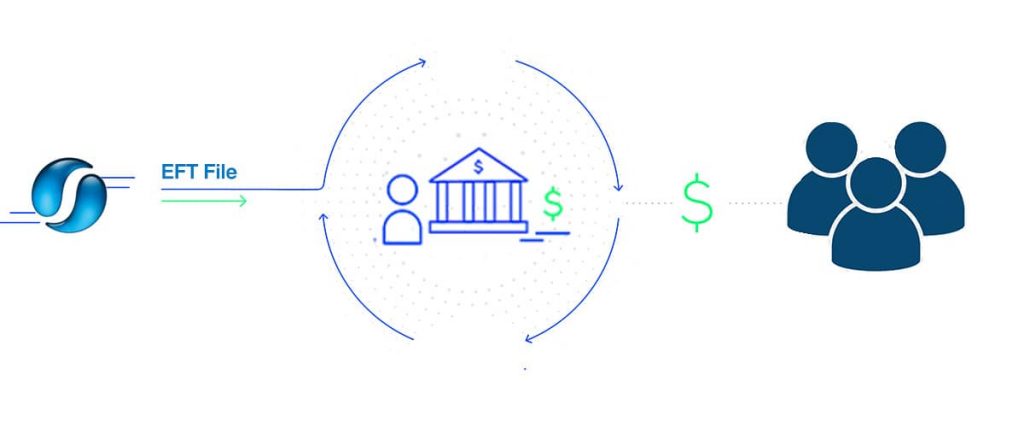 EFT Processing for Accounts Payable
Electronic Fund Transfers (EFT) are commonly used for deposits of Accounts Payable. They constitute a safe and convenient option of processing payments. As a result, EFTs have become the predominant method of transferring funds for both businesses as well as consumers.
Facilitating the Accounts Payable function by using EFTs offers numerous benefits, including the below:
Reducing Workload and Scope for Error and Fraud

Instead of manually handling all incoming invoices, all data is entered into the Accounts Payable system and payments are made via EFTs which are processed by the bank. Cheques, in comparison, may be lost, misplaced or obtained fraudulently and also require a significant amount of paperwork that consumes valuable storage space. Your Accounts Payable team will also be able to focus its time on more value-adding tasks.

Optimizing Cash Flows

An electronic exchange of purchase invoices not only allows for faster processing, but also enables improved tracking of all expenditures, as the software records any transaction being made. The traceability derived helps to improve the management of the cash flow, increases the precision of financial statements and it also allows for easier auditing.

Improving Buyer-Supplier Communications

Electronic invoices increase the transparency of their processing for both the supplier and the buyer, which aids in avoiding, as well as in resolving disputes between the parties.
Enhancing Accounts Payable Processing Time with SapphireOne
SapphireOne offers the ability for electronic payments by preparing an electronic payment file to be processed by the buyer's bank. These files are prepared in accordance with the format prescribed by the Australian Bankers' Association (ABA file) and all major Australian financial institutions use them to record payments to be made from one bank account to one or multiple others. The information contained within an ABA file includes the payer's and payee's bank details and the amount to be paid, with any file being able to hold information on multiple payments as well.
Before you can prepare an electronic payment file in SapphireOne, you will need to complete the electronic payment set-up tasks. Once you have recorded all payments to suppliers you want to pay electronically, you can prepare an ABA file. Once created, you can upload it to your bank for processing of the payment.
Setting Up Vendors for Electronic Payments
Go to: Accounts > Payables > Vendor Inquiry > Vendor Terms Page > Select: EFT checkbox and Provide: Account details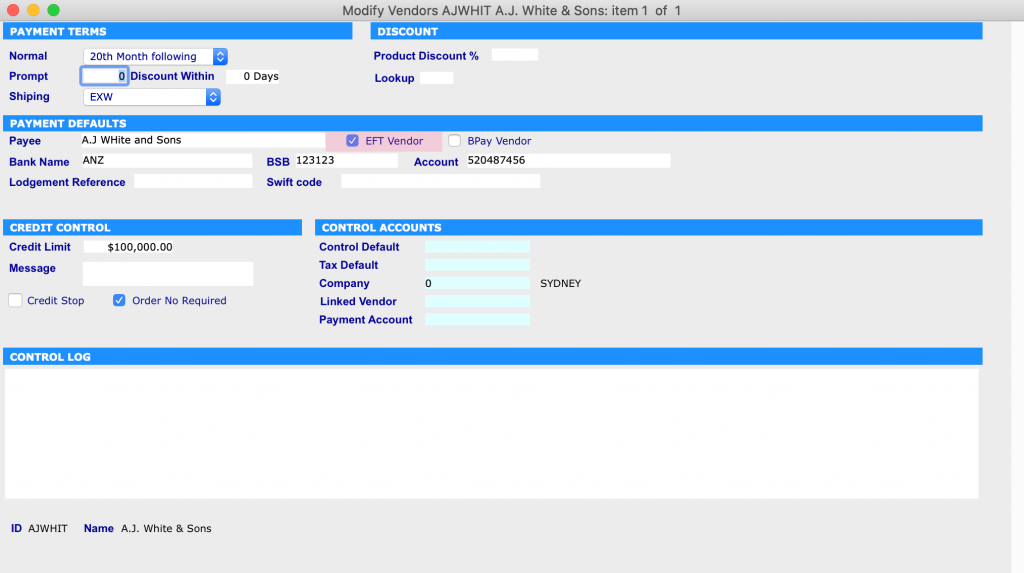 Creating Payment
Go to: Accounts > Payables > Payments > Create: Payments > Select: Vendor and Click: Tool > Create: Payments > Select: Invoice or invoices > Green tick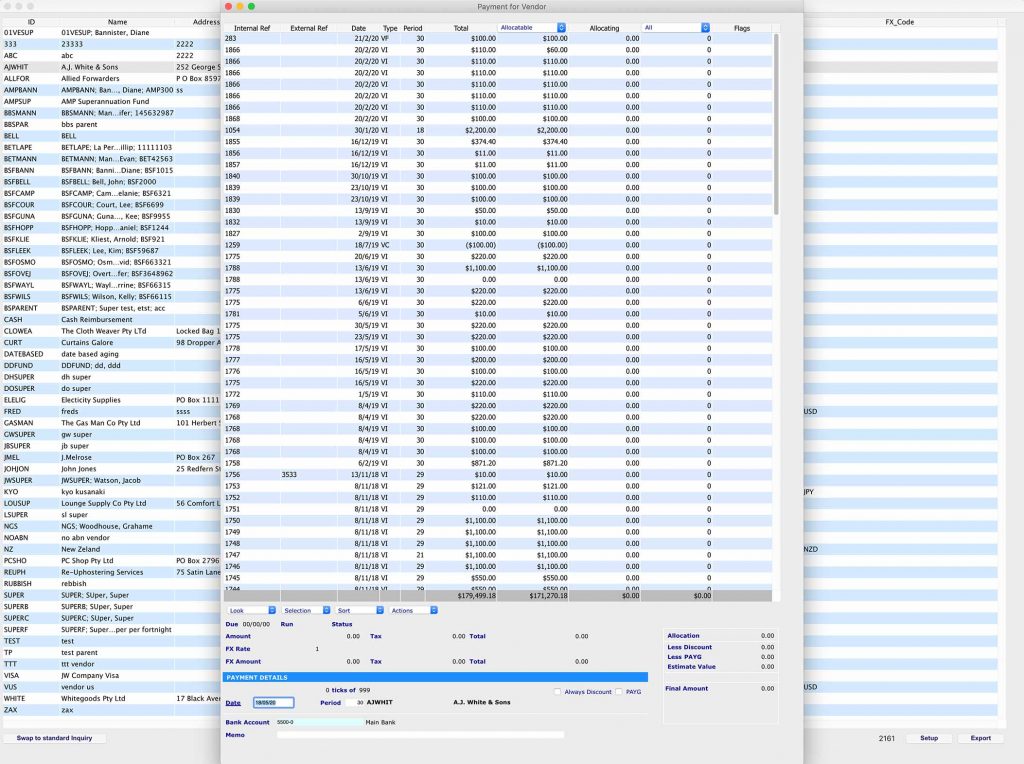 Generating ABA file
Go to: Accounts > Payables > Payments > Print: Payments > Select: Bank > Print: Dialogue is displayed > Select: Your Report Type and Method (In this case it is 'Remittance' and 'ABA File for EFT') > Print > Select: Vendor for generating ABA file > Save: ABA file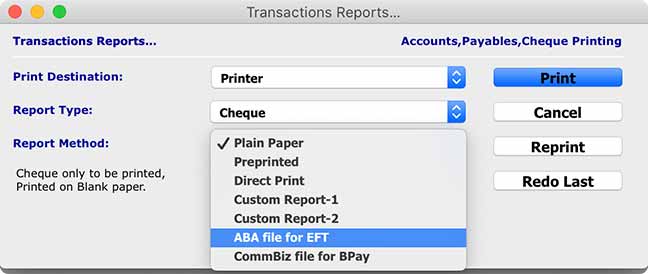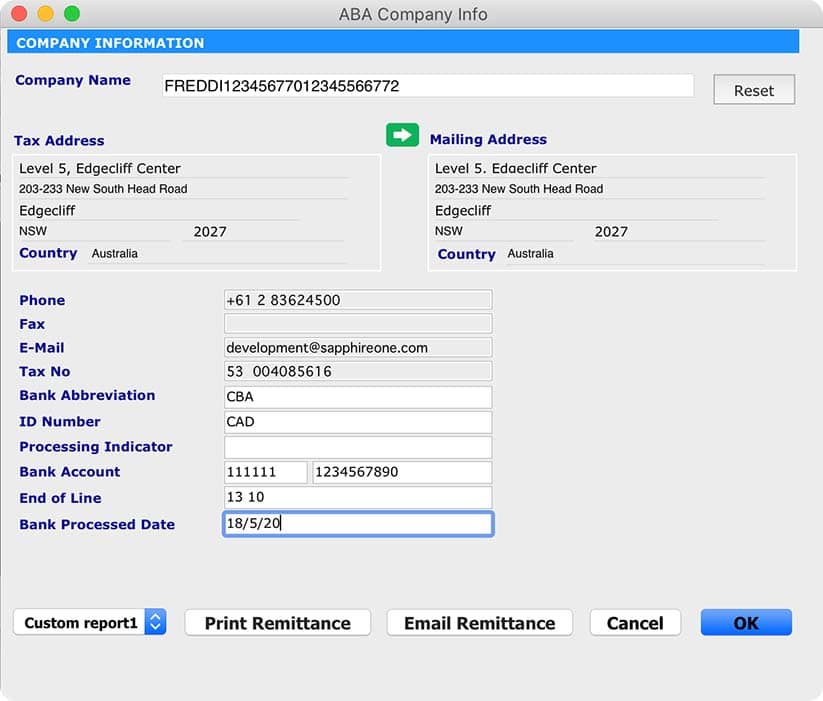 ABA files allow you to pay any invoices through your internet banking provider. However, each provider has a different set of instructions on how to process ABA payments, which you will need to follow in order to complete any transactions.
Please book a support call via our website, in case you have any questions or need any further assistance.
April 9, 2020 4:14 pm | by Rubai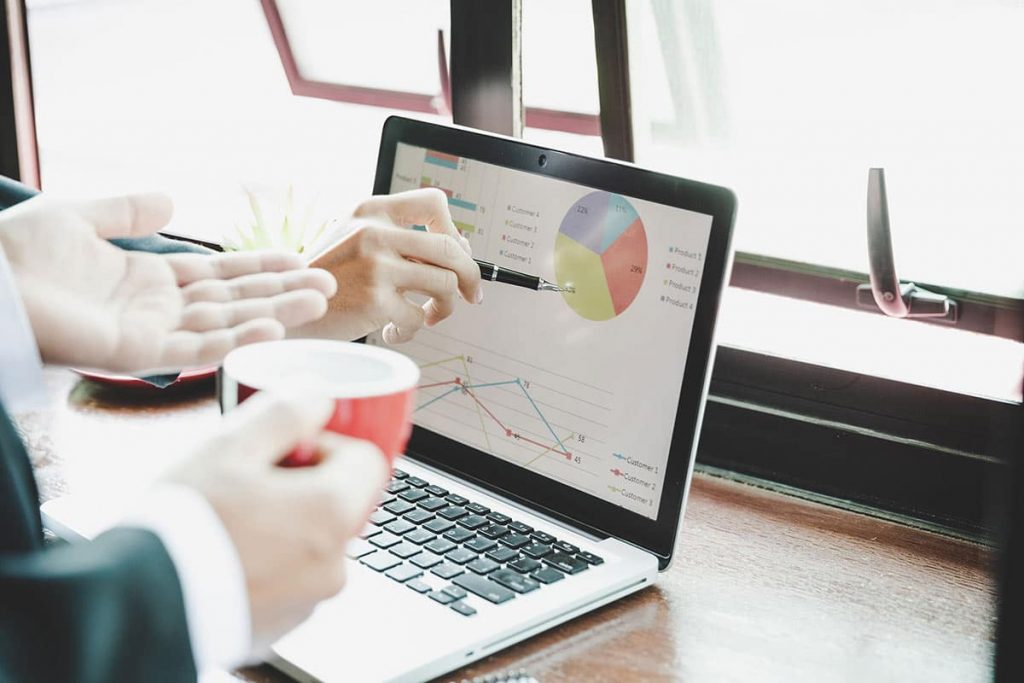 SapphireOne ERP software provides insights that are meaningful, actionable and of real value, enabling you to make immediate operational and long-term strategic decisions more effectively. To pursue your business objectives with confidence and mastery, you need to be able to deal swiftly and efficiently with any challenges thrown at your business. With the ability to analyse and report on any aspect of your operations plus effortlessly retrieve data from a full historical record, SapphireOne allows you to manoeuvre the financial playing field with certainty. It's reporting provides a real-time view through multiple standard reports, flexible report building tools and custom reports built to meet your unique business requirements.
Powerful and efficient Custom Reporting
SapphireOne provides a powerful financial management reporting tool. With SapphireOne you can Build quality reports using customisable report templates built to industry standards. You can also easily tailor the content and layout as needed to suit practically any requirement. This enables you to create sets of professional reports for use with all your clients. In addition, you will be able to make client-specific changes as needed. In a testimonial on our SapphireOne website, Michael Radivojevic from Moyle Bendale Timber has mentioned the following:
"Accountants & Financial Controllers all have their personal preferences. However, SapphireOne is a RocketShip because of its excellent reporting!"
Full Testimonial : www.sapphireone.com/testimonials/financial-management/
Build your own Reports
While using SapphireOne you can store detailed records of sales and purchases from both customers and vendors. These sales or customer records, can be utilised in the setting up a Customer Relationship Management (CRM) system. The SapphireOne reporting system can produce reports from almost every field in every table within your data file. It has the ability to drill as far down as necessary into the financial records to produce many reports. With SapphireOne you can get a full library of standard reports as well as the ability to build your own reports. These custom reports are available in a number of modes within the SapphireOne system. In addition, there are several additional reports available when the Sapphire Web Pack is used.
Multi Company Reporting
SapphireOne general ledger accounts are usually set up on a company by company basis at the department level. If multiple departments are used, reporting can be run at the department level. SapphireOne has the ability to run department based reporting and also create entirely separate companies within the one data file. This allows separate companies to run individual reporting on a department level. If you are using the multi company functions, you still will be able to access Custom Reports feature as it is available in a number of modes within the SapphireOne application.
A quick view to set up Custom Report
You can set up custom report by modifying standard custom reports or you can set up your own custom report from scratch for different functions such as Sales, Purchase, financial reports, Profit & Loss (P&L), Balance sheets etc.
In order to modify custom reports, you will need to go to – Utilities > Control > Custom Reports Layouts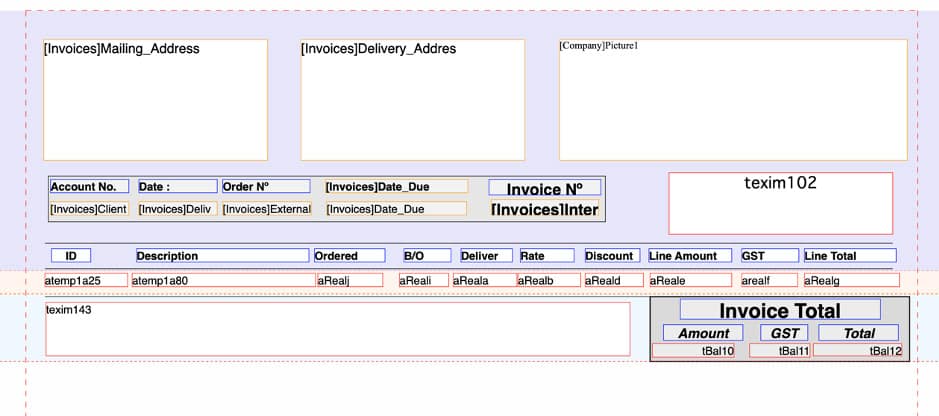 You can make your custom report set as default for specific function such as 'print all invoice using Custom Report 1 template'. To set up this, you will need to go to : Utilities > Control > Master defaults > [Page Dropdown] – Invoices > Default reports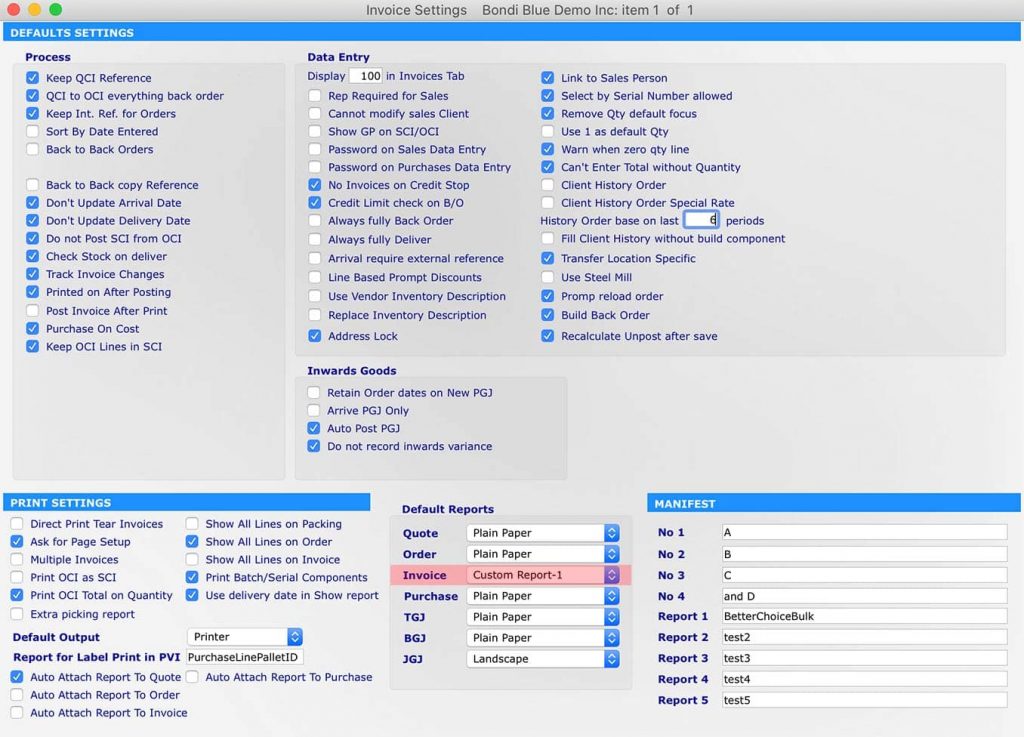 Printing Custom Report For Sales Invoice
You can also create your own custom report from scratch by visiting the function itself. For example, you want to create and view custom report for Sales Invoice inquiry. In order to set up this, you will need to go to : Inventory > Sales > Transactions > Select Order > Sapphire Tool ( click setting icon – down arrow)> Custom reports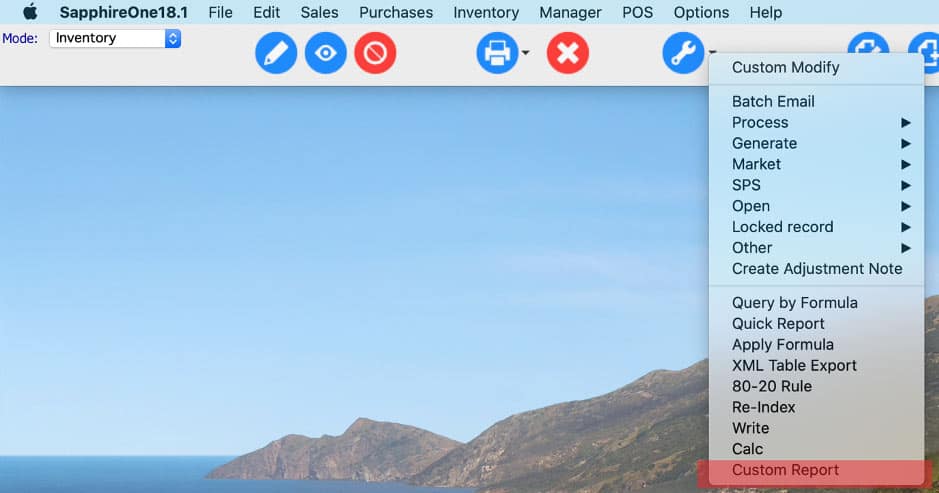 Here you can set up your own custom report templates. After that, from Sapphire Tools, by clicking printer down arrow you can access your custom report in order to print the sales invoices.

Alternatively, you can create custom report by opening the sales order form. Then you will have the option to print the particular order using your previously set up 'custom report template'.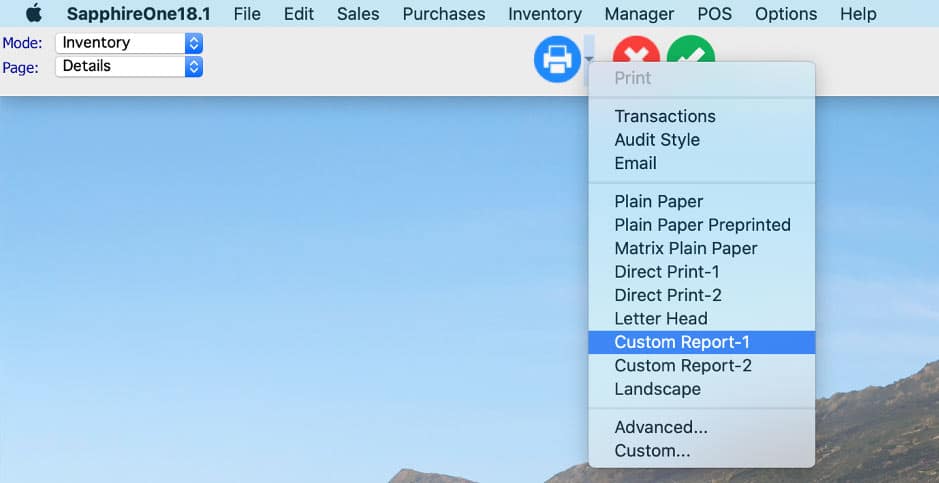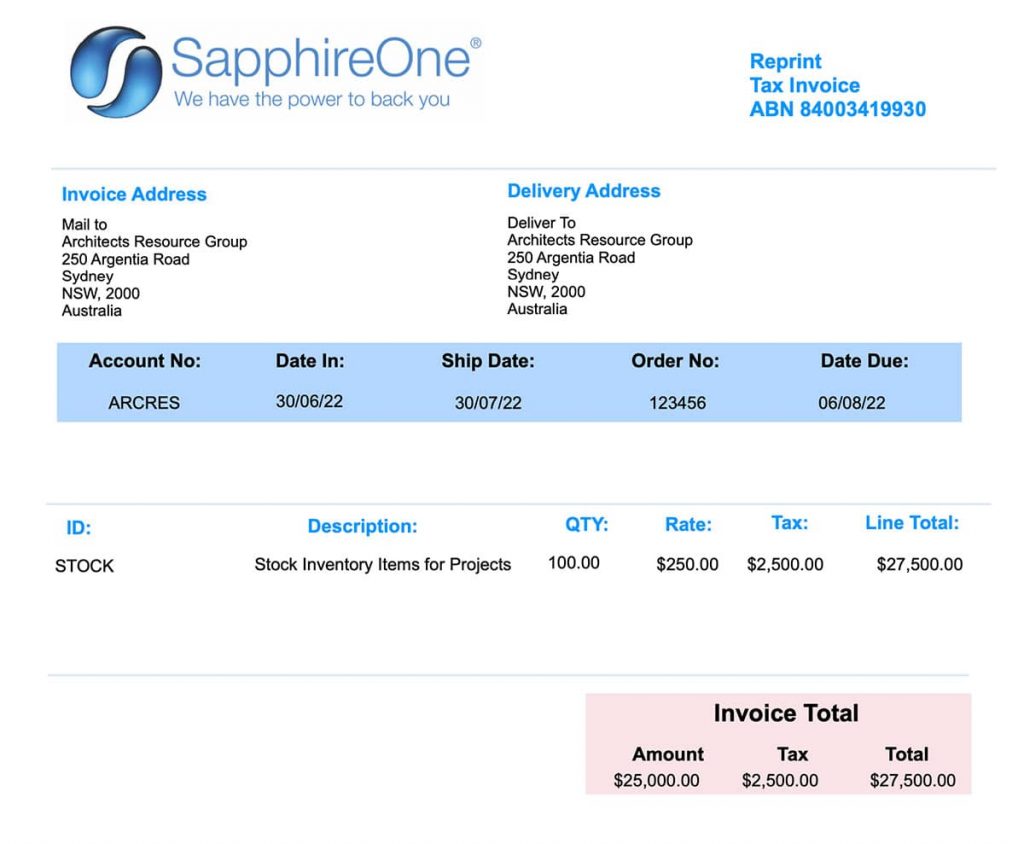 April 4, 2020 4:03 pm | by John Adams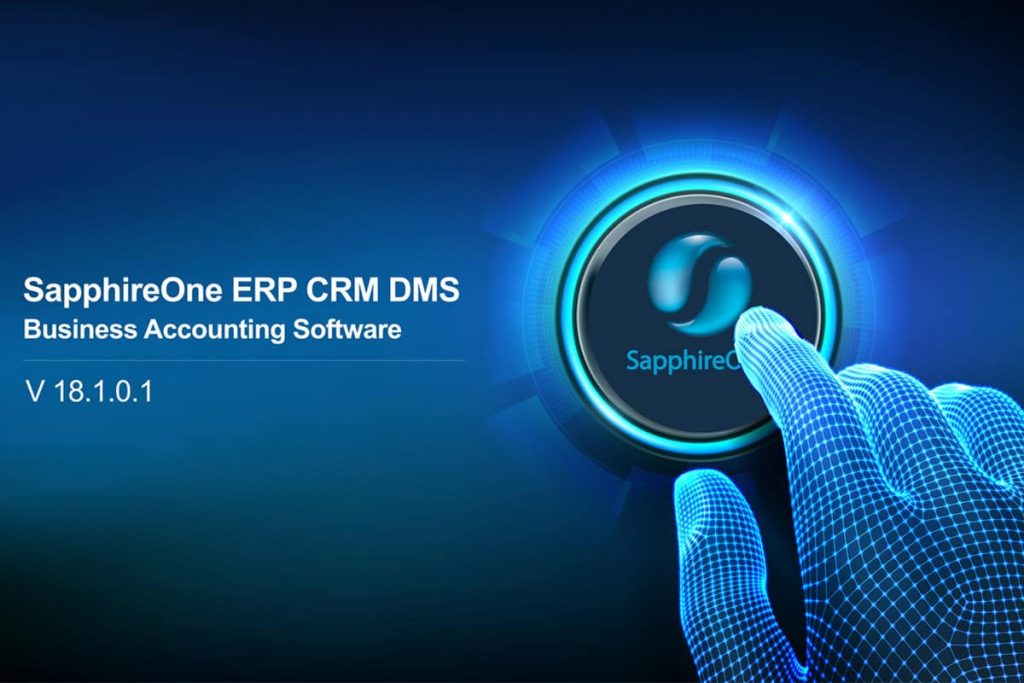 Version 18.1 is now available. All Australian SapphireOne clients are required to upgrade to 18.1 to comply with the ATO's new myGov credentials which came into effect on 28th March 2020 after the AusKey was retired.
18.1 introduces an entire rewrite of all data entry interfaces in SapphireOne with a fresh look and feel including hundreds of new features and functions.
For all our Australian clients to be compliant with the ATO Single Touch Payroll (STP) and SBR2 you must install 18.1 before you complete your next payroll event.
Some of the new features are:-
myGov
myGov is a secure way to access government services online with one login and one password.myGov allows a single point of entry which includes lodging your SBR2 and STP and processing and submitting Superannuation for all employees.
Single Touch Payroll (STP)
The main benefits for employers with Single Touch Payroll is that it will streamline the process of reporting to the ATO by being able to submit payroll information upon completion. By doing this the ATO will be able to pre-fill the BAS for employers, eliminating potential errors and double handling. SapphireOne Single Touch Payroll submissions are compliant, fast and efficient. We have been certified since 1 May 2018 with clients enjoying and benefiting with the free Single Touch Payroll software since 1 July 2018. Submission to the ATO is fast and reliable. SapphireOne continues to deliver a seamless transition to the new payroll standard.
Standard Business Reporting (SBR)
Standard Business Reporting helps businesses reduce the time spent gathering information, filling in forms and submitting reports to government. Businesses and government will no longer have to spend hours filling out paper forms, re-entering information into different systems and portals, or interpreting agency specific terms on forms to understand what is required. SapphireOne built SBR2 rules into our business/accounting software to make it 'SBR-enabled'. Businesses that use SBR-enabled software can then report using information already recorded as part of running their business. With integration of SBR2 into SapphireOne there will be no more login on to the business portal and manually updating.
AusKey
AusKey has been replaced by myGov ID and Relationship Authorisation Manager (RAM) at 11.59pm AEDT on Friday 27 March, 2020. Together, these services give you a secure, simple and flexible way to access government online services. The machine credential is installed on your computer and facilitates you to interact with the ATO online services through SapphireOne. You will need to download and install the application plugin (Machine credential download/browser extension) compatible with your computer's operating system: SapphireOne requirements are 18.1 or greater. So let's upgrade it today!
The SapphireOne ERP, CRM and Business Accounting Software suite is an industry leader in both functionality and features.
March 30, 2020 10:45 am | by Rubai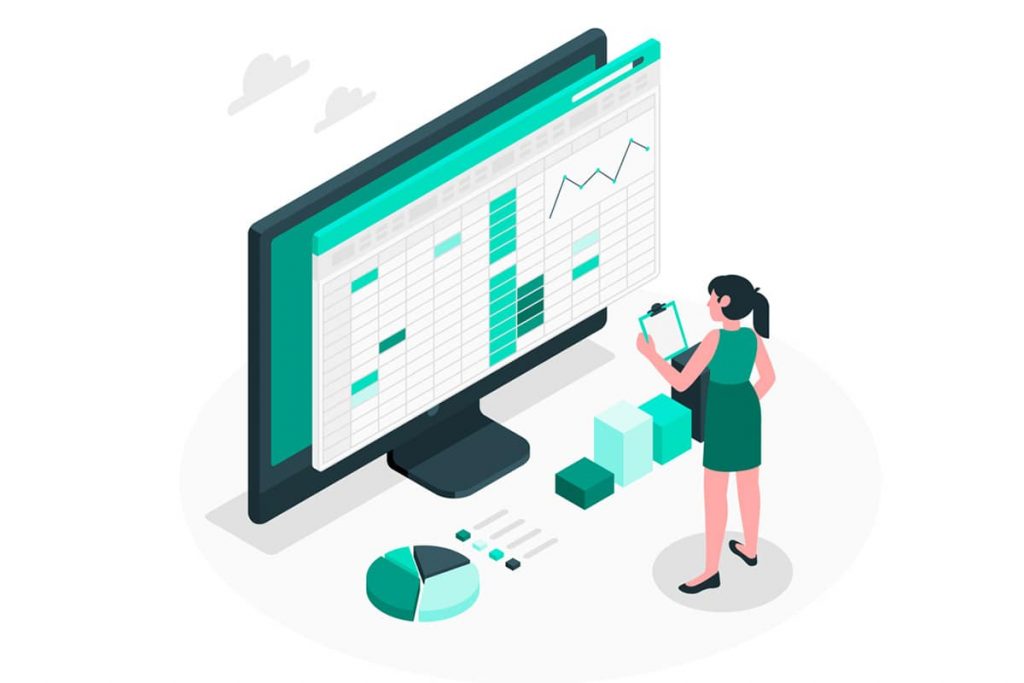 SapphireOne ERP Accounting Software is a large-scale software solution designed for businesses, both large and small. It aids the flow of business processes and allows for communication between a business's internal departments and external functions and data. Using analytics techniques, SapphireOne Enterprise Resource Planning (ERP) systems give companies insights into its real-time operations such as production, inventory management and omnichannel order fulfillment.
SapphireOne ERP system is modular based, that means employees can access only the modules they need in order to complete their duties, while management can access all modules to both create and review data and reports. By keeping functions modular, the security of the company is better protected as a whole. SapphireOne has 8 modules including Accounts, Inventory, Job Projects, Assets, Payroll/HR, Management, Utilities and Workbook.
A New Feature in SapphireOne – Advanced Custom Inquiry
In each module of SapphireOne, there is a custom inquiry feature which allows users to customise their personal view of their own favourite data. Now we have enhanced the custom inquiry ability to bring the power of data back to your figure tips. In the past, you can customise the view of your choice, for example to view 50 vendor purchases with preferred header information on the list. However, to view the product details of each vendor purchases, you had to drill down into each record to get to the product details. With the new custom inquiry, any related records can now be set up and become viewable at the bottom section of the custom inquiry screen. For example, you can set up Inventory ID, Quantity and total of each product line as related records. And then start viewing product details belonging to a single or a collection of vendor purchases without further drill down.
Quick view of inventory from a single screen
SapphireOne ERP software tracks a business's resources such as raw materials, cash, employee's payroll, purchase orders, customer orders for individual departments and for the company or companies. It's inventory management functions are extremely capable of managing stock providing reports, processes, tracking, and even smart stocking locations to improve picking and packing. Now besides providing real-time visibility of inventory across the operations and supply chain, SapphireOne helps with better decision making, by providing necessary planning tools such as Advanced custom inquiry screen. You can quickly view your own favourite data from a single screen which will facilitate in better decision making.
Multiple ways to classify products and group them in your inventory
With the help of the Advanced custom inquiry function of SapphireOne ERP software, you will be able to classify and analyse different types of items easily. By doing so you can achieve:
o End-to-end real-time visibility
o Effective analysis and control
o Optimised inventory levels
The most accurate view of handling inventory items
With the help of Advanced custom inquiry screen, you can easily map and validate physical and system recorded inventory levels. These effective records relate to stock variance and adjustments for having an accurate view of the inventory in a very short time.
Accurate and strict warehouse and logistics management within your inventory.
Complete inventory analysis is necessary to ensure that you have sufficient inventory on hand to meet the needs of both your customers and operations. Advanced custom inquiry function has brought the power of data back to your figure tips. Now you can maintain optimum inventory levels by various inventory analysis methods.
o Analyse your inventory-level requirements through multiple methods.
o Save money and improve service levels by maintaining adequate levels to serve current and future needs of the production.
Plan your inventory with MRP and Advanced Custom Inquiry
SapphireOne Material Requirements Planning (MRP) function forecasts can be calculated and automate and adjusted manually where required. These forecasts can be dependent and controlled by sales orders, purchase orders. In SapphireOne there is also provision for it to be independent as the user may adjust estimations manually if required. With the help of Advanced Custom inquiry you will be able to better analyse your inventory item and it will help you in your MRP planning.
The new advanced custom inquiry screen is applicable to all transaction inquiries for all modules:
Accounts mode -receivables, payables, general ledger enquires
Inventory mode – sales, purchases, inventory, manager, POS
Job Projects mode – costs, resources, inventory, job projects
Assets mode – enquiries, transactions, reports, history
Payroll/HR – payroll, reports, administration, rosters, history
Utilities – history, controls
Workbook – general, workbook, workbook 2
July 26, 2019 3:08 pm | by Fiona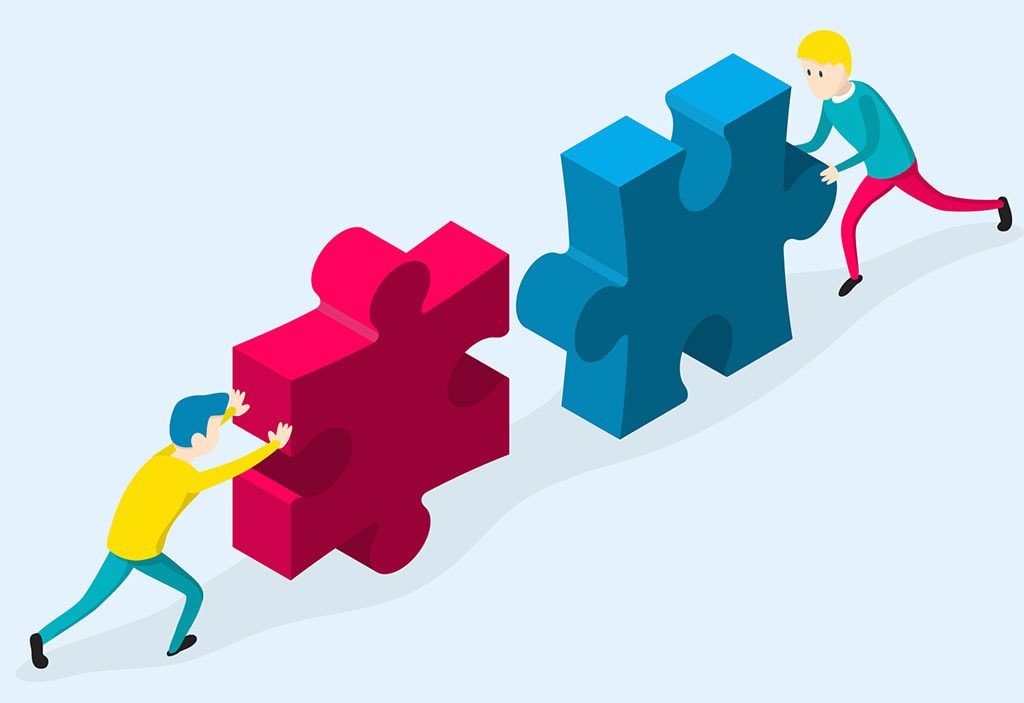 ERP and CRM integration allows departments and systems to talk with each other to increase profitability and sales. A Customer Relationship Management (CRM) system provides transparency, better qualified leads and manages valuable customer interactions. It also stores valuable information from your marketing department. Marketing develops new customer relationships through content, digital marketing and management, sourcing and nurturing leads etc. This helps with brand awareness and increasing your market share.
On the other side, your ERP system manages the back-end processes from accounts, operation and human resources departments. These include order placement, tracking, billing, shipping, accounting and supply chain details. So why integrate these systems and departments together?
Benefits to your bottom line of an ERP and CRM integration
1. Reduction in data entry and improved efficiency.
One centralised location for your data ensures any updating of information from accounts, operations, sales or marketing is only entered once. This saves you time and money as these mundane tasks are often labour-intensive. Combining your CRM and ERP automates and manages processes through workflows, which enhances your efficiency by simplifying them.
2. Stronger Visibility, Forecasting and Accuracy.
Your sales reps need to be able to access on-the-go, real-time data. Errors are reduced when they can enter a quote or order in the one system. The ERP system allows the sales rep to look into current inventory and costings for these quotes. The CRM stores promotional and marketing activities which can be accessed whilst on the road to obtain true, accurate quotes. Customer interactions and sales documentation can be produced quickly increasing visibility and efficiency. By integrating both, staff gain access to the whole picture to assist with sales and forecasting.
3. Complete 360-degree view on your customers.
A complete view of your customers provides better insights for building lasting relationships and determining where there is potential for future growth. Fast and consistent up-to-date data enables better analytics and reporting. This helps to effectively market and track changes in your customers preferences, profitability, and loyalty.
4. Cross-Departmental Collaboration.
Departments have different functions within the business and can sometimes discourage collaboration and sharing of information. This ends up making data accessibility a challenge and duplication a problem. When departments talk to each staff are able to access real-time data, view all relevant key facts, so they can work towards achieving the company's goals.
How They All Work Together
Both ERP and CRM systems improve efficiencies in business processes which in turn strengthens your business. A CRM system coupled with marketing drives sales; an ERP system manages customer information once the order has been placed to reduce overall costs.
With one source of truth, management has an overview in real-time of the business, what is happening in every department. This is extremely important for growing companies and companies who want to scale. A single source of all data and transactions contains contact details, shipments, credit history for quotes, orders and any other customer service interactions. This ensures anyone from sales, marketing, accounts or operations can access a complete history of the customer when required. Business workflows will be enhanced which ultimately improves revenue generation, reduces costs, and provides management with more insightful and useful reports.
Click for more information on ERP and CRM systems and the latest release of SapphireOne ERP, CRM, DMS and Business Accounting Software Application. Alternatively, contact our office on (02) 8362 4500 or request a demo.
May 14, 2019 9:04 am | by Fiona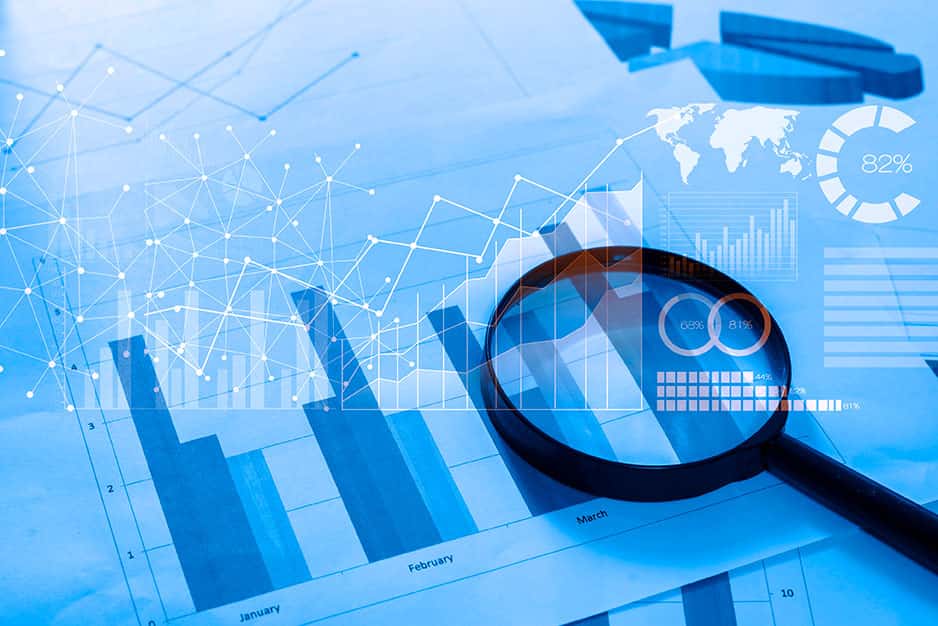 We all want to increase sales without diminishing the budget, one cost effective solution is to know all the functions and features of your current ERP software and technology. Take a good look at what you have before investing in any changes. Once you have maximised your software and technology capabilities, don't fall into the pitfall of sitting back. Building and fostering relationships comes from personal interactions with clients and is still fundamental to the sales process.
7 useful tips you can implement today:
Your website
Take a look at your SEO (Search Engine Optimisation) strategy for ways to promote your business, increase ranking on the web and attract new customers. Website builders offer in-built SEO functionalities, plugins or apps to drive more traffic to your site. Read the tips and utilise the tools to optimise your website and check your mobile ready, responsive to your website, as mobile usage continues to grow.
Stocktake your hardware
Ensure all your desktops and mobile devices are upgraded and working. Think about replacing any of your slower or older hardware as they can affect productivity.
Eliminate paperwork
Manual processing of paperwork slows you down and can increase the chance of errors. Your ERP software provides EDI (Electronic Data Interchange) so you can receive and send electronic documents to suppliers and customers. Ensure trading documents such as orders, invoices, advanced shipping notices are processed without human interaction or manual data entry. Ask your ERP if they have a DMS (Document Management System) to attach, store and manage documents electronically. All documents or files of any type can be stored within a selected transaction, in the client or vendor datafile.
Improve customer relationships with your CRM
CRM capabilities goes beyond just logging all interactions between customers to create a clear view of their needs and a consistent message across the sales cycle. Ensure all sales staff enter their contacts, sales opportunities, activities and scheduled plans allowing them the mobile capabilities to pull up the database and relevant information at any location. Gain insights into your customers, investigate and utilise personalise marketing opportunities in your ERP software to build trust and improve the overall customer experience. SapphireOne ERP, CRM Accounting software.
Payment options
Capabilities of E-invoicing and issuing customers a "pay now" button can increase the speed of getting paid. Your ERP also has the functionality to integrate multiple online payment gateways so you can meet your customer demands and make the purchasing experience as easy as possible.
Automation
Examine your current automation processes and look into areas that are being slowed down. Prioritise where you can see productivity will be increased and manual errors reduced. Your ERP software should be flexible and if you identify a new workflow beneficial to your business, ask about customisation options. Look into automating repetitive transactions to be completed within a single click.
Reporting
Check your reporting capabilities so they are made available to anyone who may need them both internally and externally. Reports should show an accurate analysis of trends, identification of variances and predictability. There should be numerous reports that are automated and run, talk to your accounting software provider for any customised reports you would like tailored to your specific needs.
Click for more information on SapphireOne ERP, CRM, DMS and Accounting Software and features. Alternatively, contact our office on (02) 8362 4500 or request a demo.