June 8, 2018 3:55 pm | by Loren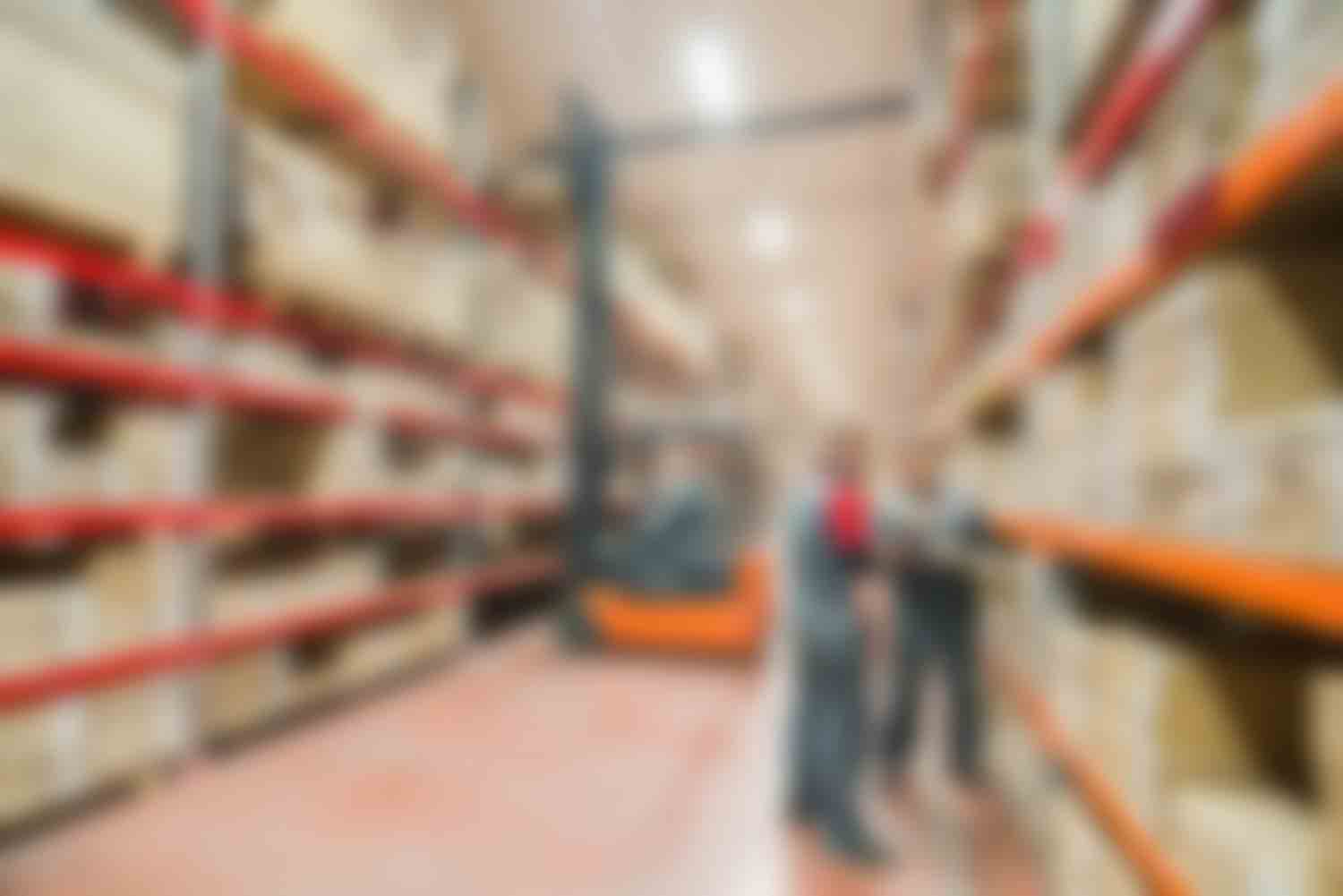 Warehousing, distribution and logistics businesses have a critical need to manage their inventory in a timely and efficient manner. When shipping direct to retailers or customers your ERP solution becomes mission critical for the smooth ongoing operation of your business enterprise.
SapphireOne will meet all your warehousing, distribution and logistics requirements with integrated EDI/API functionality. Our large range of API vendors include freight forwarders, courier companies and various third-party transport and distribution operators. The SapphireOne ERP has everything inbuilt that a warehousing, distribution and logistics business needs, and can help you to create the highest level of efficiency at the lowest cost of operation for your warehousing, distribution and logistics business enterprise.
Some examples of the built-in functionality include unlimited barcodes per item, unlimited images per item, bill of materials with unlimited levels, serial batch control, multiple costing types, material resource processing (MRP), material safety datasheets (MSDS) bin/bay management, multi-location, multi-warehouse, SSCC labling.
SapphireOne ERP is perfect for SMEs and large companies for the wholesale Warehousing, Distribution  and Logistics business enterprises
SapphireOne ERP is suitable for large companies, as well as small and medium-sized enterprises (SMEs) providing extremely high quality information in real time covering all your inventory requirements.
Wholesale distribution and logistics is an extremely competitive market place, it is critical that when dealing with all your inventory needs it is handled in real time.
SapphireOne's inventory management functionality tracks stock movements quantifying the volume while simultaneously tracking bin and bay management of all inventory items throughout the warehouse.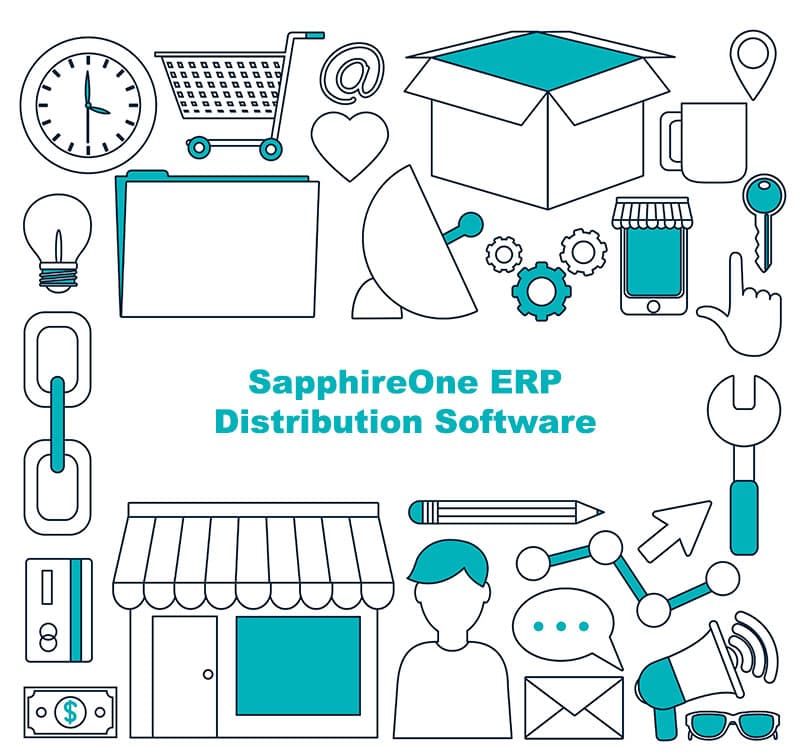 SapphireOne ERP is an integrated Accounting, Payroll/HR and Inventory Management software solution
At SapphireOne we understand that a wholesale, distribution and logistics business needs to have integration between financials, warehousing, and a full range of customer and supplier information to help anticipate future needs.
SapphireOne ERP system offers an integrated accounting, payroll/HR, inventory management software solution that is perfect to increase efficiency in your warehousing, distribution and logistics business enterprises.
SapphireOne allows you to analyse Payroll/HR expenses and employee productivity to help control costs and review expense distribution.
SapphireOne can facilit­ate the design of an efficient warehouse, distribution and logistics system to create the foundation of an efficient supply chain, one that can service your customers in real time.
For the full capabilities of the ERP, CRM, Accounting Software, Human Resources, Payroll, Assets and Document Management,  check out the SapphireOne website and request a live demo.
SapphireOne – We have the Power to back you. Find Out More Details
February 26, 2018 3:50 pm | by Loren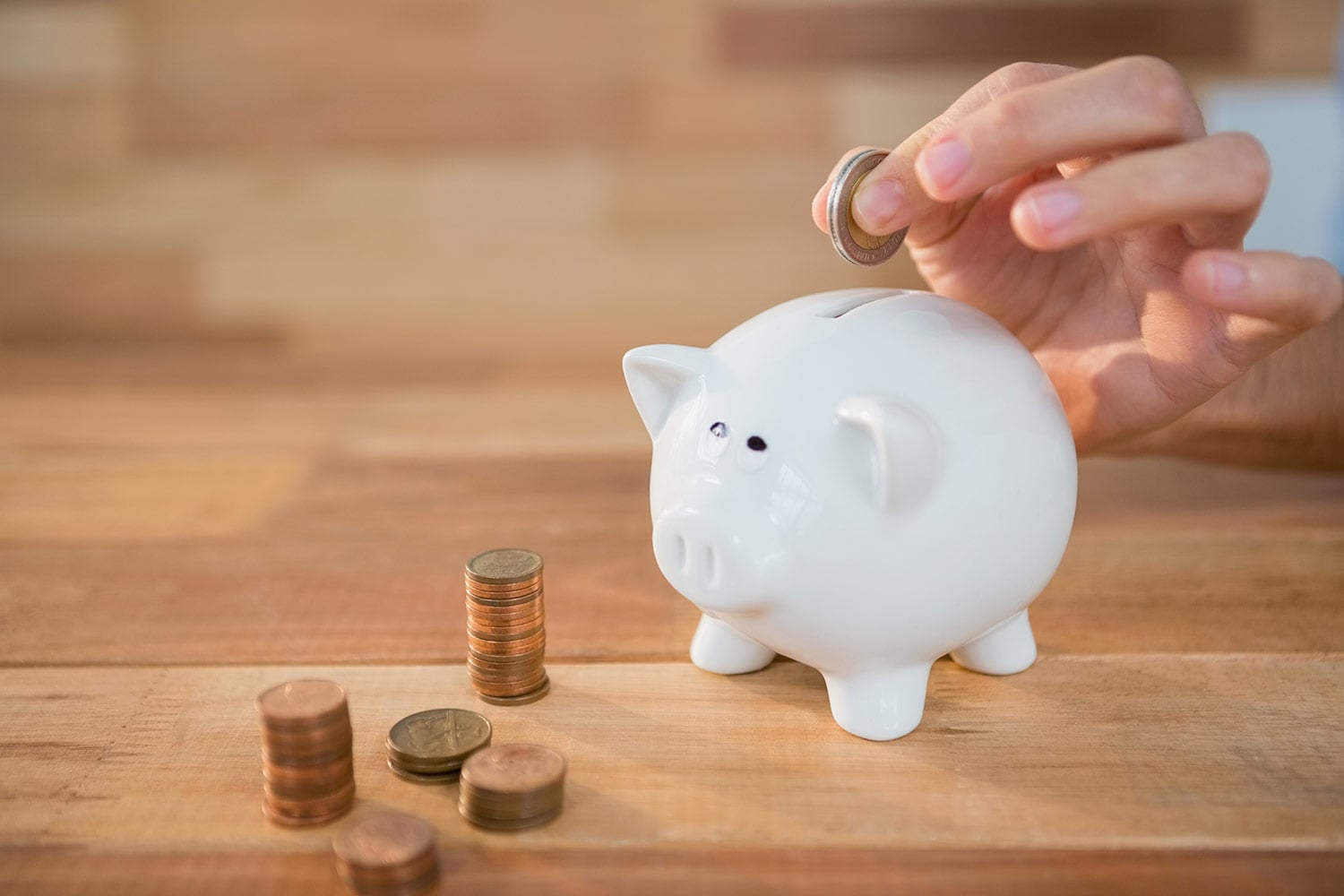 Organisations look out for ways to improve their productivity, save time, save money and manage their overall business. Enterprise Resource Planning is a management tool that manages all data in the organisation. ERP in the recent times has been an important factor for the business growth. It streamlines the processes and improves the organisation's performance. ERP Accounting Software has been utilised in various accounting tasks of payroll, inventory management, purchasing, sales etc. ERP Accounting Software saves a lot of time and money for the company.
 How to save time and money using Modern ERP Accounting Software
Employees prefer mobile accessories over the age-old desktops. Availability of a modern ERP accounting software helps the employees to work from anywhere, for example they can generate electronic invoices on the go and save time.
Forecast the financial growth of your company effectively using ERP accounting software. Forecast your daily, monthly or annual sales. With the use of ERP accounting software, the employee can easily forecast the inventory needed based on the previous trends.
Retrieve information whenever you want, make real-time decisions and improve performance using ERP accounting software. Modern ERP Accounting has helped to integrate accounting software with smartphones and tablets making the data more accessible.
Cut your company's operational costs using ERP, with the maintenance of data at a centralised place it helps in streamlining the functions of various departments in the organisation. Making your operations paperless will save you money.
Reduce the unnecessary costs that are involved due to delayed decisions using ERP accounting software. Don't get delayed in tax filings, calculations etc.
Payslips, statements, invoice reports, maintenance bills etc. can be generated on the go with ERP, saving you lot of time and money.
ERP makes Account Management easy for the employees with readily available data. Improve the productivity of the employee using ERP, thereby improving the performance of your company.
Manage the inventory effectively and minimise your maintenance costs using accounting software.
Stay ahead of competitors using the ERP software. Manage the company's audits, integrate with the government tax systems using ERP.
Protect your company's confidential financial information and financial performance using ERP accounting software. It keeps all transactions safe by customised access to the company's data.
For a sneak peek at the full capabilities ERP, CRM, Accounting Software, Human Resources, Payroll, Assets and Document Management,  check out SapphireOne and request a live demo, it is everything you'll ever need to make your company management a success.
February 23, 2018 3:30 pm | by Loren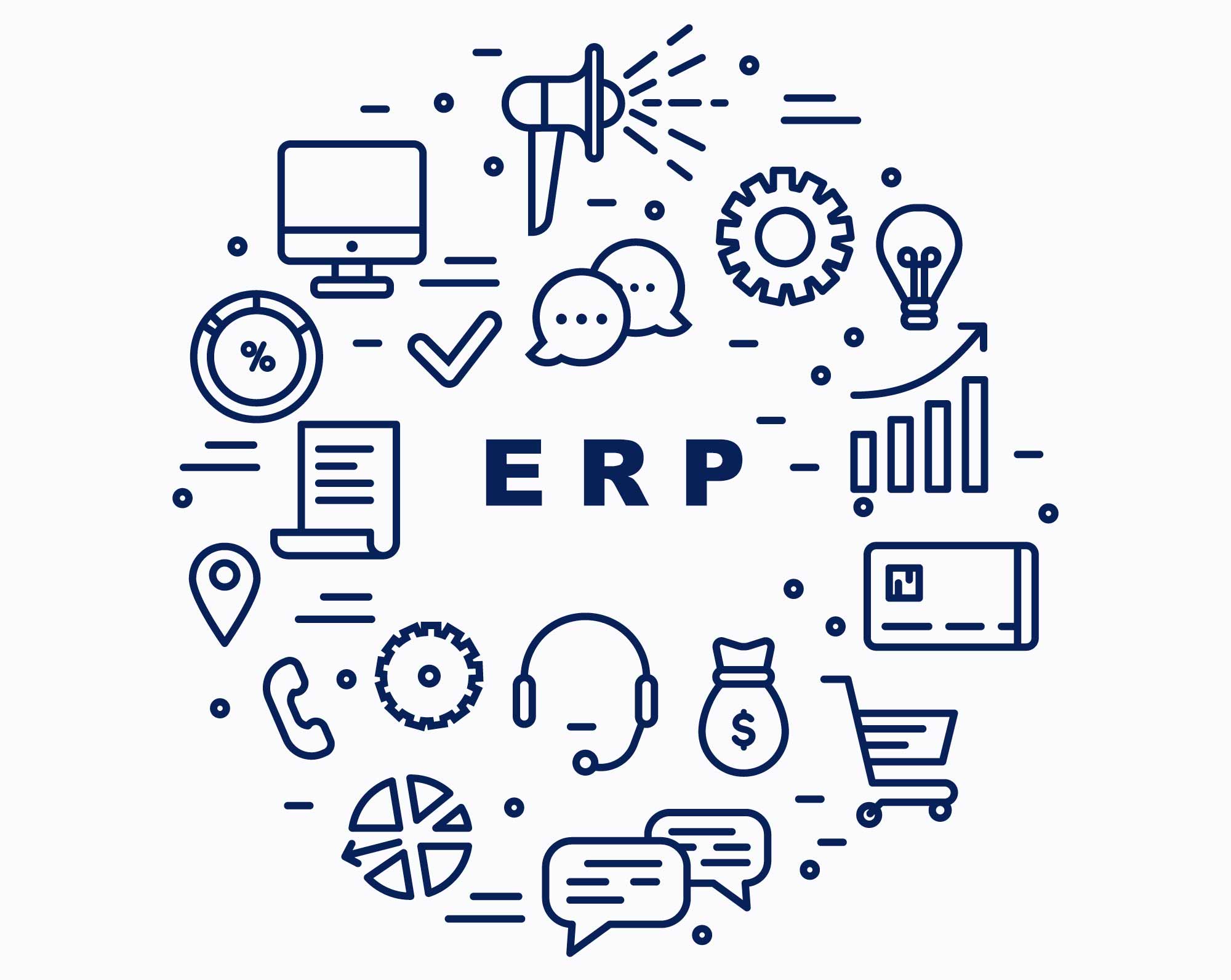 Technological changes are growing at a rapid pace and the minute we buy a new software there comes a more sophisticated one. It's a challenging situation both for the employees and employers and the companies are realising the importance of staying updated with the latest trends.
Enterprise Resource Planning helps the companies to make effective and real-time decisions thereby strengthening the organisation's profit. There are many factors that can influence the future of ERP. A leader in providing Accounting Software, Payroll Software, CRM Software, ERP software.
SapphireOne believes that the following factors will play an important role in the future of ERP.
User-friendly Enterprise Resource Planning System
Employees are looking for a more user-friendly Enterprise Resource Planning system that will solve their practical problems. Companies are developing Enterprise Resource Planning software with superior architecture and slick designs. The demand for a pro-active and next-gen Enterprise Resource Planning system is never-ending. This puts a lot of pressure on the ERP suppliers to give the customer the swiftest and most attractive Enterprise Resource Planning software. Today's workers are better equipped to face the technological changes and they should be supplied with the best Enterprise Resource Planning.
Mid-market ERP
It's the era of 'Smart' products and today's employees want to use their Enterprise Resource Planning technology anytime, anywhere. Nowadays companies are opting for accessories that they can use on the go, like opting for mobiles over desktops. Mid-market ERP solution gives you uninterrupted access to your data and in turn influences the decision makers. For Example, business people need an Accounting software that helps them save time by making invoices on the move.
Customisation
Mid-size organisations are in need of a customised ERP software that will easily help them in managing operations, sales, accounts, inventory etc. The mid-size companies are looking for a cost-effective Enterprise Resource Planning that is user-friendly and that will help them to compete with the bigger organisations. For example, many businesses need a Document Management System to maintain their records easily and keep them updated.
A challenge for the suppliers is to come up with a flawless Enterprise Resource Planning software that can be easily integrated and easily implemented. SapphireOne provides the clients with most savvy and smooth ERP, CRM & Business Accounting Software. Seize the benefits of SapphireOne ERP software.
January 8, 2018 12:06 pm | by Loren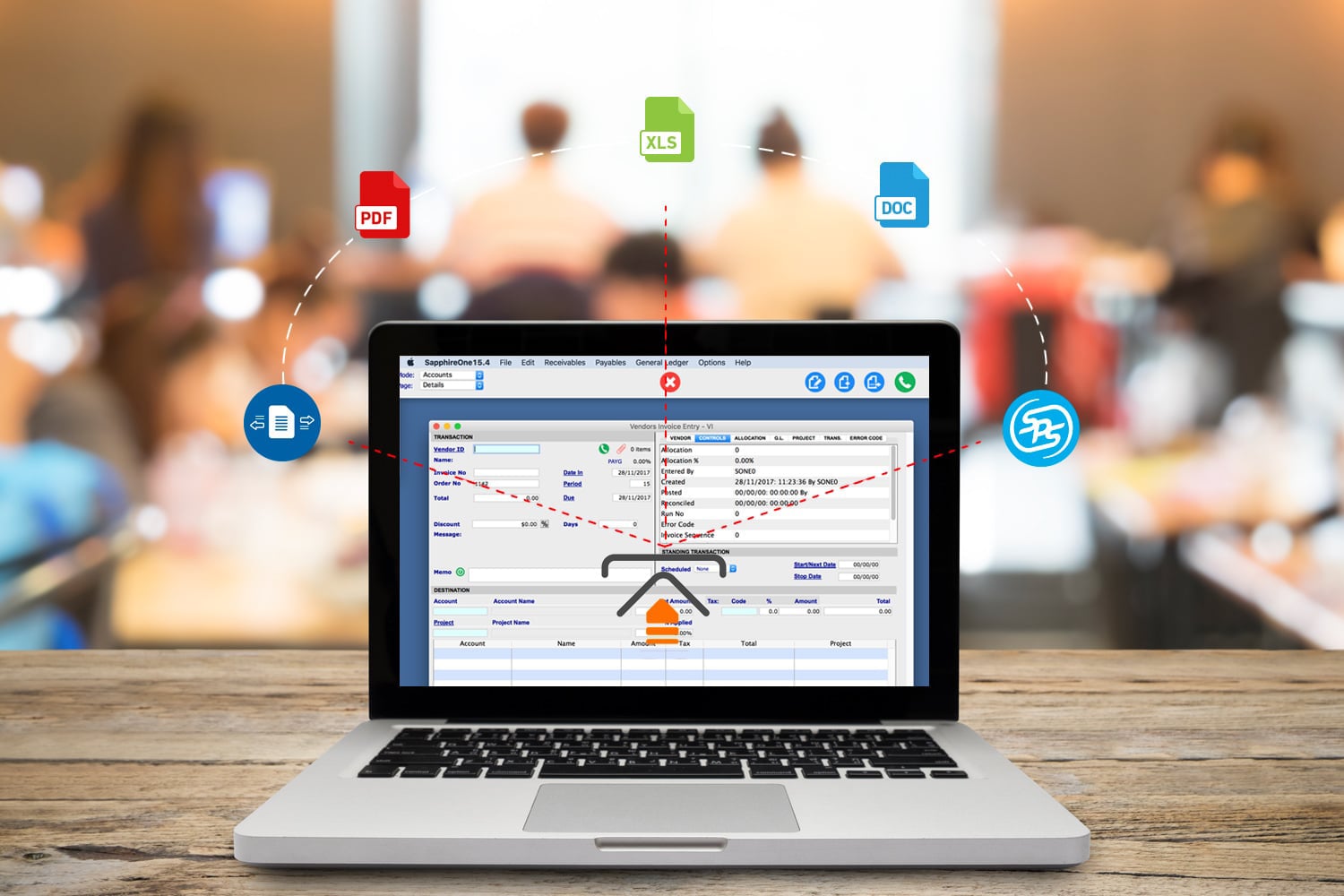 Business leaders increasingly understand the potential of API's, but still too few understand the need for API Tools. An API Tool is a necessity in today's digital world. API stands for Application Protocol Interface. An API is a software intermediary that allows two applications to talk to each other. Therefore, a good API makes it easier to develop a program by providing the building blocks for communication. API Gateway is a powerful tool that provides an efficient, accurate, and cost-effective method for CRM data integration from your web portal to your software, or online database. Integration with an API system saves time and improves your efficiency. Application Protocol Interface make data available for use by apps and the developers that create them. They allow enterprise assets to be accessed by apps, and they are the tool that enterprises use to add a digital layer to their interactions with customers, employees and partners.
In the simplest terms, Application Protocol Interfaces are sets of requirements that control how one application can integrate with another. APIs aren't at all new, whenever you use a desktop or laptop, APIs are what makes it possible to move information between programs – as an example by cutting and pasting a snippet of a document into an Excel spreadsheet. System-level APIs makes it possible for applications to run on top of an OS like Windows, Mac and other OS's. APIs are important for business because they allow programmers to build amazing tools that help us do our jobs more effectively.
How API works?
There are many big companies like Oracle, Microsoft, SAP that provide API tools. The SapphireOne API tool improves efficiency and saves on manual data entry. Some examples are Electronic Data Interchange (EDI), Finger Print scanning, Scanning Barcodes and integration with Brand Scope. The Barcode API detects barcodes in real-time on multiple devices. With clever use of this Application Protocol Interface, you can automate various commerce, business, and publishing tasks and can integrate all kinds of apps with our platform. Entering data by hand (typing it in) is likely the most common and least efficient way to get data into a database. We won't discuss this here. Instead, we will focus on other automated or real-time methods of getting data into databases.
In a similar way, if you use SapphireOne ERP, CRM & Business Accounting Software, you can automatically import your data to the SapphireOne application. Manage an unlimited number of data sources, import templates, interfaces, product templates and data entry jobs. With the help of API interface, product data can be transferred directly to different tables and there by updated as needed. Product data can be imported from one or more data sources and this allows the regular maintenance of this data in the Database. All transfer settings and the selection of the desired products within an Application Protocol Interface export profile can be made via filters and other options.
API is a software functionality which saves time as well as money. It can import and export data both ways, unlimited data in just one click. It's very easy to convert all provided data to or from common text and XML formats. The API Tool allows you to upload, list, delete and get uploaded files as well as list unlimited data sets.
For a sneak peek at the full capabilities of an ERP CRM Accounting Software check out SapphireOne and request for a live demo, its everything you'd ever need to make management a breeze.
December 14, 2017 2:13 pm | by Rubai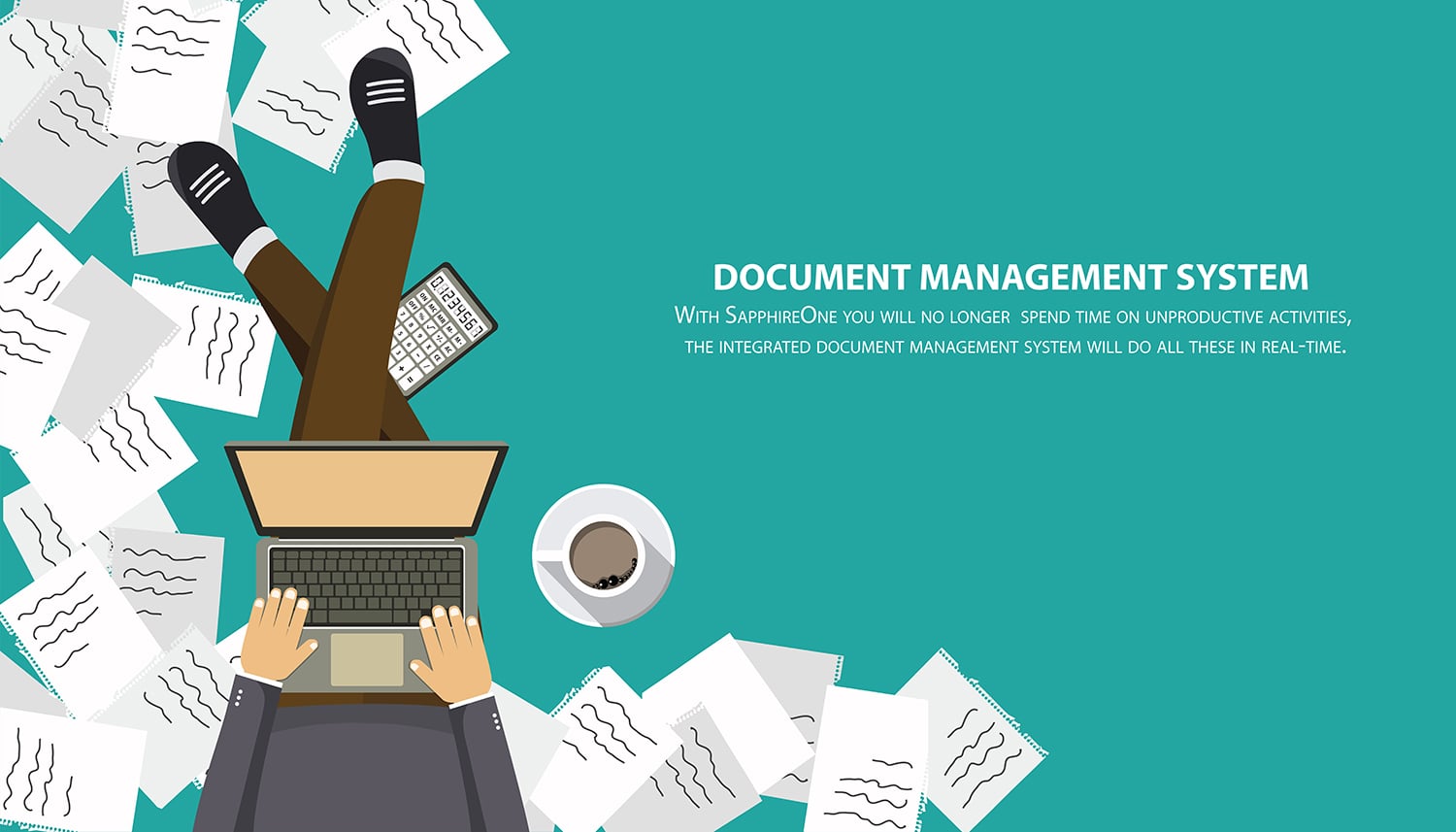 Transactions usually come with paperwork – sometimes tons of it depending on the transaction type. Managing these transactions is one thing, but sorting out their accompanying paperwork is another thing entirely.  For that, you'll be needing an ERP module with Document management capabilities.
An ERP framework is a versatile accounting tool that helps in modulating different segments of day to day business; from processing orders to managing inventories, shipments and the likes. It is in very simple terms the Swiss army knife of business management. A document management module on the other hands makes the business of handling, sorting and filing important documents nothing short of a breeze. Together these two work hand in hand to facilitate efficient and effective management of businesses.
The Benefits of Integrated Document Management System
But why exactly should you adopt an ERP system like SapphireOne and its Document management system? Here's why;
   1.You're going to be saving a lot of time and effort
Like was already stated, an ERP system with document managing capabilities grants you the ability to conveniently sort and manage vast caches of transaction documents with ease in the shortest time possible. No longer will time be spent on unproductive activities like document filing and searching, the document management system will do all these in real-time.
   2. Fluidity and Departmental Integration
With a Document Management capable ERP system, your business can function as one big beehive, interconnected at all fundamental levels and sharing information in real time. Employees in customer service won't need to walk up to the accounts department to retrieve inventory, location, tax, customer details or any other relevant information for that matter. They will all be available at the click of one button in the ERP dashboard.
   3. Privacy and security
A document management system allows you to implement a stratified documents and sensitive information access protocol. With this framework in place, you can effectively specify and monitor who gets access to what documents. Want to restrict access to some records to only senior employees? Easy, just lock the records in question and provide the login parameters to the selected employees.
 4. Cut Down your management bills
Unlike manual methods of organizing and managing transactions and business paperwork, an electronic document management system shaves off the need for excess paper. What's more, it requires fewer staffers to manage. Not only do you get to tone down running costs (decreased expenditure on paper and other stationeries), your employees can focus on other more productive tasks. And then there's the fact that by reducing your paper consumption you're also making your business eco-friendly.
Finally, Document management compatible ERP systems like SapphireOne improves your decision-making skills. Ease of access to relevant information sets as it pertains to sales, general transactions, and business expenditure allows you to cogently weigh all options before committing to a particular decision. Better decision-making skills ultimately translate to better decisions, and in the long run, it is the cumulation of such critical decisions that determine the fate of a business.
Want your business to excel in the nearest future? It's high time you adopt SapphireOne ERP CRM Accounting Software Feel free to contact us or request a  live demo.
More Info : https://www.sapphireone.com/home/dms/
December 11, 2017 9:22 am | by Rubai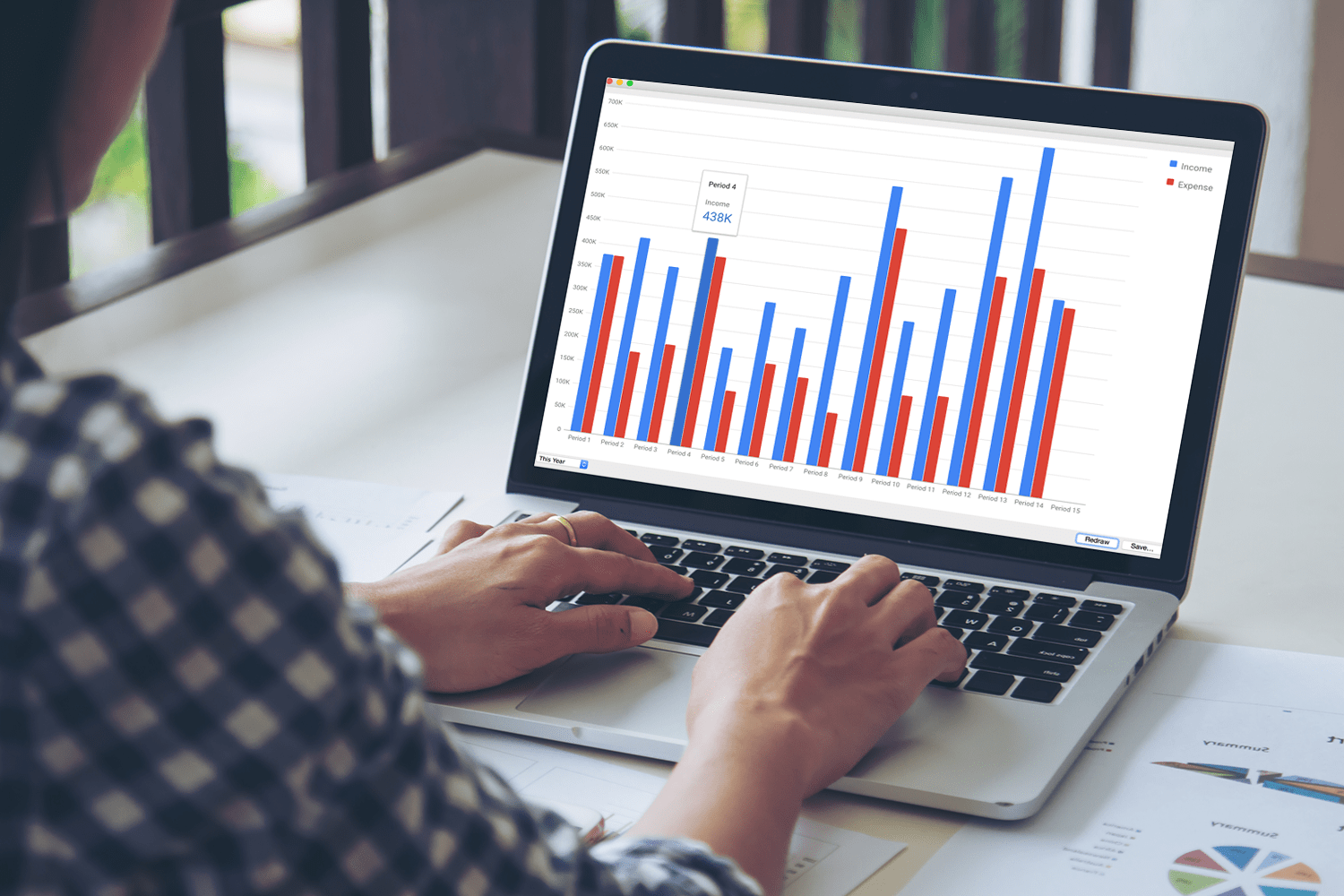 It is now common knowledge that humans are more of visual learners than they are verbal learners. On the average, an individual is likely to remember just 10% of what he hears, 20% of what he reads, but a whopping 80% of what he/she sees, according to one research conducted by Jerome Bruner of the New York University.
Images create a long lasting impression on our memories than spoken or read information. This explains why you are more likely to remember the face of an old-time acquaintance than remember his/her name. If you are a business owner, professional service or software company CEO, then you should be looking to exploit this innate preference for information presented in a visual format by incorporating an Enterprise Resource Planning (ERP) dashboard.
SapphireOne ERP Dashboard
ERP Dashboard go by many names. You most likely would have heard them being called Business Intelligences or Performance Indicator Dashboards. Regardless of the name, these software do one thing – present business statistics and performance indicators in a visually attractive and graphically intuitive interface. SapphireOne ERP dashboard utilize graphs, bar charts and other visually engaging design elements that provide a succinct overview of a business's financial standings.
Maximise Efficiency
The breadth of information provided by SapphireOne ERP Dashboard and the style in which they are presented provide vital metrics and data analysis that make it easier for business managers to make informed guesstimations and calculated decisions. From resource deployment, sales information, to project statuses, an SapphireOne ERP system equipped with a fitting dashboard is a financial manager's delight – allowing them to be more responsive to financial issues and monetary concerns, especially when it's related to revenue recognition.  It also allows users to reconfigure and customise their dashboards around the tasks and information they use most frequently.

ERP Dashboard and Revenue Recognition
Recognising revenue is no doubt a tedious process. From tracking final sales price of every element (inclusive of post-contract support, license, and implementation) to confirming delivery and then resolving each unique evidence of fair value, it's one management protocol that tests the capabilities of management staffs. By default, Dashboard cannot directly help in calculating revenue recognition; what they can instead do is to provide coalesced estimates of former, present and predicted business revenues in one centralized interactive interface.
To gain a clearer picture of how a Dashboard efficiently parses projected revenue let's consider the Dashboard revenue recognition of SapphireOne, one of the leading ERP systems available in market today. As you would expect, SapphireOne's Dashboard broad-spectrum capabilities allow it to display past, current, and future revenue information sets graphically. In the case of future forecasts, SapphireOne utilizes a data feed derived from previous sales to make intuitive revenue recognition predictions; managers can at the click of a button select a graph or chart that gives a privileged insight on anticipated revenue recognition based on a real-time analysis of past sales. SapphireOne makes all this and more happen through its unique and expertly curated centralized database. It is this centralized database that facilitates seamless retrieval and analysis of former, current and future data sets.
Dashboards are without a doubt a versatile tool for every business manager looking to stay on top of managing their businesses. With Sapphireone's ERP system and it's intuitive dashboard, you're provided an eagle-eye perspective of your business compete with real-time updates, analysis, and calculated forecasts.
Looking to boost your financial management potential with a Dashboard equipped ERP, feel free to contact us or request a  live demo.