October 19, 2021 11:17 am | by Maddie Kent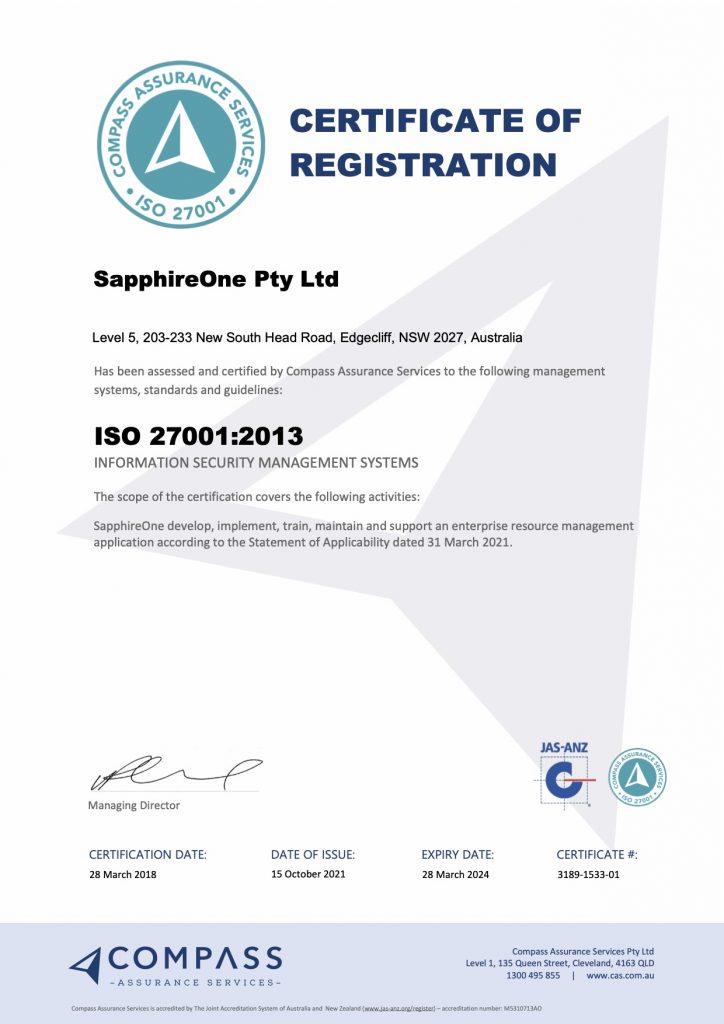 ISO 27001:2013 Security Certification
We are happy to share that SapphireOne has been re-certified, valid until March 2024, for ISO 27001:2013. The re-certification is aligned with our previous ISO 27001 certification in 2018.
ISO 27001 is an internationally recognised standard for security information that sets global requirements for Information Security Management Systems (ISMS). The ISO standard, updated in 2013 and currently referred to as ISO/IEC 27001:2013, is considered the benchmark to maintaining customer and stakeholder confidentiality.
The ISO 27001 standard requires a systematic examination of security risks, threats, vulnerabilities and their impact. SapphireOne has achieved the certification process by demonstrating that a comprehensive system of information security controls and management processes have been implemented. These processes ensure that information security controls continue to meet the organisation's requirements on an ongoing basis.
Certification to ISO 27001 Information Security Standards provides SapphireOne clients and vendors with an independent endorsement that our commitment to protecting crucial information security meets international standards and best practices.
To find out more about SapphireOne integrated ERP, CRM, Business Accounting application and innovative software solutions, please get in touch – we're always here to help.
November 6, 2020 10:58 am | by Maddie Kent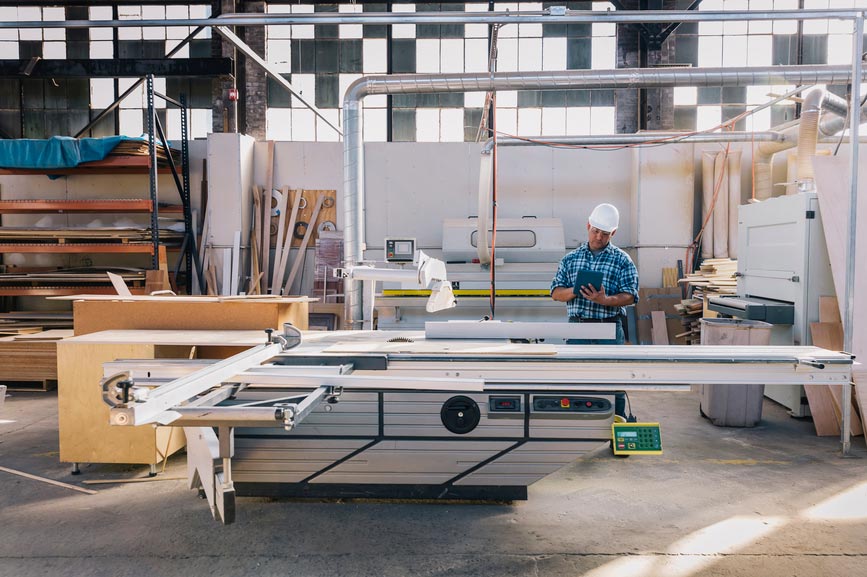 SapphireOne Material Requirement Planning (MRP) gives you total control of your inventory and production process.
Control inventory, enhance production, reduce costs and forecast for the future with SapphireOne Material Requirement Planning.
What is Material Requirement Planning?
Material Requirement Planning (MRP), also referred to as Material Resource Planning, is a production planning, scheduling and inventory control system used to manage manufacturing processes and improve productivity for businesses.
Material Requirement Planning has become an essential tool for production facilities, and is designed to answer three important questions for a business – What is needed? How much is needed? And when is it needed?
How to do Material Requirement Planning
MRP works backwards from a production plan for finished goods, which is converted into a list of requirements for the subassemblies, component parts, and raw material that are needed to produce the final product within an established schedule.
Developing a plan for resources within your operation is a must. Without proper resource planning, your operation may have a much more challenging time managing areas of your supply chain such as inventory, production and output – leading to high inventory costs or unfulfillment of customer orders.
Components of Material Requirement Planning
SapphireOne's Inventory Management module provides many powerful solutions for our clients to manage inventory distribution control and tracking. This includes our inbuilt MRP feature, which gives you the ability to manage your resource planning directly within the SapphireOne ERP system.
SapphireOne's MPR feature has two main important functionalities. These are:
The ability to track, adjust and analyse historical inventory usage for the past 2, 3 and 4 years.
The ability to forecast your future material resource requirements for the next 2.5 years, calculated based on your historical data.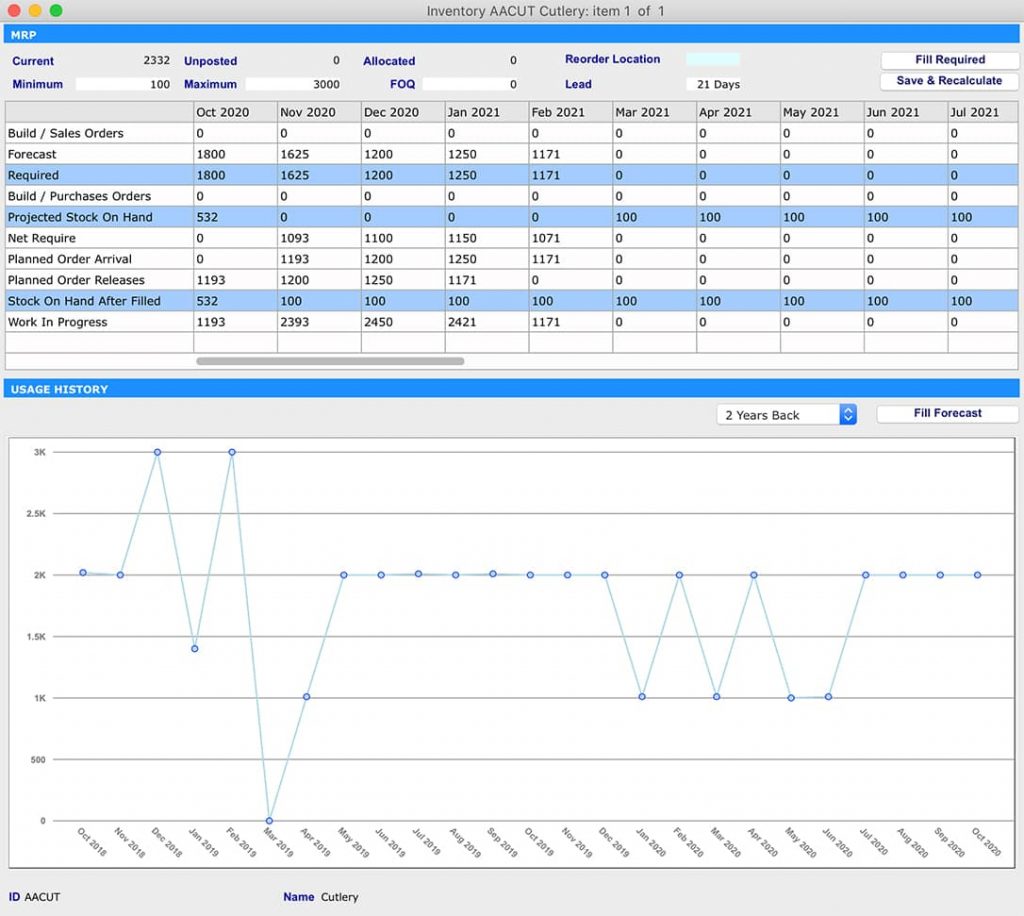 Main features of SapphireOne's MRP Forecasting tool
Forecast and plan your required material resources for the next 2.5 years.
Forecasting tool is fully adjustable, meaning you can tweak any number and it will automatically recalculate your forecast based on recent adjustments. This is a powerful tool as it gives you the ability to account for and recalculate forecasts for unexpected events and occurrences.
You have the ability to set multiple variants – such as your Minimum/Maximum inventory requirements, Fixed Order Quantities (FOQ), and Lead Times – and the forecast will automatically calculate your future material requirements based on these quantities.
Any line highlighted in blue can be edited to suit your businesses specific forecasting needs.
Once you have made all adjustments, you can select 'Save & Recalculate' to automatically populate your new forecast.
You can use this tool to forecast your total inventory, as well as for specific inventory items.

Main features of SapphireOne's MRP Usage History tool
Record, track and review historical resource usage for the past 2, 3 and 4 years.
The Usage History graph is fully adjustable, and the graph can be tweaked by moving the blue dot up or down to reflect past monthly performance – allowing you to account for unexpected events within the historical data.
When the Usage History graph has been adjusted, the Forecasting tool will then recalculate future monthly projections automatically based on the new historical usage information.
You can use this tool to track and review usage history for your total inventory, as well as for specific inventory items.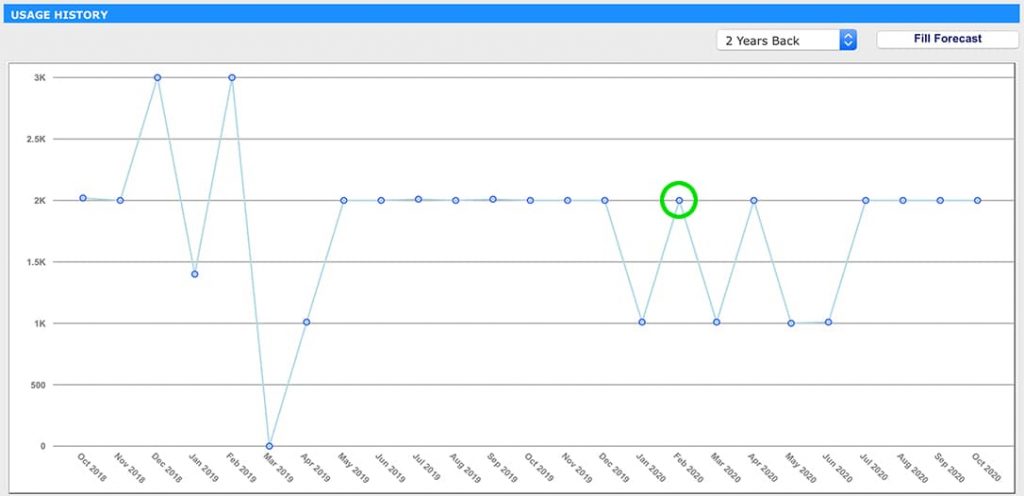 Benefits of SapphireOne Material Requirements Planning tool
Inventory Control – Ensure materials are available, track stock on hand, minimise inventory levels and plan future MRP requirements.
Cost Reduction – A steady flow of inventory reduces holding and delivery costs, leading to more revenue within the operation.
Enhanced Scheduling – Allocate production time among various products and ensure the economic order quantity is achieved on all orders.
Production Optimisation – An optimised production workflow requires the right material, in the right quantities, at the right time. The MRP tool can help to reduce waste and schedule production according to the forecast, allowing equipment and employees to work more efficiently.
Improved Supplier Relationships – MRP will help you balance your sales demand and inventory control with the capabilities and capacities of your suppliers, leading to more transparent dealings and a better understanding of both parties' business needs.
Plan for the Future – Save your business time, resources and money by using historical data for sales analysis and future forecasting.
Check out the below video for a step-by-step process on how to use SapphireOne MRP, and how it can help improve your inventory and production process.
Any questions?
As always, if you have any questions about how our Inventory Management functionality and MRP feature can help your business, please do not hesitate to get in touch or book a demo with a member of our team. We're always here to help!
August 14, 2020 12:46 pm | by Archana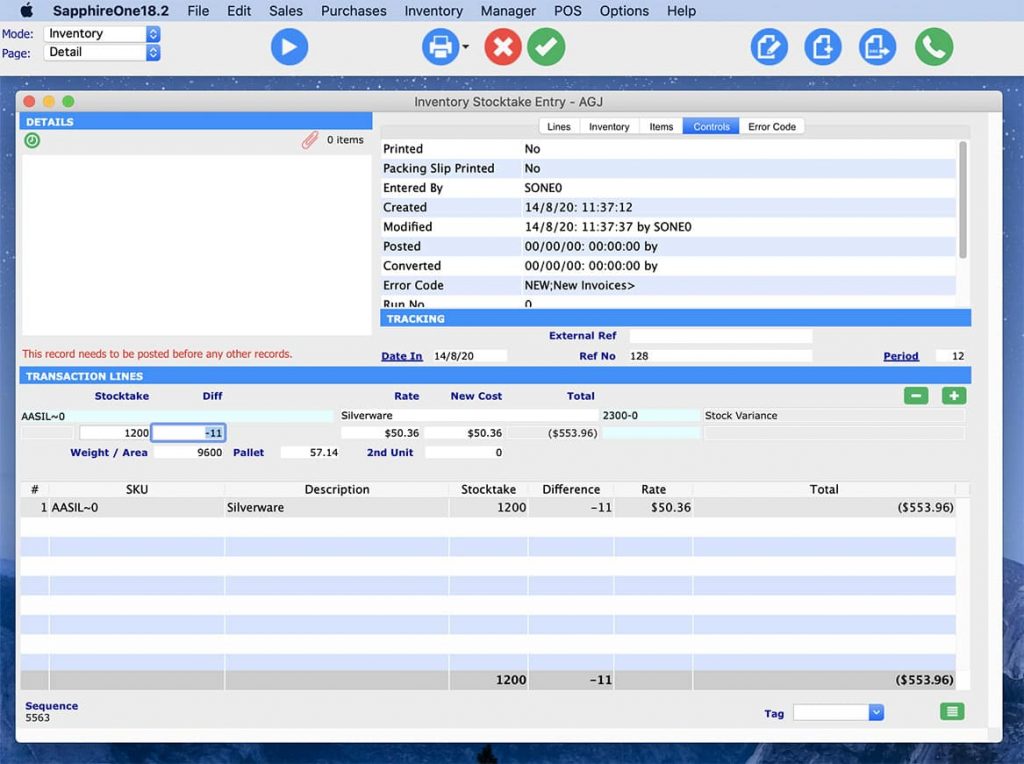 The Inventory menu is the main area of activity for entering transactions for the adjustment, transfer or building of an inventory item. These transactions are then processed through to Inventory Mode and Accounts Mode updating the Inventory and General Ledger files.
The Data Entry functions enable you to enter your data for this mode into SapphireOne, such as Stocktake Entry
The Inquiry Functions allow for the viewing of a many different Inquiries.
The Post Transactionsfunction allows the posting of Inventory adjustment transactions.
The Reportssection allows detailed analysis of the Inventory file and the production of transaction reports.

Transaction Types and their Codes:
AGJ) Adjustment General Ledger = This Stocktake Adjustment invoice is created when an adjustment is made to the current stock.
(TGJ) Transfer General Ledger = A Transfer Journal allows the transfer of stock from one department to another.
(OGJ) Order General Ledger = A pre-build Journal is created when an item is pre-built.
(BGJ) Build General Ledger = A Build Journal is the transaction that is produced when a built item is created from a number of line items.
Stocktake Entry
The Stocktake Entry function for entering data has been designed for the adjustment of stock levels and/or actual costs per unit. The Stocktake Entry screen allows control of the stock and automatic entry of the opposing adjustments within the General Ledger. The General Ledger account is the Debit or Credit side to be adjusted against the Inventory Asset Account.
Important Information on Stocktake Entry
If the Stocktake Entry involves negative stock, there is no cost change.
Any Inventory stock that has its Type set as Hire is treated differently to all other stock during Stocktake Entry. These items will also not be displayed in any Sales or Purchase lists. Once the stock has been purchased as a normal Inventory item this Stock Entry function is used to transfer normal stock into the Hire Stock.
March 4, 2020 9:25 am | by Archana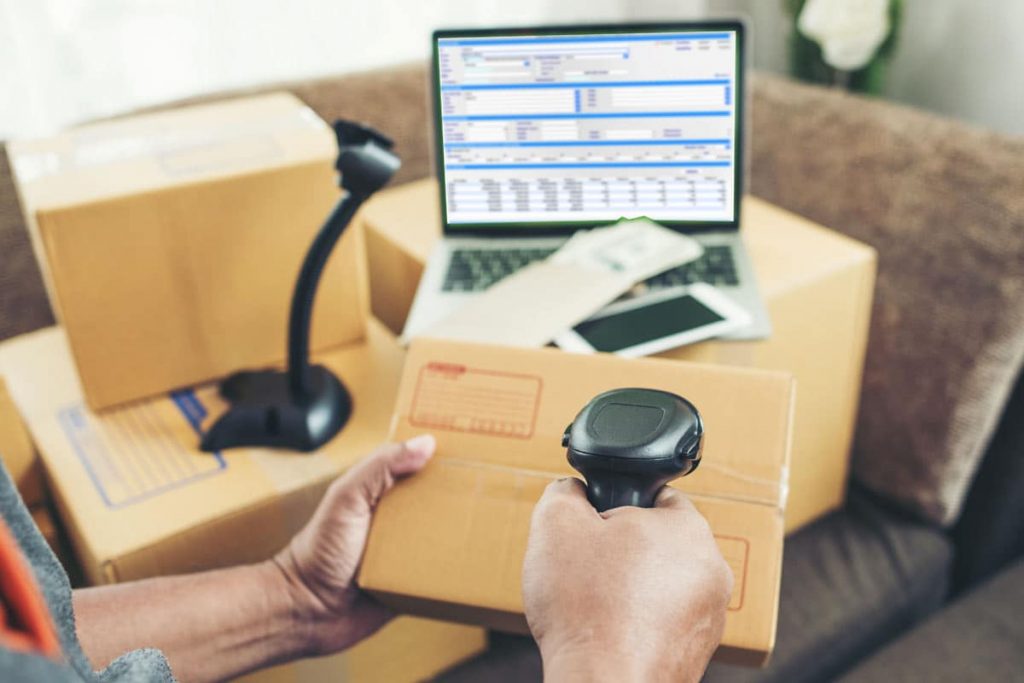 SapphireOne's inventory management software offers a comprehensive inventory management, manufacturing and purchasing capabilities, that improves supply chain management and delivers an end-to-end, procure-to-pay process. With SapphireOne, you'll be able to better manage & control your inventory levels and costs—and better meet fulfillment expectations, improving the client/customer experience.

SapphireOne Inventory management is commonly referred to as a Base Inventory is the foundation for all your inventory needs. In SapphireOne the Inventory Inquiry list screen displays a list of the details of your Inventory items allowing for easy selection of any of your individual Inventory records for additional viewing and modification.

Inventory management is probably one of the most important areas of your business and the most complex and widely used. The first screen of individual Inventory records is the details page. The Details Page displays information about the Inventory item information ( such as the ID, name, class, type), grouping, description, standard Prices, FX prices, stock levels and mins and maximums etc.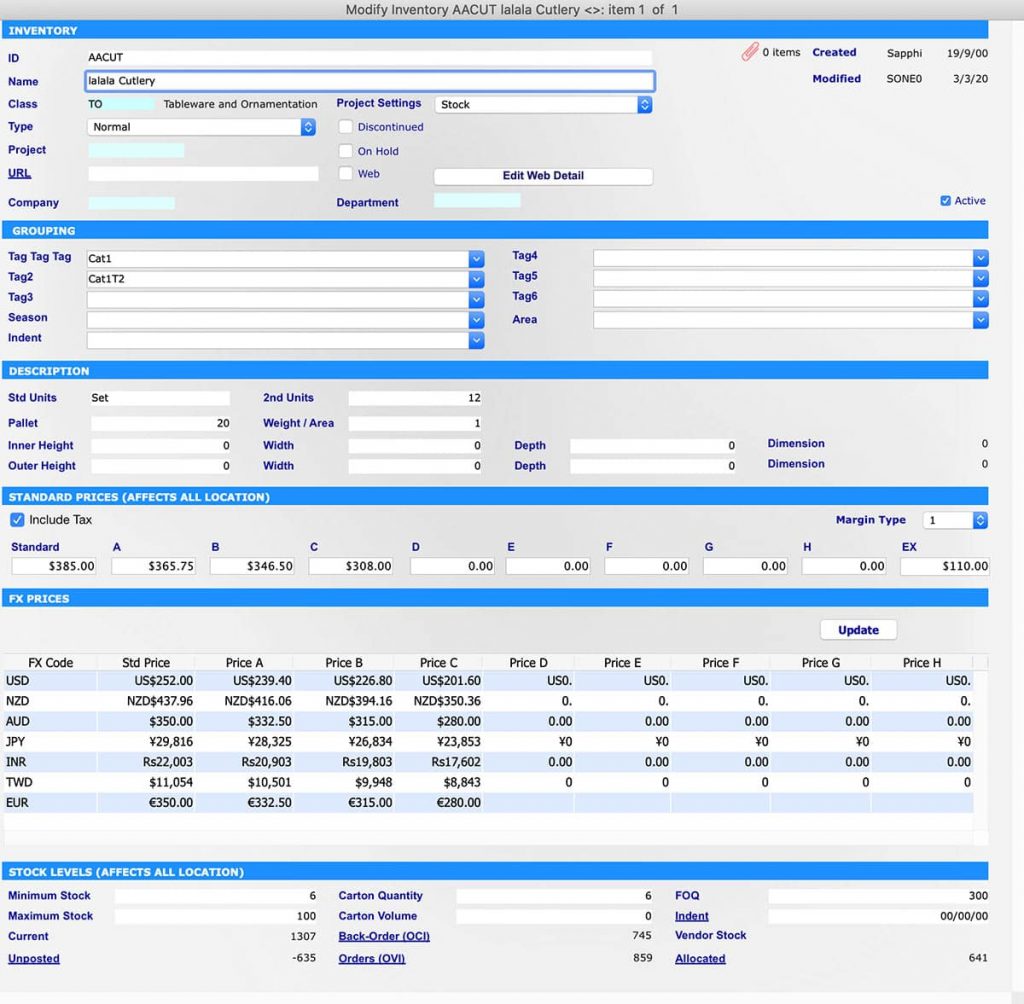 Quickly view the group, size, prices and stock level of your Inventory item within the SapphireOne Inventory Management
Inventory Area
This area holds basic details about the item primarily the ID, name, class, types, department, projects name and settings. Here all inventory items can be assigned to a specific Class which enables additional searching, reporting and pricing for inventory items in the assigned classes. The type option allows you to set up different types of the inventory such as non-diminishing, normal, serial, batch, item, activity, hire, assets and voucher. By selecting a type this will define the inventory type. The system will make the appropriate alterations to various other pages for these inventory items. As an example a Batch type of inventory, will then provide batch tracking of all purchases and sales. Tracking of stock levels for normal inventory items, if the batch functions are turned on in the inventory detail, this allows batches of the same inventory item to be assigned a batch or serial number, which then becomes a batch number. These items are also tracked by the system when they are purchased and sold as batches and this is enforced by the system. The stock levels in each batch or serial are tracked individually.
Grouping area
In the grouping area the user may use up to six Tags for Inventory items enabling additional searching and classification. As an example Seasonal tags are used when a customer order is selected from a browser using the Web Pack. They are directly linked to the Web area in Master Defaults on the Inventory Page. An example of its use would be if customers were to use the Pre-Order function in the Web Pack to enter in anticipated future orders for inventory items. This would then give sales staff an indication of the quantity and timing of any purchases of stock that they would need to fulfil these orders.
Description area
In pallet you can enter the number of the Inventory items that are shipped on a Pallet. When a Sales or Purchase order is raised, the number of Pallets required for this Inventory Item will be displayed on the transaction of inventory vendor purchase entry screen. If you are charged by the Pallet for shipping, you may have to make a change to the quantity to make sure you are fully utilising your money for this specific shipment. In most screens within SapphireOne the Quantity and Weight/Area fields are linked and will calculate to each other. The user has the option of entering a quantity and the weight/area figure will be calculated by the system. Alternatively, the user may enter a figure into the weight/area data entry field and the system will calculate a quantity.
Standard Prices area
The Standard Prices area enables the entering of pricing details for your company. There are a range of Standard codes from A through to H and Ex, tax exempt. The user has the option of entering any of these prices manually to set different prices for different customers of the inventory items by price code.
FX Prices area
The FX Prices area displays the FX currencies that are in the system. The update button is used to perform a manual update of FX prices for the particular Inventory item. This section of the details screen will only display if Foreign Currency has been activated within SapphireOne.
Stock Levels area
The stock level area gives you an instant snapshot for this particular Inventory item of exactly what the status is for current stock in the ERP system. Minimum and maximum stock levels set the minimum and maximum stock levels for the item when reordering. The current field displays total number of all posted transactions and the un-posted, displays total number of all un-posted transactions. The allocated displays the number either allocated for delivery or allocated to a project. You can calculate your available stock by using the formula Available stock = Current + Un-posted – Allocated. Stock managers can use this area as a basis for changing the Economic order quantity (EOQ) and safety stock levels for the product.
June 28, 2019 12:50 pm | by Archana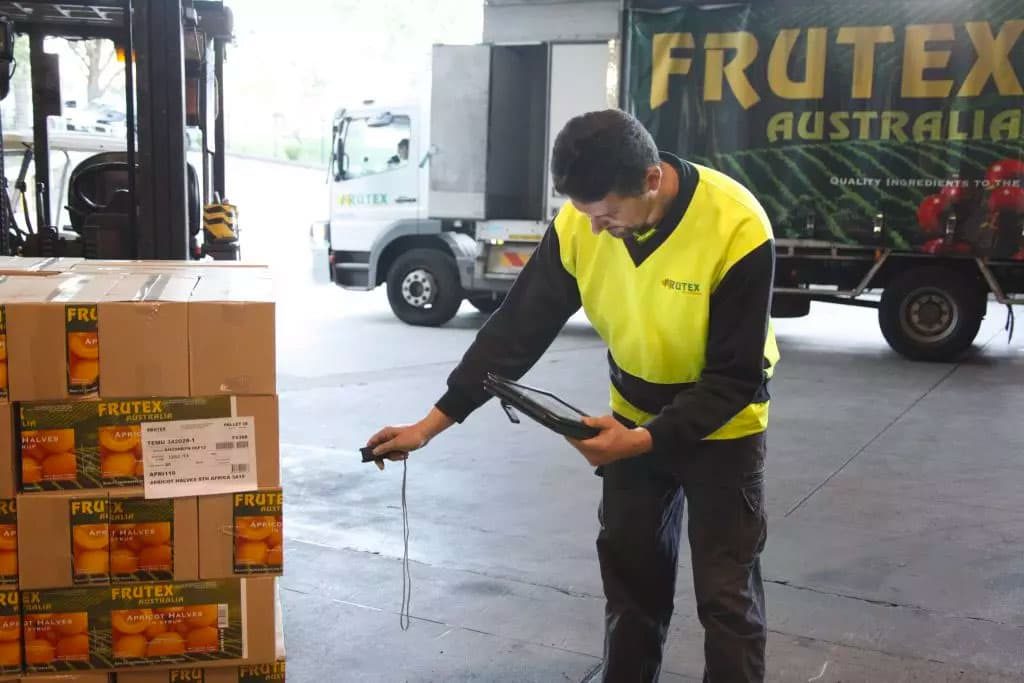 Its' that time of the year again with the Australian Taxation Office requiring businesses that buy or sell stock to conduct a stocktake. This involves reconciling your physical stock with what's listed in your inventory records. This can be a mammoth task but helps you make informed decisions, identify issues in stock management and processes. The right stocktaking procedures are the building blocks to a successful one.
How to make your stocktaking procedure as pain-free as possible?
1. Prepare and then prepare some more
Roster on extra staff to ensure the process is more efficient and runs smoothly. Make sure you have sufficient supplies such as barcode scanners, pens, clipboards, calculators, mobile devices, coffee, tea and water. Print out extra stock lists and train staff on how you would like them to count. Ask them to dress comfortably, take regular breaks and provide food.
2. Pick a time outside of normal operating hours
Ideally this is as close to the end of the financial year as practical. If possible a non-business day, before or after hours otherwise it's best to close down. This stops your inventory levels changing during the stocktake.
3. Identify what stock is to be counted and where it's located
Tidy up your storerooms, warehouses, stores and label the inventory. Create a stock list outlining which location the stock is held, where in the location, and what there is to be counted. Group similar inventory items together.
4. Define how you're counting it
Let your staff know which sections they'll be counting and in what order. Have a clear system for how they should physically count your stock. It's a good idea to have a group of 2 for each unit of stocker takers. One person to count the inventory and call out the amount, the second person to record this number and double check the first.
5. Count everything
Every inventory item needs to be physically counted. Do not assume the current stocktake is correct. This should be treated as a comprehensive, full stocktake to know exactly what inventory is on hand. Check boxes and items are labelled correctly, their condition, and other storage areas for random items. Don't forget to incorporate and count for returns, laybys and items on reserve.
6. Update your stock records
After the stocktake, be prepared for stage two. Your physical count needs to be checked against your inventory and accounting records. If you encounter discrepancies take immediate action to find out why. Any discrepancies found will need to be rechecked. All stock lists need to be completed and gathered so your data entry staff can enter into your accounting system. Make sure once the stock lists are entered, they are marked clearly so no duplications occur.
7. Formulate a plan for slow-selling items, thief and spoilage
Think about reducing inventory, analyse slow-selling items and create a plan for optimising the amount of inventory stored in your warehouse. Brainstorm ideas with the data collected to increase security and reporting procedures for damaged and spoiled stock.
8. Use technology available to streamline the process
If you are not using barcode scanners it may be time to think about investing in them. The scanned data can be imported wirelessly and directly into your ERP system. Investing in an ERP system will minimise errors and increase speed by real-time updates of the stock as they are counted. Stock items can be found in particular locations on mobile devices through inventory management in the software. An ERP system eliminates the need of data entry staff and manual record taking.
9. Review procedures
When completed, review your stocktaking procedures and note any suggestions to further streamline actions and improve processes for the next count.
10. Think about scheduling more than once a year
To keep on top of inventory it is easier to schedule multiple stocktakes throughout the year. These can be smaller, partial stocktakes so they don't disrupt business. Think about dividing by stock items, brands and locations so you have inventory control all year-round, not just once a year.
Click for more information regarding the latest release of SapphireOne ERP, CRM, DMS and Business Accounting Software Application. Alternatively, contact our office on (02) 8362 4500 or request a demo.
November 15, 2018 1:18 pm | by Archana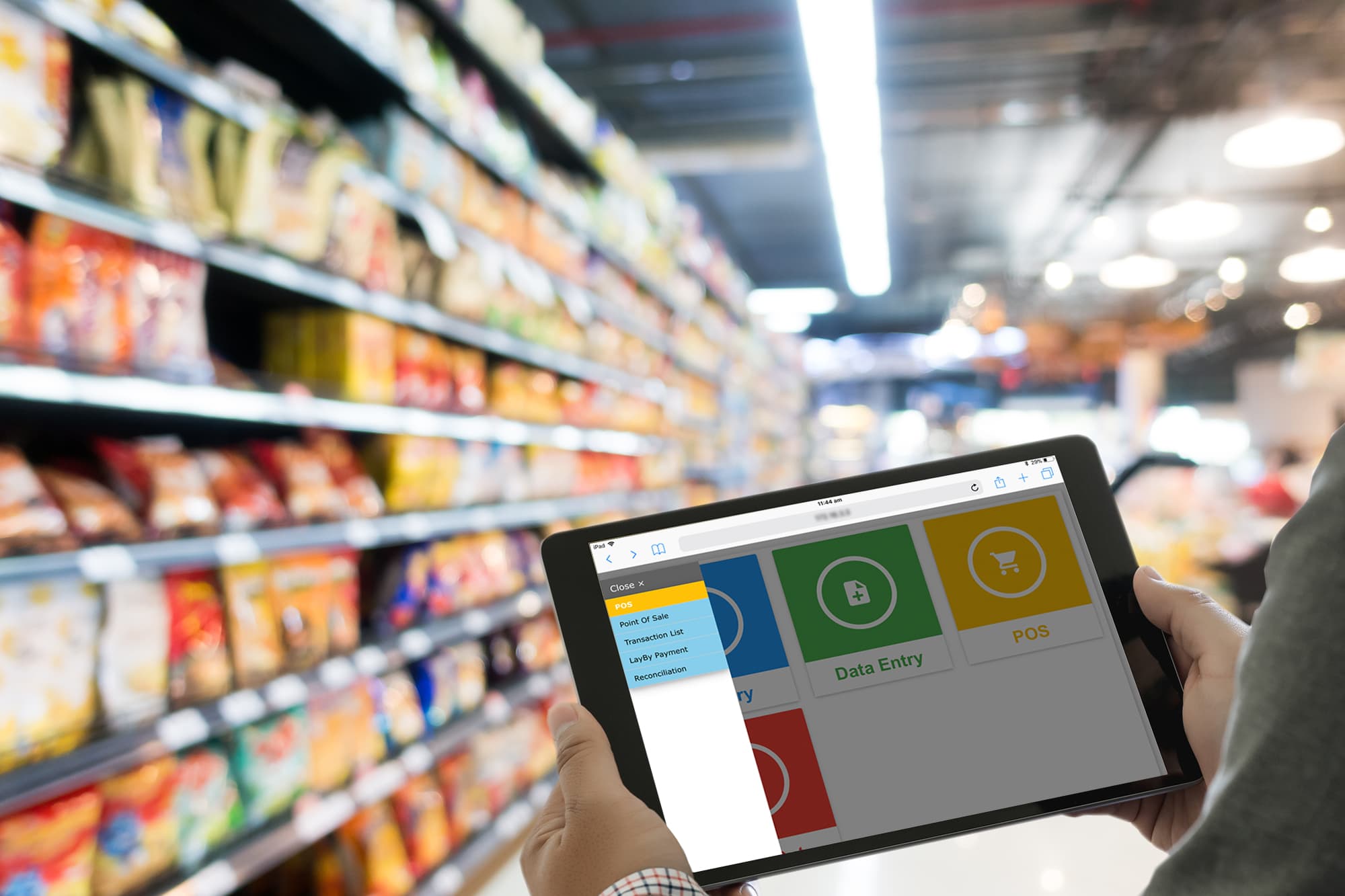 No matter if you are a small convenience store or a large supermarket chain, SapphireOne ERP application is built to maximise product availability, while speeding up service and minimising the carrying costs.
If you have encountered any issue regarding overstocking and out of stock, then it's time you understand how the right Inventory replenishment software can support your business today.
SapphireOne ERP Business Accounting Application is the easiest way to handle the complexities of running a convenience store or supermarket without losing control
Even a small grocery store can stock more than a thousand different items, all of which have different shelf lives. Overstocking and out of stock are both problematic, as fresh produce can be spoiled, and loss of sales occur due to missing stock.
Usually supermarkets or convenience stores have several departments and depending on the accounting software system or billing software, the software in place tend to never be enough in functionality. To improve the business, a supermarket or convenience store requires a complete solution, every department under a centralised integrated management system.
Management is the backbone of a business; hence a strong business management software and ERP application helps a business last throughout the trials and tribulations of the environment today.
SapphireOne ERP, CRM, DMS Business Accounting Application is a user-friendly software that has the features you need while providing maximum security.
SapphireOne ERP application also has the option that enables you to work remotely, access your database anywhere or anytime.
With SapphireOne ERP Business Accounting Application you can:
Automate your convenience store or supermarket
Automating your business saves times, allowing you to focus on other important functions in your business helping it grow.
Inventory management
SapphireOne ERP application helps you track what's coming in and what's going out. Tracking is made easy of the products in demand or ones stagnant, leading to less expenditure and wastage. This in turn benefits the organising and optimising of your warehouse and storage space.
SapphireOne POS system simplifies and automates the complex retail requirements
SapphireOne ERP offers flexible, high-speed Point-of-Sale (POS) software, designed for retail operators. These are installed and utilised via barcode readers and the barcode scanning provides a cost-effective solution designed for retail point of sale environments, where speed and accuracy are important.
Helps you with better decision making
SapphireOne ERP, CRM, DMS Business Accounting Application is an intelligent integrated software helping you make better decisions. BI (Business Intelligence) dashboards and accurate, comprehensive reporting, ensures you make informed decisions regarding the future of your business. SapphireOne will improve forecasting, customer services and overall sales via an in-built CRM module.
For more information regarding improvements and features within the latest release of SapphireOne ERP Business Accounting Application please contact our office on (02) 8362 4500 or request a demo.